Last Updated on September 26, 2022
Minecraft is an incredibly popular game that has a deep and engaged following.
The best part about the game is that you can customize your character with different skins, so it feels like you are really in control of your own look.
But what if you don't want to spend hours searching for a common skin that anyone can have?
If you are a Minecraft fan and want to commission someone to make your very own skin, then this blog post is for you!
I have compiled a list of awesome and talented artists who will create a Minecraft skin for you. I highly recommend them based on their previous work as well as their affordable prices.
What are the best Minecraft skin commission services?
Below you'll find my top recommended Minecraft skin artists to commission from:
1. Parakdraw – I will make custom high quality Minecraft skin or edit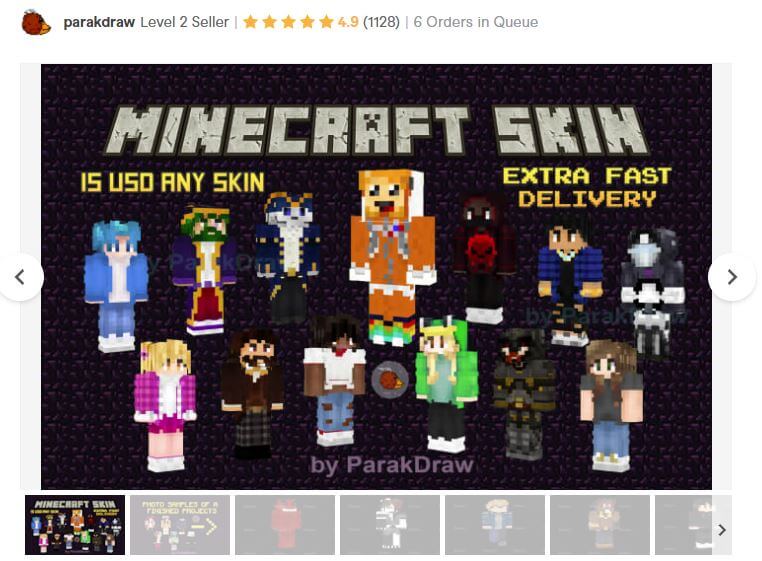 parakdraw is a Minecraft skin designer with over 1000 five star reviews and satisfied customers on Fiverr. He is undoubtedly the most experienced skin designer on Fiverr, yet his prices are still very affordable.
He would create a custom Minecraft skin based on your own ideas and tailored specifically for you. His designs are simple, yet captivating.
Looking for a professional to bring your idea to life? Try Parakdraw's gig for $10.
2. MS_Designs – I will make you a custom Minecraft skin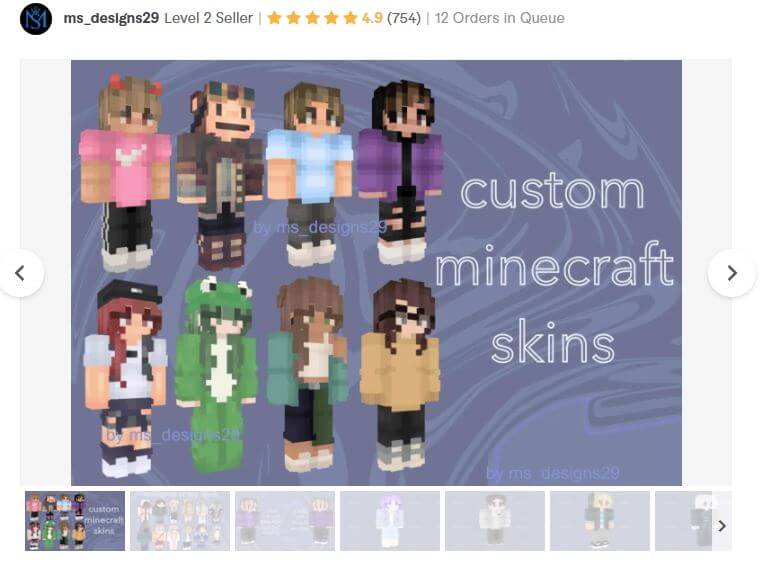 ms_designs29 is another popular designer on Fiverr who is specialized in crafting custom Minecraft skins. He's got over 700 reviews from satisfied customers, and his designs are very clear and elegant.
His prices are $10 for 1 custom skin or $20 for 3 skins. Those packages include unlimited number of revisions, to ensure you are satisfied with the skin you receive.
3. Jamasok_Vita – I will make a custom 3D Minecraft skin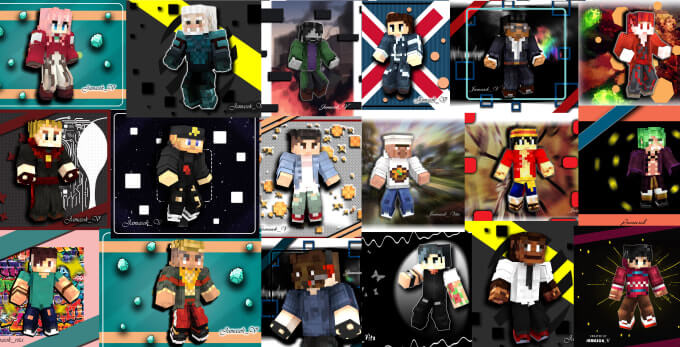 Jamasok is a talented digital artist that believes the sky is the limit when it comes to designing.
As long as it's relatable, he'll bring your Minecraft skin concept to life brilliantly!
He's a versatile Minecraft skin artist who can work on anything from genuine images to anime characters, heroes, animals, and any other creatures you might imagine in the Minecraft world.
He is not only a digital artist but also a fan of this fantastic game, which explains why he grasps the aesthetic and can draw more efficiently.
His prices range from $10 to $20, and he promises delivery within three to five days.
I recommend purchasing his premium package for $20 as you'll be getting a highly detailed ultimate premium skin, and as you know, the more details, the better the skin. His average response time is one hour, so you should hear back within that time frame.
Looking for an all-around expert to commission your Minecraft skin? Check out Jamasok's gig.
4. Igoods – Minecraft skin with any Custom image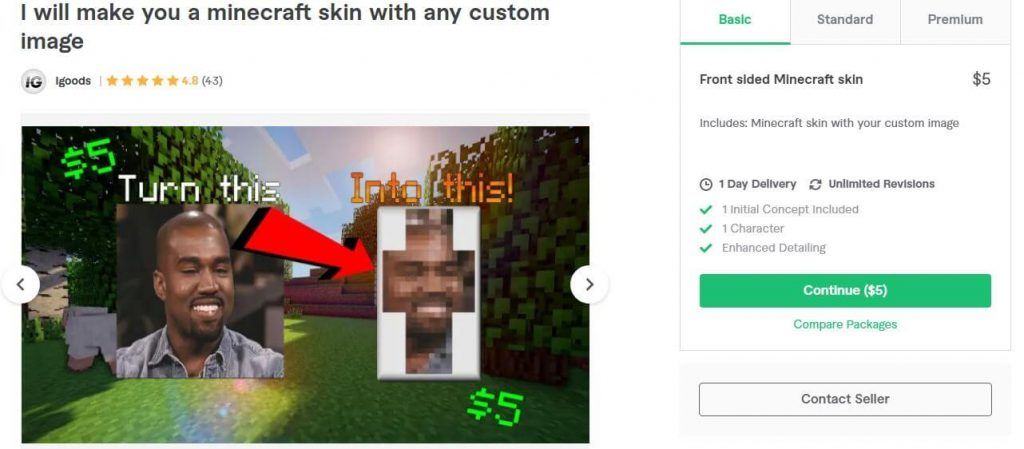 iGoods is a graphics artist as well as a Minecraft fanatic, with over 8 years of experience as a Minecraft player and a passion for all things Minecraft.
He stands out from other sellers as he offers to create custom Minecraft skin using any custom image; meaning you provide him with an image, it can be your picture or anything at all, and he converts it to a Minecraft skin.
His prices are incredibly reasonable as he charges between $5 to $15 with a lightning-quick turnaround time of a day alongside unlimited revisions. All these don't affect the quality of the result as you'll be getting top-notch skin.
Looking for Minecraft skin made with a custom image? Send iGoods a message.
5. Initokodesign – Minecraft Avatar Render Expert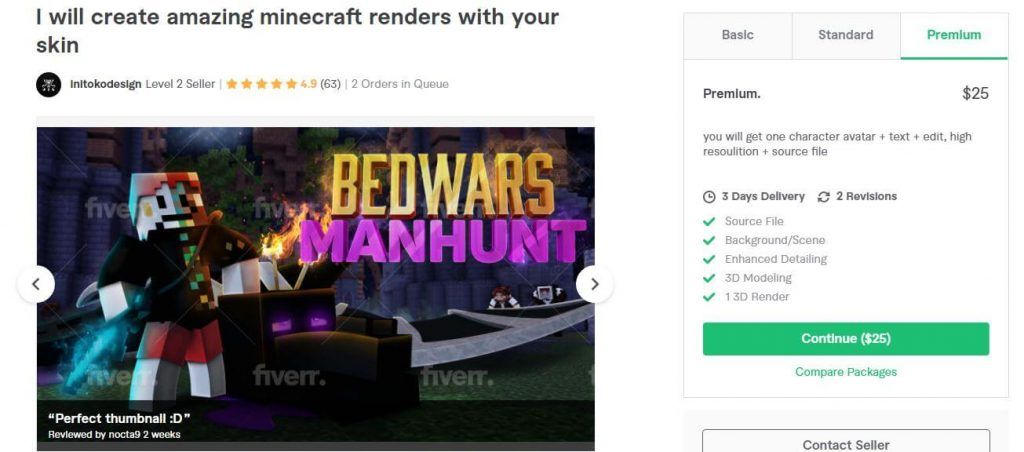 Firstly, it should be noted that this is a 3D rendering gig for Minecraft avatars and not a custom skin for the game.
Initokodesign is a talented 3D renderer and graphics artist that creates Minecraft renders on the platform. For as little as $5 to $25, he will create a Minecraft avatar render based on your skin. The renders can be used as thumbnails, banners, and wallpapers.
Depending on the package purchased, the renders come in a Transparent background, background with a Scene, or GFX and will be delivered in 3days. His typical response time is one hour, so you should hear back within that time frame.
Looking for a Minecraft render expert? Check out Initokodesign's gig.