Last Updated on February 11, 2022
If you're a creator, consider emotes as a mini-ad for your twitch channel. They're a great way to build your community and promote your channel. They're exclusive to each channel, so having custom-made emotes is a must if you want an incentive for more viewers to subscribe to your channel.
For this article, We have spent well over $500 commissioning Twitch emotes from over 20 different Twitch emote designers.
Looking to find out who are the best value artists out of all of them? Then read on!
How to create your own custom Twitch emote?
If you've spent time on Twitch, you've probably seen or used a variety of emotes in the chat of a stream. Emotes are simply another name for emoticons or emoji on Twitch. Unlike emoticons on your phone, Twitch emotes are wholly unique to the platform and have become its own language, making them one of Twitch's most recognizable features.
They not only provide a quick, easy, and enjoyable way for the community to communicate, but they also allow the community to show support for their favorite creators, since many are only available by subscribing to a specific channel.
These emotes are your brand, and they serve as a powerful method for streamers to identify your channel. They're also what your subscribers uses to have fun and connect with each other on the channel. This is why it's crucial to understand emotes and know how to create custom ones for your channel.
Twitch emotes are simply a small, emoji-like image that can be created by you in an image editing software like Adobe illustrator / Photoshop or by simply hiring an artist that does all the work for you. When hiring an artist, you're not just paying for their time. You're also paying for years of honed skills hence, ensuring a high-quality service, which is why having professional artist design emotes is preferable.
What are the best Twitch emotes commission services?
So, how can you get a fantastic artist design you emote without breaking the bank?
Fiverr is my answer to that question. Fiverr is a freelancing website where creatives of all kinds sell their services for as little as $5. There are dozens of outstanding graphic artists who offer design packages at or near this cheap price threshold. Even better, by simply searching, you can easily find designers who specialize in twitch emote design.
To do that, you begin by going to the Fiverr homepage and searching for "twitch emotes" in the search field. All of the designers who offer twitch emote commissions will appear in your search results. Scroll through the results, glance through several portfolios and pick a designer whose style you prefer.
If you don't want to go through the hassle of comparing and contrasting thousands of designers to pick one, you're at the right place as we've done the heavy lifting for you and compiled a list of incredible emote artist.
In this article, we'll be reviewing the 5 top emote artist on Fiverr based on our experience:
1. Bryanlh – Budget-Friendly, All round twitch artist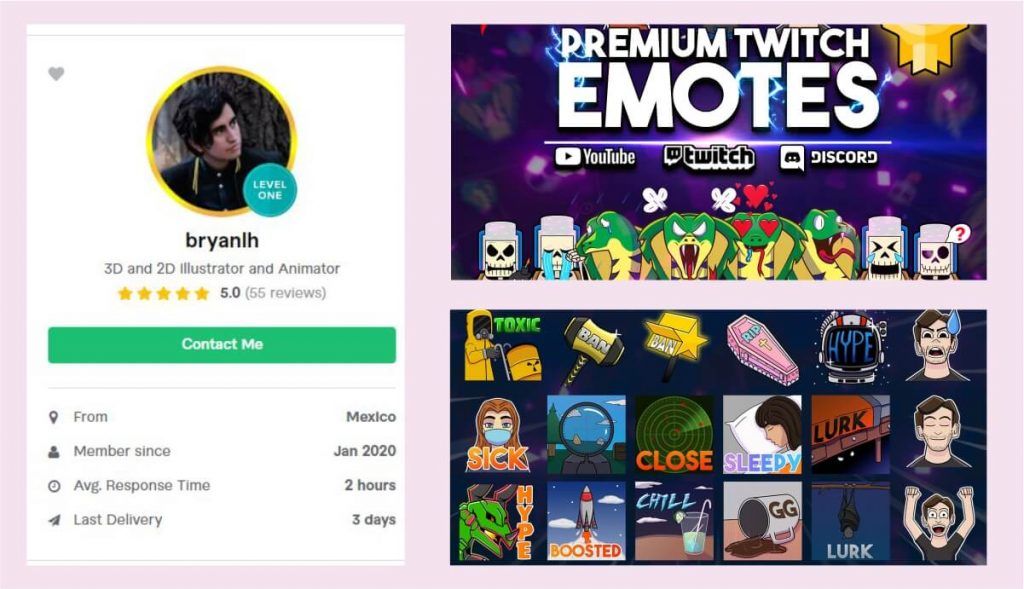 The first on the list is Bryan, a Mexican artist who is new to the platform. Bryan joined Fiverr in 2020 and is quickly rising through the ranks, as he is already a level one seller.
Bryan has more than 5 years of experience as a 3D/2D Illustrator and Animator.
You'll get fantastic twitch emote with his budget-friendly package, which ranges from $10 to $30.
He is an all-round twitch emote artist, providing Chibi-like, Original character, People, Fanart, and Animals emote. He also offers a $15 add-on package to add animation to each emote.
Bryan's gig caught my interest as he used an eye-catching video thumbnail showcasing his previous projects, Enticing all potential buyers to click and place an order. You can expect a response within 2 hours, as that is his average response time.
Also, his turnaround time is great, as you will receive your completed emote in 3 to 6 days, depending on the package purchased, with one revision.
2. Salgatanas – A Highly Rated, true to style anime-like illustrator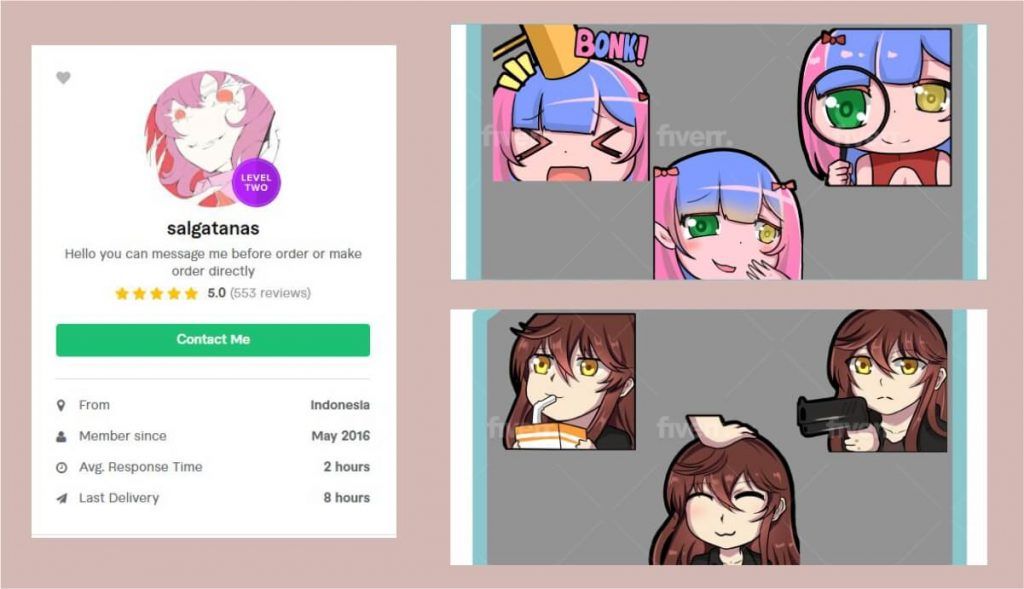 From her profile photo to her twitch emote gig thumbnail to all of the other services she offers on Fiverr, there is a consistent theme of anime-inspired graphics, establishing Salga as an expert in the field.
Salga is a level two artist from Indonesia with over 500+ reviews, her prices ranges from $10 to $50 with a single revision. Salga is the ideal choice if you're looking for emotes with an anime theme for your Twitch channel. She can, however, do a variety of other design styles if requested, so your options aren't limited.
3. Sakurart2020 – A Seasoned, Top Rated Seller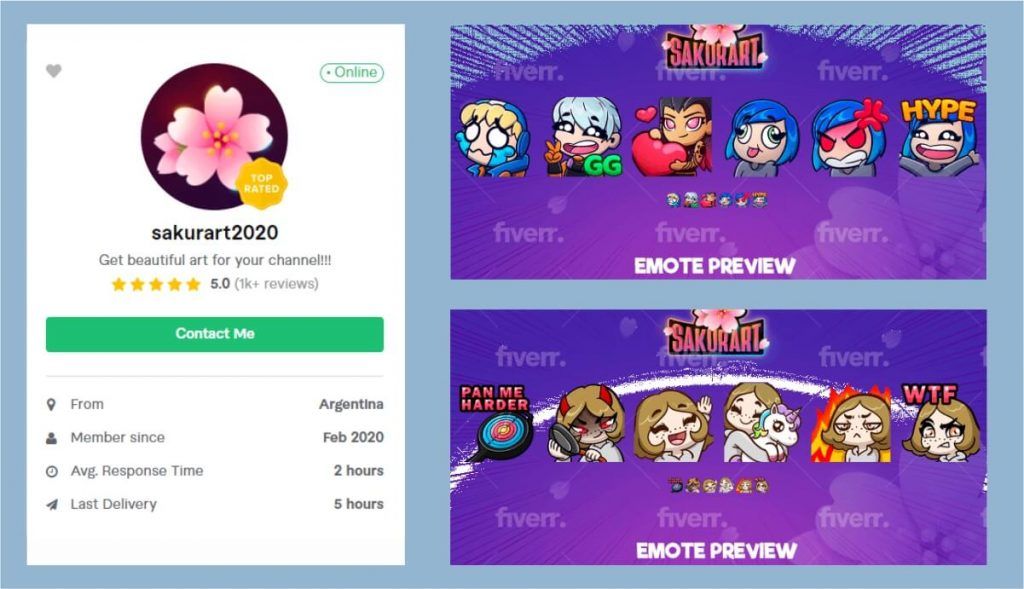 Sakurart is a top-rated seller from Argentina, with over 800+ positive ratings, proving their expertise in the sector. They primarily provide twitch services on the platform, establishing themselves as an expert in the field.
Sakurart specializes on delivering high-resolution images with extreme details, and they excel at it. Their gig fees range from $15 to $70 depending on the requirements. Package deliveries range from 3 to 7 days, and each package includes unlimited revisions, which is uncommon at such a low price, making it great value for money.
4. Kitfelicity – Top Rated, Cute designs illustrator with premium pricing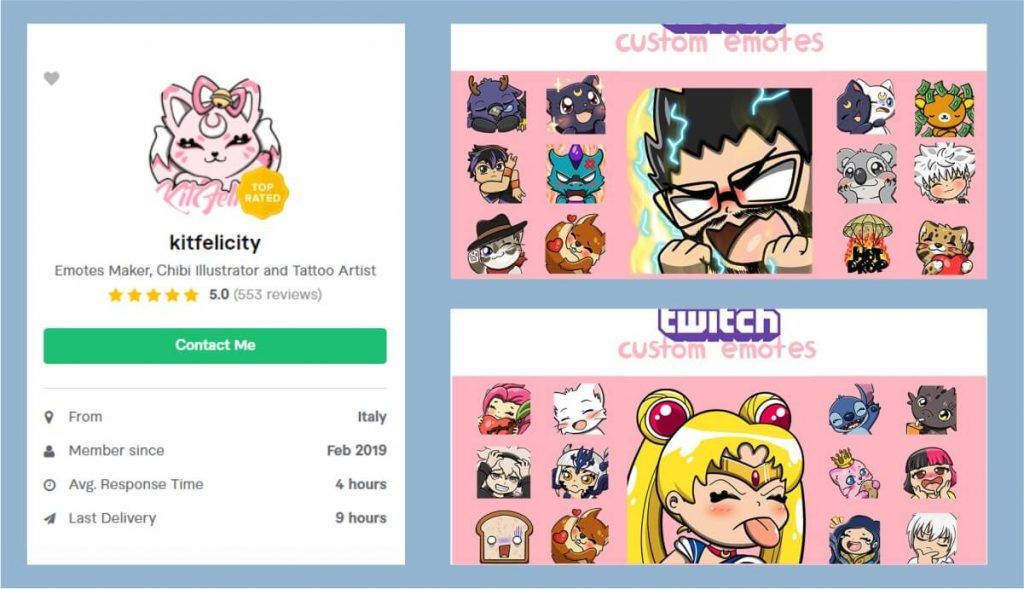 Kit is a top-rated Italian artist with over 500+ ratings. She basically creates adorable emote designs and is fantastic at it.
Although her premium plan costs $110 for 5 emotes, you can be rest assured that you'll be getting your money's worth since you will be receiving a top-notch cute emote for your channel with unlimited revisions.
5. Jogoroto – An Experienced Expert with Lightning-quick Turnaround Time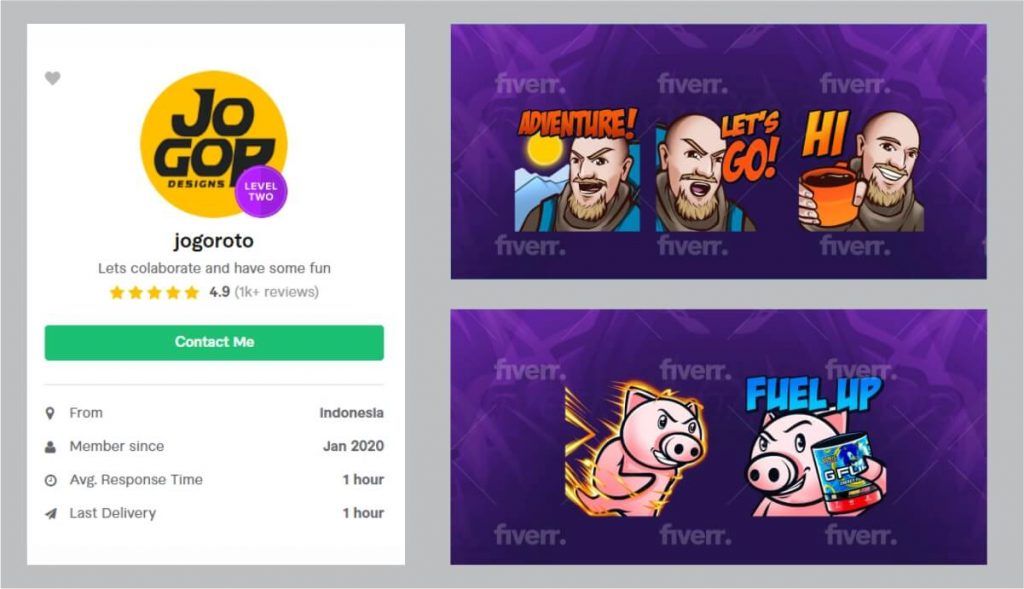 Jogotoro is an Indonesian level two seller with 500+ reviews who distinguishes himself from other sellers by delivering in just 24 hours with unlimited reviews.
I didn't think it was feasible at first as I'm familiar with the entire process a twitch emote goes through before being completed, until I read his reviews, and you know what they say: "reviews don't lie."
So, if you're searching for a professional with a quick turnaround time, jogotoro is your man.
How many emotes can an affiliate have on Twitch?
While any viewer, regardless of their position, can use free Twitch emotes on any channel, only Twitch Affiliates and Twitch Partners are authorized to create custom emotes for their subscribers.
Affiliates have the option of unlocking up to five Tier 1 emotes and one additional emote for each subsequent subscription tier. Unlocking more Emotes depends on the number of subscriber points a given channel earns. Twitch determines this by taking into account the number of subscribers and the tier that each user has purchased. As an Affiliate, you can add additional emotes to your channel as people subscribe.
Further Reading on SMBillion: Want to create to create Twitch emotes and overlays yourself? check out our Twitch Overlay Maker and Twitch Emote Maker guides.