Last Updated on September 4, 2022
Are you looking for new custom Twitch emotes to spice up your Twitch channel? Have you tried creating emotes yourself but got stuck in the process?
In this tutorial we will teach you how to create custom Twitch emotes yourself in under 15 minutes, or find a Twitch emote maker artist who would do the entire job for you.
We have spent well over $500 commissioning Twitch emotes from over 10 different emote designers, and found the 3 best overall artists for any Twitch channel.
Want to know who they are? Read till the end of the guide to find out!
How Do You Make Your Own Twitch Emotes?
There are various ways to create your Twitch emotes. One of the top options would be Photoshop. However, not all of us are Photoshop pros and getting proficient enough with it in order to create good looking emotes would take you months.
You can alternatively resort to using an online maker or app to create emotes.  The most common tools in this genre include apps like OWN3D, Kapwing, PiZap Emoji Maker, Paint.NET, and GIMP.
Lastly, the third and final option (which we recommend) is simply hiring a professional artist to create a bunch of emotes for you. Emote bundles are extremely affordable and the end result would look million times better than anything you can make yourself.
What Is The Best Twitch Emote Maker?
Fiverr.com is one of the most popular yet affordable platforms for hiring artists and they are our top choice for Twitch designs.
Fiverr can be used to find professional artists who would create custom emotes, overlays, panels and logos for your Twitch channel in extremely affordable prices.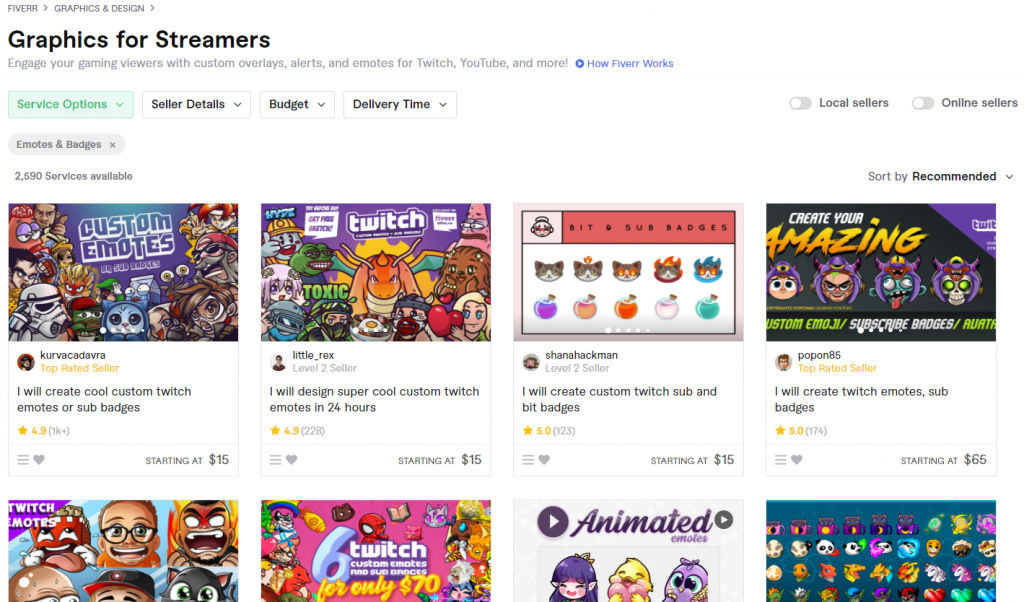 Whatever type of artistry you are looking for, your can bet you'd find it on Fiverr. The website offers you a huge number of of artists for you to to choose from. A perfect and creative emote artist will flood your channel with exciting and unique emotes.
Twitch emotes are a great way to build a loyal fan following, and hence you need the best emote artist. It is necessary to pick a designer who has a basic understanding of Twitch and caters to all your requirements.
Before we list our top artists, let's talk about the benefits of hiring a designer from Fiverr:
Benefits Of Picking A Designer From Fiverr:
Fiverr has an array of designers you can pick from.
The rates at Fiverr are very affordable and reasonable.
The designers at Fiverr offer customization, which is beneficial as it will promote originality in your twitch channel.
The quality of service at Fiverr is relatively high.
You don't have to worry about payments as Fiverr is a secured platform.
With Fiverr, you have a high chance of picking the most experienced and skilled artists.
The great thing at Fiverr is transparency. You can easily access a freelancer's profile and feedback from past buyers before making your final selection.
Now that we have seen the benefits of hiring from Fiverr, let's help you find the right one. We have listed our top 2 options for you based on our experience:
Best Twitch Emote Designer On Fiverr – Sakurart2020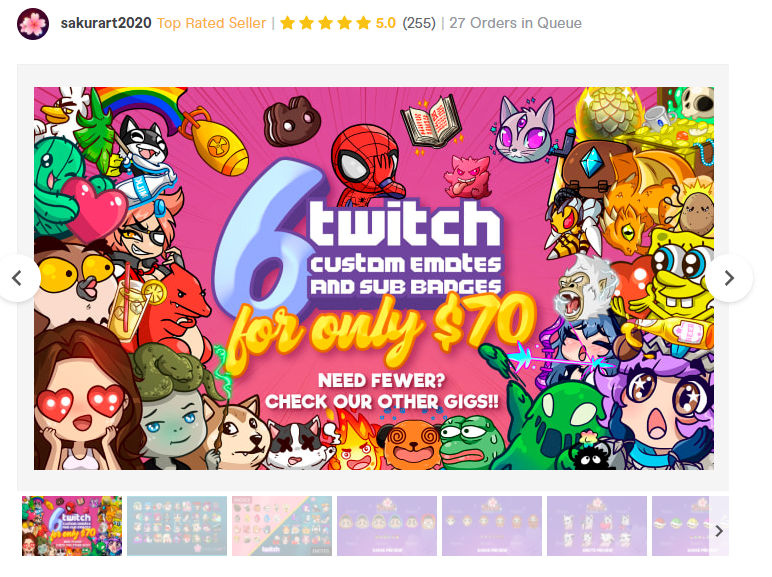 With a 5 star overall rating, the designs of Sakurart2020 are nothing less than perfection. It is one of the top-rated sellers of Fiverr. Whether you are looking for smaller quantity emotes or bulk, this designer will offer you all, with a guarantees delivery within seven days.
The biggest perk of hiring this designer is that they allow customizations and can turn your sketches into beautiful emotes. The designer offers three packages for Twitch emotes. You can make unlimited revisions in your emote if you are not satisfied with it.
The most basic one starts at $70 and includes six emotes. The next package comes with 12 emotes for $130. The last and the premium pack charges $240 for 24 twitch emotes.
Most Affordable Twitch Emote Designer – Kurvacadavra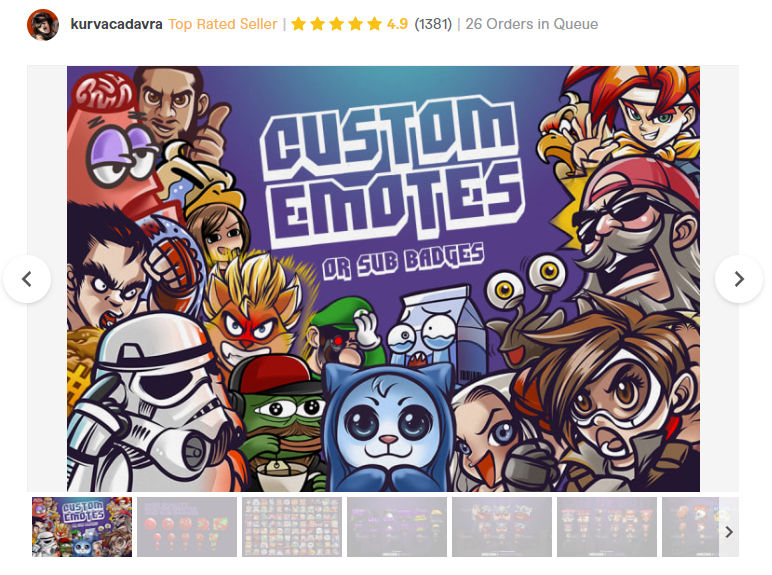 This designer is one of the most cost-effective options if you are running on a tight budget. Kurvacadavra is one designer who will present you with stunning emotes at minimal prices.
The artist has been rated 4.9 stars by over 1,300 people. A rating like that surely speaks of a good and reliable designer. The delivery period for each package differs from 8-10 days. The basic package costs $15 for a single twitch emote.
The second and the standard package is priced at $45 for 3 emotes. If you're looking for more emotes, you should consider the premium package priced at $85, which is a great bargain.
Emotescreator.com – An easy to use online emotes tool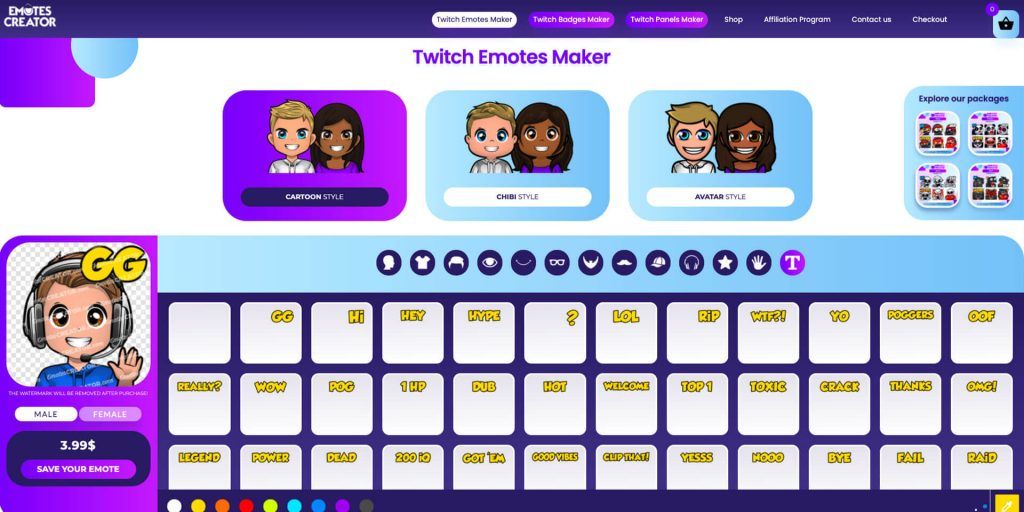 If you are looking for an online maker that would allow you to create your own emotes yourself, without the need of hiring artists, then check out Emotescreator!
It's an handy platform where you can control the whole emotes creation process, with prices starting at $4 per emote!
What Makes A Good Twitch Emote?
If you want a loyal base of followers, there's nothing better than using emotes to retain them. Whatever emotes you put up on your channel should have the potential to attract the users and subscribers. We've listed a few features that will boost your Twitch emote game.
Your emotes should be engaging, and viewers should be delighted to use them. The viewers should be able to relate to your emotes and hence find them apt for use.
Make sure that the emotes you make is crystal clear. In other words, it should not be blurry as it looks unprofessional.
A good twitch emote has originality. The only way to reach out to millions of viewers is by giving them something unique. Having original and unique designs will help you to stand out among other streamers.
Generally, viewers perceive humorous or funny emotes to be useful. This does not mean all emotes on your channel have to be the same. Try including sets of funny emotes to gain more users.
Twitch Emote Requirements
Before you use emotes on any channel, you have to make sure that they follow the guidelines. Twitch has outlined the full requirements with clarity on the website. Before you make your Twitch emote keep in mind these few requirements:
The emote should be a 32 bit PNG file.
The emote file should not exceed more than 1mb in size.
All emotes you create must support transparency.
Rules and guidelines for emotes:
Vulgarity is not tolerated in the twitch community. Any obscene or explicit words, text, or gestures are condemned.
Any emote used on the platform should not promote or encourage violations of community guidelines.
It is against the rules to use political phrases, symbols, and figures.
The animation should be supported by Cheermote submissions.
Usage of individual alphabets and characters are permissible at Twitch.
The emoted should not be based on Twitch Global Emotes.
In no way the emotes should be violating the Twitch Brand Assets Guidelines.
Twitch Emote Sizes
Some partners and affiliates constantly create their own emotes or get emote by designers. There are some sizes and resolutions that should be kept in mind when creating your emotes:
The image should be a single square sized to be eligible for use on Twitch.
The size of the image should be between 112 x 112px, 4096 x 4096px.
The other three images sizes are 28 x 28px, 56 x 56px, 112 x 112px.
Subscriber badges have a size requirement of 18 x 18px, 36 x 36px, 72 x 72px.
Lastly, the resolution of your Twitch emote should be at 100-percent to ensure the best quality.
What Is A Twitch Emote?
Twitch emotes are just like emojis, which are used on other social media platforms. Though they mean the same, they are nothing like the usual emojis present on your phone. All the emojis on Twitch are unique and original, and hence they are a rage among users.
The emotes are used to communicate and react to something which is currently happening at the platform. The emotes are created by partnered and affiliate streamers. Moreover, these Twitch emotes are one of the powerful branding tools adopted by channel owners.
Emotes can be used on Twitch by entering case-sensitive combinations of symbols and alphabets. In other words, all emojis have a code that needs to be entered to use them. Alternatively, you can select an emoji from the emote menu present in the channel's chat area.
Custom Twitch emotes – Wrapping it up
Emotes have become the native language at Twitch. So if you want to go with the flow, you should look for an amazing and unique emote. If you can customize and create your emojis, there is nothing better than that. If you are not good at creating, there's another way that passes through sites like Fiverr.
In my opinion, spending $15 to $50 are worthy investments for cool emotes. If you are looking to make some money on Twitch, you should understand the target audience properly. This guide covers detailed instructions for making and hiring, so hopefully, you will have a great time with Twitch emotes.
Further Reading on SMBillion: To round up your Twitch channel graphics upgrade, check out our Twitch Overlay Maker, as well as our list of the best logo maker software.