Last Updated on December 16, 2021
If you are just starting a blog or a website this year, you need to be aware that you are getting into one of the most competitive landscapes you'll ever experience.
Making your site stand above all the rest of the competition, especially when it comes to organic growth via Google and other search engines, can be extremely difficult and require a lot of work from your side.
Just creating nice content with value is not good enough anymore. Nowadays, you need a proper link building strategy to help grow and maintain your site's authority as quickly as possible by getting high quality backlinks from relevant sites.
One of the most popular strategies for getting those strong backlinks and growing your site's reputation in a rapid manner is guest posting – writing articles for other established blogs from within your industry in exchange for a link back to your site.
This strategy can help you leverage other sites and their Domain Authority (DA), and allow you to build up your backlink profile while gaining a nice exposure to a new audience.
There are countless number of articles about the benefits guest posting / guest blogging and how game changing this strategy can be for a new site or blog, but the hard truth is that contacting multiple site owners and trying to get a guest post approved is a significantly harder process than what most established bloggers make it seem like. I
t requires hours of efforts from your side and there's no guarantee that even one of your potential leads would reach back and be interested in what you have to offer.
It can definitely be a good strategy if you have an existing relationship with key figures or you are part of some sort of an inner circle, but what about the rest of us? Those of us who are just starting out without any prior relationships?
This is where a guest post service come into place.
What is a guest post service?
A guest post service is the most easy and reliable way to get high quality, natural, white-hat backlinks to your site and help boost your rankings and get more traffic to your site.
Instead of you manually outreaching to sites for a potential guest post, using a guest post service you can just pay an upfront fee to an established site in exchange for the desired backlink. No introductions, no prior relationships needed.
Depending on how many placements you order from a guest posting service, you can get tens and even hundreds of high-quality, high domain authority websites all pointing back to your own site. That's going to give a huge swing to your search engine rankings.
What are the best guest post services in 2021?
Finding the best guest post service can be tough and depends on a lot of variables, such as: your overall budget, whether you look for a recurring or a one-time job, agency or direct contact with sites and much more.
As a general rule of thumb, I find general SEO agencies to be a very pricey solution (the average price for a single guest post via an SEO agency tends to be around the $500 mark) and recommend going for individual freelancers offering paid guest posts or a company that specialize in acquiring ghost posts . It would reduce your costs significantly, while producing the same results.
It is very important to note that due to the demand of guest post services, there are countless fake services out there who won't help your site's ranking at all and in some cases – might even harm it. Any mass linking strategy can give you a short term uplift, but would hurt your site in the long run. Don't mess around when you are doing link building, especially when it comes to your main website.
To help you all out, I have outlined below my personal list of the 3 best guest post services I found after trying around 50+ different service providers. Those sellers all offer an excellent service for beginners, with affordable prices. I was very picky while writing down this list, and included only the ones who provided me with REAL value with below the market prices.
One type of link to rule them all – Guest posts from high Domain Authority (DA) sites
The most important parameter when choosing a guest post service is the DA rating of the site your guest post would be featured on. Domain Authority (DA) is a search engine ranking score that predicts how well a website would rank in comparison to others. Domain authority is a metric created by the SEO consulting site Moz and is measured by many factors, including the total number of backlinks, linking root domains, Trust Rank and more. The ranking score is a number between 0 to 100.
Most guest post services will let you you know what is the DA rank of the sites where your content will be appearing. The higher the DA rank would be – the more you'll have to pay for a guest post on this praticular site. According to a research made by Growista.com in 2019, this is the average cost of a paid guest post on various different DA sites:
High DA sites (with DA score of 50+) are considered more prestigious thanks to the value of the backlink and amount of web traffic they can send your way.
Receiving a dofollow backlink from an high DA site is a sign of trust in your site, which would make Google and other search engines evaluate it in a more positive light during their future crawls.
With those average prices in mind, here's the 3 top service providers I gathered that would yield you the same results with much better prices: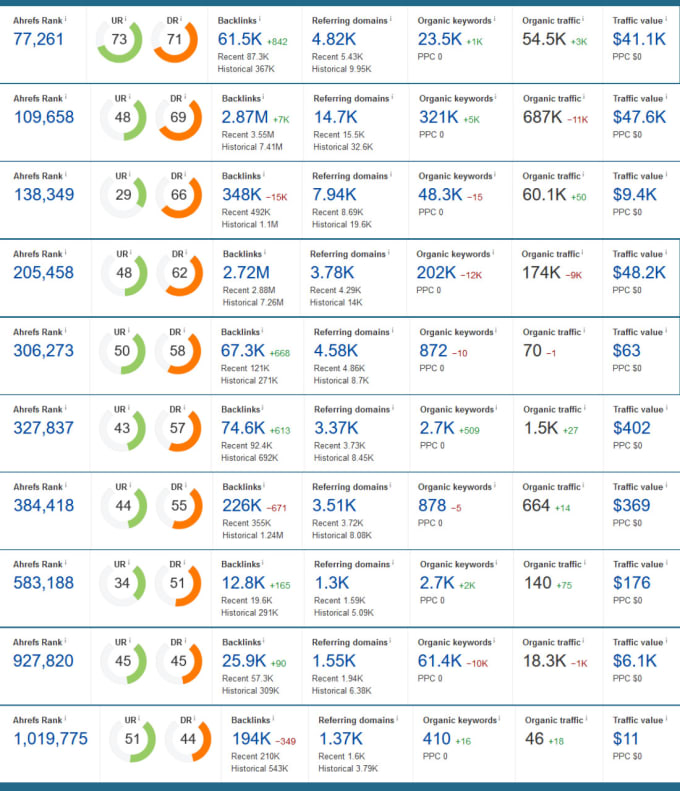 We are starting off with the strongest combination service I could find. This service would provide you with 10 guest posts on 10 different high ranking sites, with DA ranks ranging from 73 to 52, for a total sum of 600 dollars.
Let's run some quick math: even if we calculate all the 10 guest posts by the average cost of 434$ (despite the fact that a few sites in this package have 60 and 70+ DA), this service's full price should be around 4340$. Yet it costs only 600$.
Sure, 600$ is still a considerable investment but if you look into the fact that SEO link building services can cost up to 1500$/ per month, the added value here is tremendous and I couldn't find any guest post service that even come close to matching it.
Link to the service: Click here
Like I have mentioned before, guest posting usually requires hours upon hours of dedicated work of reaching out to any relevant blog you can find in your niche. It's a tedious process that can take days if done properly and thoroughly, as it should.
This service would take care of all this hassle for you -They'll do a genuine outreach within your niche for link placements and guest posts. Instead of paying for a guest post on a random site, you'll get a guest post on a relevant site with high DA. what more can you ask for?
'Bullsdigital', the seller, is an awesome dude who might as well be the best seller on Fiverr. He answered all my questions and showed me through his actions that he is the real deal.
Link to the service – Click here
3. Combo guest posting package – Guestposts.io

If you are looking for a complete package solution – guestposts.io would do the job. In addition to the high quality guest post placements in various different niches that they offer, they'll take care the guest posts writing process for you as well.
They offer a variety of different guest post packages. Their prices are crazy cheap, especially if you consider that they take care of the writing as well. In one of their packages they offer 30 (!) guest posts on DA 20-60 sites for 497$, which comes down to about 16.5 dollars per guest post placement. This is an insane value for money. And their writing is not bad at all!
Link to the service – Click here
Guest Post Services in 2022 – Is it worth it?
Guest blogging is definitely still one of the best ways to grow your website's traffic, period. As long you write and produce high quality guest posts, finding a place to advertise them would allow you to receive immensely valuable inbound links, increase your Domain Authority score and gain access to more readers who are interested in your content.
To get started, use one of the services mentioned here as they'll give you the initial ranking boost you need. Leverage other writers to write more guest posts for you, so you could scale this process and get more and more high authority backlinks.
After your site would get some traction and you would have a few nice guest posts under your belt, you will be in a much better position to start reaching out to more relevant blogs from your niche and you'll get a lot more positive answers whenever you'll pitch them your content ideas.