Last Updated on August 31, 2022
Are you a fan of cosplaying fictional characters? Are you looking to commission a cosplay service but don't know how? Well, you're in luck!
This article will introduce you to the best cosplay service from the best marketplace, Fiverr.
What Are the Best Cosplay Commission Services?
Below you'd find our list of best cosplay commission services to try this year:
Nirurin – Cosplay Prop Design/ Build Commission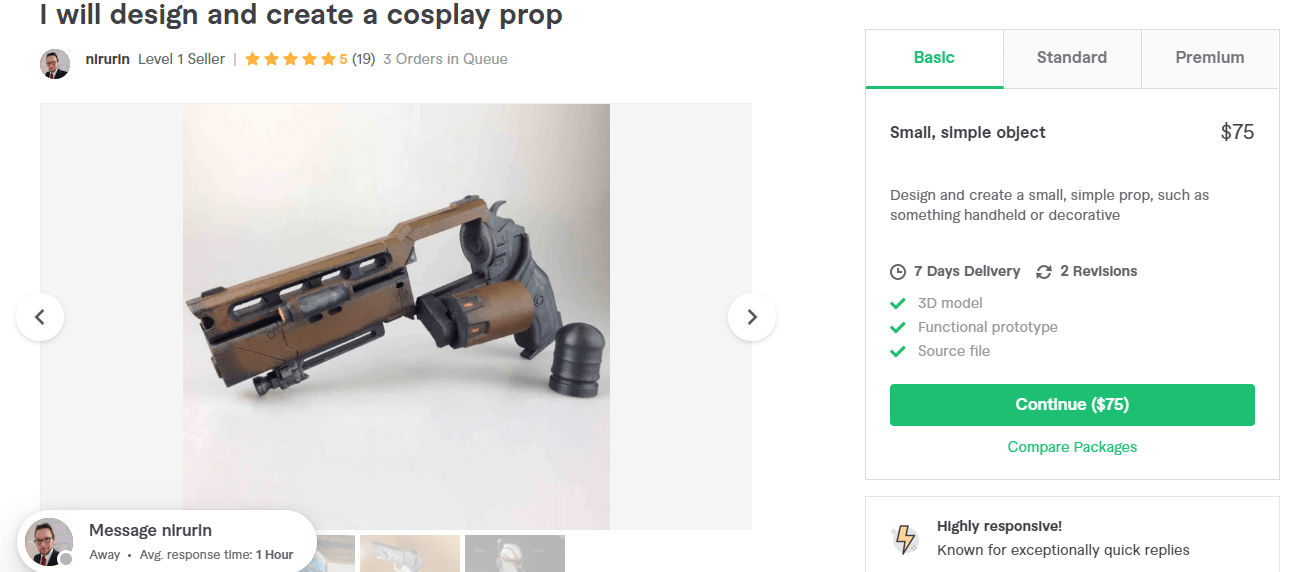 Nirurin is a professional 3D modeler with years of experience. He'll design for you a prop that can be turned into a 3D printable model for use in D&D, LARP, and cosplay. He can also print the model and have it shipped to you if you prefer, though there may be additional costs depending on the model.
He has experience in creating:
Weaponry (Pistols, Rifles, Swords, etc.)
Armour (Helmets, Bracers, etc.)
Decorative Pieces (Crowns, Necklaces)
Accessories (basically anything!)
His prices range from $75 for a small, simple prop to $275 for a large, multi-part object, such as weaponry or something wearable.
He urges you to send a message before placing an order to understand your requirements better and then find an appropriate quote that fits the needed work.
The Quotes are estimates only if you want him to design and print the prop for you; material costs and print times will vary depending on the item's details. High-detail items have a higher production cost because print time is typically billed hourly.
He offers to install LEDs to allow the item to glow in any RGB color (or flash in any sequence of your choosing) if he's printing the piece for you.
Looking for a true cosplay prop professional? Nirurin is your guy.
Datwul – Cosplay Building Commission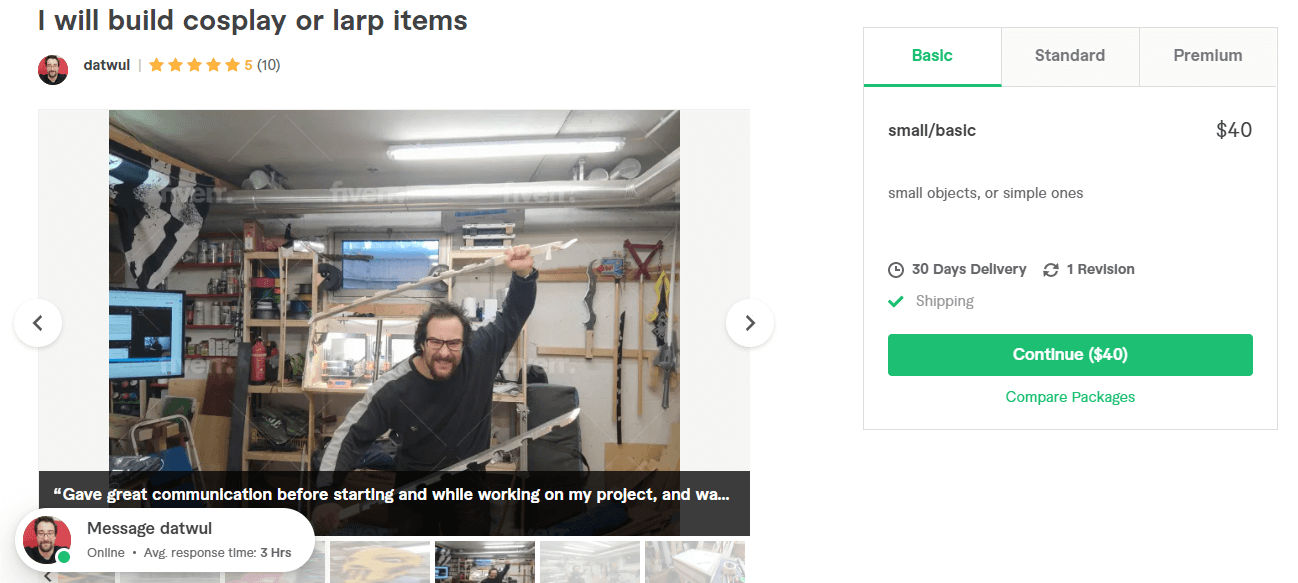 Datwul is an electro-technician and does pretty much anything around models and modeling. He offers to bring your cosplay ideas to life, all you need do is communicate what you want, and perhaps he will find a way to make it.
His prices range from $40 for small objects to $150 for large and complicated ones.
He lives in Austria, and shipping is limited in size to 1 Meter length, but he can make stuff that you have to assemble yourself if you like.
Looking for a genius to build you anything? You can't go wrong with Datwul
Kissiart – Cosplay Bodysuit Commission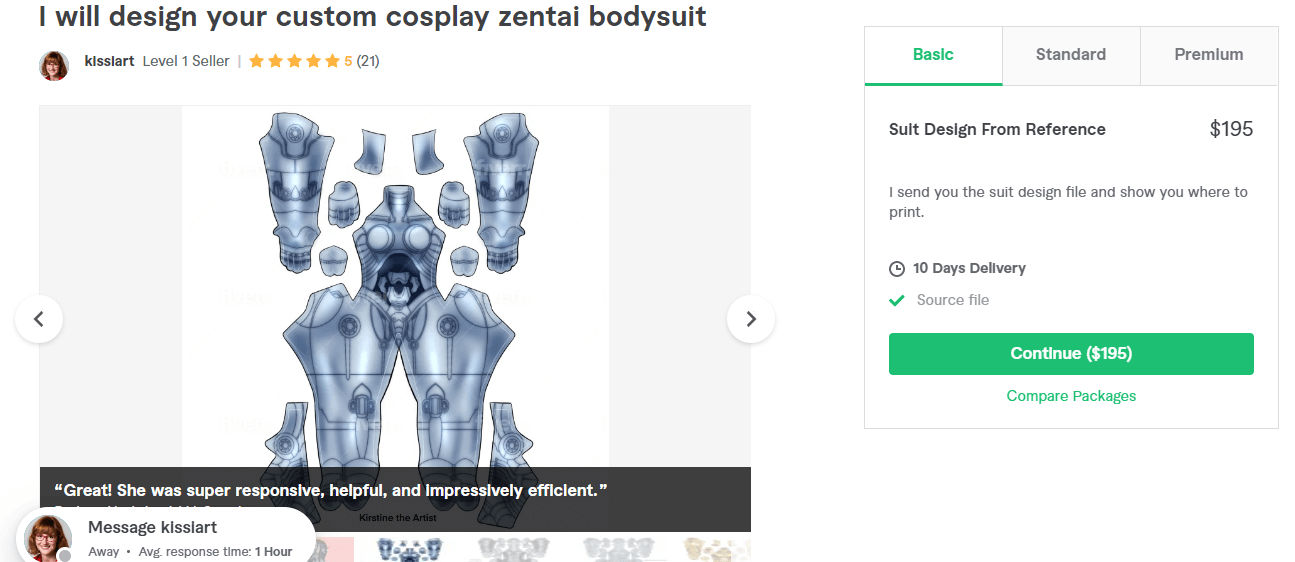 Kirstine is a 2D/3D artist and avid cosplayer specializing in creating bodysuits. She creates existing bodysuits and also customs based on your ideas.
If you're getting a custom design, she will send you a rough sketch for feedback and revise/redraw until satisfied.
Her prices range from $195 for a suit design from reference to $995 for custom suit design and printing. Designs with loads of detail might cost more, so you can send a message before placing an order.
Looking for a cosplay bodysuit expert? Reach out to Kirstine.
Effyrios – Cosplay Shout-Out Commission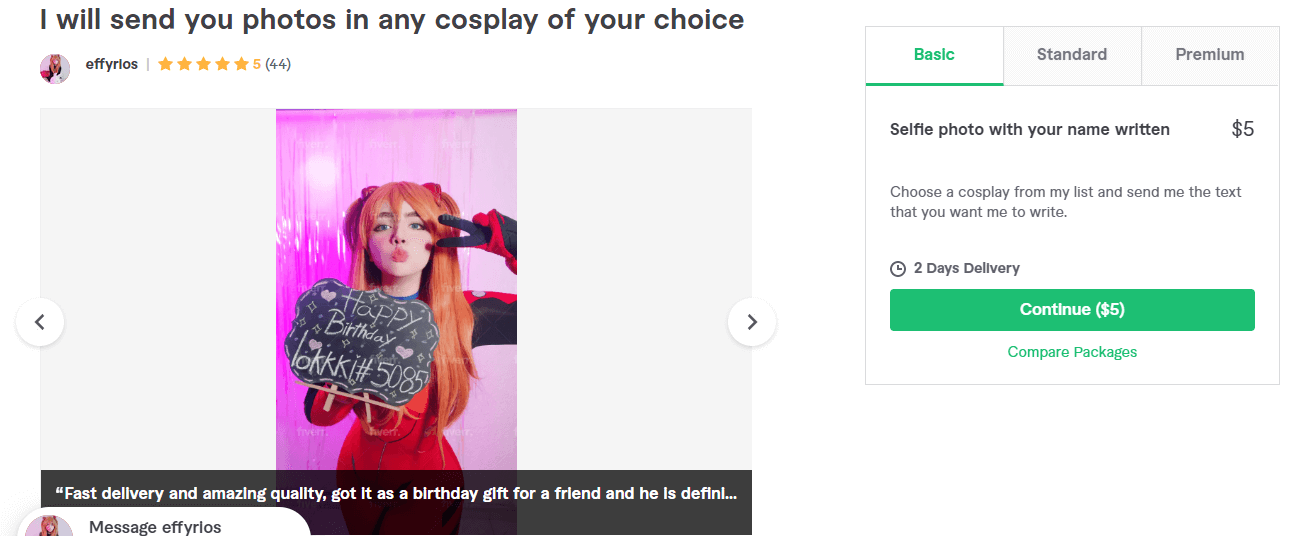 Effy is a devoted cosplayer that offers shout-outs in different cosplays. These shout-outs can be used to promote businesses, channels, or just for a personal greeting.
She dresses up in any preferred cosplay (she has a list from you to choose from) and takes a picture/ video with your shout-out instructions.
Her prices range from $5 for a selfie photo to $20 for a professional photo shoot.
Looking for a cosplay shout-out? Effy is your girl.
Mymoonmoon – Cosplay Edit Commission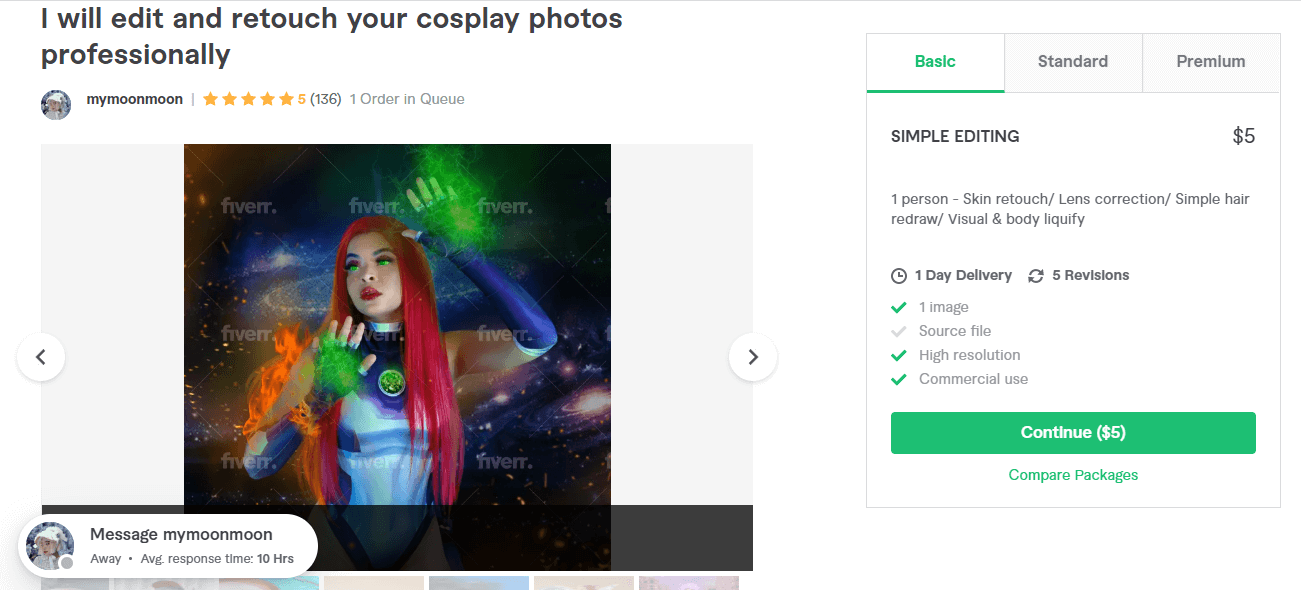 Are you looking for someone to turn your cosplay pictures into an actual work of art? You can't go wrong with moon.
She's a professional graphic designer and cosplay enthusiast specializing in re-touching cosplay photos, giving them the feel of the original reference.
Her prices range from $5 for a basic editing (Skin retouch/ Lens correction/ Simple hair redraw/ Visual & body liquify) to $20 for pro editing (Standard set + Background removal/ Complex FX and manipulation).
Looking for a professional photo editor to revamp your cosplay pictures? Moon is your guy.
How Much Does Cosplay Commissions Cost?
According to our list, the average price of a Cosplay Commission can range from $300 to $995.
You may come across artists who charge significantly more than this, depending on the size and complexity of the project.
This is what makes our list of professionals impressive. At a fraction of the cost, you'll get the same level of professionalism and quality (If not more).