Last Updated on December 24, 2022
With the rapid growth of virtual YouTubing, there has never been a better time to become a PngTuber.
PngTubers are virtual influencers who represent themselves using a 2D png avatar. They use sound-reactive software to make it seem like the avatars are in sync with their voice.
This allows them to maintain their anonymity while having a lifelike depiction that is less expensive and technically complex than a full-fledged VTuber persona model.
Are you looking to create a 2D PNG avatar but lack the necessary skills? Then you've come to the right place.
This article will introduce you to the best artists on Fiverr who are capable of bringing your PNG avatar to life.
Who Are the Best PngTuber Avatar Commission Artists?
Below you'd find our list of best PngTuber avatar services to try this year:
1. Lesscketch – Best Chibi-styled PngTuber Avatar Artist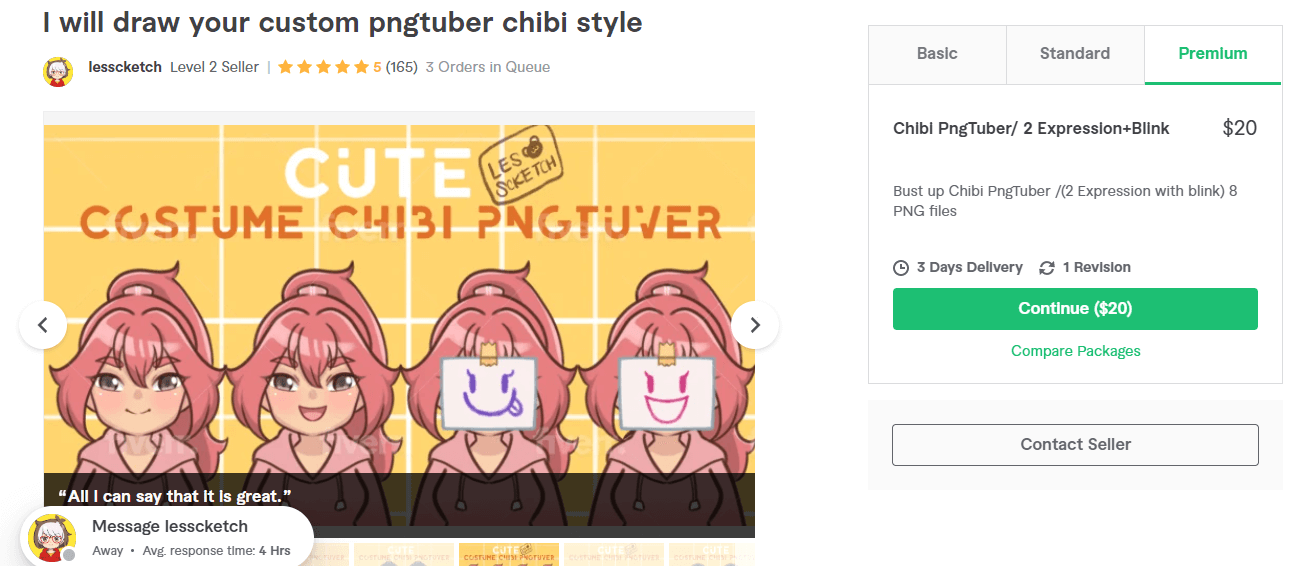 Leslye is a Freelance Illustrator Artist that specializes in chibi-style illustrations.
She offers to create a cute vibrant PngTuber avatar with any expression.
All she needs to get the job done is a detailed reference, a reference picture, and preferable color.
Her prices range from $10 for a simple bust-up chibi PngTuber with two expressions (Mouth open and Close) to $20 for a bust-up chibi PngTuber with expression and blink, totaling eight PNG files.
If you intend to use Veadotube Mini, she promises to assist you in setting up your PngTuber without charging you. (How considerate!) She also offers to add further details, such as objects or accessories, but there is a charge this time.
Looking for a chibi-style PngTuber avatar? Reach out to Leslye.
2. Kitawhoran – Anime-styled PngTuber Avatar Commission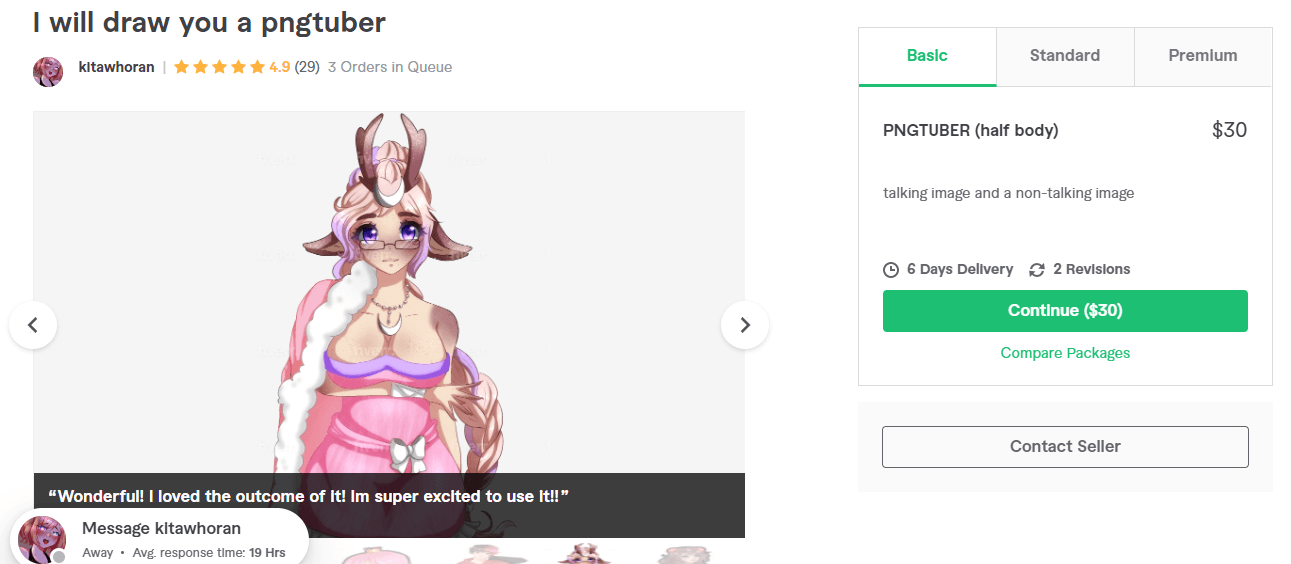 Kitawhoran is a seasoned digital artist with years of experience specializing in creating anime-styled art.
She offers to design an anime-style png avatar for your stream or video. Including basic talking and non-talking, talking and non-talking with blinking, and even talking and non-talking with blinking and emotions.
Her prices range from $30 – $50, with a 6-14 days turnaround time, and she guarantees two rounds of modifications.
Looking for an anime-themed PngTuber avatar? Kitawhoran is worth checking out.
3. Thesamds – Cartoony Themed PngTuber Avatar Commission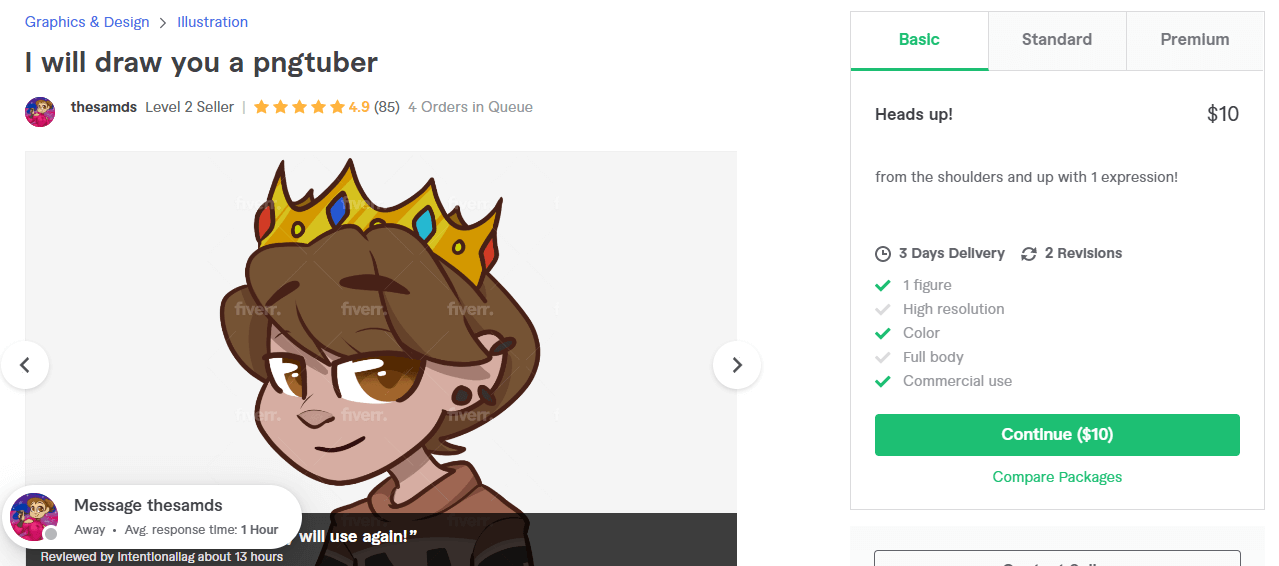 Thesamds is a freelance artist capable of bringing your PngTuber avatar to life in a cute aesthetic cartoony style. You just got to love her art style!
This gig has 1 Emotion with 4 Expressions (the expressions being; eyes open & Mouth open, eyes closed & Mouth closed, eyes open & Mouth closed, eyes closed & Mouth open). Totaling four images that can be used in any PNG-Tuber program.
Thesamds is able to draw any character, human, animal, object, and anything in between. She also tends to keep things more PG, but not limited to that. Her illustrations can be used for streams or on YouTube.
Her prices range from $10 for a bust-up illustration to $20 for a full-body illustration of the avatar.
Looking for an aesthetic cartoon-styled avatar? Thesamds is your go-to pro.
4. Isableh – Custom GIFtuber Avatar Commission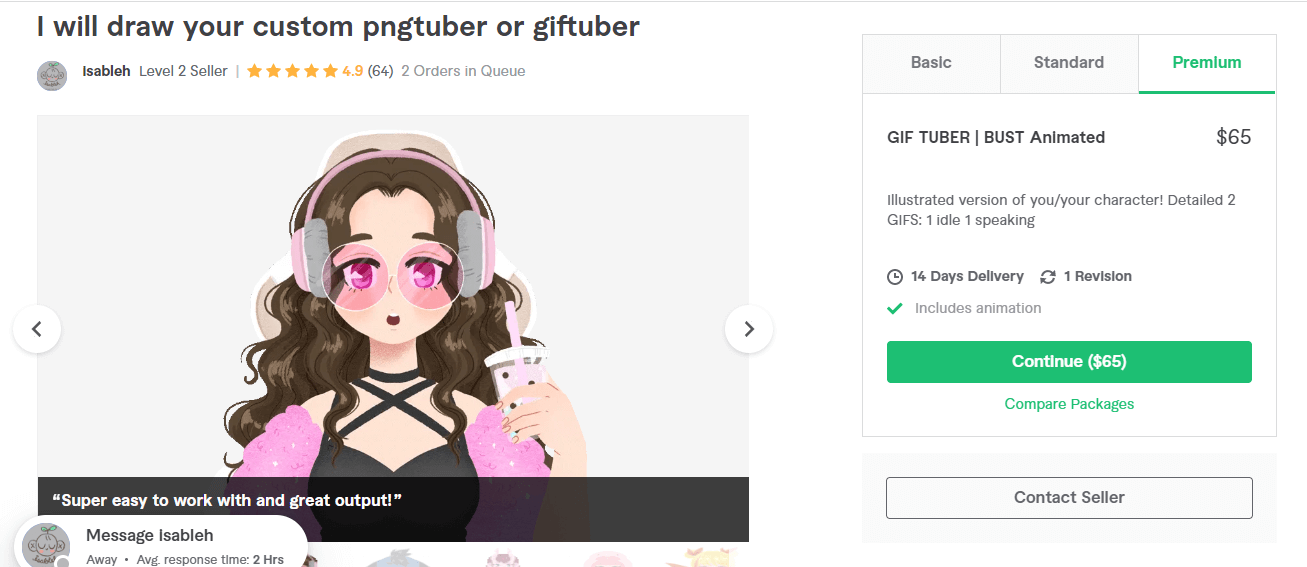 A GIFtuber avatar is superior to a PngTuber as it supports animated and static images, making the stream/ video more interactive and exciting.
Isableh offers to draw both PNG/GIF tuber avatars for your streams/ videos based on references. The animation enhances the avatar's look to give the impression that it is speaking or doing anything you want.
His prices range from $15 for a bust-up PngTuber with two expressions to $65 for an animated GIFtuber. He guarantees delivery in 5 – 14 days with a single revision.
Looking for an interactive avatar for your streams? Isableh is your girl.
5. Marimox – True-to-style PngTuber Avatar Commission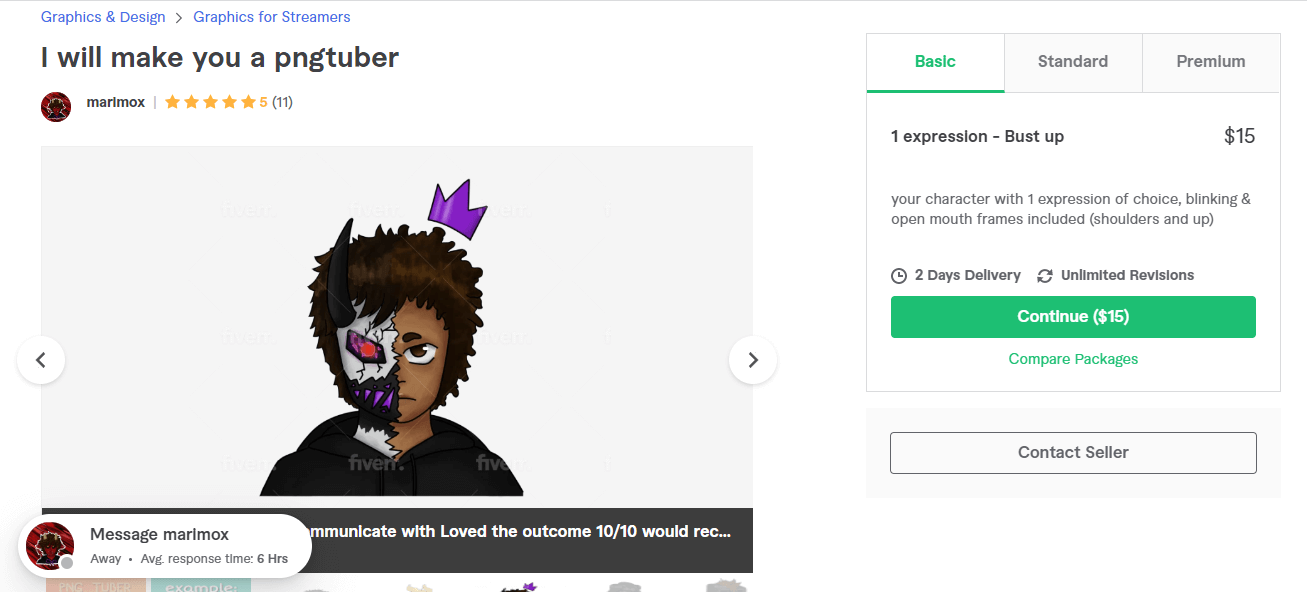 Marimox is a digital artist that offers to illustrate your PNGtuber avatar in his distinctive artistic style. You can view his portfolio to see whether his style—which veers a little between anime and cartoony—is something you'll like for your avatar.
His prices range from $15 for a bust-up avatar with one expression of choice to $25 for a character with three expressions of choice. He guarantees delivery in 3 days and unlimited revision, making it your money's worth.
Looking for a distinct art style for your PngTuber avatar? Reach out to Marimox.
Are PngTubers also VTubers?
Yes, PngTubers can be considered as a sub-genre of VTubers.
The only difference between them is that PngTubers use a simple 2D illustration for representation while Vtubers, on the other hand, use complex body-rigged technology to capture the motions of their avatar from a webcam or mocap suit.