Last Updated on July 29, 2023
Your body is an empty canvas, why leave it blank?!
Over the years, tattoos in general, have grown in popularity, and opinions towards them have shifted, thanks in part to the emergence of exquisite, well-executed tattoo designs.
People acquire tattoos for a variety of reasons, such as the representation of their past, memorial, ideals, perceptions, or dreams. Whatever the reason, you'll need a skilled tattoo artist to bring them to life.
This is why we'll be introducing you to the top 5 recommended tattoo sketch artists for hire from the best marketplace, their services, and their costs.
Who are the best tattoo commission artists for hire?
Below you'd find our list of the best artists most suited to handle your tattoo designs, based on our experience:
Maschazorro – An all-round experienced tattoo artist for hire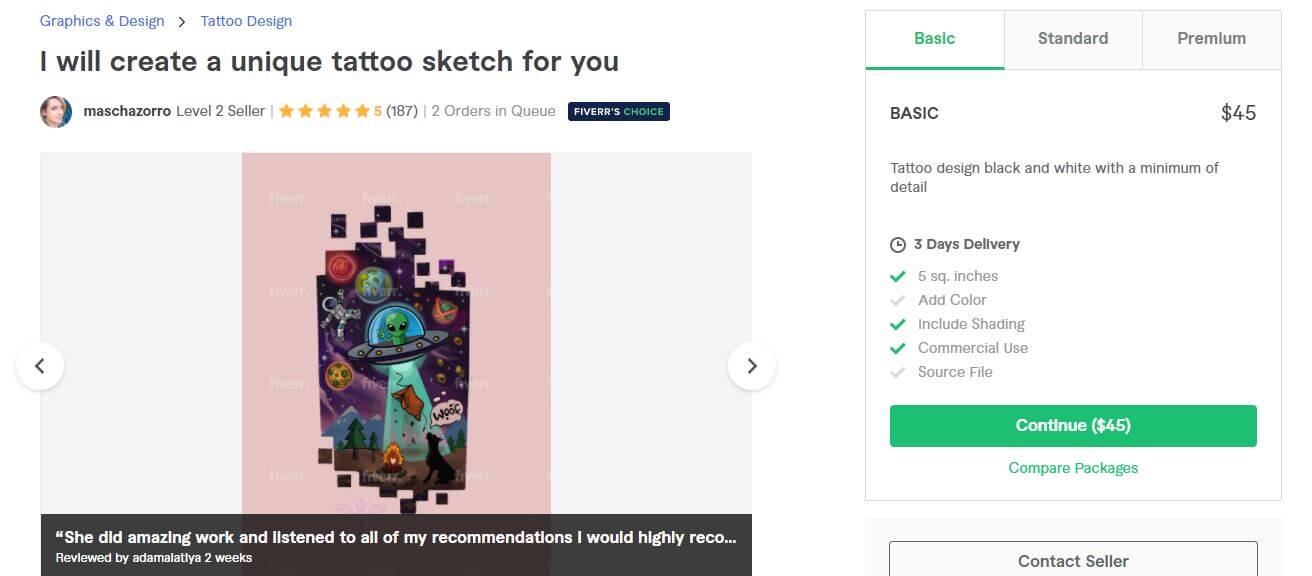 Maschazorro is an accomplished graphic designer and tattoo artist with over 8 years of experience in the field.
She offers to draw a sketch of a tattoo from scratch or make a composition from the work of other artists, or a mixed style using Photoshop, Adobe Illustrator, and Procreate. The sky is the limit with this artist.
Her prices range from $45 to $85 for a simple black and white pattern to a more sophisticated colored design. With a turnaround time of 3 to 7 days.
All you need to do is get in touch with her to go through the specifics of your sketch before placing an order. And she gives you professional advice on the draft as well as the type of skin on which the drawing will be put.
Send her a message to talk about your project. Her usual response time is one hour, so you should expect a response within that time frame.
You just can't go wrong with Maschazorro. Head over to her Fiverr gig now!
Igor_Lukyan – Hand-drawn tattoo commission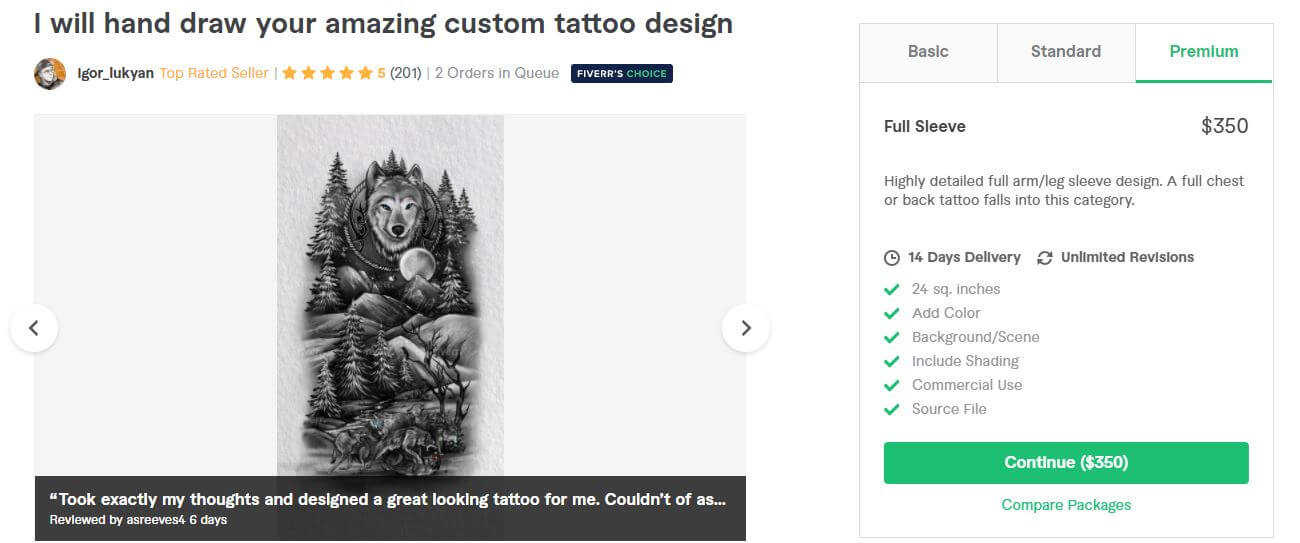 Igor is a top-rated seller and a Fiverr favorite. His ability to hold two of the platform's top positions demonstrates that he is more than capable of handling your project.
He is a professional artist who is passionate about creating original tattoo designs that are true to the client's personality. He'll turn your ideas into a tattoo that tells your narrative. A true artist I'd say!
He illustrates traditionally (by hand), although he can also illustrate digitally if necessary. He draws in a variety of styles, including realistic, traditional, minimalist, and more.
His price ranges from $100 to $350, and guarantees to deliver in 7 to 14 days with unlimited revisions. His fees are a little pricey, but the end product is well worth it. If you have a significant budget and want high-quality work, Igor is the artist for you.
Looking for a tattoo that tells your narrative? Send Igor a message.
Marvin_Donn – Tattoo sleeve commission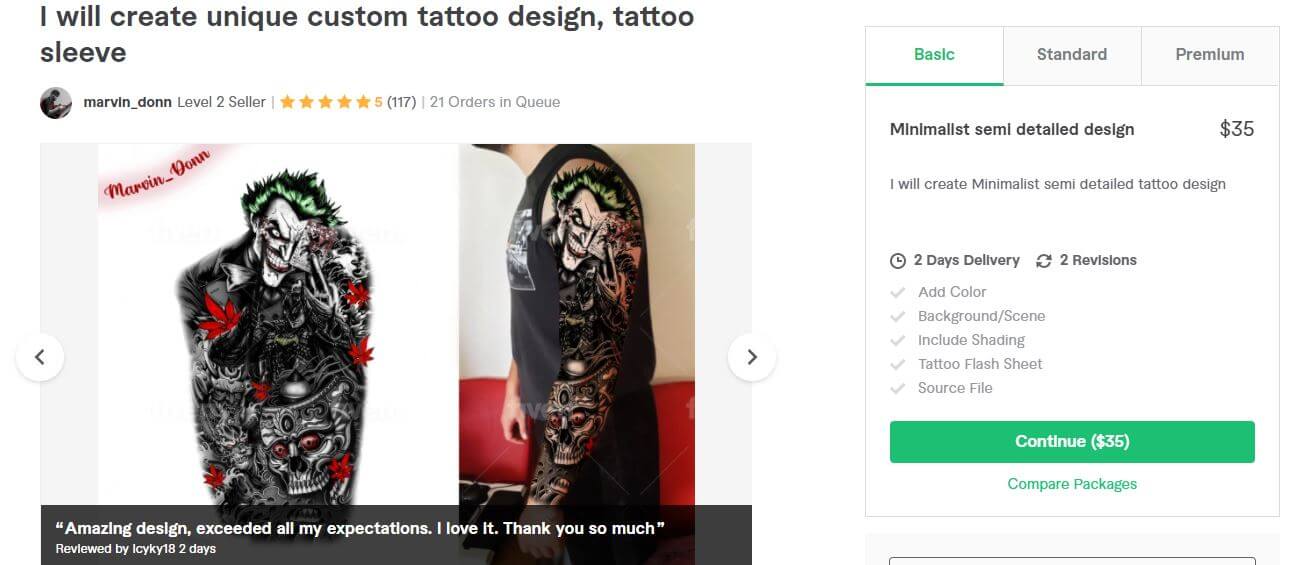 Are you looking to get a tattoo sleeve? Then look no more, whether it's a half or full sleeve, Marvin is the guy for the job!
Marvin is a professional tattoo designer and a level two seller with over 100+ positive reviews, showing that his art satisfies and delights his customers.
His prices range from $35 to $115 and offer to deliver in 2 to 6 days with unlimited revision, making it great value for the price. His average response time is one hour, so you should receive a response within that time range.
Looking for a tattoo sleeve expert? Head over to Marvin's Fiverr gig now!
Tiagocairnie – Best Anime tattoo commission artist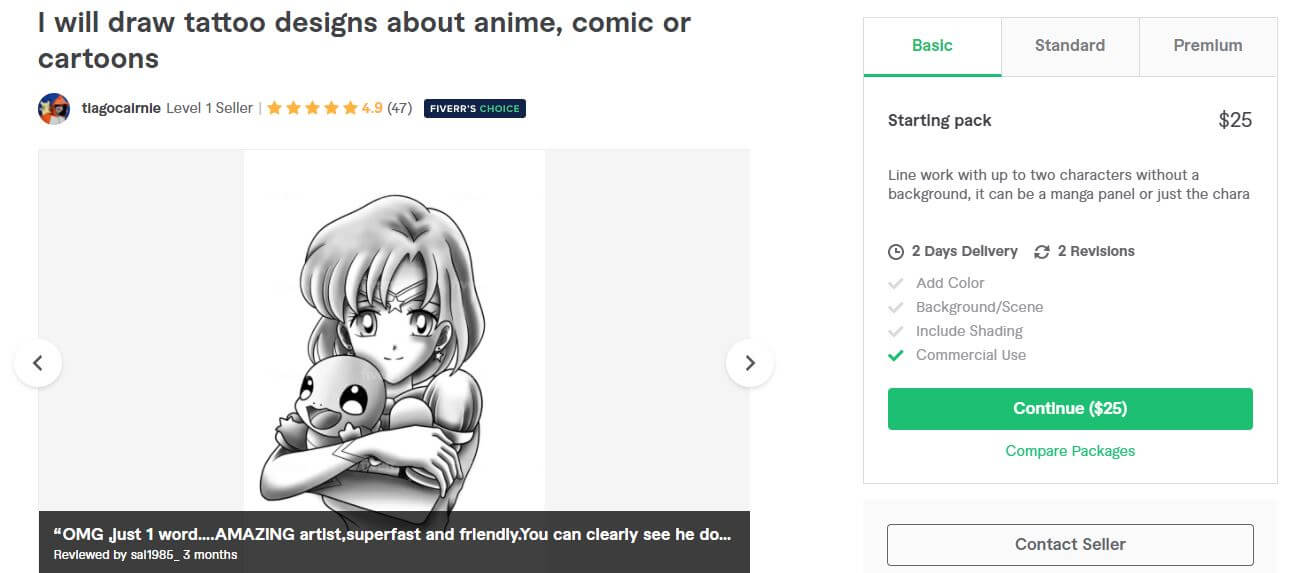 Tattooing a character from your favorite anime series may pique your interest as an anime fan. And no other seller on the platform comes close to Tiago.
Tiago is a competent tattoo artist as well as an anime fanatic, which makes him the ideal candidate for this position because he understands the aesthetics of anime and how you think as a fan.
His prices are quite budget-friendly, ranging from $25 to $40 with a turnaround time of 5days max and some rounds of revisions.
Looking for an anime tattoo specialist? Reach out to Tiago.
Luiscarrasco19 – Polynesian tribal tattoo commission

This style comes from the societies of the Polynesian triangle in the Pacific Ocean. it is believed that these were the first. There are lots of variations between these tattoo styles, the most common ones are the HAWAIIAN, the SAMOAN, and MAORI.
Luis is a professional tattoo artist that can replicate any one of the Polynesian tribal tattoo styles! All you need to do is send in your idea (picture, drawing, even animals like dogs or cats) and sit back.
It doesn't have to be for a tattoo, he can make them for t-shirts, posters, wallpapers, logos, or whatever you want.
His price ranges from $15 to $50 and guarantees delivery in 5days with some rounds of revision.
Looking for an artist that truly gets the art of Polynesian tattoos? Send Luis a message.