Last Updated on November 13, 2022
If you're a fan of My Hero Academia, you know how important the characters and superpowers are to the show's success.
As a fan, have you ever imagined yourself as a character with superpowers or created your own OC? These artists bring your ideas to life in the most plus ultra-style!
Who Are the Best MHA Commission Artists?
Below you'd find our list of the best artists most suited to handle your project, based on our experience:
Miriamvisentin – Budget-Friendly Custom Portrait in MHA style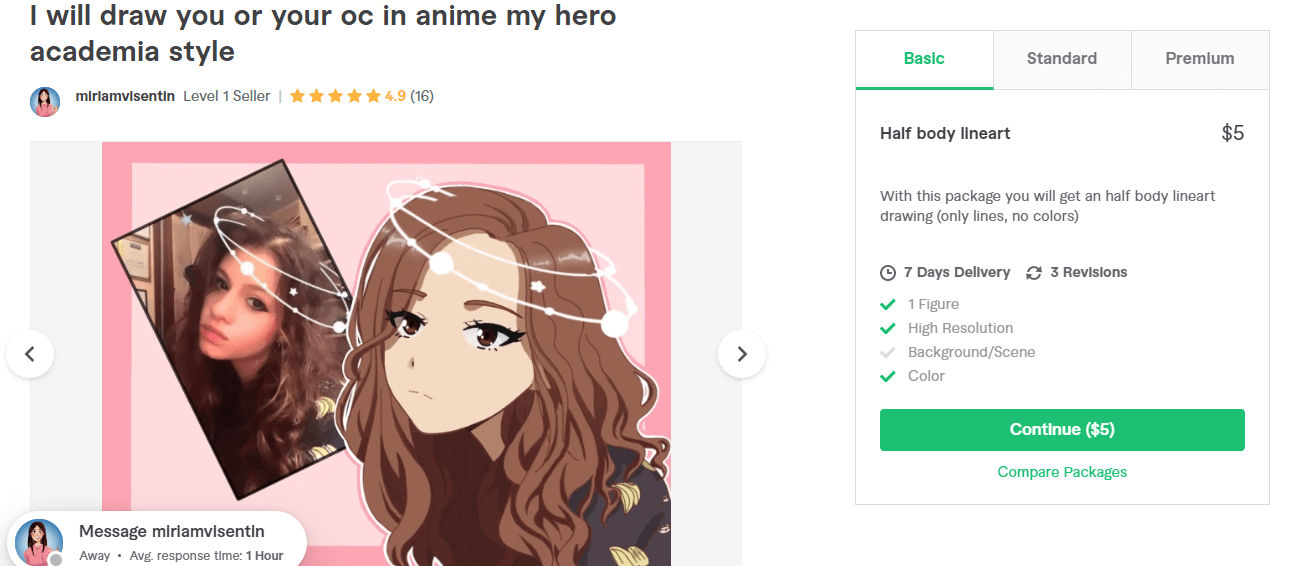 Are you looking to create custom portraits in MHA style for yourself, loved ones, or your pets? Look no further than Miriam.
She is a professional artist from Italy who is experienced in what she does.
Miriam will convert your persona into a beautiful MHA art with just a photo reference. Her price ranges from $5 to $30. However, a detailed background costs an extra fee of $20. At the same time, Commercial use license costs an extra 10$. She guarantees delivery in 7-14days with three revisions.
What are you waiting for?! Get in touch with Miriam to bring that portrait to life.
IAMCarlos – True-to-style My Hero Academia Art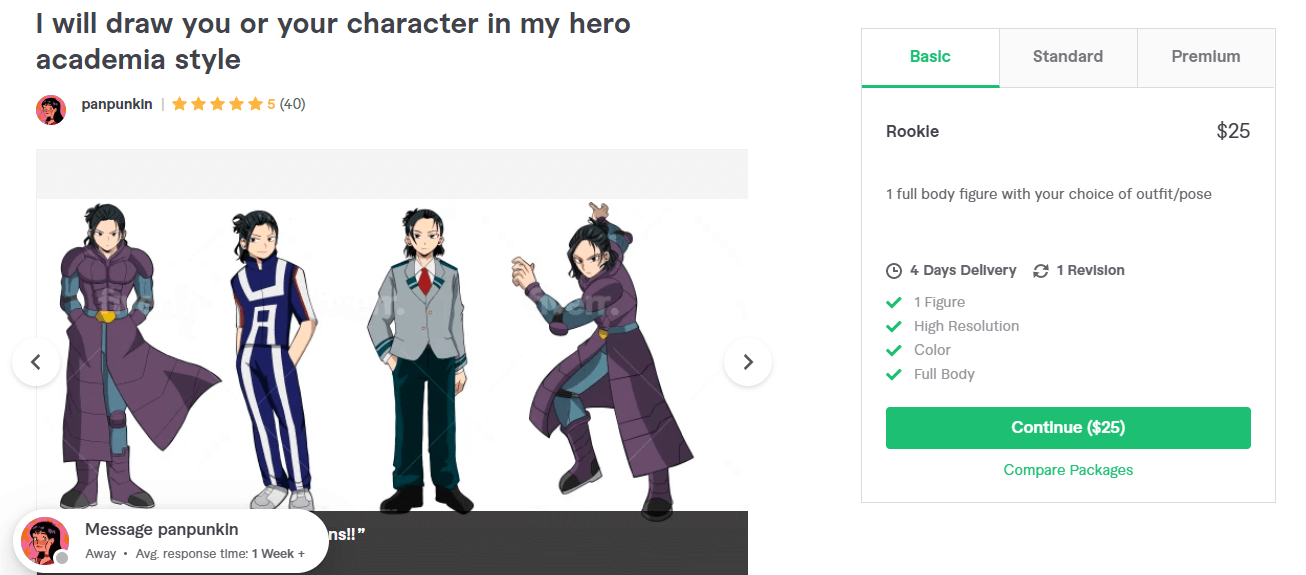 Have you ever created your own OC or imagined yourselves as a character? IAMCarlos will bring your ideas to life in the most plus ultra-style!
IAMCarlos is a collect student with a talent for drawing. He'll design your character from scratch and help you bring them to life. To do this, he has listed some guidelines:
IAMCarlos urges buyers to message her before placing an order.
He also wants buyers to be as explicit as possible with their orders during the sketching stage because changes after coloring and line art take longer.
His prices range from $25 for a full-body figure to $65 for 4 Full Body Figures, including a hero outfit, formal, gym uniform, and power-up pose.
Your dream of bringing your characters to life is only a click away. Get in touch with IAMCarlos today on Fiverr.
Almaadst – Experienced BNHA Artist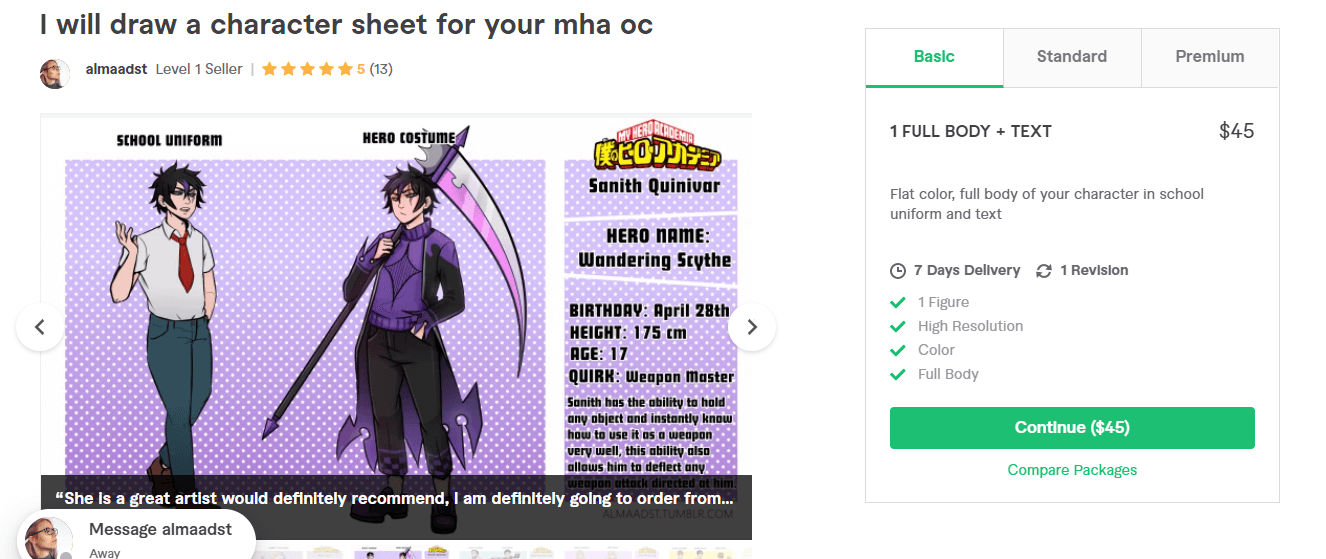 Alex is an experienced freelance manga artist from Poland.
All she needs to bring your character to life is a detailed description of your character along with a reference photo and a description of the pose and facial expressions for every pose character.
Her prices range from $45 for a full-body figure with a character reference sheet to $115 for 3 Full Body Figures with a character reference sheet. Although the pricing is quite high, the end product is worth every penny.
Looking to commission an experienced professional for your MHA OC? Reach out to Alex today.
Kagemorningstar – MHA Reference Sheet Commission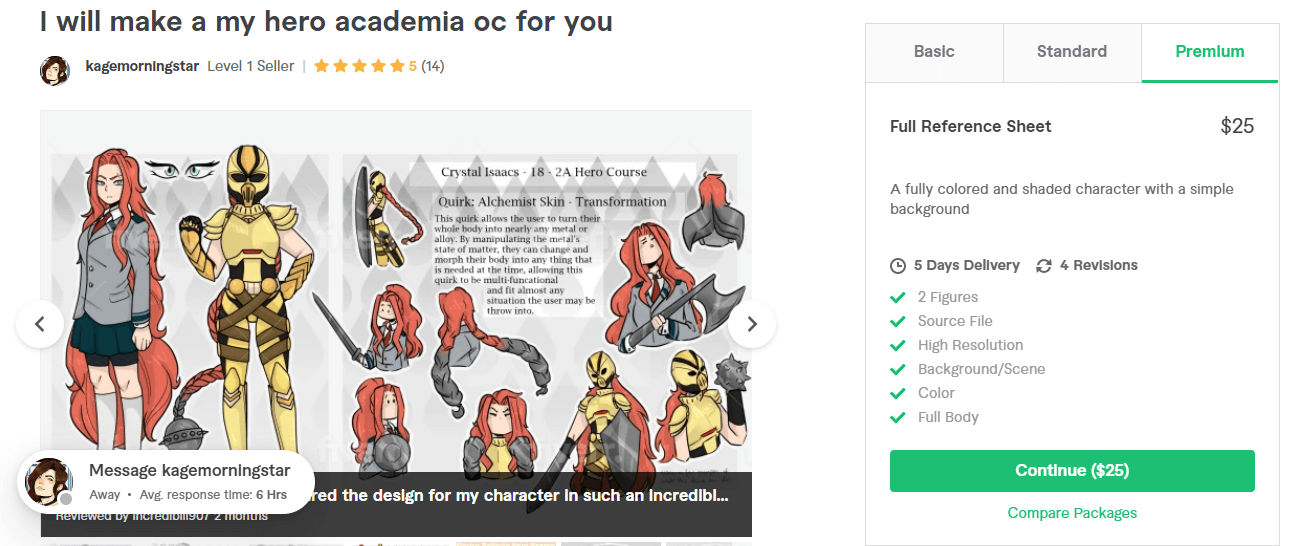 Kagemorningstar is a skilled artist and a level one seller on the platform. He offers to draw a reference sheet for your My Hero Academia OC.
This sheet will include the character in Causal/ Uniform or Hero costume, drawings, and explanations of the character's Quirk(s) and accessories they possess.
His prices range from $15 for a sketch alone to $25 for a full reference sheet. And guarantees delivery in 5days with four revisions.
Looking for an explicit reference sheet for your characters? Reach out to Kagemorningstar.
Sangwow – Most Affordable MHA Art Commission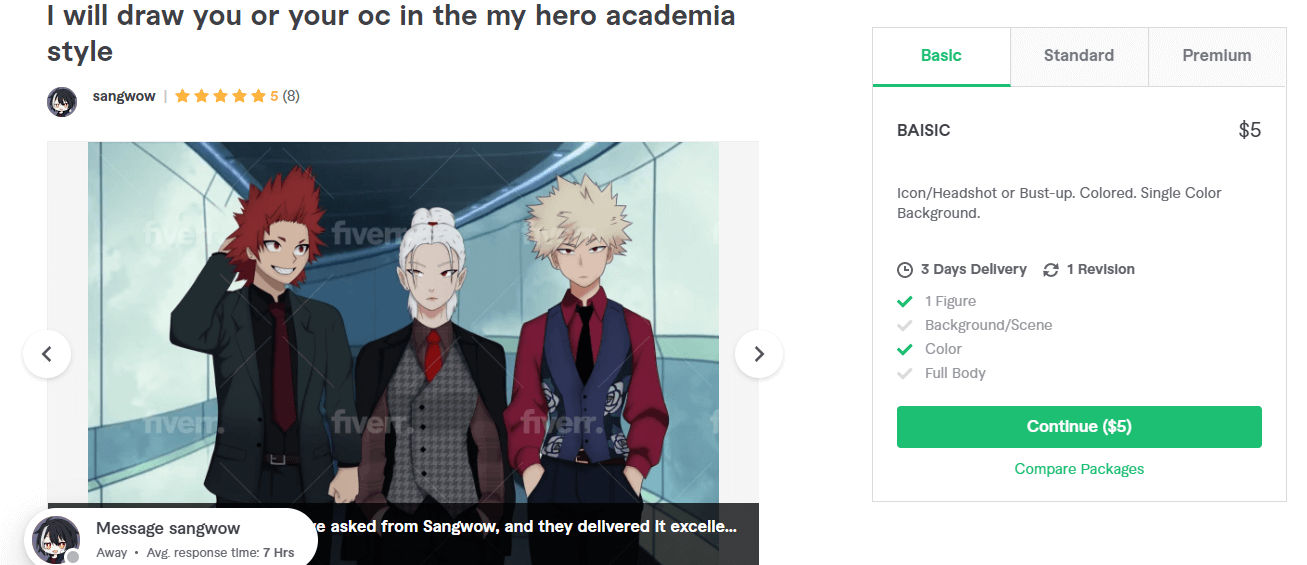 Anna is a professional digital artist with years of experience in the field. She offers to draw you or your OC in my hero academia style (or any other art style). She can insert you & your OC in any MHA/BNHA scene you want.
Anna is open to drawing almost anything, even NSFW and fury. Her price ranges from $5 for a headshot art to $20 for a full-body art, OC reference sheet, and any background/ scenes.
Looking for affordable yet amazing art? Send Anna a message.
How Much Does MHA Art Commission Cost?
According to this list, the average price of the MHA art Commission can range from $5 to $115.
You may come across artists who charge significantly more than this, depending on the size and complexity of the project. This is what makes our list of professionals impressive. At a fraction of the cost, you'll get the same level of professionalism and quality (If not more).
What is a Reference Sheet?
Simply put, a reference sheet is a drawing showing a detailed character analysis.
A proper character reference sheet should include the character's full-body design and an in-depth look at it from multiple angles. It is also ideal to have a database of the character and images of their weaponry, equipment, and attire.
The color palette is also important to add to reflect the variety of colors that the character design consists of.