Last Updated on September 15, 2023
Love DnD? Wish to create awesome art for you and your friends' characters but you don't know any artists?
Many people adore Dungeons and Dragons and play regularly, but not everyone has the time or talent to create their own character art.
Luckily there are artists out there who specialize in D&D art!
I have compiled a list of talented artists who will create stunning DnD character art just for you. I highly recommend them based on my exeperience using their service, as well as their documented previous work.
Sounds good? Then read on!
Where do you commission DnD art?
Despite what you might think, commissioning art can be an extremely easy and rewarding process.
There are literally hundreds of talented artists out there just waiting for someone to commission work for them. All you need to do is know where to find them.
My number 1 pick when it comes to commissioning DnD artwork is Fiverr.com.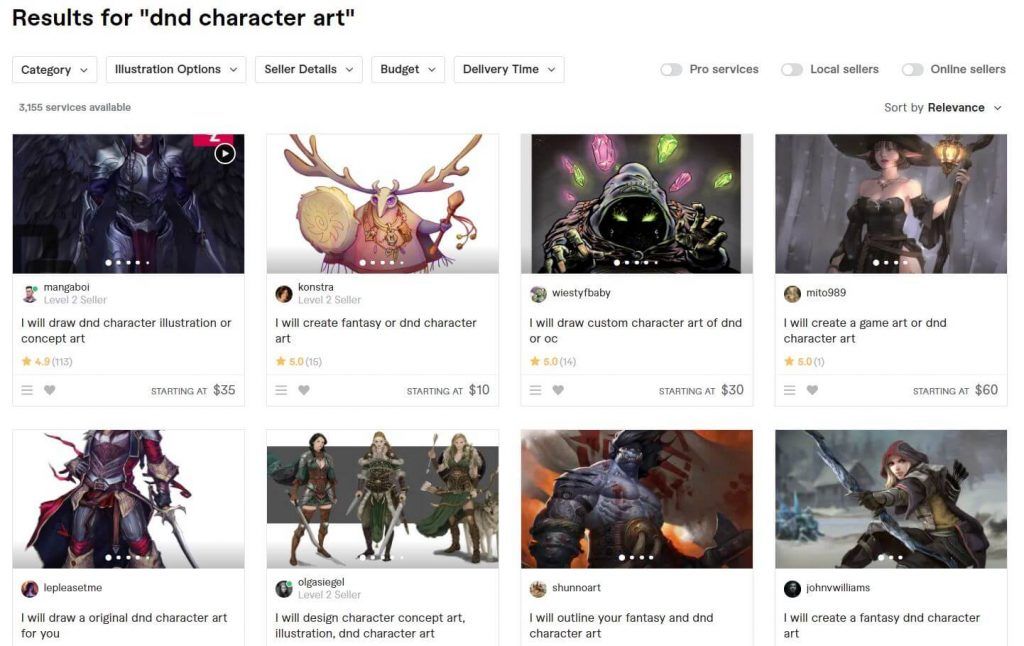 Fiverr is the world's largest digital services marketplace, with a record-breaking number of over 3 million different services.
Between this insane number of services, there are dozens of artists specialized in DnD charater art as well, ranging in both price and quality. They can all be found in the DnD section of the site.
The main benefits of commissioning artwork via Fiverr (especially in comparison to other options) are the short delivery times and their escrow service, which ensure the seller won't be paid until you are 100% satisfied with the service you received.
Who is The Best DnD commission artist?
Below you'll find my list of the 7 best DnD artists to commission art from, based on my own experience with over 20 different sellers:
1. Dibyoshree0 – Best overall DND commissions artist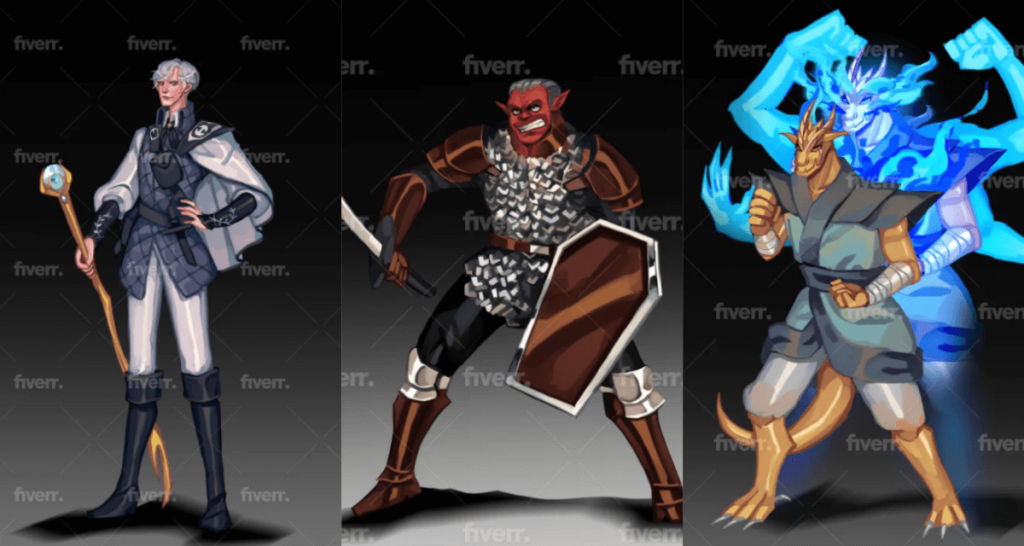 dibyoshree is a level two seller with over 200+ positive reviews (Not just short ones, but extensive ones of the client explaining how they feel, which signifies the client was astounded and satisfied by his work, I'm sure you understand where I'm getting at.)
He offers to create a semi-realistic painterly illustration of DnD characters of your choice. What makes this seller stand out is that he updates you all through the process of creating your piece, leaving you 100% satisfied at the end of the project.
His price ranges from $40 to $120 with a turnaround delivery time of 10 days and one revision. When you go through his portfolio, I'm sure you'll be wowed, as I was. So, what are you waiting for?! Send him a message today to discuss your project, and you'll be sure to get a response in an hour.
Looking for semi-realistic painterly illustration? Reach out to dibyoshree.
2. AtadToad – Custom DnD art from a PRO seller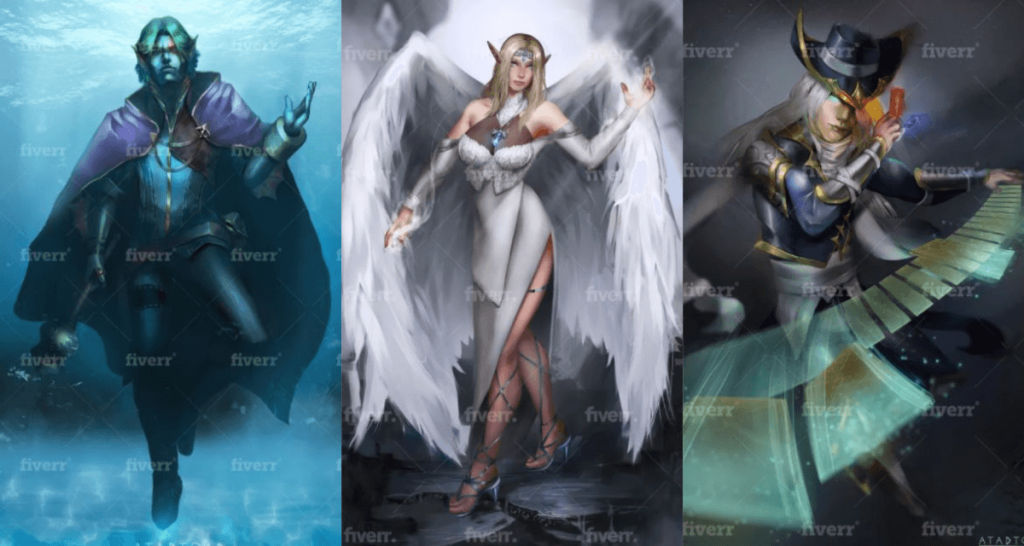 AtadToad is a professional freelance illustrator from Israel. And believe me, she is the real deal.
As a fan of roleplaying games such as DnD 5th edition and Pathfinder herself, as well as immersive MMO's like WoW, Toad is the perfect choice if you are looking for high quality character art that would TRULY bring your DnD character to life.
She's got the lucrative Fiverr PRO badge, which is the highest obtainable rank on the platform and indicates that she's ranked among the top 1% of Fiverr sellers.
Using her service, you are guaranteed to get your money's worth, as well as a timely response and delivery every single time.
Looking for wondrously imagined artwork that would make you immersed in your DnD campaign even more? Check out AtadToad's full portfolio on Fiverr.
3. Bubblelazer – Cartoon-Style Dungeons and Dragons commission artist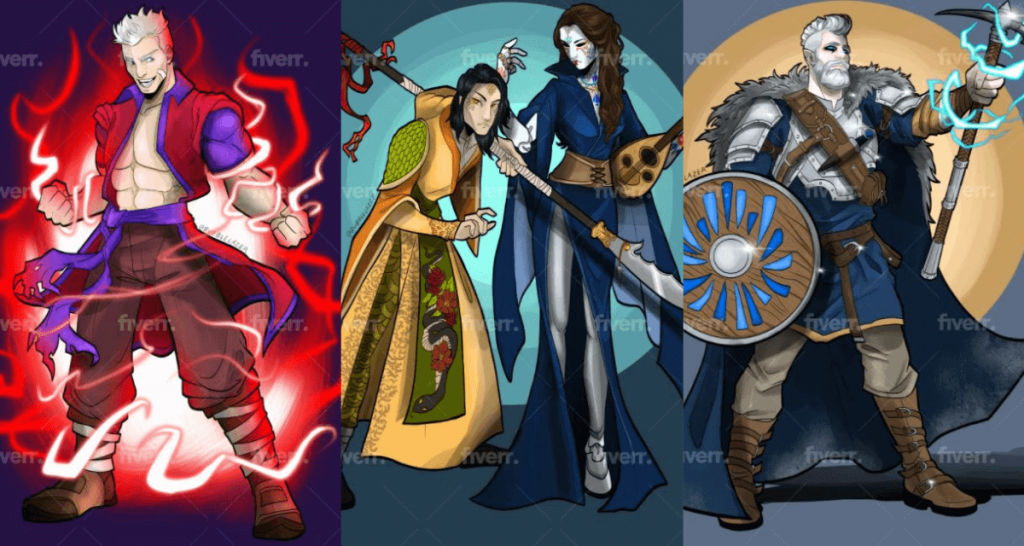 Bubble is a fulltime professional artist from a beautiful little town in the Rocky Mountains, USA. She is offering to draw your own DnD character for a very affordable price (starting at $55), and her portfolio of existing work is extremely impressive.
Bubble has been drawing DnD characters professionally for 2 years and drew all of the characters from her own DnD campaigns for five years before that. She can draw individual characters, fight scenes, monsters and any other scenario you would like to see illustrated.
Looking for fun DnD character art that pop with personality? Check out Bubble's full portfolio on Fiverr.
4. MangaBoi – Realistic DnD character art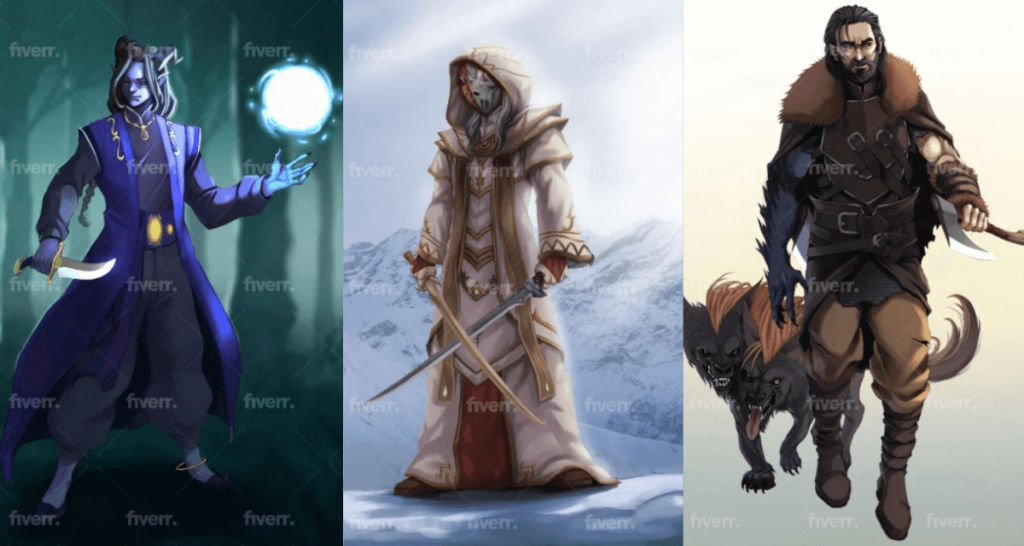 Looking to start a new DnD campaign? Want to begin with an awesome and realistic illustration of your own DnD Character, destined to make or break the world of fantasy? If the answer is yes – then you should definitely check out this service by Mangaboi.
Mangaboi is a very talented artist from the Philippines, and he has been selling DnD art commissions on Fiverr for 4 years now. All you need to do is provide him with the backstory of your character, and he would make sure to bring it back to life.
Looking for realistic Dungeons and Dragons character art? Check out Mangaboi's full portfolio on Fiverr.
5. Petrijk – Best for DnD Party Art Commissions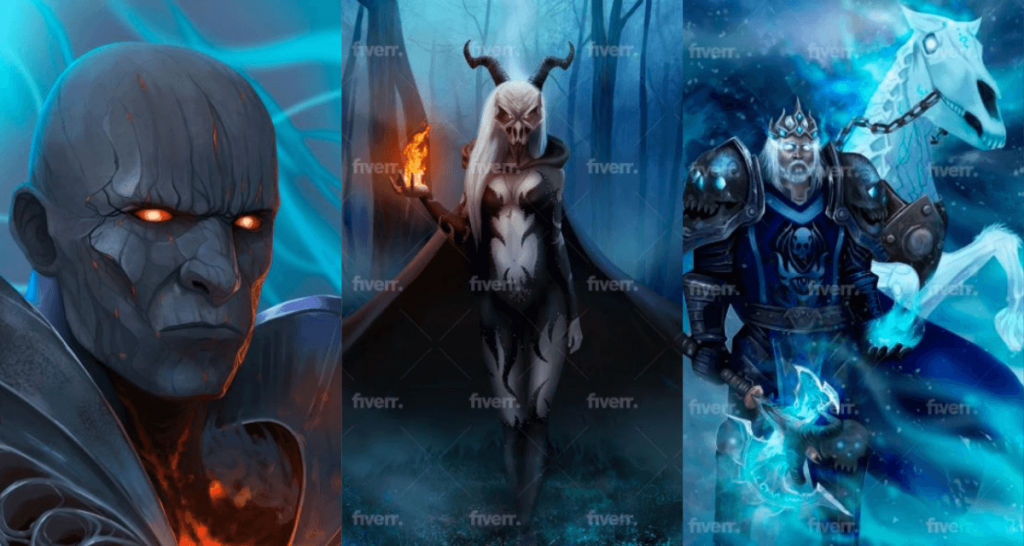 Petrik, an experienced digital artist who specializes in drawing fantasy gaming characters and DnD parties from Dungeon & Dragons, Pathfinder, World of Warcraft, and finally Final Fantasy XIV, is one of our top recommendations on the list.
His illustrations are well-detailed, color-balanced and incredibly realistic distinguishing him from other sellers.
I was fascinated by the Bolvar Fordragon artwork he used as his thumbnail and wanted to see more of his art. I wasn't disappointed as I discovered a succession of eye-catching, well-detailed fantasy art.
His prices range from $50 to $120; you can get an outstanding artwork of your fantasy character in 10-21 days with two revisions; the end product however is worth the wait. His average response time is 2 hours, so you can expect a response within that time frame.
Looking for well-detailed and realistic fantasy art? Check out Petrijk's portfolio on Fiverr.
6. Jerr_art – DnD Character Art in Anime-style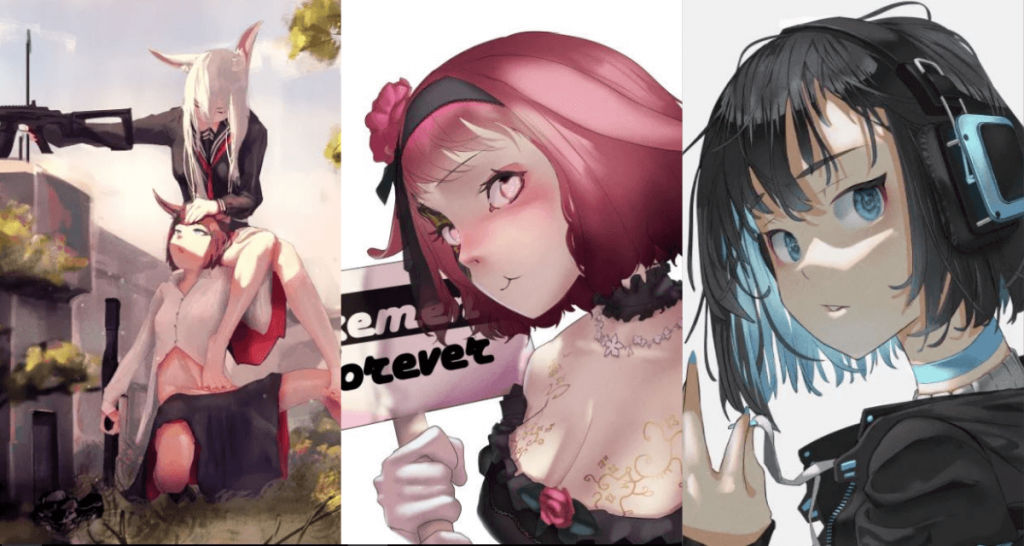 Are you an anime and DnD fan? Do you want your D&D art to be done in an anime style? Look no more, Jerr_art is your go-to pro.
Jerr_art is a skilled artist that draws DnD character in anime style, leveraging his skills as an anime enthusiast artist and an all-around excellent illustrator to create a wonderful piece of art. She doesn't draw copyrighted characters as well as real people (strictly fantasy characters)
Although her prices are a bit on the expensive side, ranging from $60 to $195, the end product, however, is well worth the money. Depending on the package purchased, she offers to deliver in 4 to 14 days with three modifications. Her typical response time is two hours, so you should receive a response within that time frame.
Looking for an Anime-style DnD illustration? Check out Jerr_art portfolio on Fiverr
If you're on a tight budget but still want to commission an anime-style piece, we've got you covered. I recommend checking out Aphin123. He was included in our article: 5 Best FFXIV Art Commissions on Fiverr.
7. Hakka_art – Most Affordable DnD Character Art Commission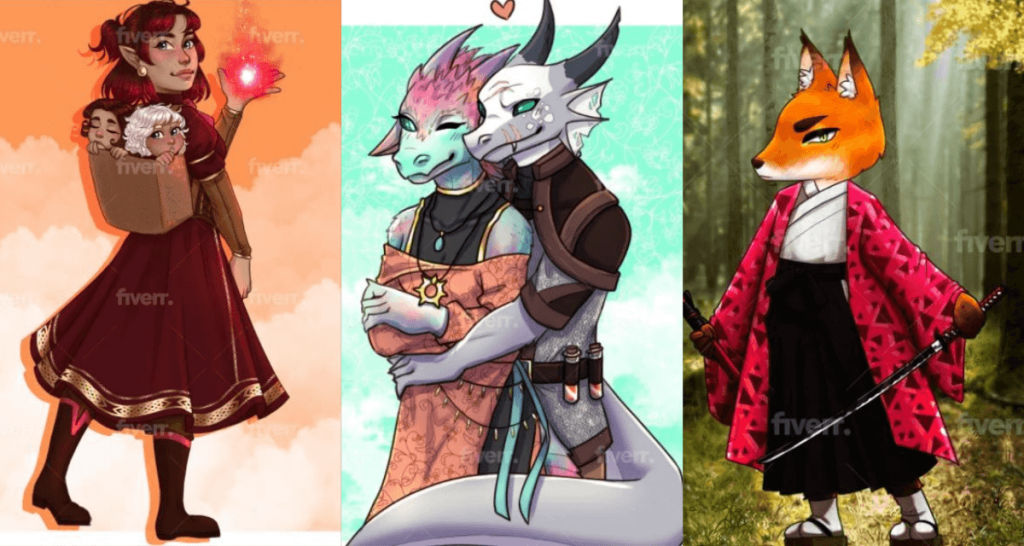 Hakka_art is a level one artist that can draw DnD character in any style. Her service is budget friendly, as she charges $15 to $35 for a standard character art. Her price has no bearing on the quality of her work as she draws in a distinct style that is akin to that of artists who charge more.
She also has a quick turnaround time, delivering between 3 and 7 days with up to three revisions, depending on the package purchased. Her typical response time is two hours, so you should receive a response within that time frame.
Looking for an affordable DnD art commission? Check out Hakka_art portfolio on Fiverr.
What is the price for a D&D character commission?
Art commission prices can vary greatly depending on the specific artist you choose to hire, his experience and portfolio.
High-tier established artists can charge up to $3000 for a single illustration, while new up and coming artists can charge ($5 upward) to expand their portfolio and list of clients.
Using the artist listed above as an example, we can estimate that an average DND art commission can cost anywhere from $35 to $200.
The cost of hiring an artist for your portraits is determined by the type of art style required, background, complexity, and commercial usage; all of these factors influence the final commission cost.
Also, as with other criteria of hiring an artist online, price does not necessarily dictate the quality. My advice is to look through the artist's portfolio regardless of your budget to see exactly what they have to offer and if you'll appreciate that work of art.
How do you commission DND art?
As stated at the beginning of this article, Fiverr remains the best platform to get a portrait commission or hire a freelancer as a whole. Fiverr is the world's largest marketplace for digital services, where creatives of all kinds sell their service for as low as $5 or near that cheap threshold while maintaining quality.
To get a DND commission, all you need to do is go to Fiverr. To do that, you begin by going to the Fiverr homepage and searching for "DND art" in the search field. All designers who offer the service will appear in your search results.
Scroll through the results, glance through several portfolios and pick a designer whose style you prefer. Once you've chosen one that artist fits your style, take a look into the packages they offer on their gig and choose the one that best suits your requirements.
Can't find a package that suits your requirements? Always feel free to contact individual sellers and request that they create a custom order for you. The majority of them would be delighted to take on the opportunity.
Further reading on SMBillion: Interested in commissioning other types of art and illustrations? read our commission guides for anime art and Fantasy maps.