Last Updated on January 2, 2023
Do you want to make a professional headshot out of a normal photograph? Or perhaps you'd want to commission various types of art in the form of a headshot but aren't sure where to begin? If that's the case, then you've come to the right place.
Finding qualified and affordable freelancers that are a good fit for your project can be a difficult task.
To take the pressure off, we've done the legwork and collected a list of budget-friendly exceptional artists that are best equipped to take on your projects without breaking the bank, each with their own set of skills and distinctive style with an Emphasis on the budget-friendly.
Each of these freelancers was found on Fiverr, my all-time favorite hiring platform, which features hundreds of thousands of skilled creatives from all over the world selling their services for as little as $5 or near that cheap price threshold.
What are the best headshot commission services?
In this article, we'll be reviewing the Top 5 Artists on Fiverr most suited to handle your Headshot art projects based on our experience:
1. Pro_imageedit – Professional Headshot Retouch Commission.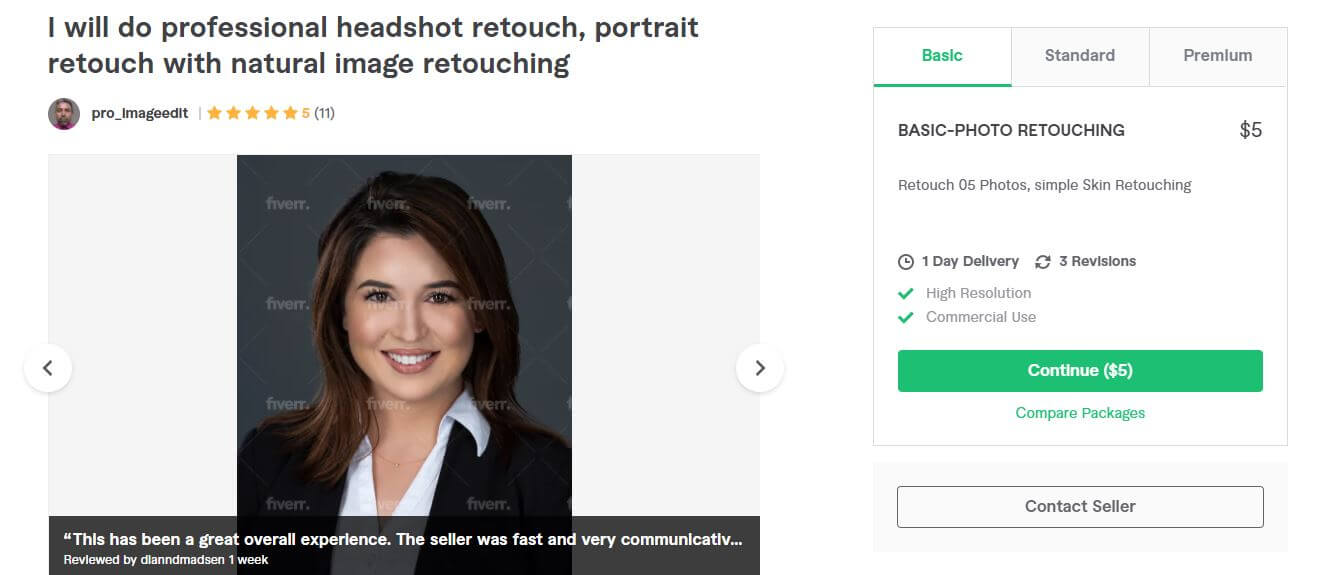 Do you want to make a professional headshot out of a regular photograph? Change the background to give it a more corporate feel? Hassan is the man for the job.
Hasan is a freelance Photo Editor with over 7 years of graphic design and photo editing experience. His services include photo retouching, color matching, skin smoothing, wrinkles removal, eye bags, blemishes, dodge and burn removal, teeth whitening, eyes enhancement, editing, and removal of background.
For only $5, he does everything he can to make your headshot look as professional as possible, spending time editing a regular photograph into a professional one. He guarantees a quick turnaround time of 4 to 6 hours, with 3 modifications and a 100% return policy. All of this shows that he is self-assured in his abilities; you just can't go wrong with Hassan.
Trying to make a professional headshot out of a regular one? Send Hassan a message.
2. Gfx_jeet – Rising Talent Photo Editor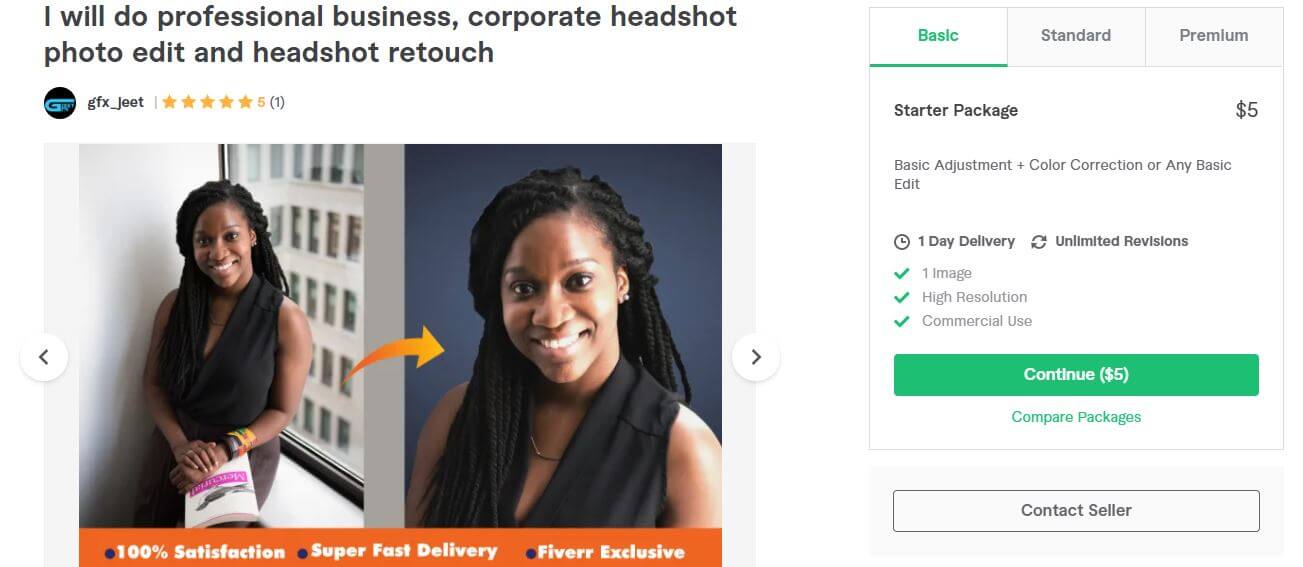 Jeet is a new seller who has recently joined the platform, and after reviewing his portfolio, I genuinely think he has potential. He is a professional graphic designer and Photoshop expert, and he can turn any photo into a professional one with a cooperative vibe using these two skills.
His price ranges from $5 to $25 and he will go to great lengths to ensure that you get the finest possible result. He offers to deliver in just 24hours with unlimited revisions.
I found his premium package quite amusing; he offers to suit up any normal photo. Just how cool is that?! Send him a message today to discuss your project and get a discount on a bulk photo edit. Expect a response within an hour of contacting him, since that's his normal response time.
Looking for a professional headshot photo? Check out Gfx_jeet's portfolio on Fiverr.
3. Yuzucchi_– True-To-Style Anime Headshot Commission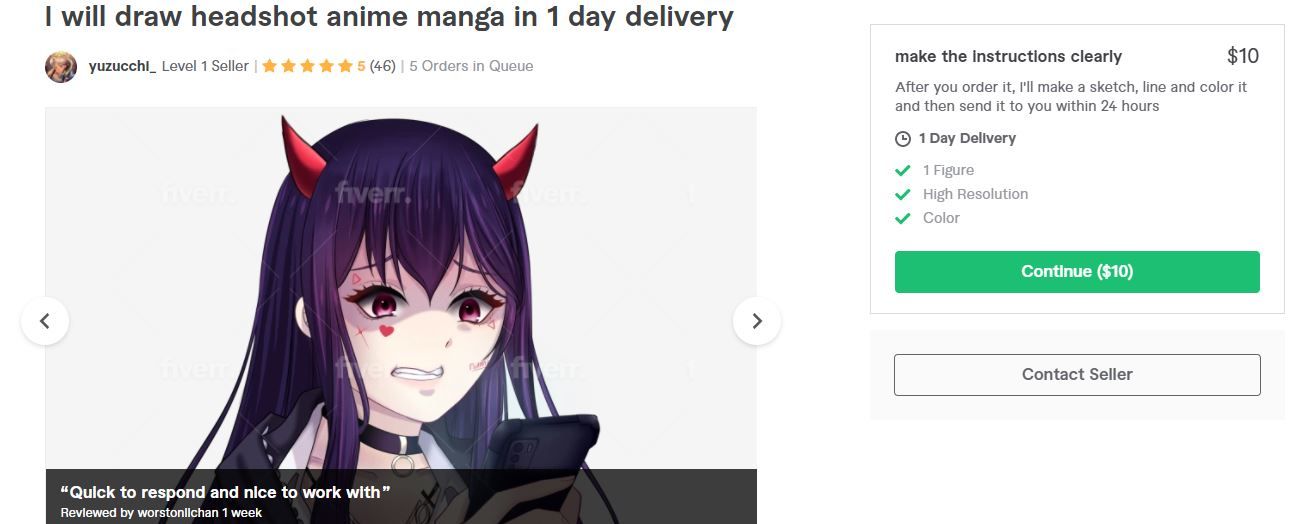 Are you an anime enthusiast looking to commission an anime headshot for yourself or as a gift? Look no more Yuzu is your go-to pro.
Yuzu is a Comic Artist, Freelance Illustrator, and concept Character Design well versed in manga and anime-style artworks. As a result, she can sketch more efficiently and distinctively. She will turn your photo or anything else you desire into a magnificent anime headshot art for only $10 and promises to deliver it within 24 hours. All she needs is a detailed description of what you want and a reference photo.
She responds quickly, with an average response time of an hour, so you should hear back within that time frame.
Looking to commission an anime headshot art? Send Yuzu a message today.
4. Ambarawa939 – Avatar Headshot Commission in Vector Art Style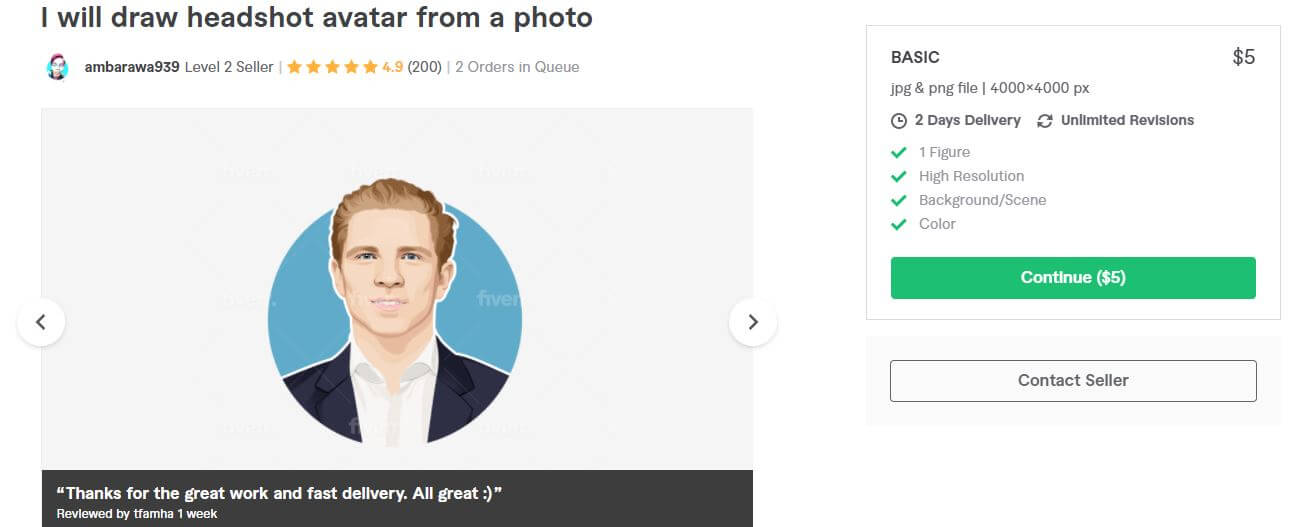 Vector art is a distinct visual form in the world of digital graphics, and many who are familiar with it find it cool and unique. If you're unfamiliar with it and want to try something new, check out ambarawa portfolio, which is filled with amazing samples.
Ambarawa is a level-two seller with over 200+ positive reviews, receiving praise for being highly communicative and efficient, which is exactly what you want in a freelancer. He is a talented graphic designer that creates avatar headshots in the vector art style. For $5, he'll draw a detailed headshot of you or whatever else you provide him to draw. He guarantees a two-day turnaround time and unlimited revisions, which is quite generous for such a low fee, making it an excellent value.
To get started on each project, all he needs is a clear image, which he suggests being close-up and facing front for the best results. He doesn't change pose or anything; all he does is draw like a photograph (except change color). Send him a message to discuss your project. His usual response time is one hour, so expect a response within that period.
Looking for an avatar headshot commission? Check out ambarawa's portfolio on Fiverr.
5. Hansvexel – Cartoon Caricature Headshot Commission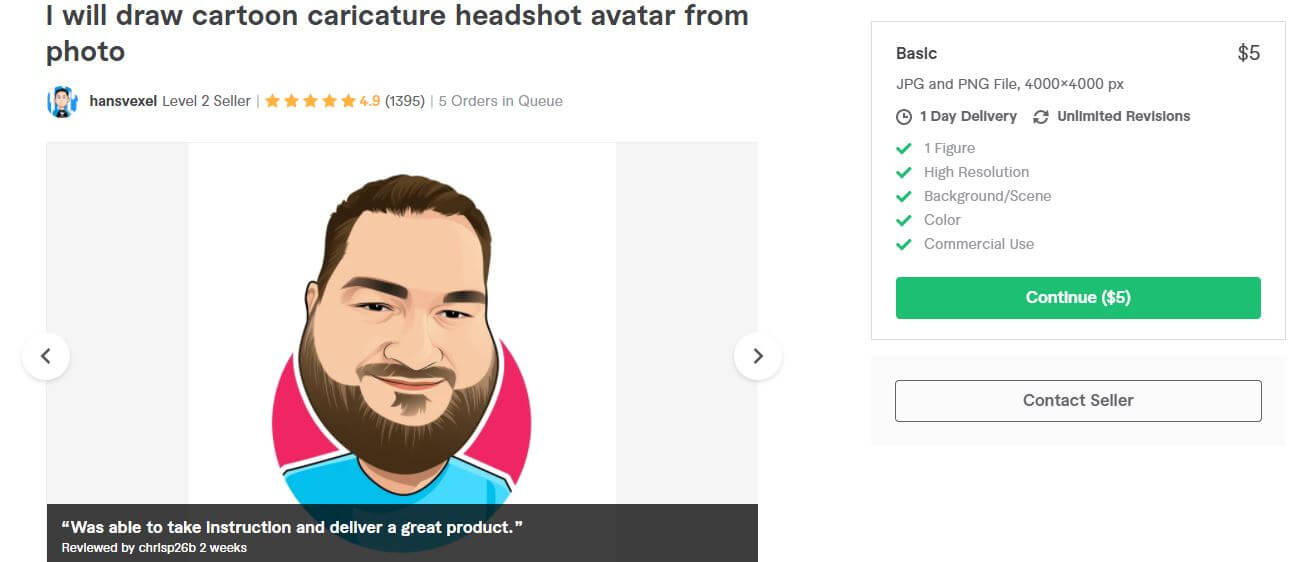 This gig is very similar to the previous one in how they both provide the same service and both draw in a vector art style, except for caricature. The previous seller does not provide caricature services, however, Hansvexel does.
Looking to change your regular picture into a cartooned caricature headshot? Hansvexel is the perfect candidate for the job. Hansvexel is a competent vector artist and cartoonist with over 5 years of experience who offers a caricature headshot service for as little as $5. He guarantees a day turnaround time and unlimited modifications, which is quite generous for such a low price, giving it fantastic value. Send him a message to discuss your project. His usual response time is one hour, so expect a response within that period.
Looking for a caricature headshot commission? Check out hansvexel's portfolio on Fiverr.
Finally, recall that I made stress on the word budget-friendly at the start of the article, and as you can see, all of the artists listed above are. Being inexpensive does not imply that you will receive an inferior service; it is simply one of the benefits of using Fiverr.
Fiverr is the world's largest marketplace for digital services, where creatives of all kinds sell their service for as low as $5 or near that cheap threshold while maintaining quality. So, what are you waiting for?! join the train to the world of creatives.