Last Updated on February 19, 2023
Are you a Pokemon fan looking to commission art for yourself or a loved one but don't know where to start?
If that's the case, then you're in the right place.
In this article we would teach you exactly how to find the best Pokemon artists and use their service to create awesome artwork.
How to create your own Pokemon artwork?
Do you want to create awesome Pokemon art?
To do so, you have two options: make it yourself with editing software such as photoshop, which will take a lot of time and effort if you aren't familiar with the software, or simply hire an artist to do all of the work for you.
When hiring an artist, you're not just paying for their time. You're also paying for years of polished skills hence, ensuring a high-quality service, which is why having your art designed by a professional artist is preferred.
Getting an excellent commission starts with hiring a skilled and professional artist, and there's no better place to find one than Fiverr. Although there are alternative platforms such as Twitter, Reddit, and Deviant Art. However, Fiverr stands out as it provides substantial benefits.
Fiverr is the world's largest marketplace for digital services, where creatives of all kinds sell their services for as low as $5. Offering an escrow service to ensure the safety of your funds. It can be tough to trust a stranger with your money over the internet.
Other features are also included to assist buyers in getting what they want while staying within their budget. So, yeah, Fiverr is the right choice in my opinion.
Who are the best Pokemon trainer commission artists?
If you don't want to go through the hassle of comparing and contrasting thousands of artists to pick one, you're at the right place as we've done the heavy lifting for you and compiled a list of qualified and experienced artists best suited to take on your projects.
In this article, I'll be reviewing the Top 5 Pokemon artists on Fiverr most suited to handle your project based on our experience:
1. Johnrielduana – Best Pokemon trainer commissions artist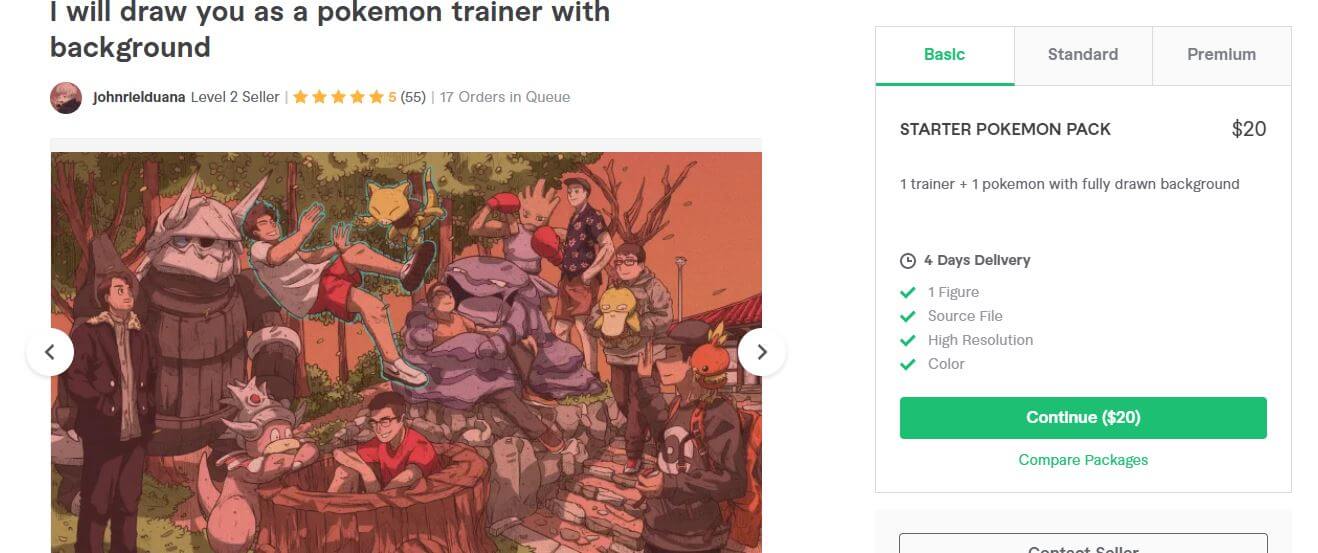 John is a brilliant digital artist who distinguishes himself from other Pokemon artists by including a mesmerizing background created in his style, making it original and one-of-a-kind. The backgrounds are usually soothing and blend in with your character and the Pokemon.
His prices range from $20 to $40, which is extremely affordable for the high quality of work you are getting. To top it off, he usually offers delivery in 4 to 7 days.
After making payment, the only thing left for you to do is carefully study and input as much information as possible for the project to receive high-quality artwork.
So, send him a message today to discuss your project, his average response time is one hour, so you should receive a response within that time frame.
Looking for a Pokemon art with a mesmerizing background? Check out john's portfolio on Fiverr.
2. Docdraw – Awesome Pokemon Trainer Art Commissions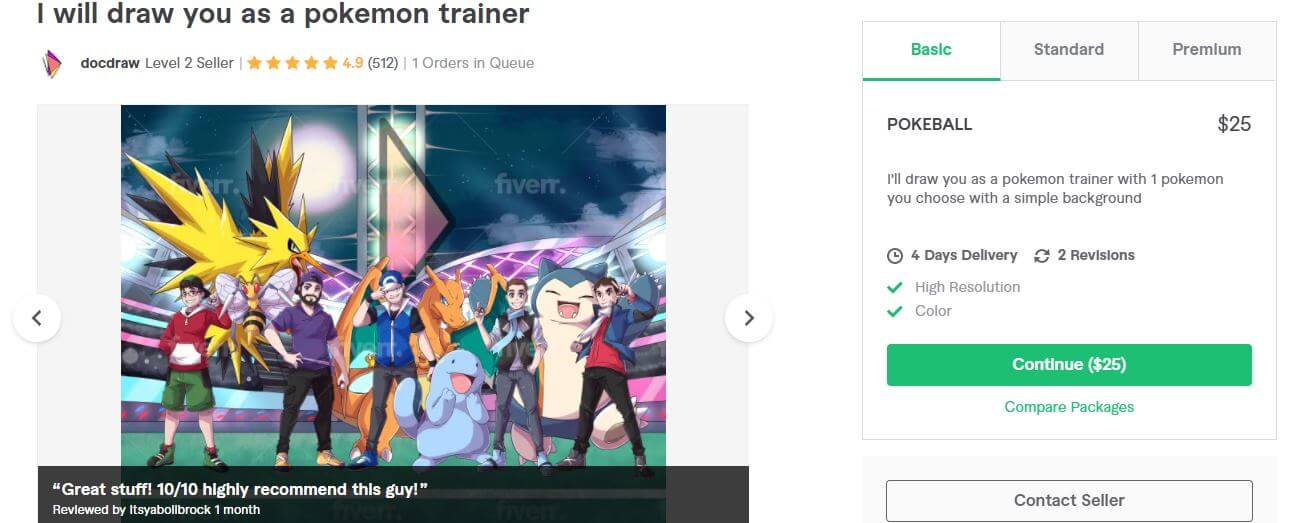 Docdraw is a group of expert designers and artists who specialize in a variety of art mediums, one of which is true-to-style Pokemon trainer art. Their 500+ positive reviews demonstrate that they are more than qualified to handle your projects; their drawings are unique and original, which is why they are ranked first in this article.
Docdraw's prices range from $25 to $70, with a delivery time of 4 to 10 days and two rounds of revisions. They can draw you as a Pokemon trainer with any number of Pokémon you like (the more Pokémon, the more expensive it is) and a simple but captivating background.
Keep in mind that Large Pokemon, such as dialga, palkia, giratina, lugia, zekrom, wailord, reshiram, and others of comparable size, will cost more.
So, send them a note to discuss your project and receive a custom offer. Their average response time is one hour, so you should hear back within that time frame.
Looking for the best Pokemon trainer art commission? Check out Docdraw's portfolio on Fiverr.
3. Yelangsuwing – I will draw you as a Pokemon trainer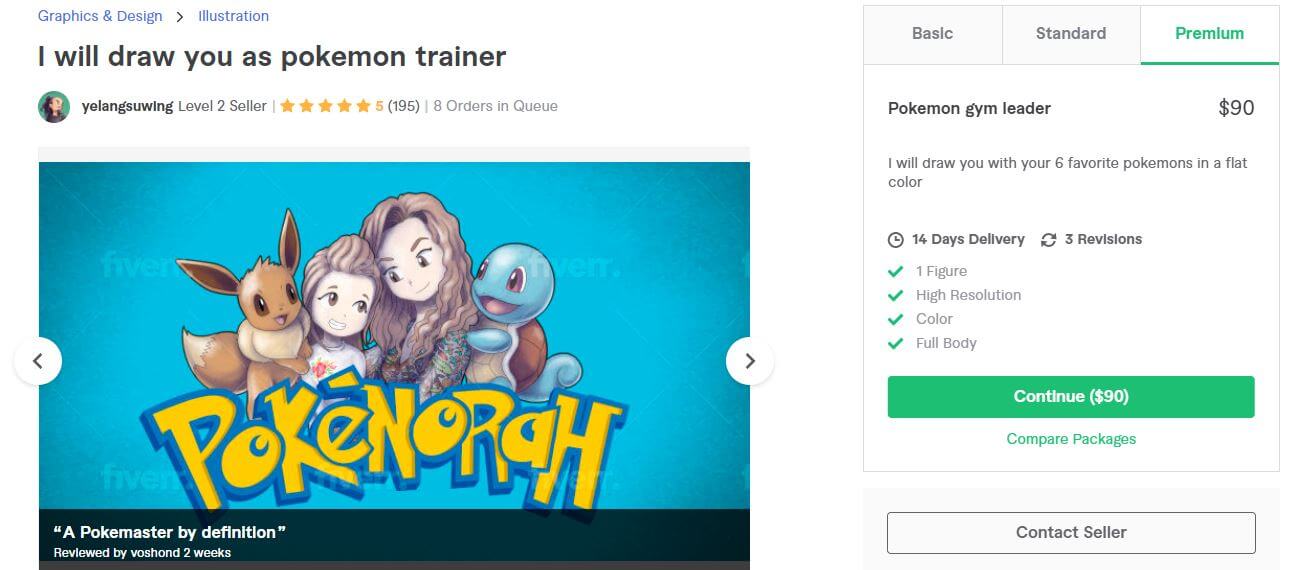 Yelangsuwing is a skilled digital illustrator and graphic designer with over 13 years of experience. He is a Pokémon lover who can draw in Pokemon and various other art styles. His prices range from $35 to $90, and he guarantees to deliver within 7 to 14 days, with three modifications.
He is an expert in the field, as seen by his 190+ good reviews. The buyers praise his friendly communication, responsiveness, and attention to detail, as well as his quick turnaround delivery time. His average response time is one hour, so you should receive a response within that time frame.
Looking to commission Pokemon trainer art from an expert? Check out yelangsuwing's gig.
4. Ednoname – Top Pokemon team commissions artist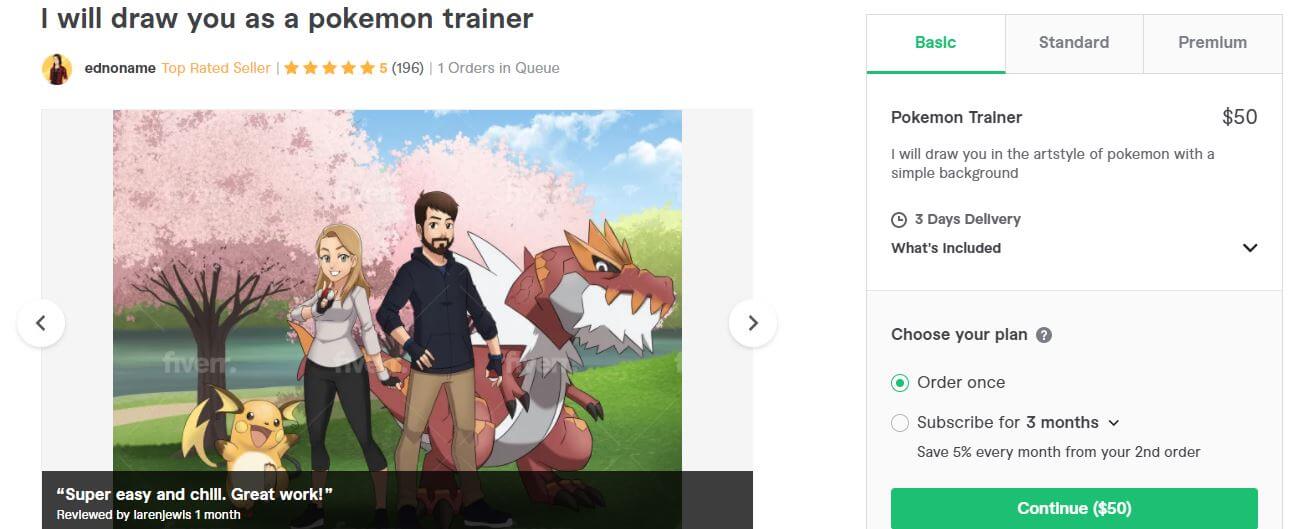 Ednoname is a top-rated professional with over 190+ positive ratings, showing that his art satisfies and delights his customers.
He's an illustrator and colorist with over 5 years of experience who primarily draws in the anime/ manga style, which implies he's accustomed to the aesthetic of Pokemon imagery, resulting in clean, vibrant, and unique sketches.
He charges $50 to $100 for an art commission and offers to deliver within 3 to 5 days. His fees are a little pricey, but the end product is well worth it. If you have a significant budget and want high-quality work, Ednoname is the artist for you.
Looking for a professional to help bring your idea to life? Send Ednoname a message.
5. Arrillaga – Most Affordable Pokémon Trainer Art Commission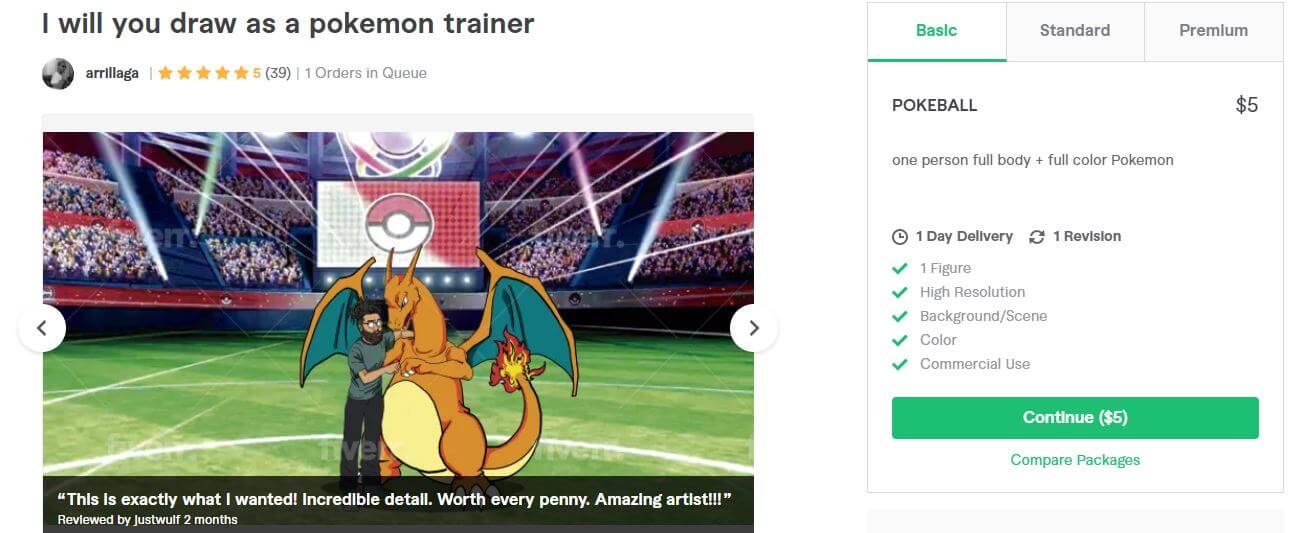 Andres is a talented artist who provides the most affordable Pokemon trainer commissions. For $5, he'll draw you as a Pokémon trainer alongside your chosen Pokemon, with any background of choice. Such an amazing deal!
He has a quick turnaround time, as he guarantees to deliver in a day or two. You are receiving good-quality artwork at an affordable price. Send Andres a message today to talk about your project; his typical response time is one hour, so you should hear from him soon.
Looking for an affordable Pokemon trainer art commission? Check out Andres's portfolio on Fiverr