Last Updated on August 31, 2021
Are you someone who finds fantasy maps as an able visual guide when reading complicated literature plots?
Are you a fan of Tolkien's Lord of the Rings and Martin's Game of Thrones because of the awesome fantasy maps that they featured?
If you are a fantasy map lover and would like to get one commissioned for yourself or a loved one, this is the article for you!
Best fantasy map commission services
Finding qualified and affordable artists that are a good fit for your project can be a difficult task. To take the pressure off, we've done the legwork and collected a list of exceptional map artists that are best equipped to take on your project, each with their own set of skills and distinctive style.
Each of these freelancers was found on Fiverr, my all-time favorite hiring platform, which features hundreds of thousands of skilled creative artists from all over the world selling their services for as little as $5 or near that cheap price threshold.
In this article, we'll be reviewing the Top 5 fantasy map artists on Fiverr most suited to handle your project based on our experience:
1. Chaimholtjer – Hand drawn Fantasy Map Commission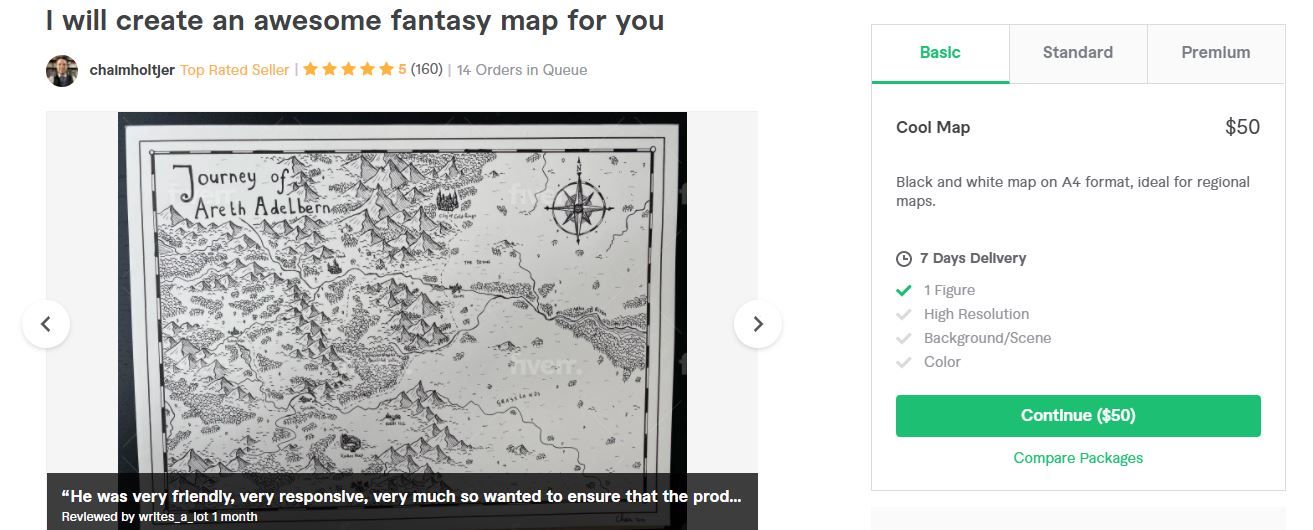 Chaimholtjer is a top-rated and skilled cartographer. His creations are extraordinary.
He draws the map by hand with pencils, quills, ink, and fine liners, making it original and unique with an ancient fantastical vibe. The map is scanned and delivered in a digital format (pdf/ jpg), he can also have the physical copy shipped if requested.
His prices range from $50 to $200, and he guarantees delivery in 5 to 10 days with only one revision. The prices may seem a bit high, the result, however, is well worth every cent.
He's resourceful and capable of working on any project as long as a precise and well-detailed request is provided.
Send Chaimholtjer a note right now to get started on your project. His usual response time is one hour, so expect a response within that period.
Looking for a custom hand-drawn fantasy map commission? Check out Chaimholtjer's gig.
2. Readymaps – A professional with Premium Pricing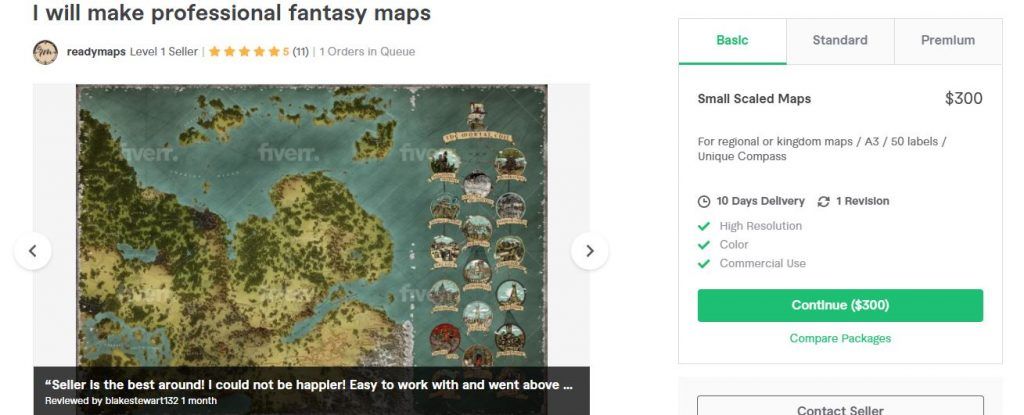 Readymaps is a skilled digital artist, cartographer, worldbuilder, and medieval enthusiast who understands the aesthetics of fantasy art, which is why he excels in fantasy map creation.
His prices range from $300 to $900, and he guarantees delivery in 10 to 21 days with one revision. Although it appears to be costly, but rest assured that you're getting the best quality.
If you have a large budget and looking for quality work then readymaps is your go-to pro. His average response time is one hour, so you should hear back within that time frame.
Looking for a professional to take on your project? Check out Readymap's gig
3. Evinkierans – Most affordable Fantasy Map Commission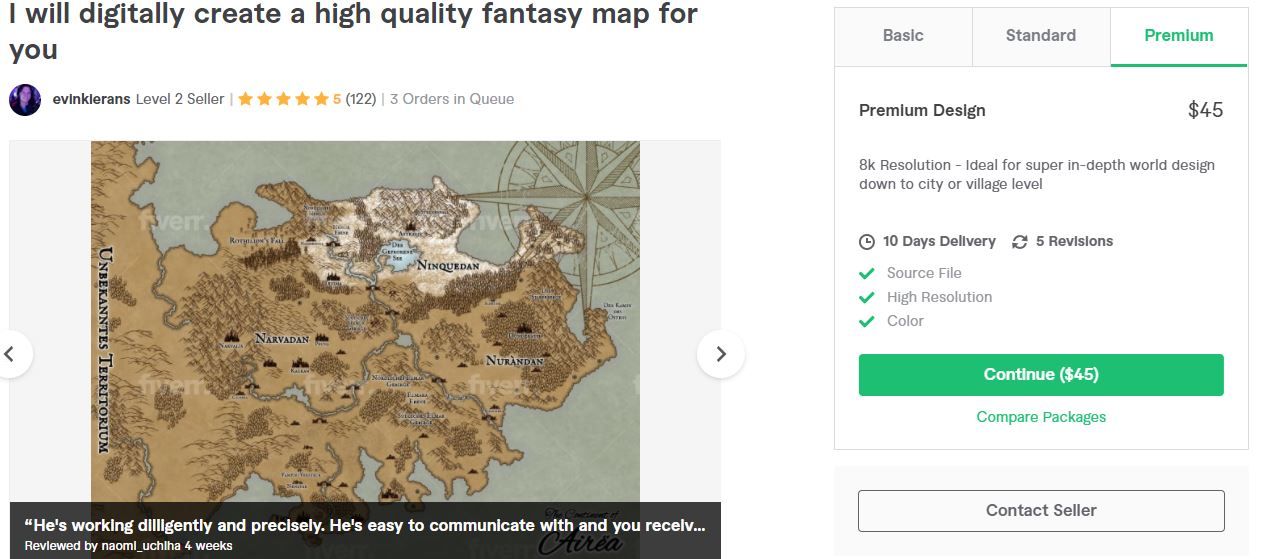 Evin is an active gamer who is well-versed in the fantasy world, and he has the lowest commission rate on the platform. He digitally creates a high-quality fantasy map for a price ranging from $10 to $45 and assures delivery within 5 to 10 days with 2-5 rounds of modifications depending on the package purchased.
Evin can make maps in a parchment, colorful, or regional style, he's creative and able to work on various projects, depicting your world while maintaining quality and a fantasy/realism balance.
He delivers images with up to 8k resolution and any aspect ratio needed, making them easily printable. Send Evin a message today to bring your concept to life. Expect a response within one hour of contacting him, as that is his average response time.
Looking for an affordable fantasy map commission? Check out Evin's portfolio on Fiverr.
4. Altcartography – A Tabletop Fantasy Map Expert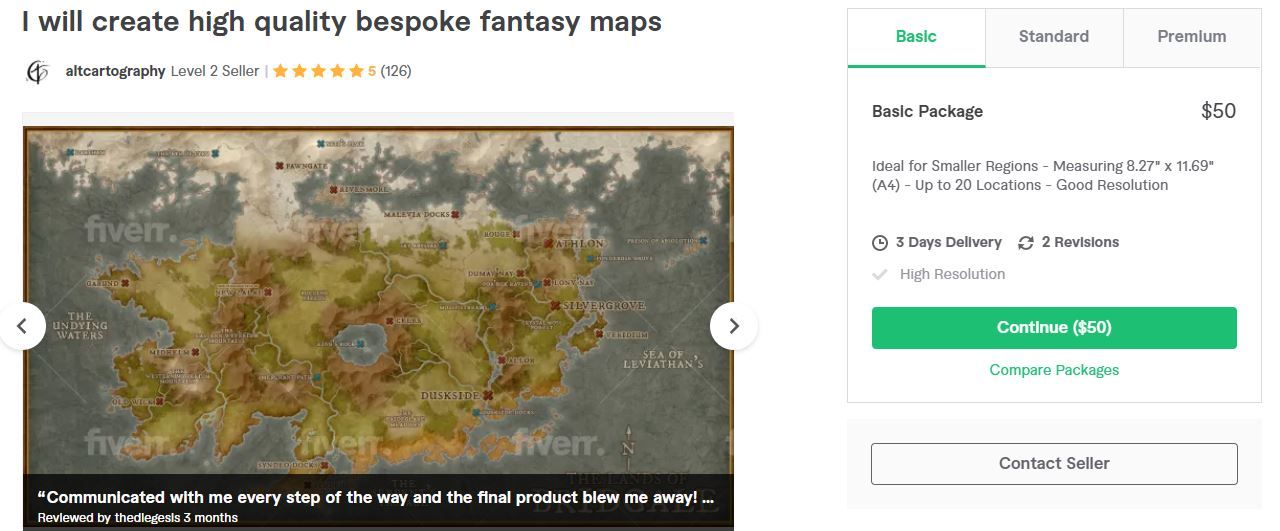 Altcartography is a fantasy cartographer and a veteran tabletop gamer, which allows him to understand the art of tabletop maps. He is your guy if you're looking for a tabletop RPG, novel, or board game map.
His prices range from $50 to $150 and guarantee delivery in 3 to 7 days with three rounds of modification.
Looking for a tabletop fantasy map? Send Altcartography a message
5. Exoniensis – A Budget-Friendly Digital Artist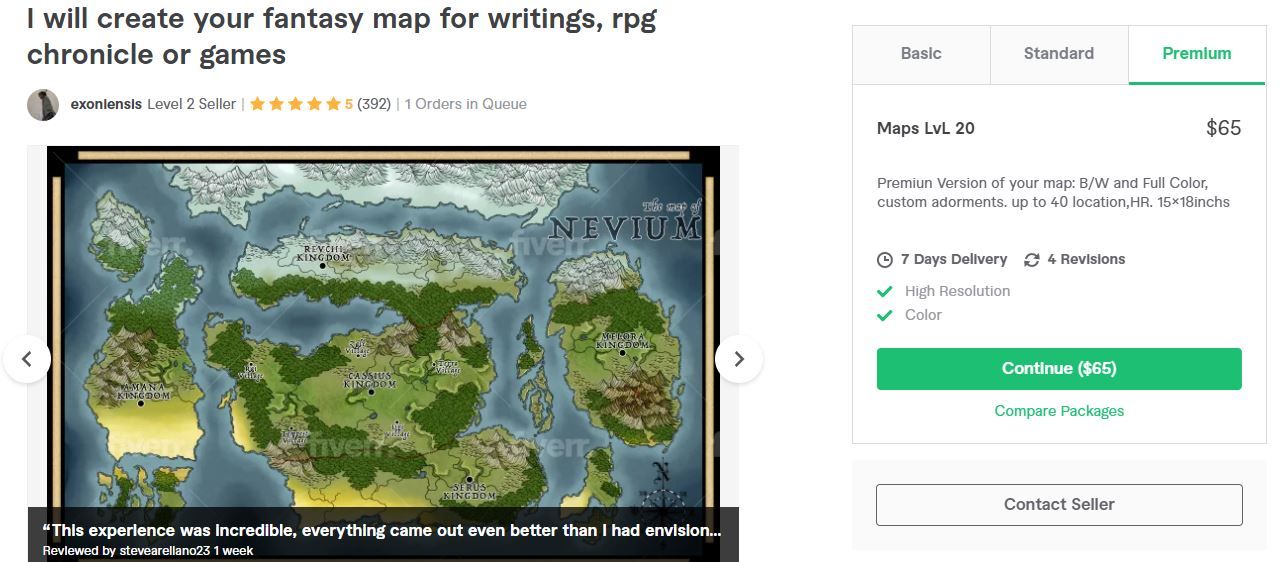 Exoniensis is a level two seller and a talented digital artist who specializes in fantasy map creation. His prices range from $20 to $65 with a 3- to 7-day delivery guarantee. Providing high-quality material at a reasonable price.
His 300+ positive reviews demonstrate that he is more than capable of handling your projects. And, you know the saying, "reviews don't lie." His average response time is one hour, so you should receive a response within that time range.
Looking for a budget-friendly fantasy map commission? Check out exoniensis's gig.
How much does a fantasy map commission cost?
Using the artist listed above as an example, we can estimate that an average fantasy map commission can cost anywhere from $10 to $900. The pricing isn't set in stone as several factors influence the final cost.
The ultimate commission fee is determined by:
The size as well as the scale of the map
The amount of detailing required
The number of extra's you would like to see (building icons, roads, labels, etc)
However, depending on your project, you might not wind up spending up to that, so it's best to discuss with the artist and get a custom quote before placing an order.
Also, as with other criteria of hiring an artist online, price does not necessarily dictate the quality. My advice is to look through the artist's portfolio regardless of your budget to see exactly what they have to offer and if you'll appreciate that work of art.
How do you get a fantasy map commission?
As stated at the beginning of this article, Fiverr remains the best platform to get a portrait commission or hire a freelancer as a whole. Fiverr is the world's largest marketplace for digital services, where creatives of all kinds sell their service for as low as $5.