Last Updated on December 22, 2021
Looking to buy a dog portrait for yourself or as an awesome gift? Need a talented artist that would fit this job but you don't how to start searching?
Well, we've got you covered!
In this article we would share with you our list of the best dog portrait artists, based on our own experience from multiple different orders.
Who are the best dog portrait artists for hire?
Below you'd find our list of the best dog portrait illustrators:
1. fantuzura – Best custom dog portrait artist on Fiverr ($75+)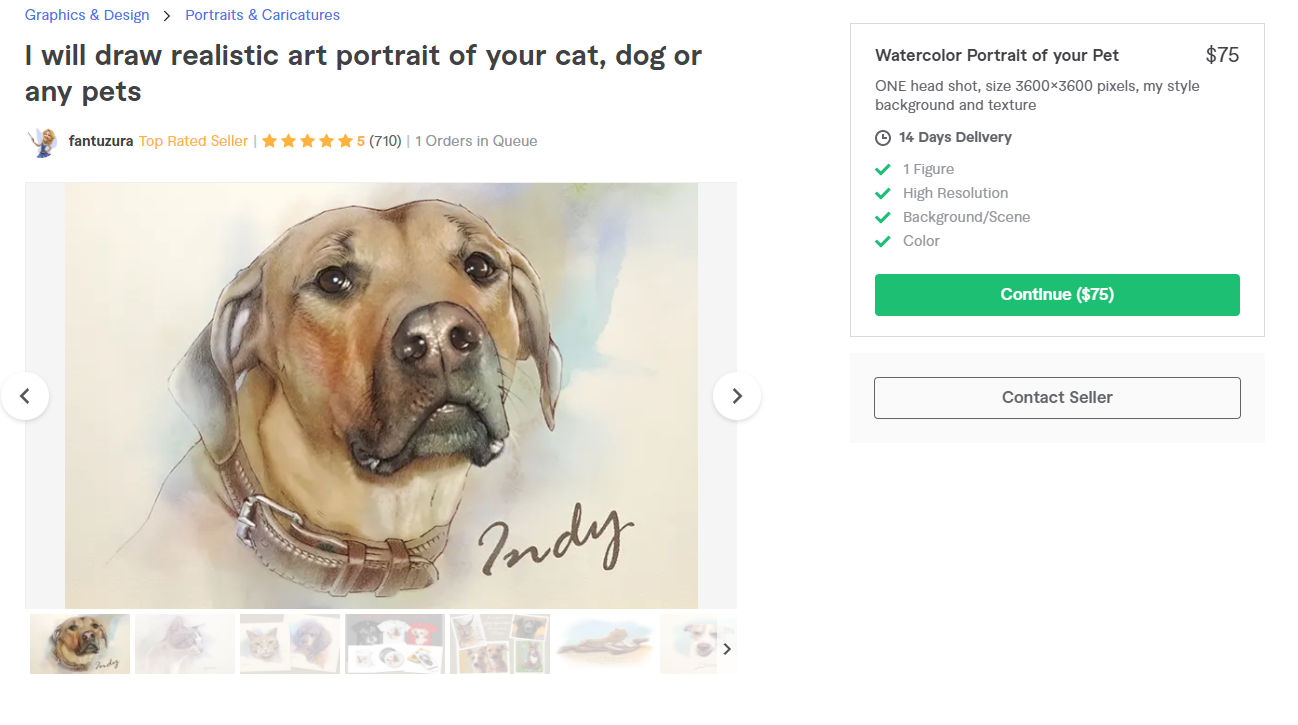 This top rated seller from Russia is arguably the very best pet portrait artist on Fiverr, and a perfect choice for your dog's portrait. The realism of the portraits is mind-blowing, and as is the detail that's put into the work. Her work is worth all the cost.
Her reviewers seem to be marvelling at the end-result, and praise her communication, quickness and skill. And her work is not only an accurate portrayal of pets, but also puts on an imaginative spin in the background. If you want your dog's portrait art to be equally realistic and imaginative, fantazura is the perfect choice. Her portrait art service stands at an average rating of solid 5 stars, with 710 total ratings.
A Highlighted Review of the Gig:

Want your custom dog portrait to be made by a very responsive top rated seller? Check out fantuzura's gig.
2. aringalleryart (Level 2 Seller) – Highly popular and budget-friendly dog portrait artist ($5-$50)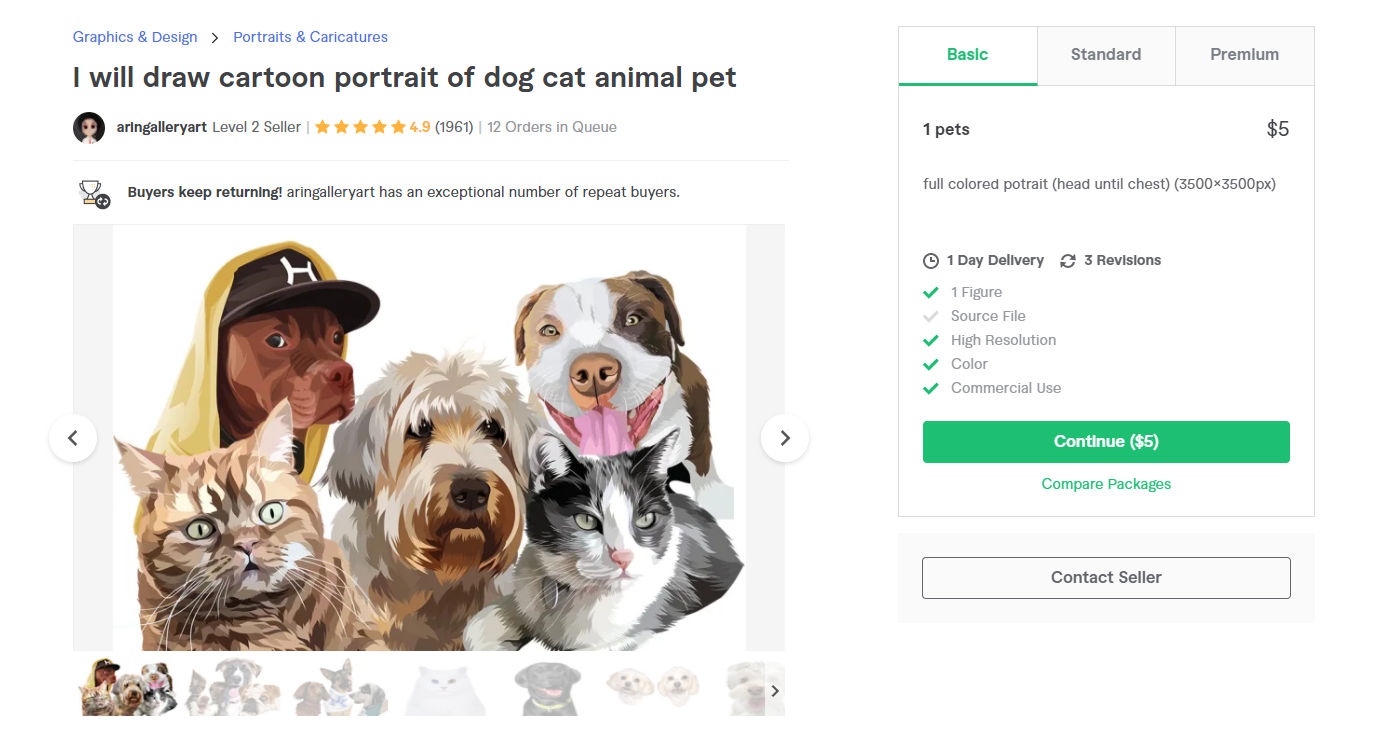 The pet portrait art of aringalleryart is the most popular choice on the list, especially due to the affordability. And this service doesn't involve the talent of only one artist, but is run by a team of 10 professional artists who accurately translate images of pets into digital illustrations.
The advantage this gives is that their deliveries are very quick, which alongside the affordability is the reason why this service has earned many regular buyers.
The buyers find the communication and the service a very fast process, and love the end-result. Their pet art service stands at an average rating of 4.9 stars with 1961 total ratings.
A Highlighted Review of the Gig:

Want incredibly stylish and affordable custom dog portrait art for your pet? Check out aringalleryart's gig.
3. gopyur – Incredibly realistic oil-painted custom dog portraits ($10-$30)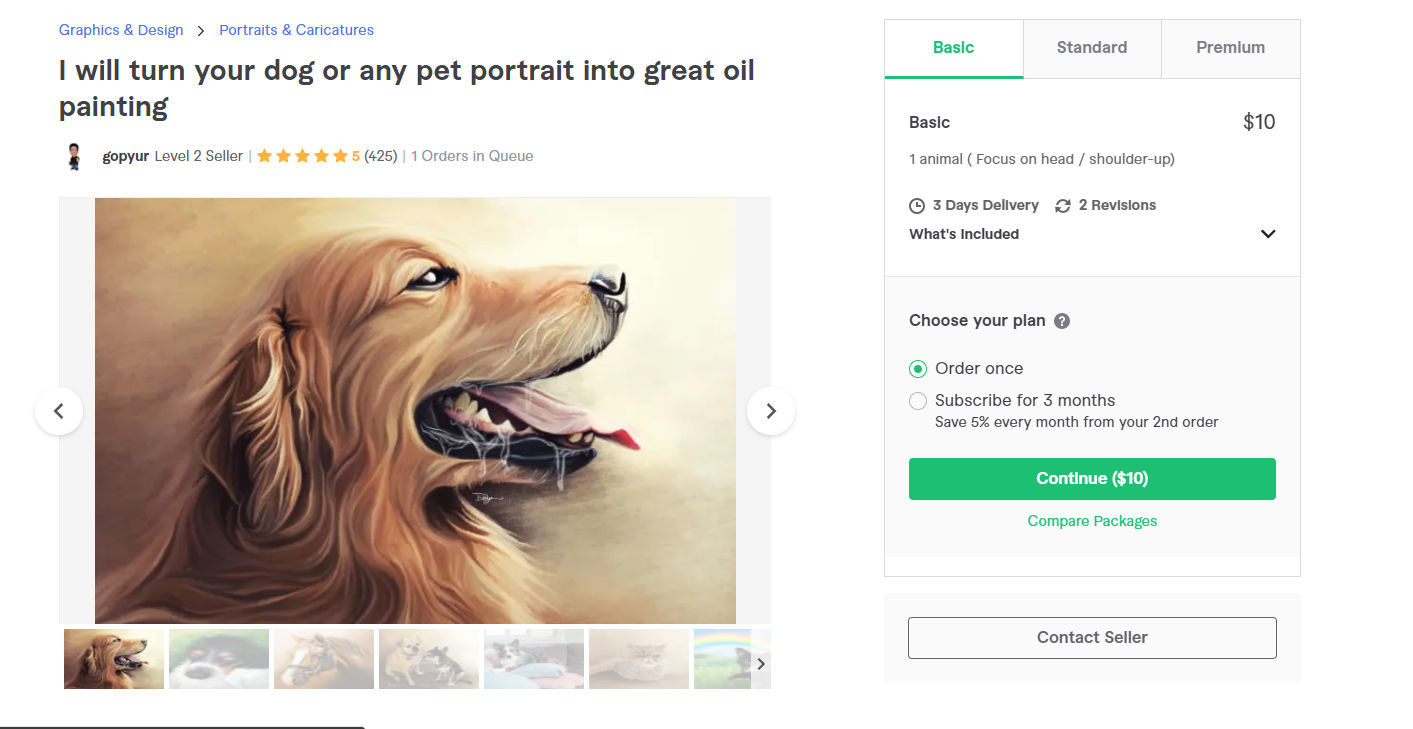 If oil paintings are the kind of art you love, gopyur's pet portrait service is the best choice for you. This Indonesian artist makes some of the best oil paintings that I've seen on Fiverr regardless of categories.
The paintings as seen on his page seem extremely detailed, and are available for very affordable rates too. His art is most definitely the second most realistic on this list.
The reviewers love gopyur's attention to detail, and commend his speed of delivery and revision. His gig stands at an average rating of 5 stars with 425 total ratings.
A Highlighted Review of the Gig:

Want realistic-looking oil paintings of your dog at an affordable price? Check out gopyur's gig.
4. tasartir – A Fiverr's choice artist who makes cute cartoonish dog portraits ($20-$35)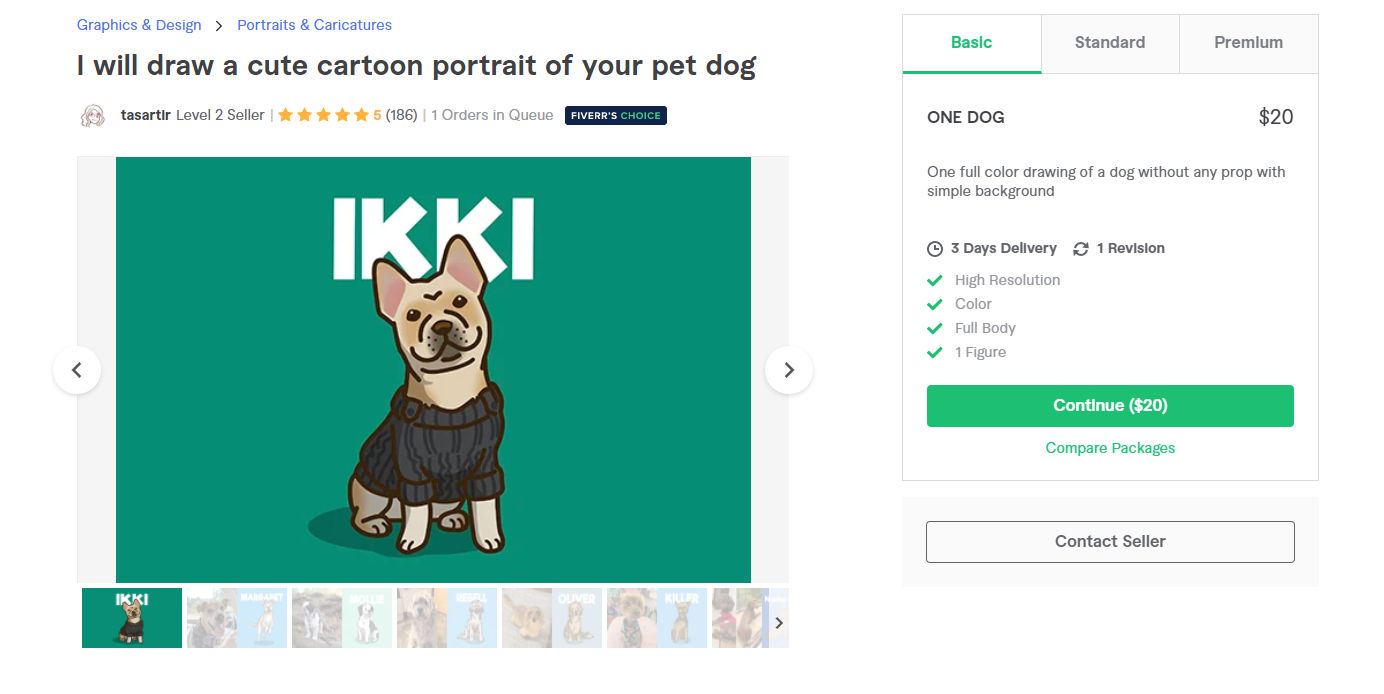 Not all portraits need to be realistic, especially in the age of cameras. Sometimes people may want their pets to be turned into adorable cartoon figures too, for which this Fiverr's choice artist from the United States is the best choice.
The pet art of tasartir is a creative digital recreation of pet images, and would fit ideas like turning your dog into Krypto the Superdog or something along those lines.
The buyers praise the perfectionism and creativity of her work, and admire her communication and revisions too. Her pet portrait service stands at an average rating of solid 5 stars with 186 total ratings.
A Highlighted Review of the Gig:

Want your dog's image to be turned into a cute cartoon portrait? check out tasartir's custom dog portrait art service.
How much does a dog portrait cost?
A dog portrait commission may cost between something as low as $5 and at times even something higher than $75 depending on the type of portrait you want, and if it's painted or digital. The number of pets, and the inclusion of background can also have an effect on the cost.
Further Reading on SMBillion: Got another pet that you'd like to create a portrait for? Check out our pet portrait commission comparison, as well as our couple commission guide.