Last Updated on January 8, 2023
Are you a pet enthusiast looking to commission a portrait of your adorable dog, bossy cat, or any other type of pet you own? Then you've come to the right place.
We've done the groundwork for you and compiled a list of competent and experienced artists best suited to take on your pet portrait projects.
These artists will transform your pet photo into a breath-taking custom painting of your choice. The sky is the limit when it comes to creativity and bringing your idea to life, as long as it is relatable.
What are the best pet portrait commissions services?
Capturing moments with your pet can be beautiful, and the first step to attain that is to commission an art piece from a skilled and experienced artist. And there's no better place to find one than Fiverr.
Fiverr is a freelancing website where creatives of all kinds sell their services for as little as $5. There are dozens of outstanding artists who offer design packages at or near this cheap price threshold.
Even better, by simply searching, you can easily find designers who specialize in pet portrait.
In this article, we'll be reviewing the Top 5 Artists on Fiverr most suited to handle your Pet portrait projects based on our experience:
1. Fantuzura – A Top-Rated, Realistic Artist with Premium Pricing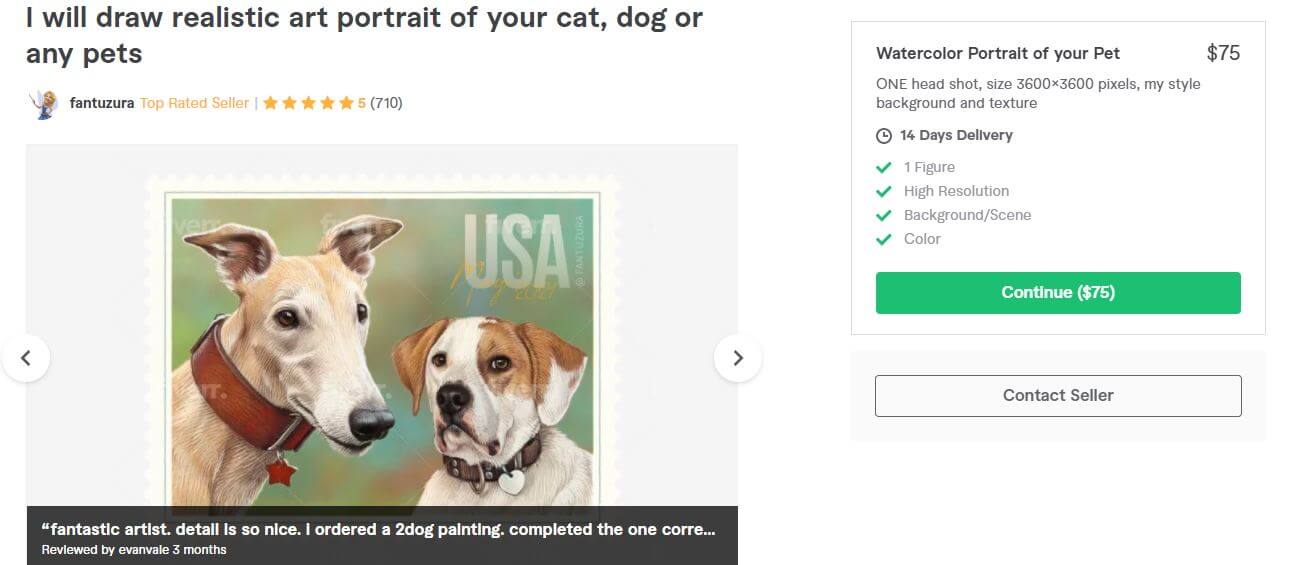 Fantuzura is a seasoned graphics artist who has been on the platform for a long time and is a Top-Rated seller, which is no easy feat. To earn that rank, one must have completed at least 100 individual orders and earned up to $20,000 while maintaining a 4.7-star rating, alongside other requirements.
Her 700+ positive reviews alone demonstrate that she is more than capable of handling your jobs. She creates highly realistic art portraits of any pet in her signature Digital Watercolor technique.
Her price, however, is on the high end, as she charges $75 for a single package that includes a head shot image of the desired pet, her style and background, and the super realistic touch.
She is your go-to pro if you have a large budget. She promises to deliver in 14 days and has some extra gigs lined up for additional features. The finished outcome, on the other hand, is well worth the time and money.
Looking for a realistic pet portrait? Check out Fantuzura's gig
2. sutashi17 – A Freestyle Custom Artist, with Friendly Pricing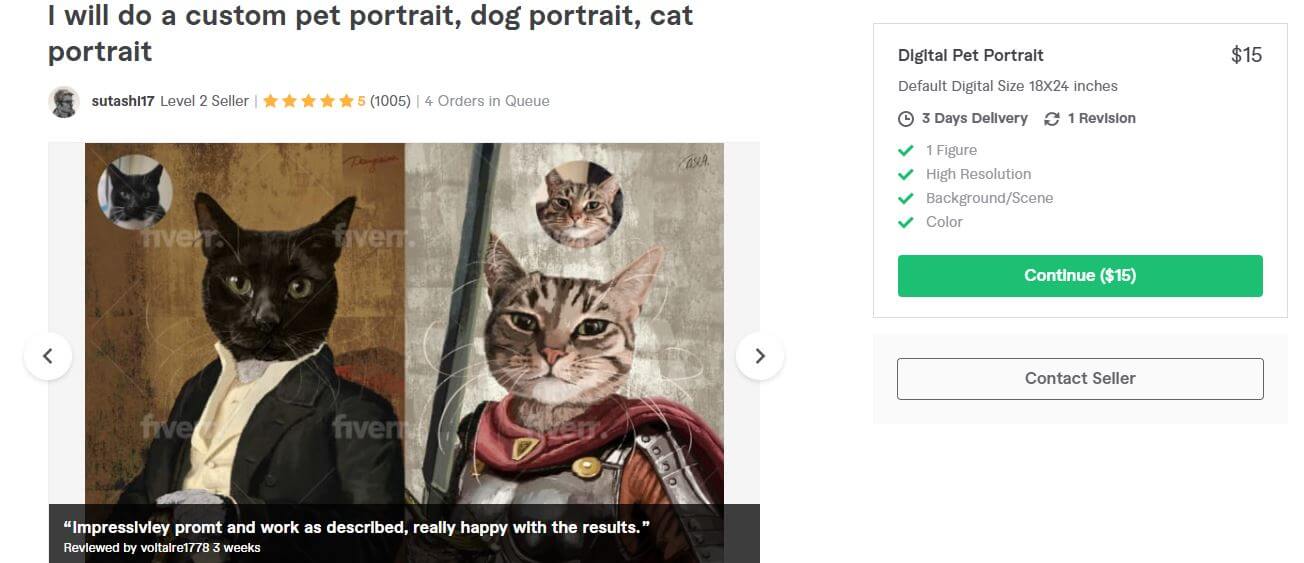 Sutashi is a brilliant level two artist that offers creativity to his work at reasonable rates.
He offers a custom fantasy pet portrait, which combines the desired pet with another perspective/design that blends nicely together.
His designs stand out as he adds comic relief to them. Imagine your pet cat or dog dressed in Ironman costumes or knight armor. I mean, how amusing is that?
For only $15, Sutashi will bring your idea to life and if you don't have any, he can certainly come up with something creative that you'll like. He promises to deliver in three days with only one revision. His standard response time is one hour, so you should hear back within that time frame. Send Sutashi a note today to bring your concept to life.
Looking for a creative custom-made pet portrait? Check out Sutashi
3. Hanidiapuspaa – True-to-style Disney-Like Artist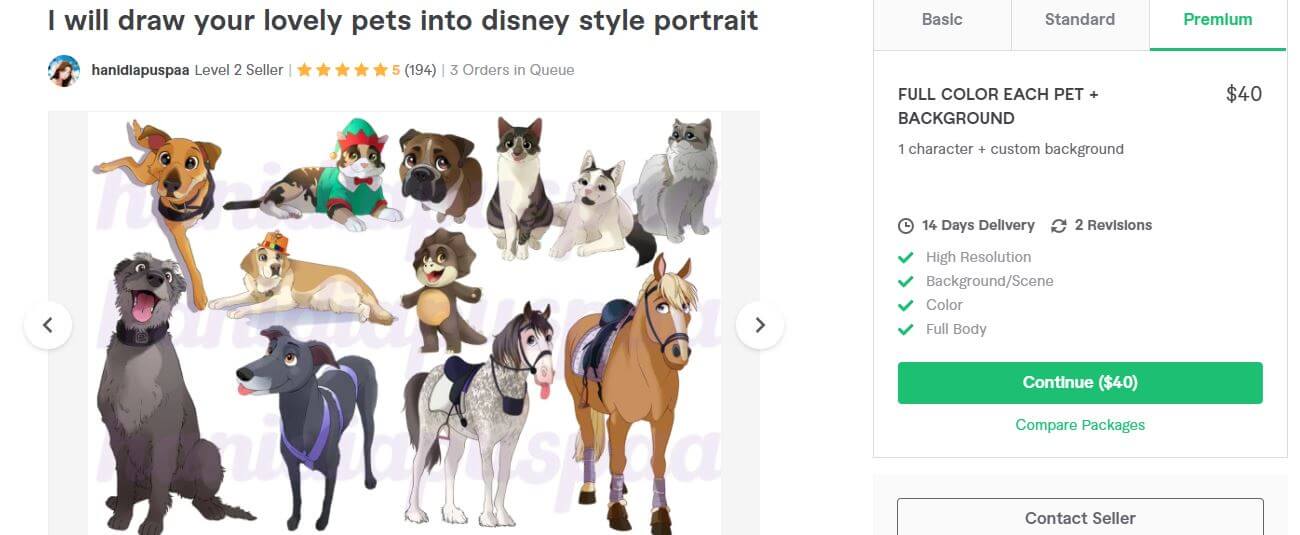 Yes, you read that correctly: hanidiapuspaa illustrate your pet in Disney style. She's your go-to pro if you're a lover of Disney pet characters and want to know what your pet might look like in the Disney universe.
She executes the painting flawlessly, as if she were one of Disney's illustrators; the blending and feel are spot on.
Her price ranges between $10 to $40, and she offers to deliver within 14 days with only two modifications. This work of art, I assure you, is well worth the wait. Her typical response time is two hours, so you should receive a response within that time frame.
Looking for a True-like Disney styled portrait? Check out hanidiapuspaa's gig
4. Gopyur – A Seasoned Dog Oil Painting Expert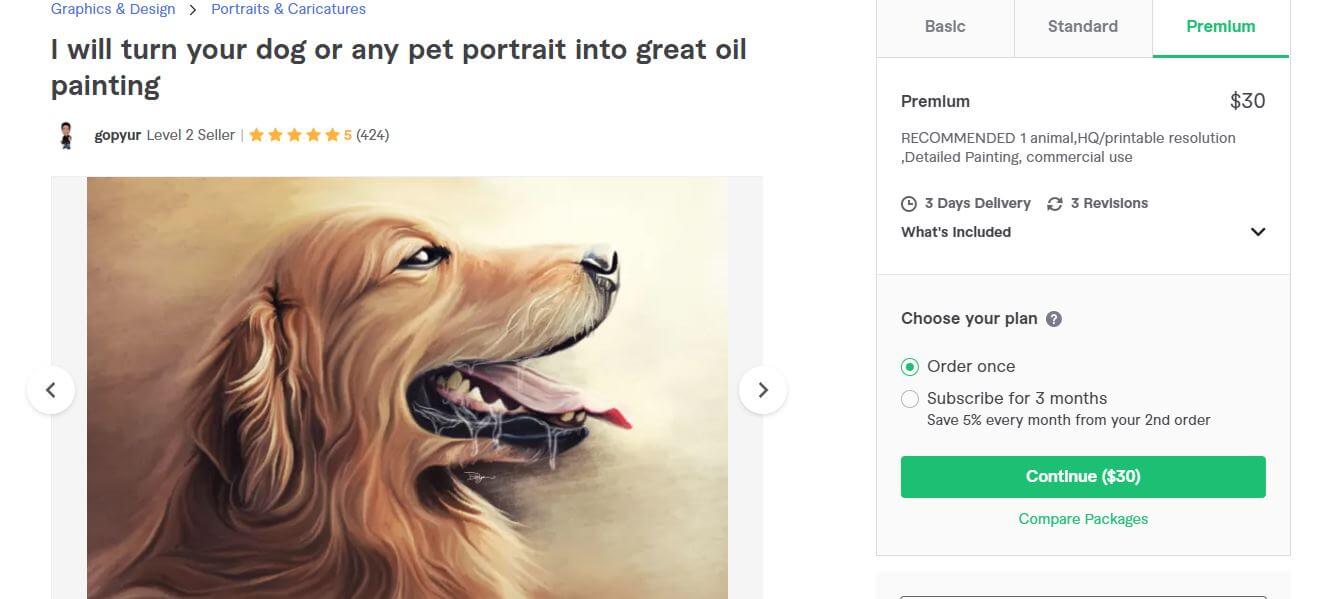 Just as the caption indicates, Gopyur is a specialist in oil painting, Creating a well detailed portrait for your pet.
He's a level two seller with over 400+ positive review. His price ranges from $10 to $30 and offers to deliver in 3days with three modifications. You can't go wrong with Gopyur when it comes to oil painting.
Looking for an Oil Painting Expert? Send Gopyur a message
5. Tasartir – Cute Cartoony Pet Artwork Commissions

Are you seeking for the ideal adorable photo present for yourself or someone you care about? Then you're at the right place. Tasartir is an animal enthusiast who creates adorable illustrations in her own cartoony style.
Although, she only offers illustration for dogs on this current gig and will need to you to inquire about other animals. She also has a gig where she exclusively draws cats. So, you can check that out if you're a cat person.
Her price ranges from $20 to $35 featuring a dog with a prop and a costume. She offers to deliver in five days with a single revision. Her typical response time is two hours, so you should receive a response within that time frame. Send Tasartir a message today to commission a cute cartoon dog.
Looking for a Cute True-Like Cartoon Portrait? Check out Tasartir's gig.
How much do pet portrait commissions cost?
An average pet portrait costs between $10 to $100.
As with other criteria of hiring an artist online, price does not necessarily dictate the quality. My advice is to look through the artist's portfolio regardless of your budget to see exactly what he has to offer and if you'll appreciate that work of art.
How do you get a pet portrait commission?
As stated in the beginning of this article, Fiverr remains the best platform to get a portrait commission or hire a freelancer as a whole. Fiverr is the world's largest marketplace for digital services, where creatives of all kinds sell their service for as low as $5.