Last Updated on December 22, 2021
Looking to commission an artist to draw a portrait for yourself or somebody else? Can't find a suitable artist that would fit your needs?
Well, we've got you covered!
In this article we would share with you our top 4 recommended portrait artists!
Who are the best portrait commission artists?
Below you'd find our list of the best portrait artists for hire:
1. eurephora – The overall best portraits commission artist ($40-$90)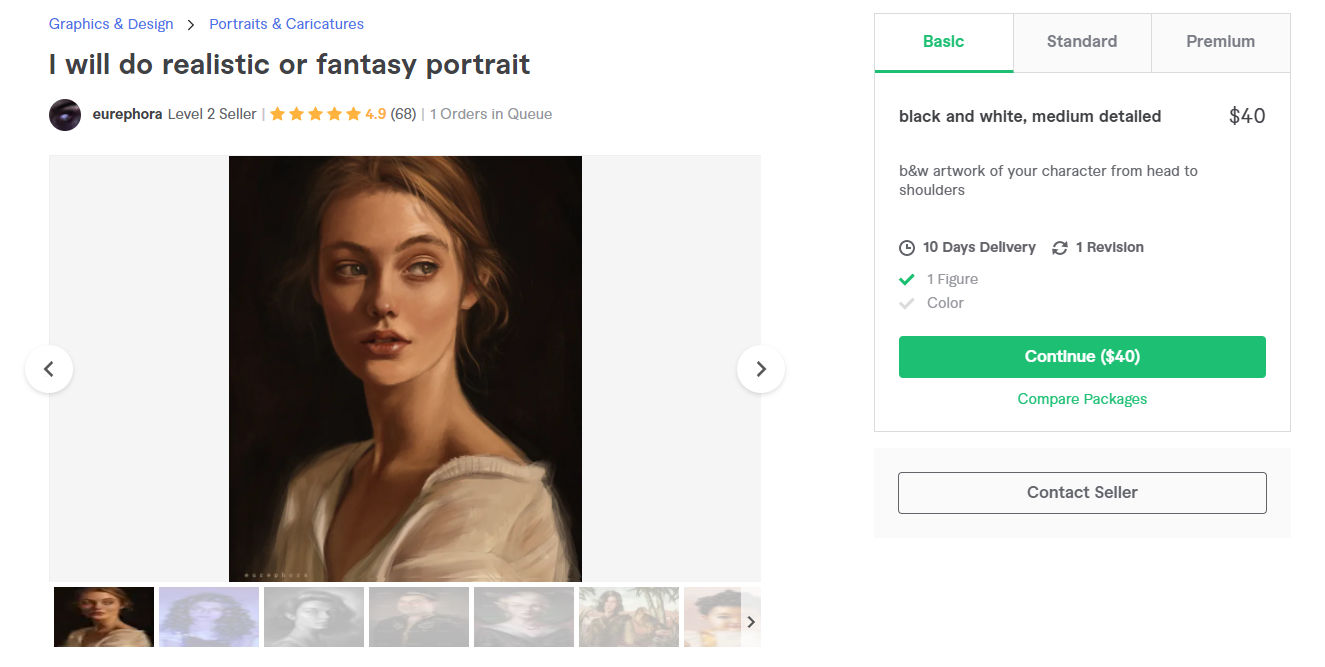 It's surprising how overlooked this amazing portrait artist from Poland is. She can design as realistically as she can design creatively. And her fantasy art doesn't necessarily have to be realistic either, she excels even in purely digital styles.
The reviewers praise her for quickly understanding what they need, and achieving an even better result. Her service stands at an average rating of 4.9 stars with 68 total votes.
What Eurephora's customers say about her:

Want to have an excellently drawn portrait of your own? Check out eurephora's portrait art commission.
2. mirzafahad – Realistic budget-oriented portrait artist ($10-$40)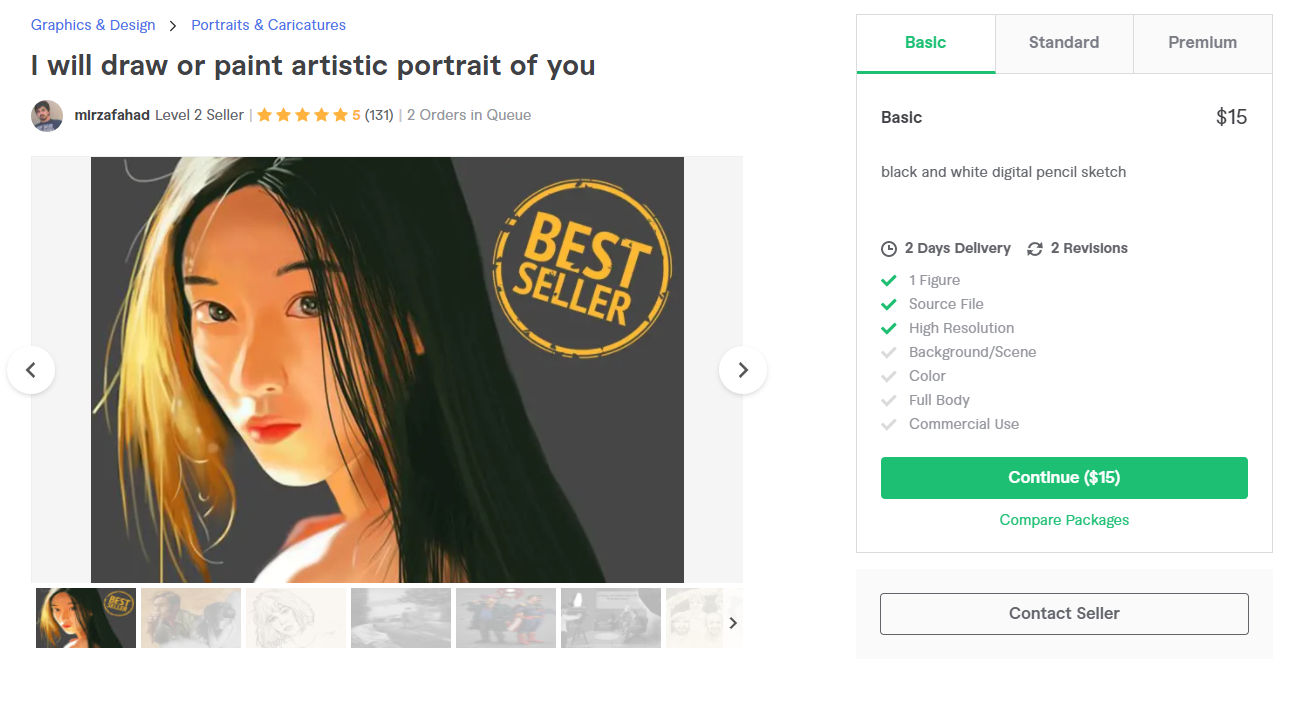 This talented portrait artist from Pakistan is one of the most beloved ones on Fiverr. His attention to detail is admired by almost all of his customers, and as is his communication during the service.
The fact that his portrait art is so realistic is really sells his service. His gig stands at an average rating of 5 stars with 131 ratings.
What Miraza's customers say about her:

Want to have your portrait to look fantastic with affordable art? The portrait art commission of mirzafahad has you covered.
3. mrpentool – A highly rated and affordable portrait art service ($25-$75)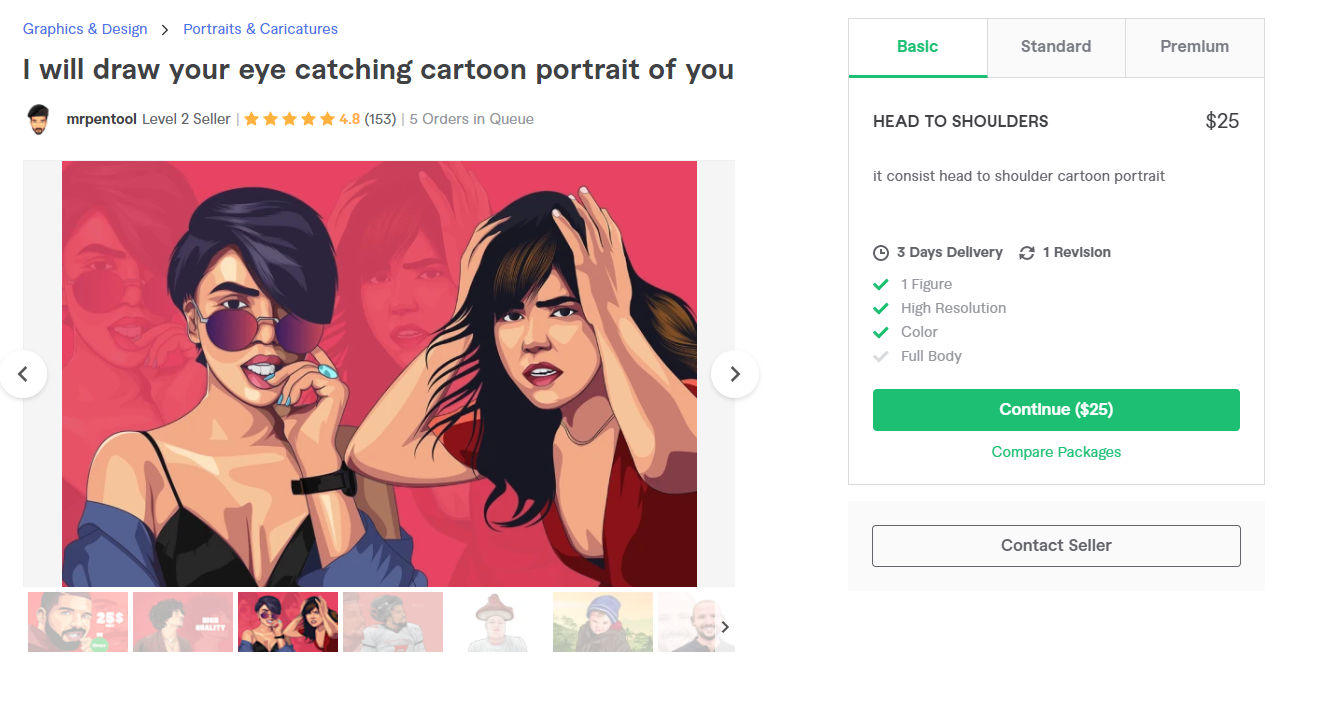 A perfect blend of digital and realistic is what this artist achieves with his portrait art. It's also the reason why he's one of the fan favorites on Fiverr.
He's very creative with the backgrounds too. Reviewers seem to love his Grand Theft Auto-esque art style a lot. The Indian artist's gig stands at an average rating of 4.8 with 153 total ratings.
What Mr. Pentool's customers say about him:

Want your portrait to be a great blend of realism and illustration? Try mrpentool's gig.
4. cheapjack787 – Buyers' favorite digital portrait artist ($15-$50)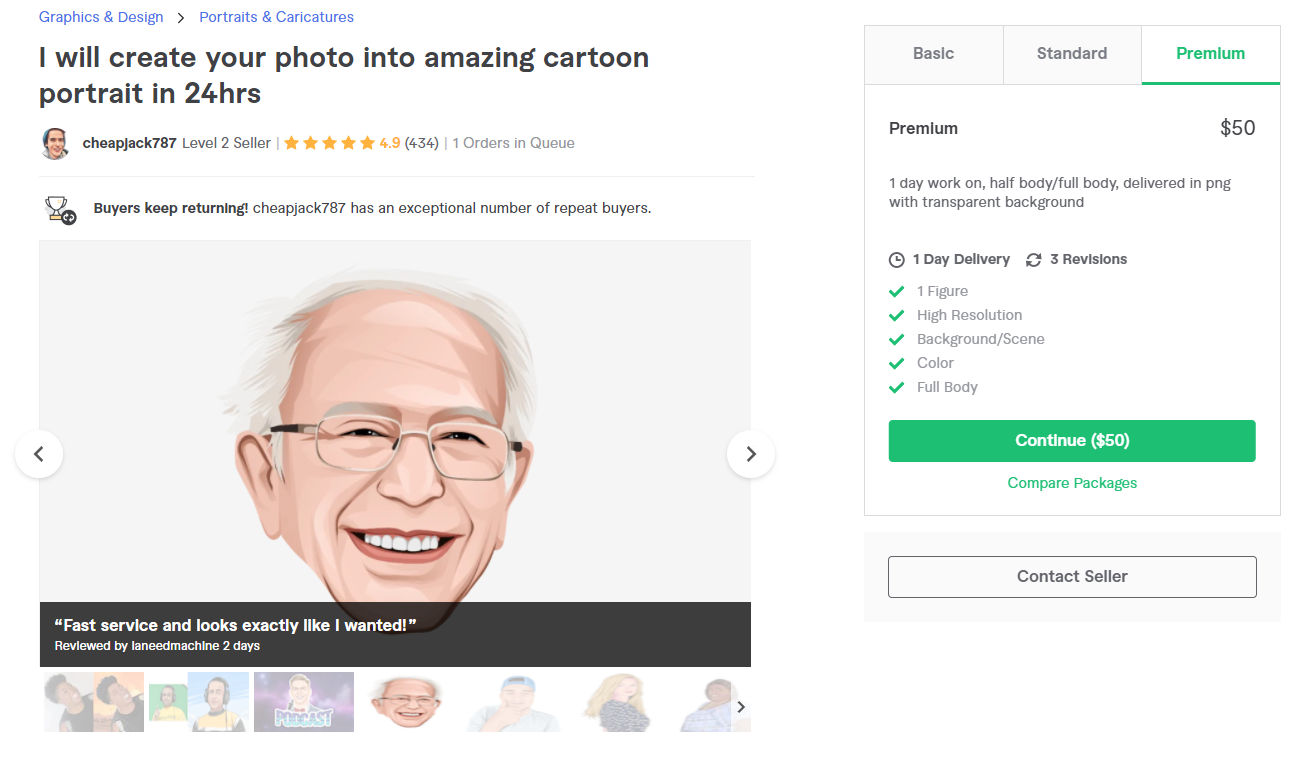 Buyers love the style of this portrait artist, especially due to it being relatively affordable. This portrait artist from Indonesia creates a perfect cartoonish illustration of your photos.
Reviewers commend this seller for his professional accuracy and unbelievable delivery speed. His service stands at an average rating of 4.9 stars with 434 total votes.
What Jack's customers say about him:

Want your image drawn into a wonderful digital portrait? Try cheapjack787's service.
How much does it cost to commission a portrait?
Lots of things can be weighed in regarding the cost of a portrait. Whether it's digital or sketched, colored or not, and if it includes a detailed background or not. Overall, a portrait art commission can cost something in between $10 and $90. The more realistic it is the more costly will it be. Some of the best artists on this list charge as low as $40 for a premium portrait.
How do you get a portrait commission?
You can get a portrait commission by hiring a portrait artist online. There are many platforms where artists sell their work, but I'll recommend Fiverr.com due to the amount of talent and variety that exists there. You can use Fiverr's search engine to look for portrait art commissions to find yourselves the perfect artist.