Last Updated on January 8, 2023
Want to create your comic book but you are not a designer? Looking for a talented comic book artist that would bring your awesome idea into life?
Well, we've got you covered!
In this article we would share with you our top recommended comic book artists, that would help turn your idea into a reality!
Who are the best comic book artists for hire?
Below you'd find our list of the best comic artists to try this year:
1. spidey_erkan – Our personal favorite comic book artist ($45-$95)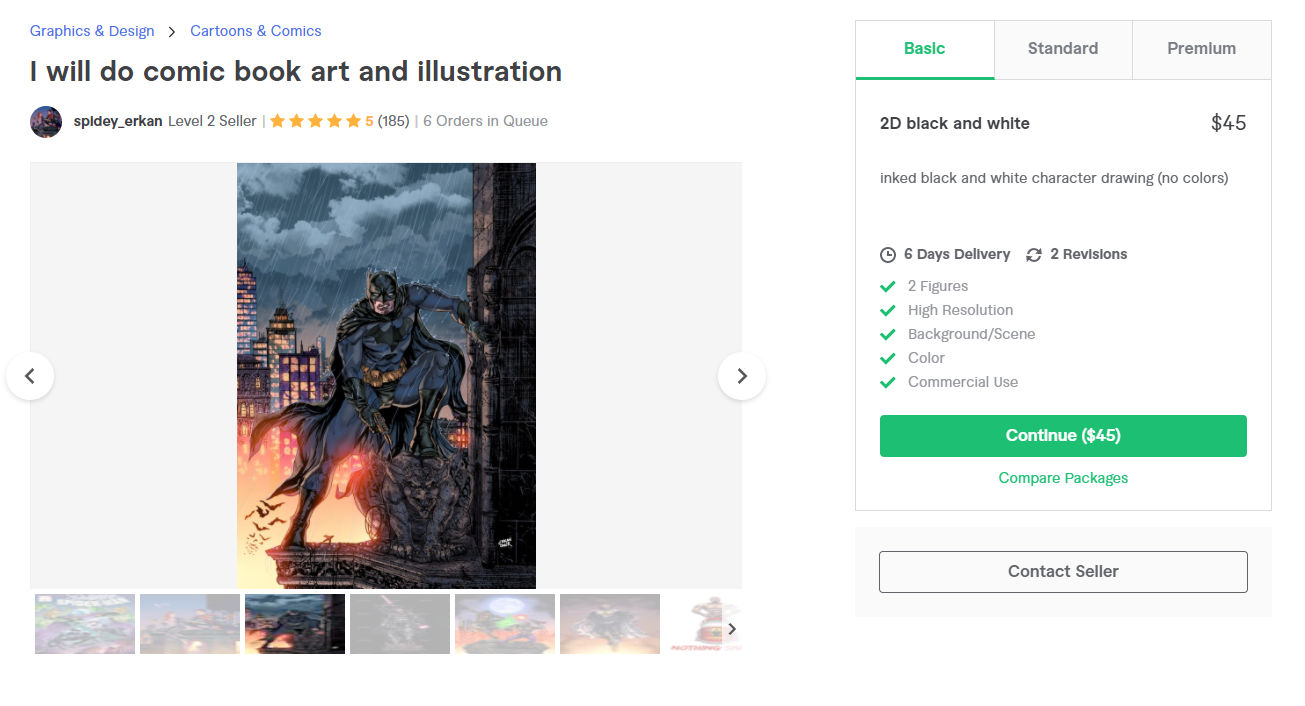 As one would expect from an artist with such a username, spidey_erkan's comic book art seems like the work of a complete comic book geek who knows how the professional artists do things. His panels and covers are great enough to belong on a DC or Marvel comic book.
Reviewers absolutely love how accurate his work is to what they had in mind. The Turkish artist's comic book art gig stands at a solid rating of 5 stars with 185 total ratings.
What Erkan's customers say about him:

Want to have a DC or Marvel styled comic book art of your own? Check out spidey_erkan's comic book art commission.
2. tcs2108 – A highly rated and stylish comic artist ($30-$60)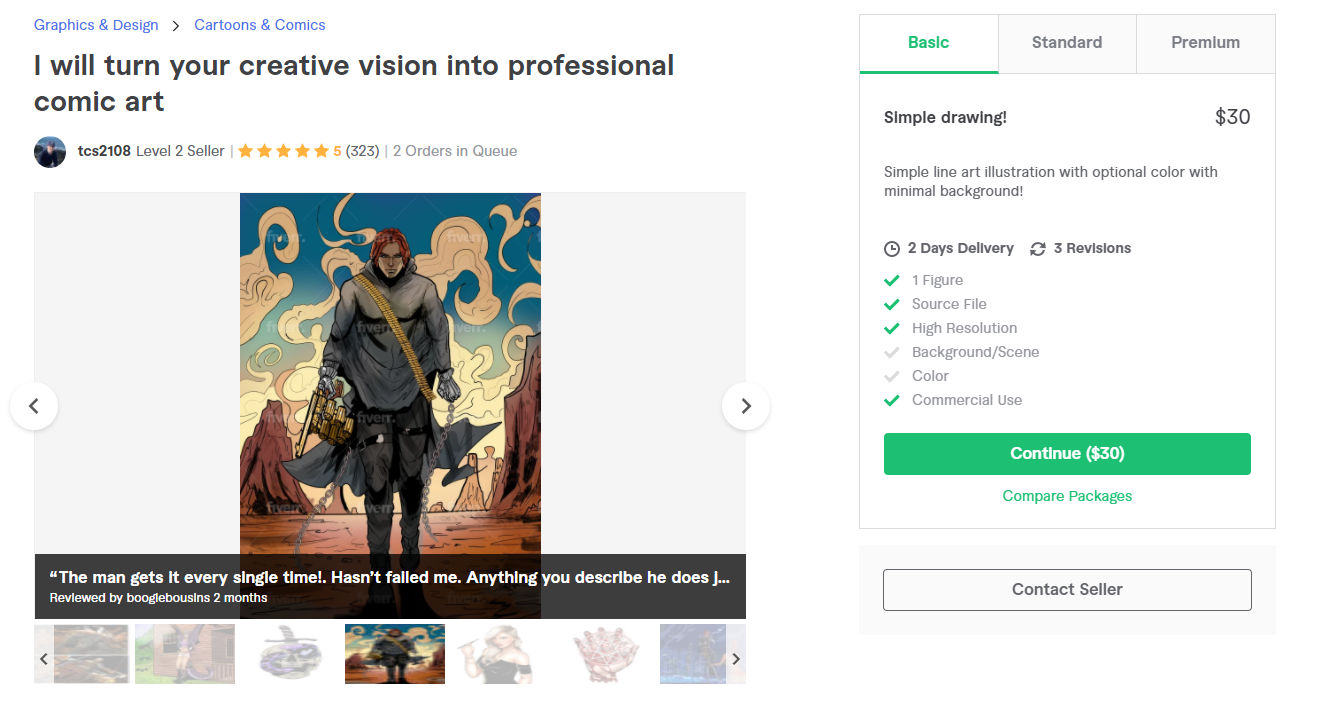 TCS is a very skilled comic book artist who is commended for his intuitive understanding of what the customer wants. His art style is unique and versatile, and seems to adapt itself nicely to the demands of the customers.
Reviewers mention that they don't even have to get into the details of what they want for him to achieve the perfect result. The Chinese artist's comic book art gig has an average rating of solid 5 stars with 323 ratings in total.
A Highlighted Review of the Gig:

Want your comic book art to be nearly professional looking? Try tcs2108's gig.
3. genzistudio – A comic artist with a style that'll keep you coming back ($30-$80)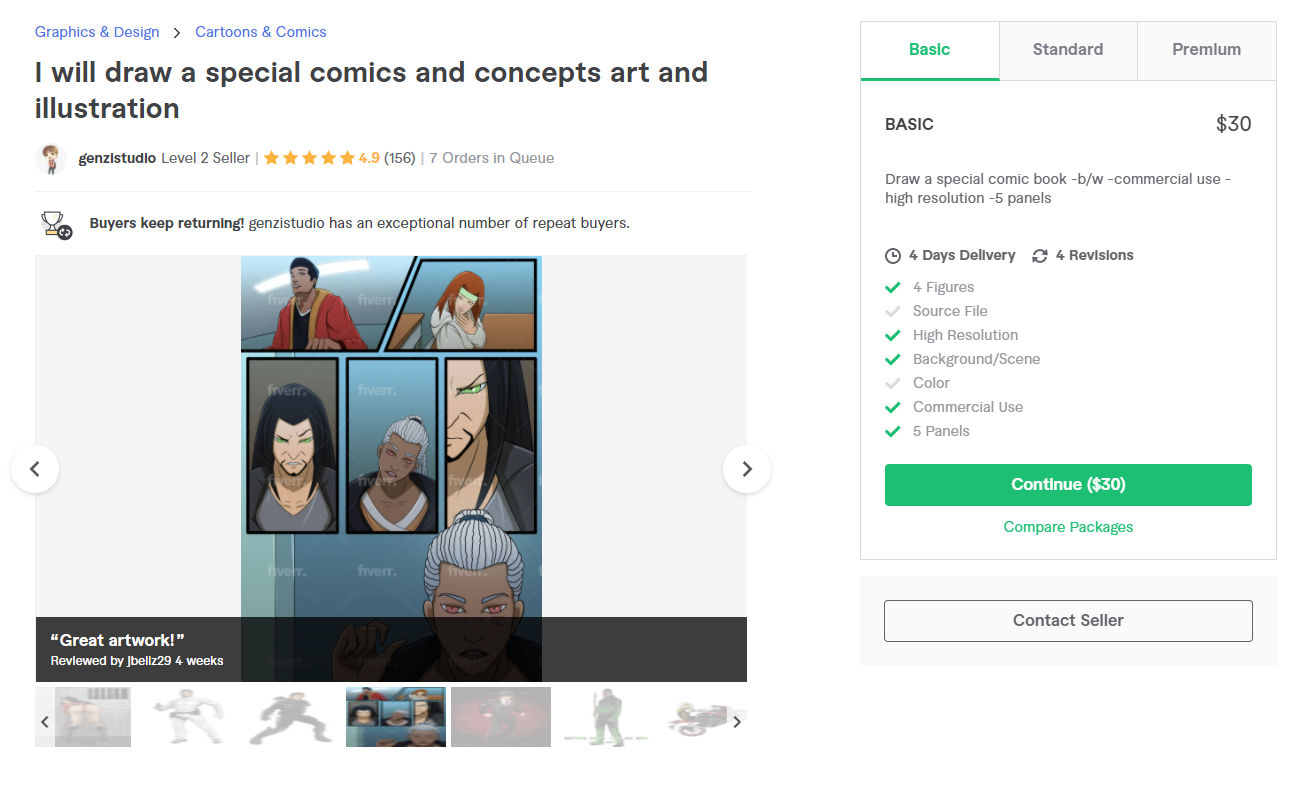 This artist from Indonesia excels in a comic book art style that people keep wanting more and more of, which can be seen by the number of regular buyers on their page.
People praise their communication, and responsiveness, as well as their ability to realize what they want. Their comic book art gig stands at an average rating of 4.9 stars with 156 total ratings.
A Highlighted Review of the Gig:

Want your comic book panels to be artistically stylish? Try genzistudio's service.
4. alexgreenart – Low budget comic artist ($20-$40)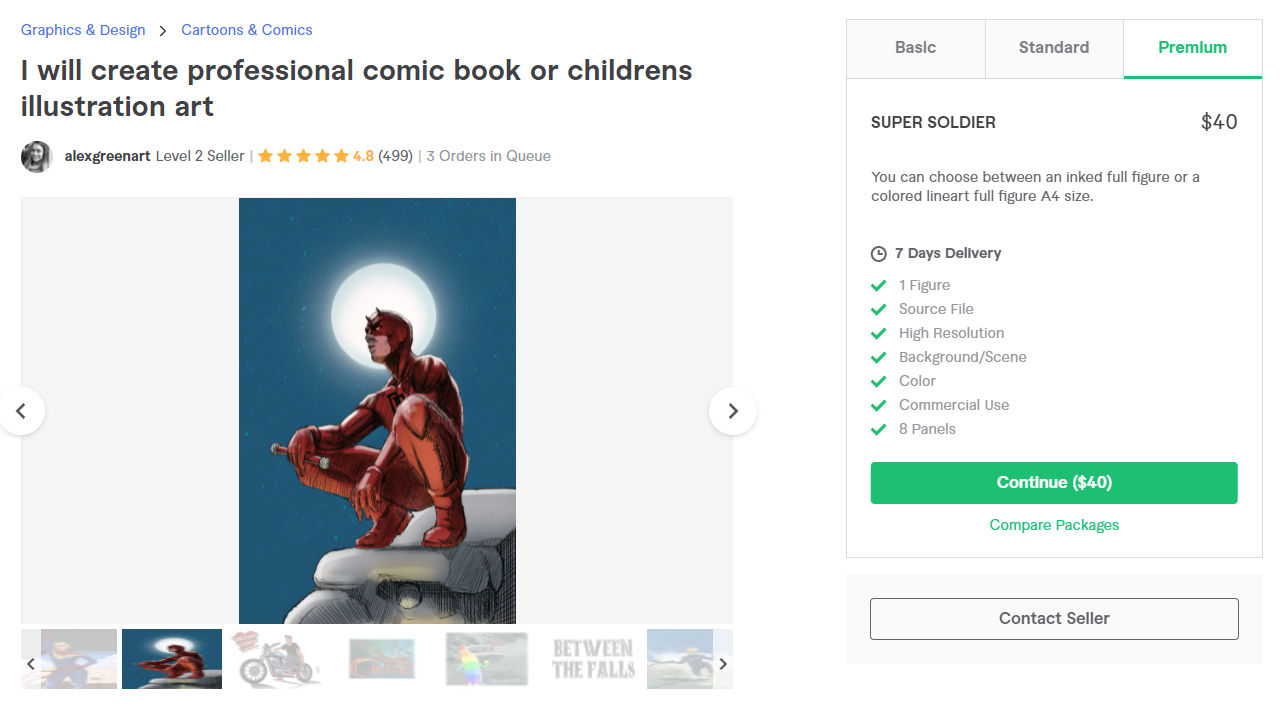 Alex is another book cover artist on the list whose work is worthy of belonging to the Marvel and DC books. She's the fan favorite for all the right reasons.
Her art features some of the best coloring and shading that I've seen on the entire site, and the fact that her packages are budget-friendly makes her one of the very best comic book artists on Fiverr.
The United Kingdom-based artist's gig has an average rating of 4.8 with 499 total ratings.
What Alex's customers say about her:

Want your comic book art to look fantastic with affordability? The comic book art commission of alexgreenart has you covered.
How much does hiring a comic book artist cost?
The cost of a comic book art can range from $15 to $95 for one page of a comics book.
Depending on the seller and what they are offering, the price can vary. The overall cost depends on how many characters you want in a comic book art, if there is a background in the panels or not, or if the panels are colored or not.