Last Updated on December 6, 2022
It's the 21st century, commissioning art is as simple as ordering an Uber, or food from your favorite restaurant – all you need is a smartphone and the internet.
Are you looking to commission art but don't know where and how to? then you're in luck.
This article will introduce you to a list of the leading online art commission marketplaces that are credible, reputable, and easy to use.
Without further ado, let's get right into it:
What Are the Best Places to Get Art Commissions?
Below you'd find our list of the best marketplace to commission art: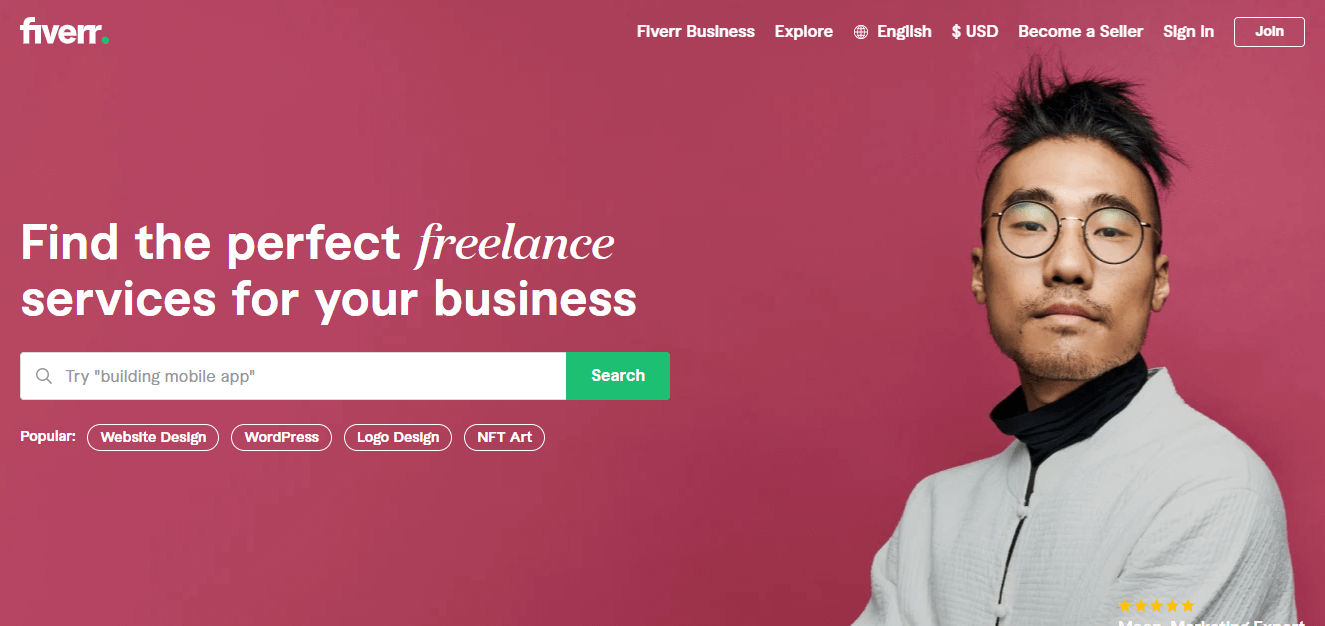 Fiverr is the world's largest marketplace for digital services, where creatives of all kinds sell their services for as low as $5 or near that cheap price threshold; Obtaining high-quality artwork without breaking the bank.
Fiverr is well known for its affordable prices; however, this does not imply that the services are of poor quality. Regardless of the pricing, the service offered on Fiverr remains professional and of high quality.
Getting commission art on Fiverr is a rather straightforward process. By simply searching, you can easily find artists who specialize in any form of art.
To do that, you begin by going to the Fiverr homepage and searching for "the service you want to commission" in the search field, then your search results display all the artists/sellers who provide that specific service.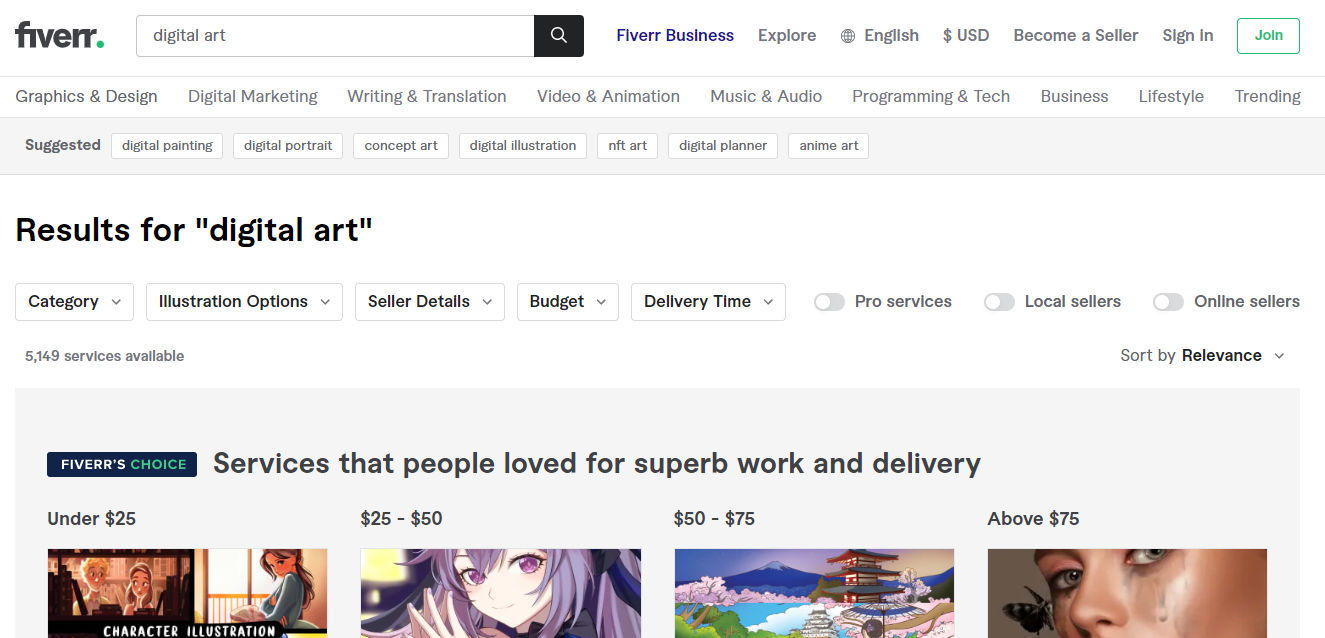 You then simply need to scroll through the results, skim through a few portfolios, and choose an artist or vendor whose style you prefer. SIMPLE!
Pros of using Fiverr Include:
100% Money Protection: Trusting a stranger with your money over the internet can be challenging. You never know if they're legitimate or if the service will be provided after payment.
Escrow services are available on Fiverr to protect your money. In other words, they protect you from fraud, stress, and incomplete transactions by holding off on paying the vendor until you, the buyer, affirm that you are satisfied with the order.
This is one great feature that sets Fiverr from the other marketplace.
Wide range of sellers (artists) to choose from: With over 1 million sellers on the marketplace, and daily additions, you have more than enough varieties of artists/sellers to choose from.
Affordability: As stated earlier, you get to commission any digital service without breaking the bank.
Clear Delivery Date: Most artists on other platform lack a specific delivery date and are frequently swamped with pending orders.
On Fiverr, every order has a set delivery date, and the seller is required to meet that deadline to avoid order cancellation. This assures you as the customer that your order will be finished on the specified delivery date and spares you from unjustified excuses.
Get started here to join Fiverr.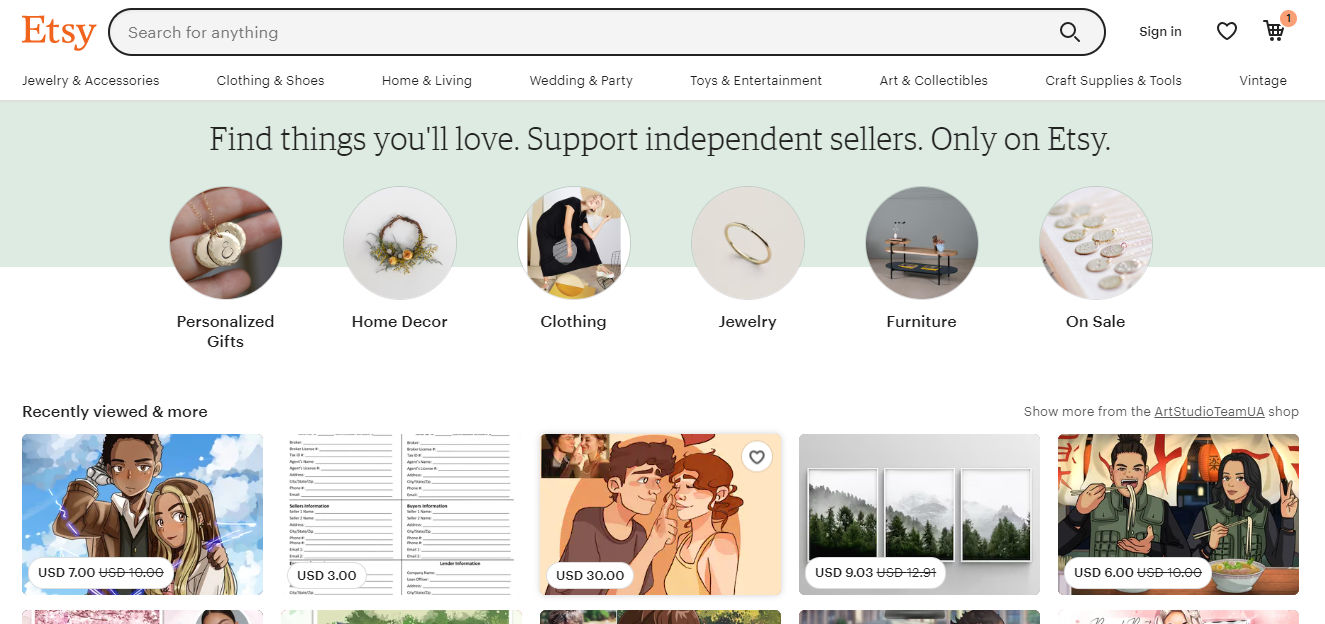 Etsy is an online marketplace for handmade goods like clothing, bags, furniture, and home decor. They also have a portion of the site dedicated to art commissions of various styles (all it takes is a search).
Launched in 2005, Etsy has grown to become the go-to place for crafters, designers, painters, and artists of all kinds to present their work, get in touch with potential clients, and sell their art online. Etsy is trusted, reliable, and secure.

Reddit is a network of forums and communities where people may explore their passions, hobbies, and interests. Whatever your interests are—politics, video games, sports, anime, art—there is something for everyone.
These communities are known as "subreddits", denoted by an encoded r/ followed by the name of the community. For example: r/arts, r/animelover
There are a ton of subreddits for "art lovers," where creators and fans of art come together to discuss art. These art subreddits can also be used to connect clients and artists for art commissioning.
Below is a list of art subreddits to check out for art commissions:
r/Art
r/ArtBusiness
r/Illustration
r/RedditGetsDrawn
r/ArtCommission
r/ArtCommissions
r/HungryArtists
r/HireAnArtist
r/ArtStore
r/Commissions
r/DrawForMe
You can search these subreddits for artists who are available for commissions, get in touch with them, browse over their portfolios, and then proceed to place an order with them if interested.
Reddit's main benefits include the opportunity to engage with like-minded individuals and exchange and enjoy works of art.
While security is a major drawback to hiring an artist off of Reddit, as it can be difficult to trust a stranger with your money online.
There are a few reliable artists on Reddit, so we're not claiming that everyone there is a fraud. You just have to evaluate your options.

DeviantArt is one of the largest online hubs for artists and art lovers. Just like Reddit, DeviantArt is also organized into communities and groups but somewhat different.
DeviantArt is popular for fantasy and anime artwork so if you're looking for other art styles, it just might not be the best option for you.
Like Reddit, security is a major drawback to hiring an artist off of DeviantArt, as it can be difficult to trust a stranger with your money online. Delivery dates are also a major drawback since there is no standard way to track the order.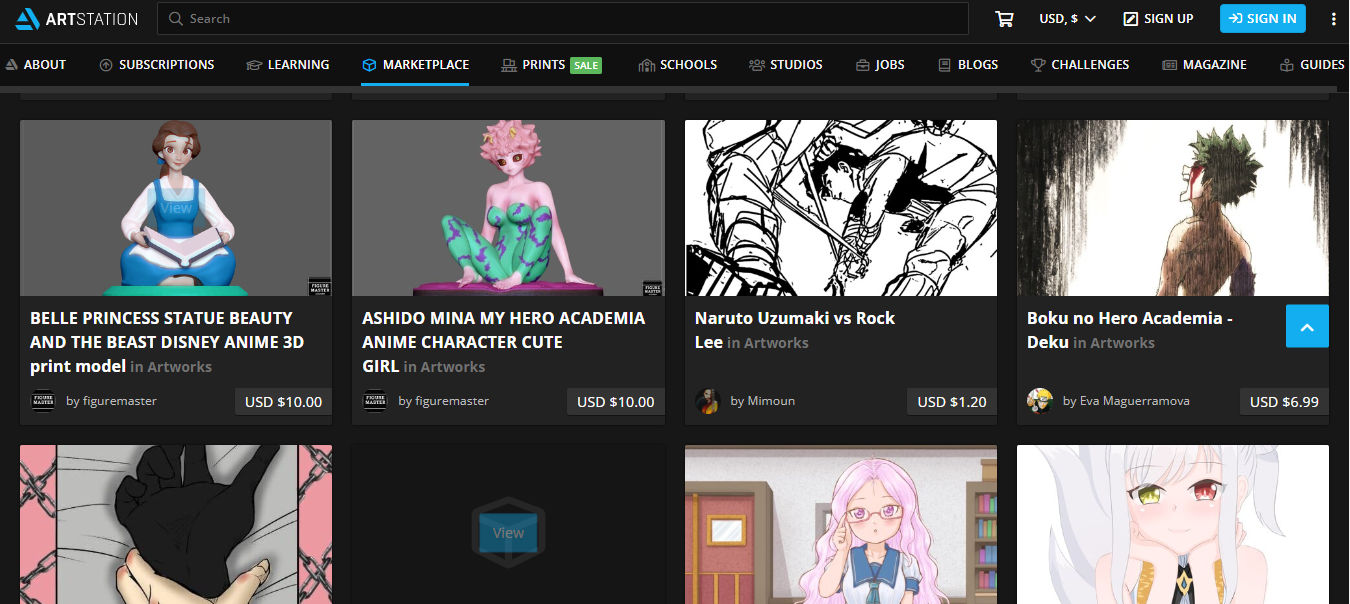 Like Deviant Art, Art Station is also a hub for artists and art lovers with a focus on fantasy and science fiction art.
The website's marketplace will introduce you to a wide range of brilliant artists who are all available for hire.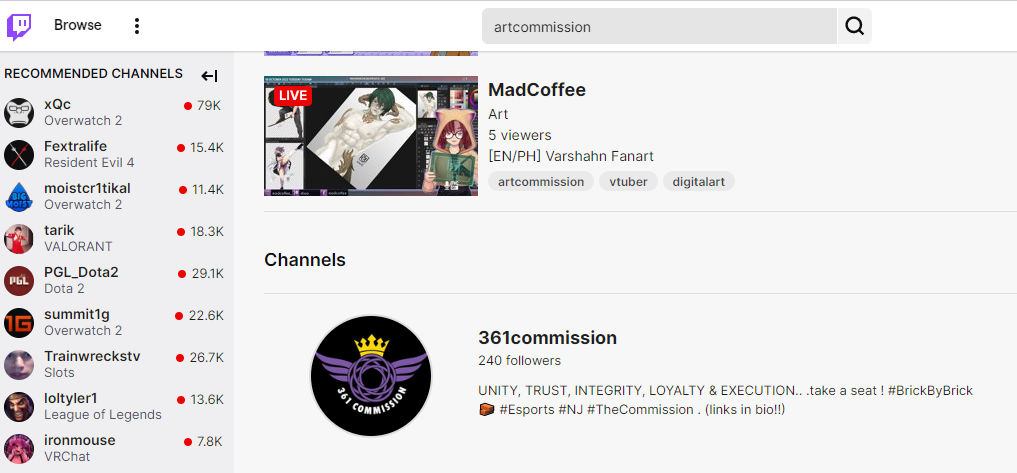 Twitch is well-known as a streaming service that was initially used for game streams, but it has since grown to include a small but growing art sector.
Before commissioning an artist, you can decide to watch their stream while they are working on projects.
That way you can evaluate if the artist is capable of executing your art project.
Unfortunately, twitch doesn't feature an in-app escrow payment plan, so you might just have to cope with whatever payment method agreed with the artist.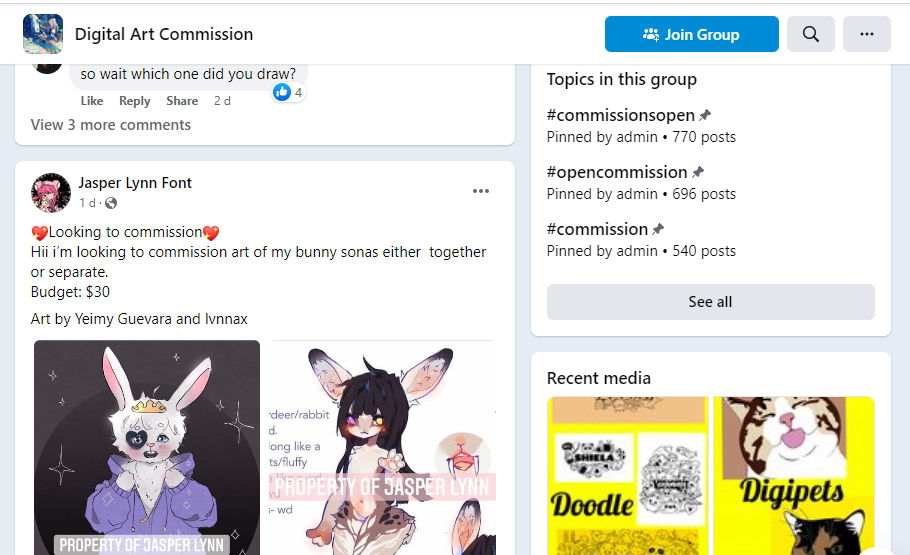 The main use of social media is to connect with friends, and loved ones, and to maintain one's presence but a lot more can be achieved on it like building a brand and selling a service.
Getting an art commission on Facebook is somewhat similar to Reddit where you join an art-related group/community and search for an artist to hire.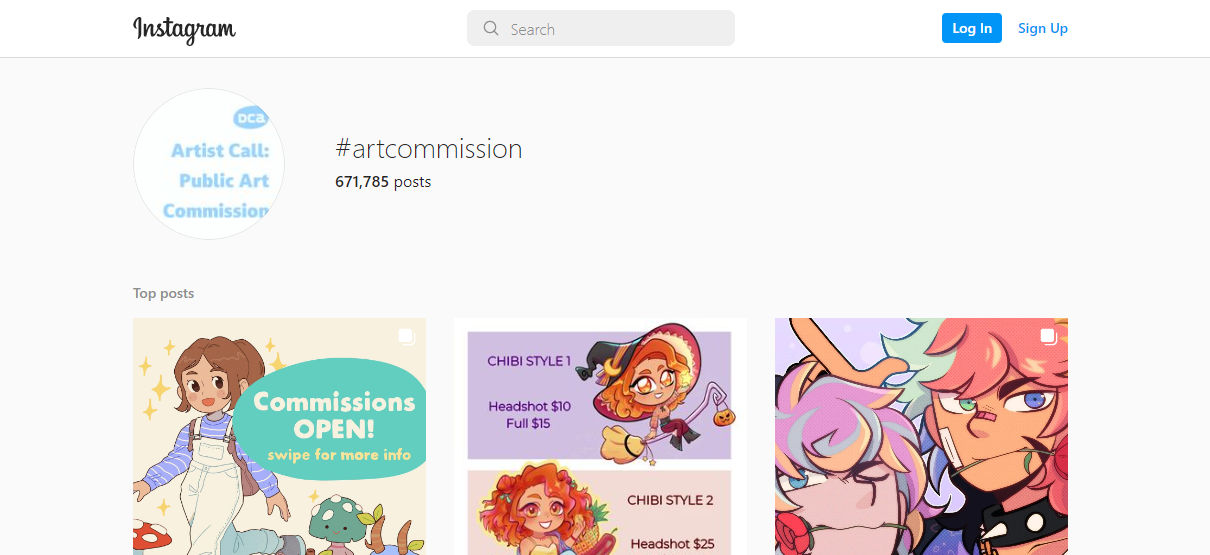 Instagram also shares the same feature with Facebook, but instead of joining a group, you just need to search for artists by using specific hashtags. for example: #petdrawing, #hireanartist, #hirearist, #commissionartist, #commissionedart.
Regarding the kind of commission, you're looking for, you have to be creative in your search, and Instagram's algorithm will always come to the rescue.
The major drawback of utilizing social media to commission art still relates to security since there is no reliable payment method to guard you against scams.

Pinterest is also a social network but unlike Facebook and Instagram, it focuses more on sharing hobbies and interests than connecting with people.
Similar to other platforms, by simply searching, you can easily find artists who specialize in any form of art, scroll through the results, skim through a few profiles, and choose an artist whose style you prefer.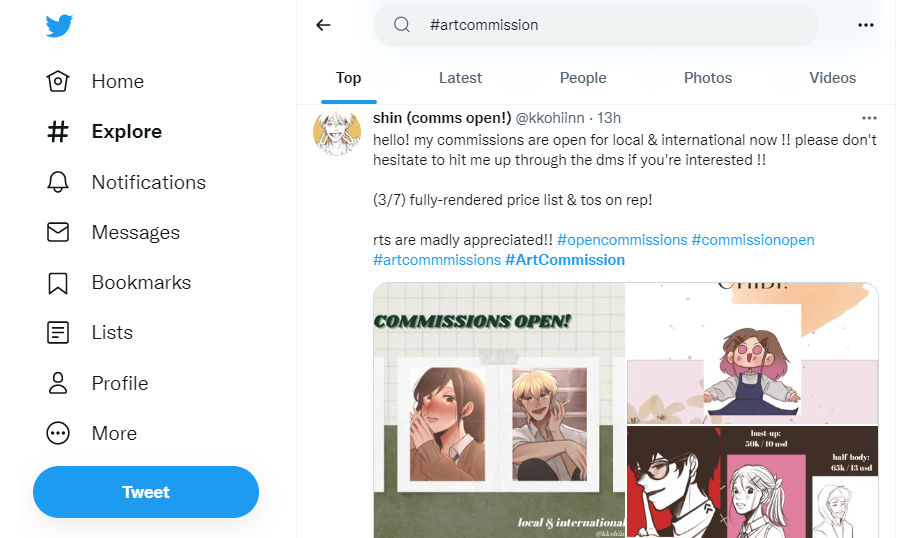 Twitter lacks a community or group feature, just like Instagram. You need to search using hashtags like #digitalartist, #artcommission, #fanart, and other similar keywords addressing the type of art you wish to commission in order to find artists who are accepting commissions.