Last Updated on August 31, 2022
Are you a fan looking to commission half-body art for yourself or loved ones but lack the artistic talent or don't know how to go about it?
Then you've come to the right place.
Who Are the Best Half Body Art Commission Artists?
In this article, we'll be reviewing the Top Five (5) artists on Fiverr most suited to handle
your projects based on our experience:
Metyuu – Best Half Body Anime Commission Artist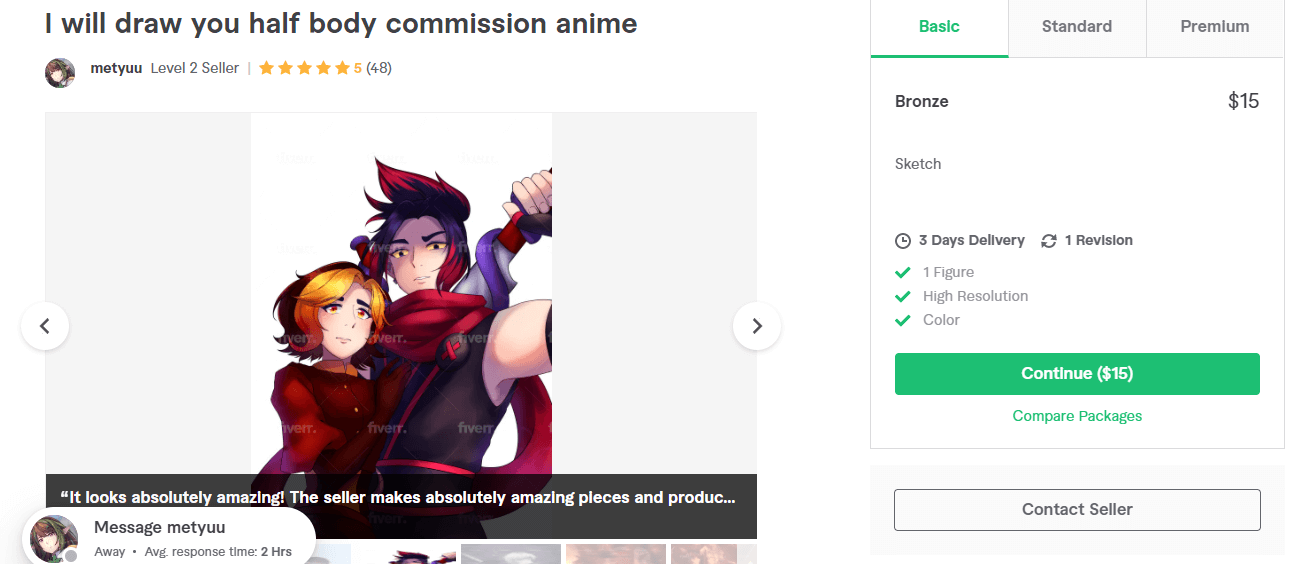 Averina is a college student and freelance illustrator that offers anime half-body commission on the platform for fanart, OC, or yourself.
Her price ranges from $15 for a sketch to $30 for full-color art. She's very communicative and will keep you updated throughout the process, From rough sketch> to refined sketch > colored sketch.
She guarantees delivery in 3 to 7 days and three rounds of revision. This revision only comes in handy during the rough sketch phase as she won't be accepting any other revision after approving the sketch.
Looking for an anime art expert? Send Averina a message today.
Sembako – Half Body Furry/ Fursona Commission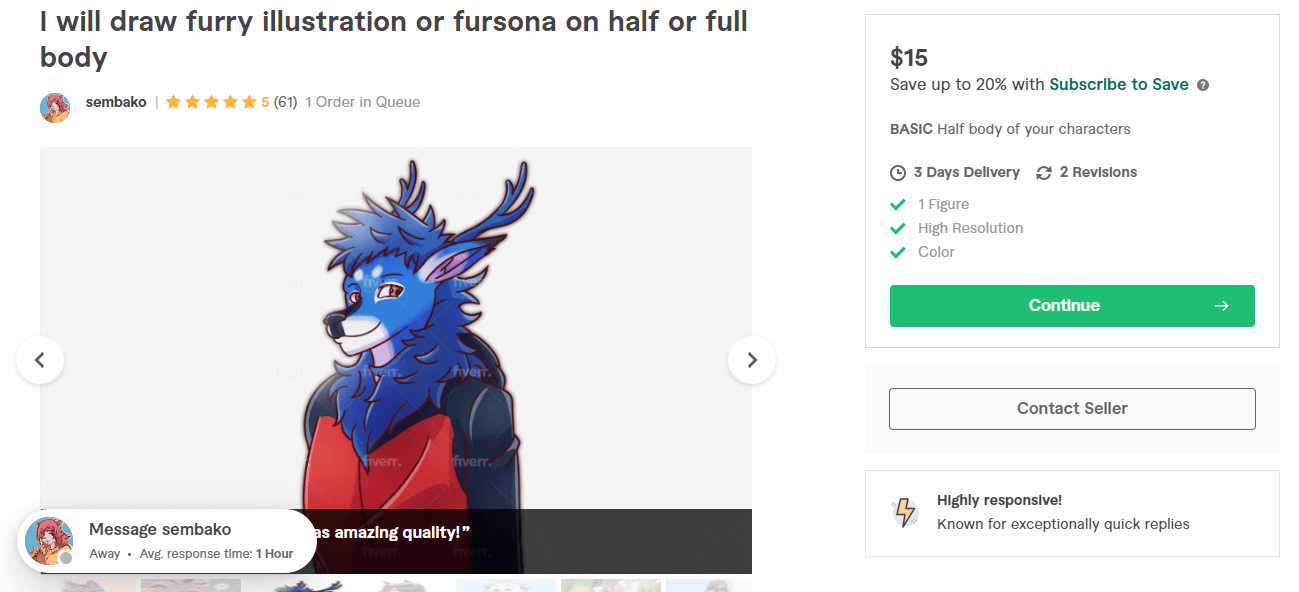 Sembako is a professional freelance illustrator, pixel, and pop art artist with years of experience outside the platform.
For a flat fee of $15, Sembako will create a half-body beautifully rendered illustration of any furry/fursona character of your choice in 3days.
She is able to draw OC, NSFW, Scalies, and Anthro but doesn't do Detail armor & Gore.
Looking for a furry art expert? Sembako is your go-to pro.
Amaikohi – Half Body Chibi Commission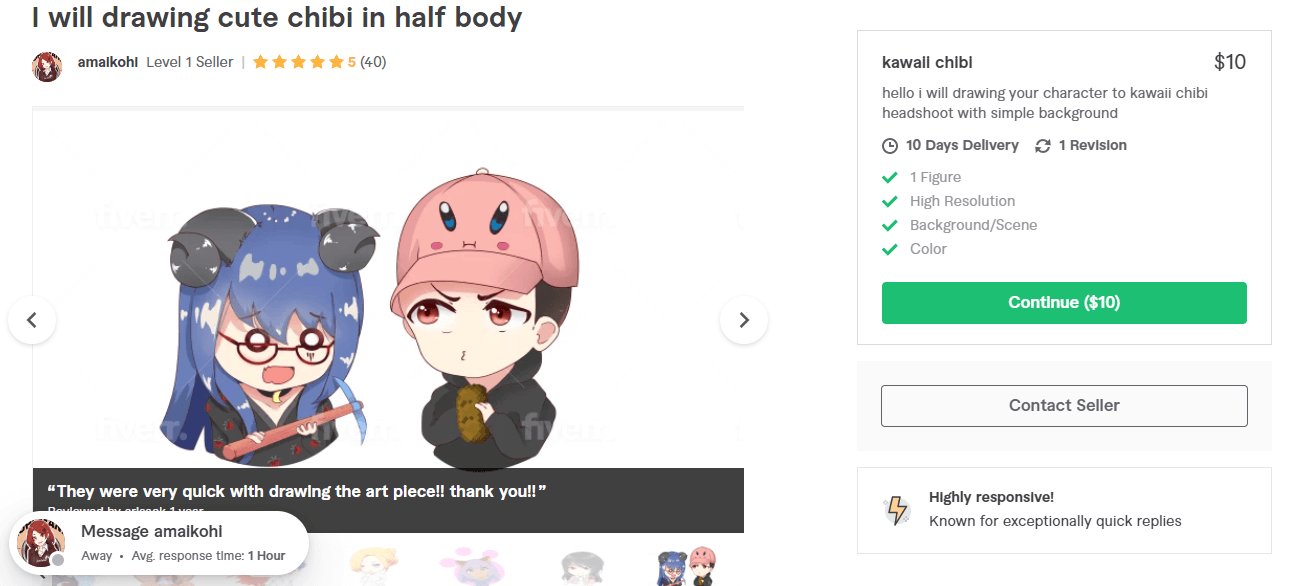 Amaikohi is a digital artist well versed in the anime style. She offers to convert your character or photo into a cute half-body chibi with a simple background for a flat fee of $10.
All she needs is a detailed reference, or better yet, a picture reference, to work her magic. She can draw Male/Female, simple mecha, Furry, and Monster.
Looking for a chibi commission? Amaechi is your guy.
Atelierrou – Half Body Live 2D Model Commission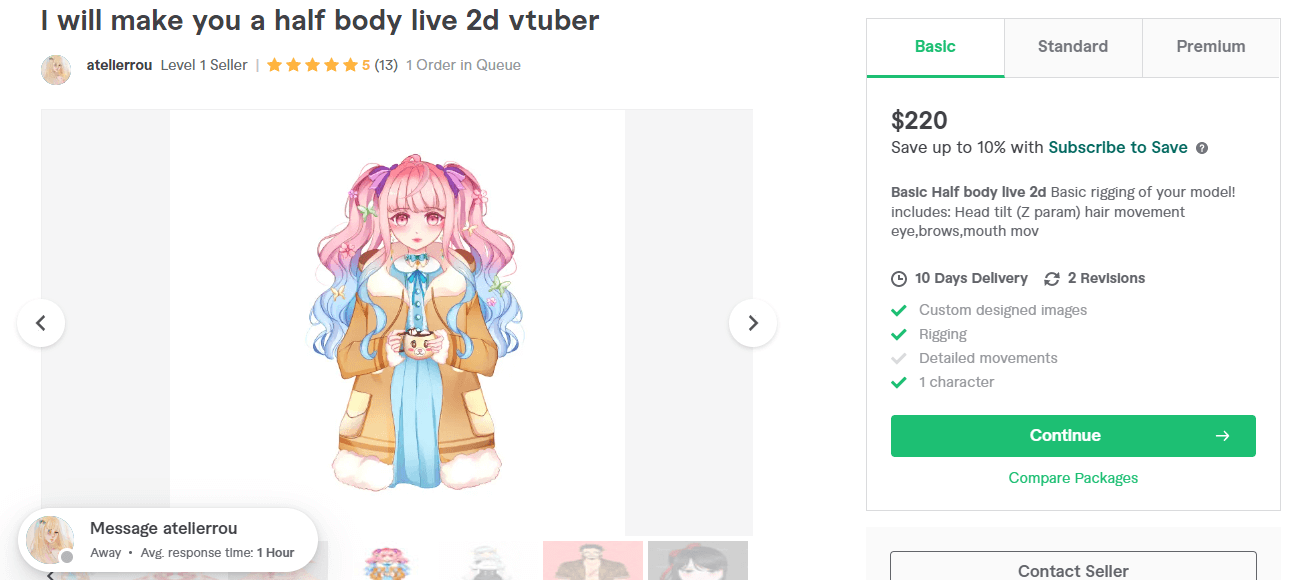 Are you a VTuber looking for a 2D model for your channel? You can't go wrong with Atelierrou.
Atelierrou is a self-taught illustrator with a versatile style ranging from Japanese Anime style, Cartoon, and Minimalist art to Semi-Realism portraits.
She offers to create a half-body ready-for-use live 2d model mostly tested on PRPRlive and facerig. She will draw your character, model it, rig it, and prepare it for use.
Her price ranges from $220 for a basic rigging to $300 for a full-on functional model with detailed movements.
Looking for a half-body 2D model commission? Reach out to Atelierrou.
Pyromaanii – Half Body Digital Painting Commission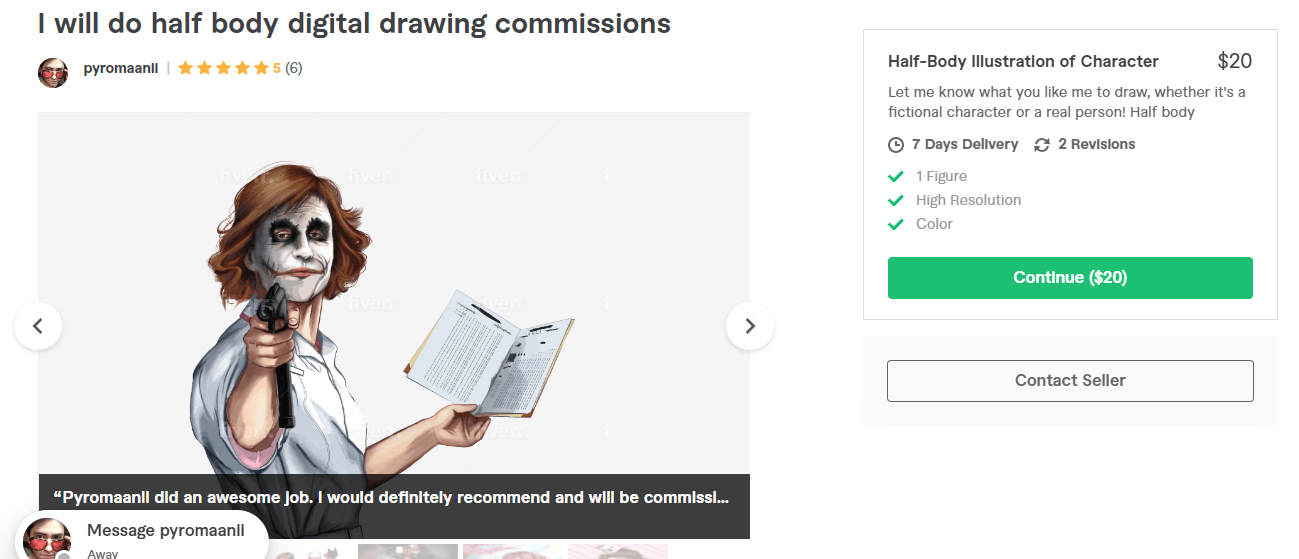 Pyromaanii is a professional self-taught artist that specializes in semi-realistic digital painting.
For a flat fee of $20, Pyromaanii will draw digitally painted half-body semi-realistic portraits of fictional characters or real people with simple backgrounds, fully colored and shaded.
All he needs to work her magic is a detailed reference of what you want the characters to look like, or better yet, image references.
Looking for a digital painting commission? Check out Pyromaanii's gig.
How Much Does Half Body Commission Cost?
According to our list, the average price of the HALF BODY art Commission can range from $10 to $300.
You may come across artists who charge significantly more than this, depending on the size and complexity of the project.
This is what makes our list of professionals impressive. At a fraction of the cost, you'll get the same level of professionalism and quality (If not more).