Last Updated on December 25, 2022
The world of fighting games has experienced rapid growth in recent years.
With the release of Street Fighter V, Tekken 7, and Marvel vs. Capcom Infinite, it seems like there are more people interested in competitive gaming than ever before.
One way to show your love is with a custom Fightstick art commissioned by an illustrator.
If you're interested in taking that step, here is my list of the best Fightstick art commissions artists around.
How to get custom Fightstick art?
One great way to get custom arcade stick art is to create it yourself by learning digital art. This skill can take some time to develop, but it's definitely worth the effort if you want your Fightstick art to look unique.
If you're not artistically inclined, you can always commission an artist to do the work for you. This is an excellent option if you want something that's more professional-looking or if you don't have the time to learn how to create your art.
Fightstick art commissions don't have to be complicated or expensive. Fiverr is home to many talented artists with different specialties. You can find something that fits your budget and style, and you're sure to be happy with the final product.
Who is the best Fightstick art commissions artist?
Many talented artists specialize in Fightstick art commissions. They are all capable of creating stunning pieces that will show your love for the gaming culture.
Here are five top artists who are great at creating Fightstick art commissions:
1. Uzairgangat – Dedicated and Simplistic Artist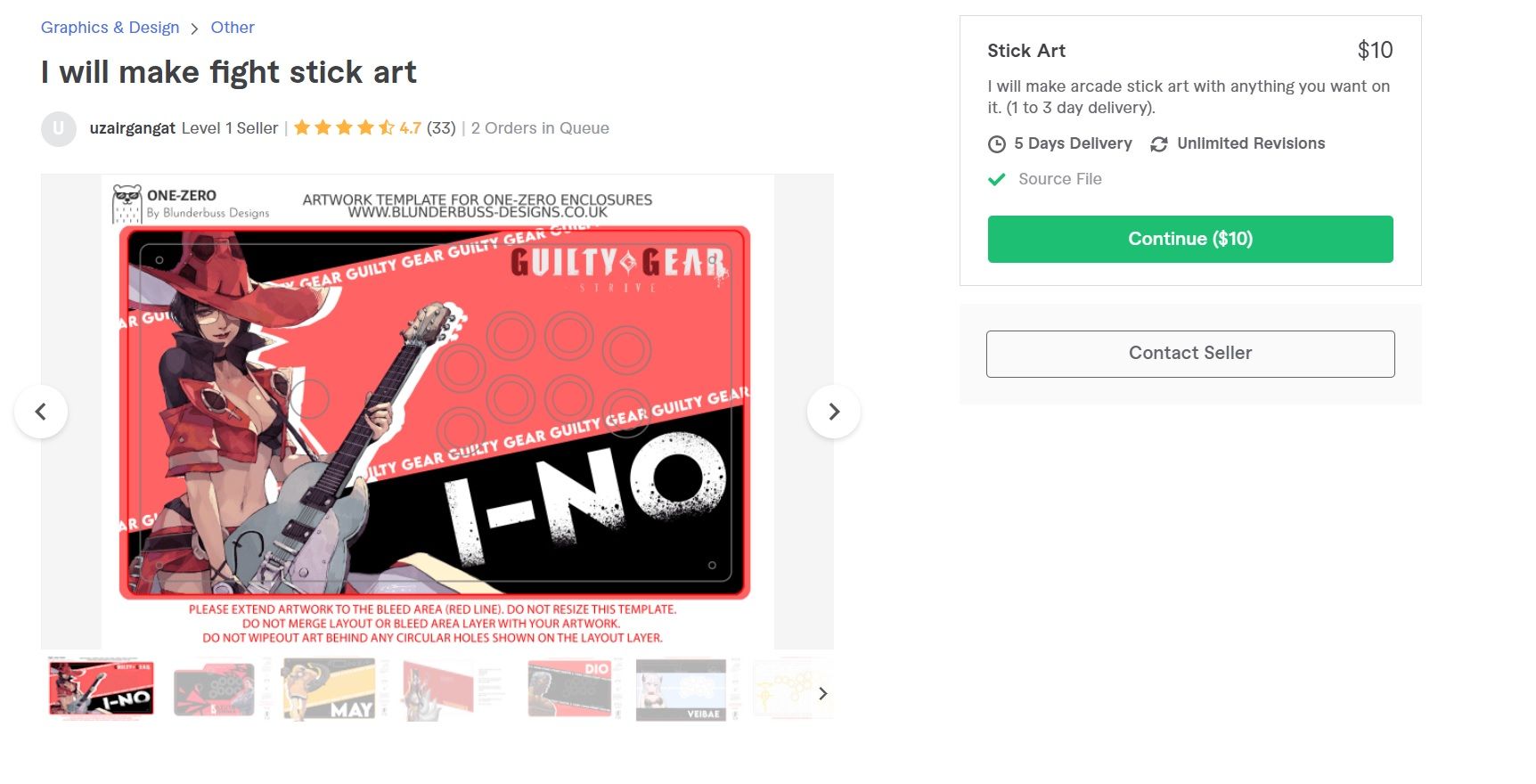 Uzairgangat is a digital artist who specializes in simplistic Fightstick art commissions. His art is heavily inspired by Japanese culture, so if you're looking for something with a distinctly Eastern feel, he's the artist for you.
His prices are only at $10 for a stick art, making him one of the most affordable options on this list. You won't regret commissioning Uzairgangat, as his portfolio is filled with high-quality pieces that are sure to impress.
Want a Fightstick artist who specializes in simplistic art? Uzairgangat is your man.
2. Nogoodlor – Experienced Artist With Distinct Style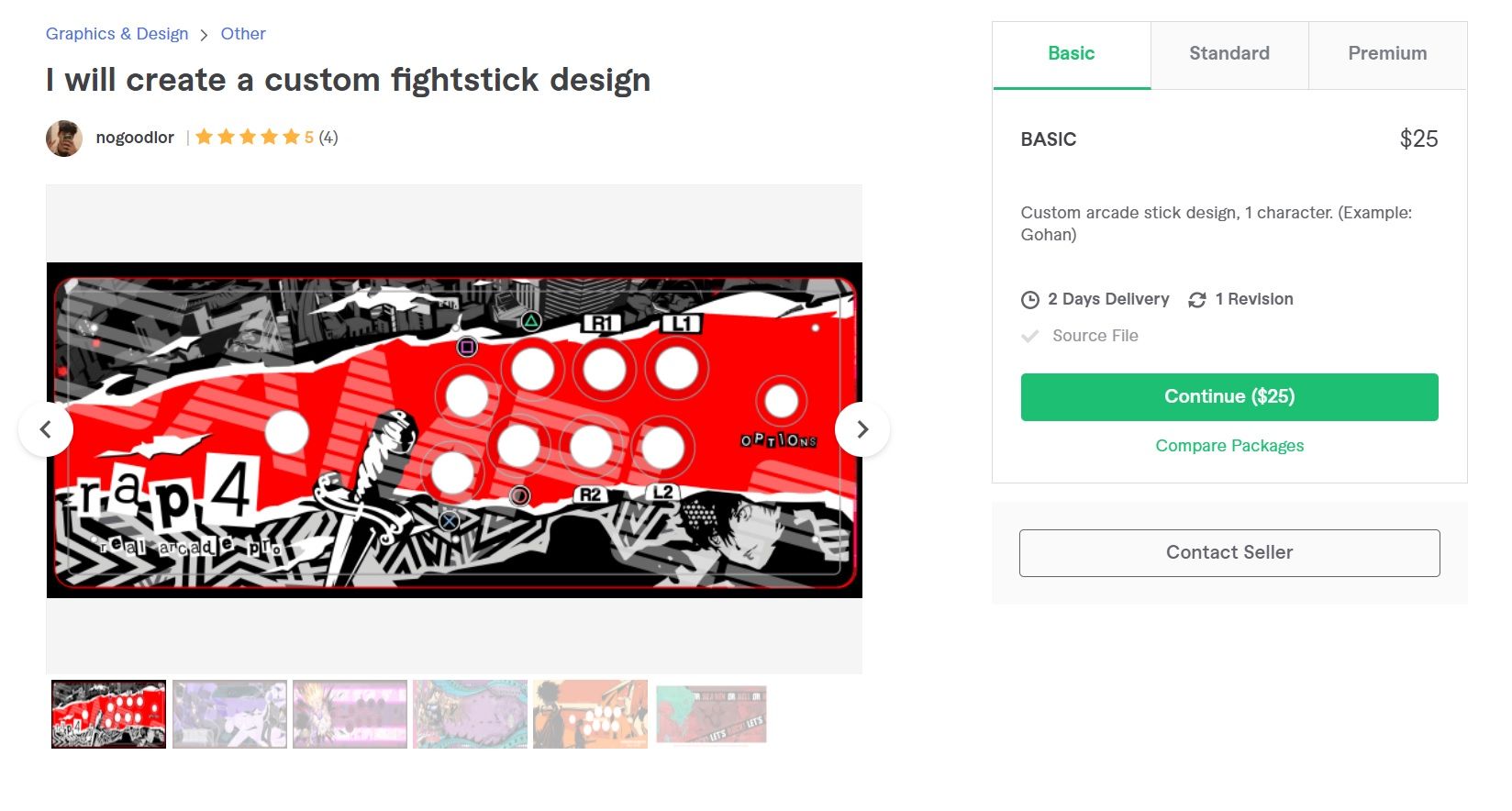 Nogoodlor has seven years of experience to boot in graphics design, so he is reliable in creating Fightstick art commissions. He has a very recognizable style that will please any fan of the genre.
All his artworks are featured on his portfolio, so you can check it out for yourself before deciding if he is the Fightstick artist of your dreams.
The commission price starts at $25 for one character up to $45 for unlimited revisions to create the best possible Fightstick art for you.
Looking for an artist with a lot of experience and a recognizable style? Nogoodlor is a solid choice.
3. Whyswan – Realistic Style Digital Art Expert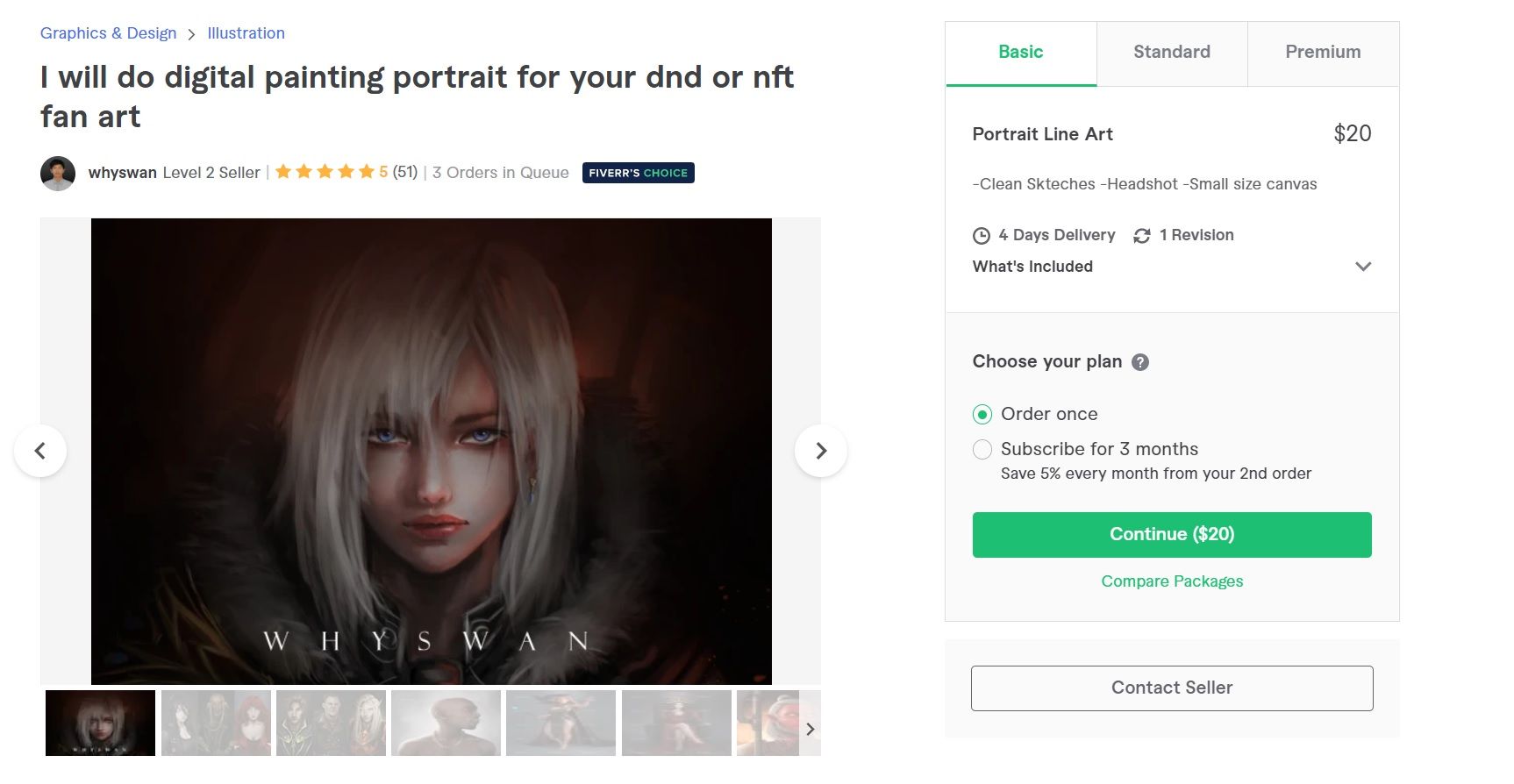 This talented artist from Indonesia creates realistic Fightstick art commissions that are sure to blow your mind. He has a passion for concept art, games, and fantasy, which heavily inspired his art.
He specializes in creating aesthetically pleasing pieces with great colors and shading techniques to give them depth. He also enjoys designing characters from different video games, anime shows like Pokemon, or movies so that you can commission a piece featuring your favorite character.
His prices are also very reasonable starting from $20 for a headshot and $70 for a half body with full color.
Looking for a realistic Fightstick art commission with the same feel as professional artwork? Whyswan is the artist for you.
4. Cyberlukastj – Awesome Arcade Stick Art Commission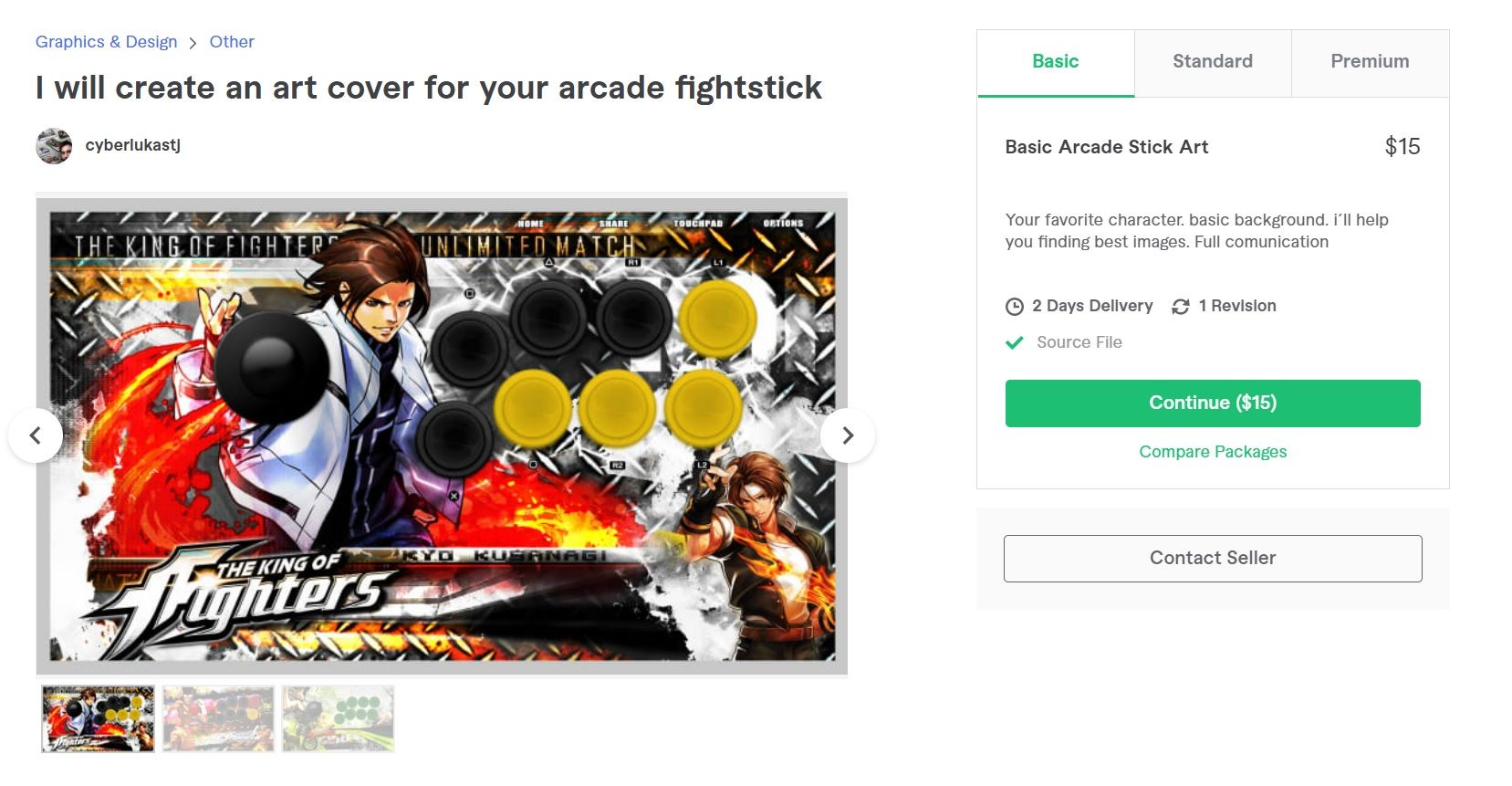 This Mexican illustrator has been passionate about Fightstick art commissions since 2014. He creates custom Fightstick art from scratch, and he can develop designs however you want them.
He is an underrated artist with a lot of potential so be sure to check him out. His prices aren't too high either at $15 up to $35 only, making him an excellent option if you want something custom but don't have a large budget.
Looking for a passionate Fightstick artist at an affordable price? Look no further than Cyberlukastj.
5. ryuu4545 – Vibrant Artist With Lots of Style Options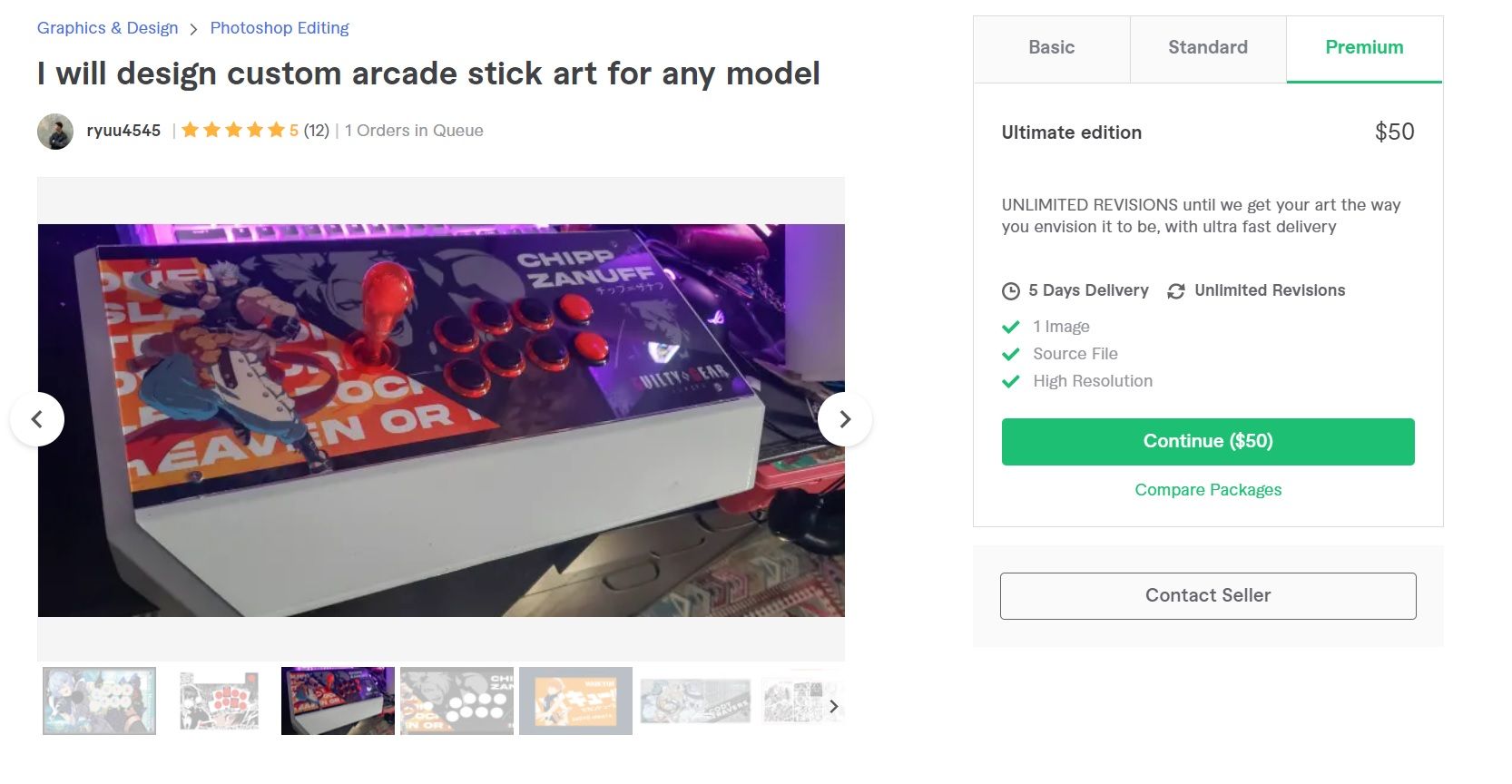 This Singaporean artist is known for his vibrant and energetic style, filled with lots of color and movement. He can create Fightstick art commissions in various styles, including the popular anime style, but he also has experience producing pieces inspired by arcade games.
His style is 2D character designs and illustrations, with manga panels or bold comic-book-style layouts.
His commission rates are very reasonable at $15 to create a piece that is sure to wow your friends.
Want to commission an artist who has a variety of styles and great prices? You won't go wrong with ryuu4545.