Last Updated on December 24, 2022
A logo is one of the essentials when starting as a VTuber, among other essential assets such as a VTuber model, overlay and backgrounds.
Whether you're just starting out or not, a logo is a big part of your identity, and hiring an artist to create one for you is a step toward making your brand look professional, distinct, and memorable.
There are numerous logo generators available, but they're of no good as they lack the intuition, skills, and expertise of a professional designer.
This article will introduce you to the best logo commission artists for new VTubers.
Who Are the Best Vtuber Logo Commission Artists?
Below you'd find our list of the best VTuber logo commission artists to try this year:
Nutnutye – Top-rated Logo Commission Artist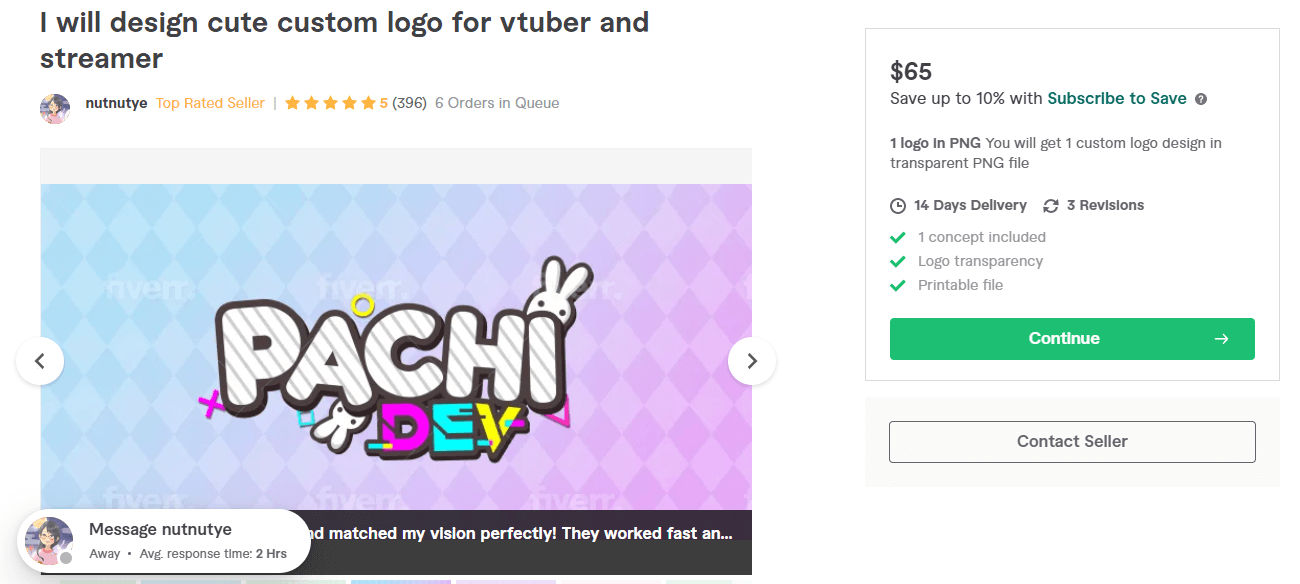 Nutnut is a seasoned digital artist and a top-rated seller with over 300+ positive reviews.
He offers to create a custom-made logo based on your references and description. With this artist, the possibilities are endless.
He also provides a free consultation service if unsure about the design that best represents your brand.
All for just $65, Nutnut will create your dream vtuber logo in 14 days with some rounds of modifications.
Kindly note that he only delivers PNG/PSD files and doesn't do vector files.
Are you looking for a top-rated professional to bring your logo to life? Nutnut is your guy.
Tnknwrks – Cute Kawaii Logo Commission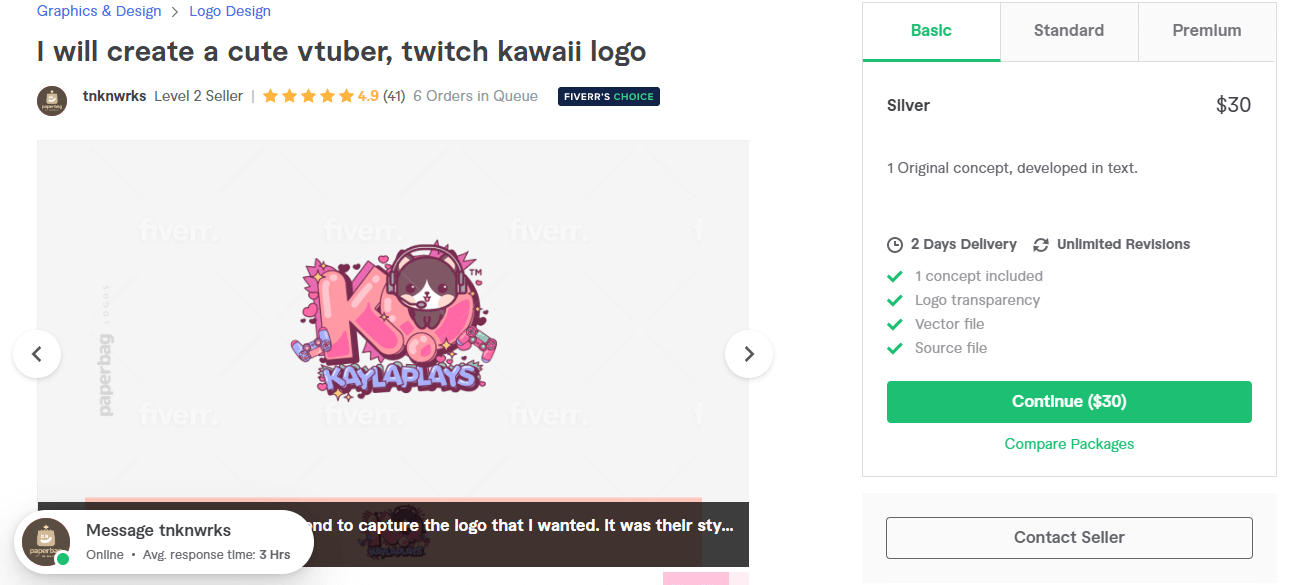 Tnknwrks is a professional graphic designer and illustrator with expertise in branding.
He offers to create a cute kawaii or chibi logo with an identity that impacts your viewers and makes your brand look professional.
His price ranges from $30 for a simple text logo to $55 for a premium logo with characters in 3 days with unlimited revisions.
Looking for a cute kawaii logo for your brand? Reach out to Tnknwrks.
Ibnuhawari – Japanese-Themed Logo Commission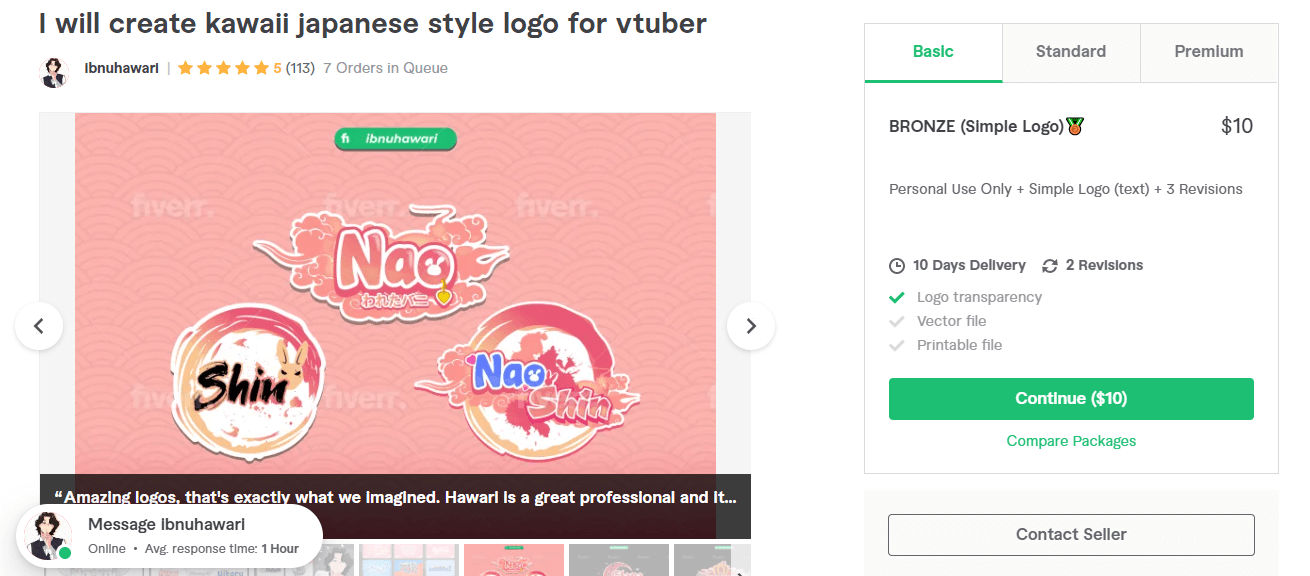 Since Vtubing was adapted from Japanese culture, it's only logical to create a Japanese-themed logo for your channel – and no other artist comes close to Hawari.
Hawari is a seasoned artist and a creative enthusiast that offers to bring your logo to life with his vast knowledge of anime and vtubing.
He also takes on all types of other logos if you want something unique. All you need to do is reach out to him.
His price ranges from $10 for a simple text logo to $80 for a premium customized logo and guarantees delivery in 10 days with unlimited revision.
Are you looking for a Japanese-themed logo? Hawari is your go-to pro.
Kikumart – True-to-style Logo commission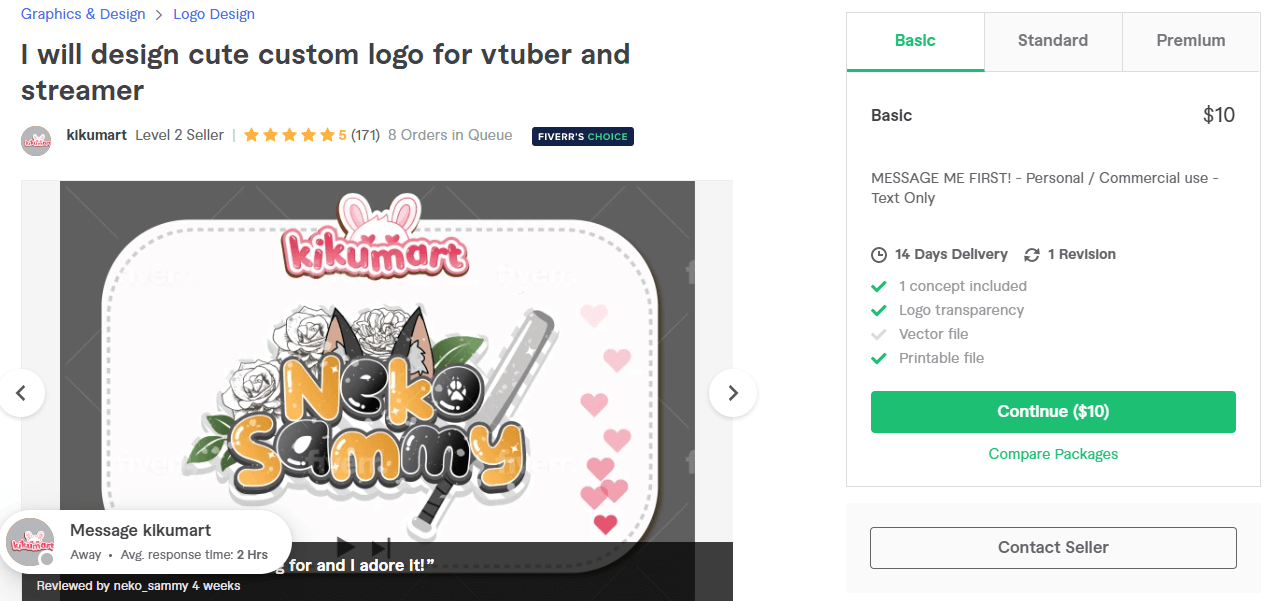 Kikumart is a professional freelance graphic designer with Fiverr's choice Badge, showing that she is recognized and endorsed by the platform.
She offers to create a True-to-style logo based on your details and references.
She requests you provide as many details and references as possible to fully implement your vision and bring your idea to life.
Her price ranges from $10 to $65 with a single round of modification.
Are you looking for True-to-style logo? Reach out to Kikimart.
Paliya – Most Affordable VTuber Logo Commission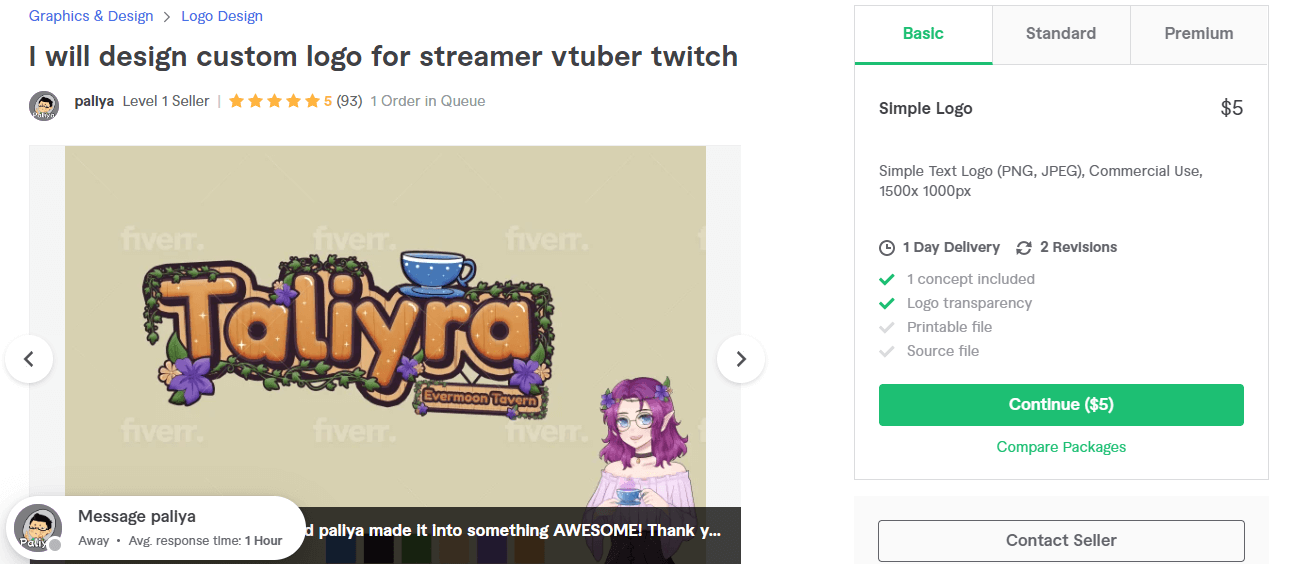 If you want to create a logo without breaking the bank, then Paliya is your go-to pro.
For a price range of $5-$20, you would get a creative, highly detailed vtuber logo.
She guarantees delivery in 2 days with three rounds of modifications.
Are you looking for an affordable logo commission? You can't go wrong with Paliya.
How to Create Your Own Vtuber Logo?
To create your own Vtuber Logo, you have three options:
Use a ready-made logo generator available for free online or build one using editing software such as Photoshop, which will take a lot of time and effort if you aren't familiar with it.
If you aren't familiar with photoshop, you can use CANVA, a less complex software, to help you get your desired result.
If you want a captivating, unique logo and don't want to stress, you have one last option: hire an artist to perform all the work for you.
When hiring an artist online, price does not necessarily dictate the quality. I advise looking through the artist's portfolio regardless of your budget to see exactly what they have to offer and if you'll appreciate that work of art.
How Much Does It Cost to Commission A Logo?
According to our list, the average price of a custom-made vtuber logo can range from $5 to $70.