Last Updated on November 21, 2022
Do you have a new character that you are trying to create but lack the artistic skills (as many of us) to bring to life?
Looking for an artist to help create an organized reference sheet displaying all of your character's personality and quirks?
Well, I've got you covered!
In this article, I will share with you my top recommended reference sheet commission artists, and how to commission their work.
Who are the best reference sheet commission artists?
Below you'd find my list of the best reference sheet commission artists:
1. Raitvisualworks – Best Overall Reference Sheet Artist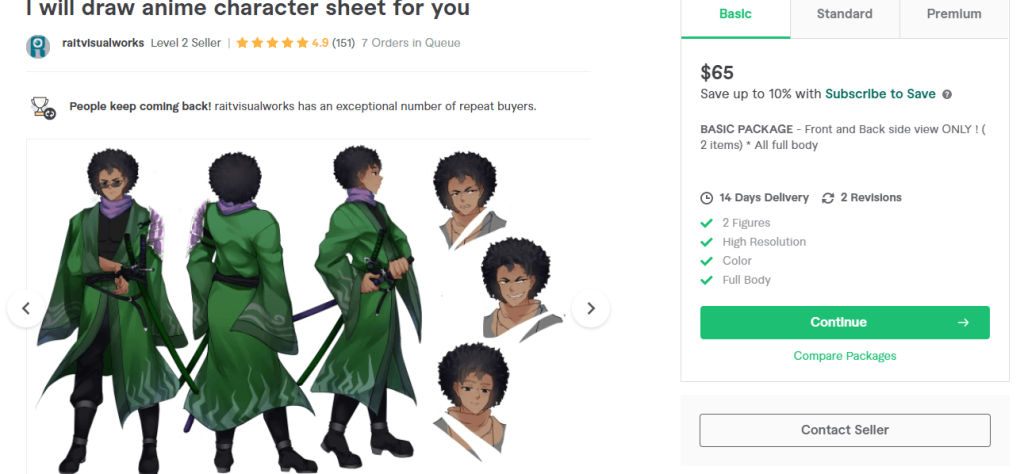 Looking to create a distinct reference character sheet? Then Raitvisualworks is your go-to pro!
They are a group of designers specialized in illustrations of various kinds.
They not only make human characters sheets for anime characters, but also for animal/furry, creature/monster, mecha, and basically anything else that comes to mind. The sky is the limit with this team!
This team will keep you updated during the course of your order. You will be provided with a sketch of your project ahead of time so that you can evaluate and make changes before your artwork is completed. Isn't that fantastic? However, you can only reach them during the week as they take time off on weekends.
Although their prices are a bit on the high side, ranging from $65 to $150, the end product, however, is well worth the money. Depending on the package purchased, they offer to deliver in 14 days with two modifications. Their typical response time is two hours, so you should receive a response within that time frame.
Looking for an all-round reference expert? Reach out to Raitvisualworks.
2. Mortsy – Furry Ref Sheet Expert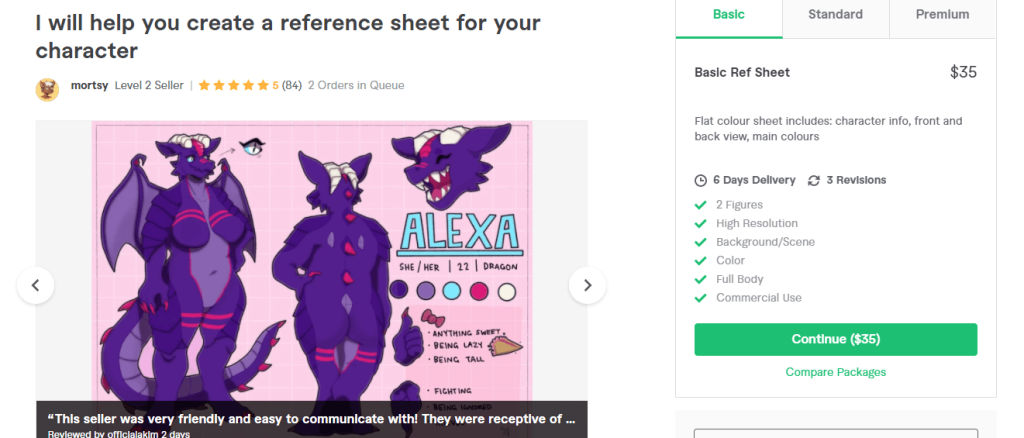 Mort is a Toronto-based Graphic designer and illustrator specialized in creating reference sheets and character development of Fursonas and OCs of any kind. His 80+ positive ratings prove that he's more than good enough to take on your project.
Mort's service distinguishes itself from other sellers by providing flat to full-color highlighting, character's physical appearance (all angles), basic information (including any key information you wish to highlight), color scheme, clothes, and accessories. With this artist, you get the whole deal!
His price ranges from $35 to $65 and guarantees delivery in 6 to 10 days with three revisions.
Looking for a furry reference sheet expert? Reach out to Mort.
3. luisdsanchez – Fiverr's Choice character sheet artist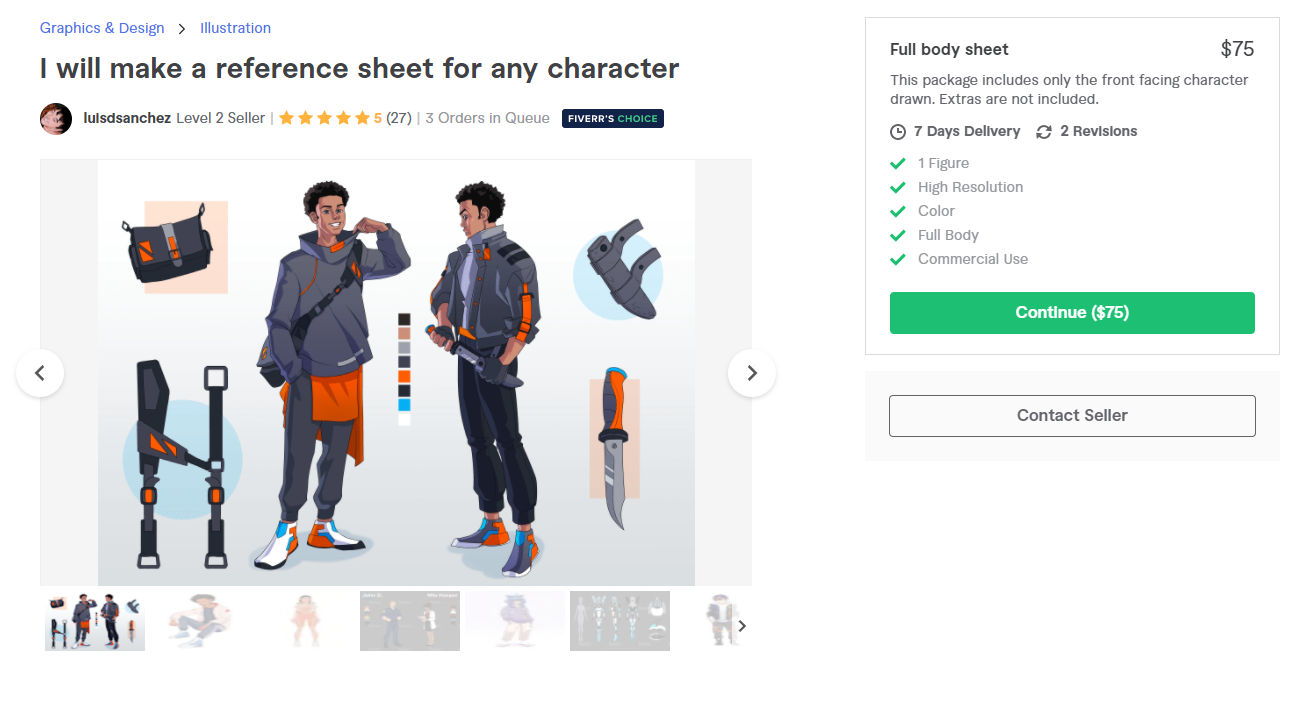 Luis is a seasoned artist offering marvelous and professional-looking character reference sheets. His authentic style has earned him the Fiverr's choice badge, which proves he is truly a professional. The quality deliveries of his gig have attained him an average rating of 5 stars with 57 total reviews.
His reference sheets include in-depth designs for the character weapons, equipment, and attire. Multiple dimensions of the character are provided on the sheet too, and a perfectly representing color palette is a part of the sheet as well.
He charges $45 and guarantees 7-day delivery with two rounds of revisions. This package, however, only provides a front-facing full-body drawing of your figure with cell shading. Suppose you want to offer various angles and headshots. They can be found in the extras (of course, they cost extra.)
Looking for a professionally made character reference sheet? Check out luisdsanchez's gig.
4. giuseppegianni – Most versatile reference sheet commission artist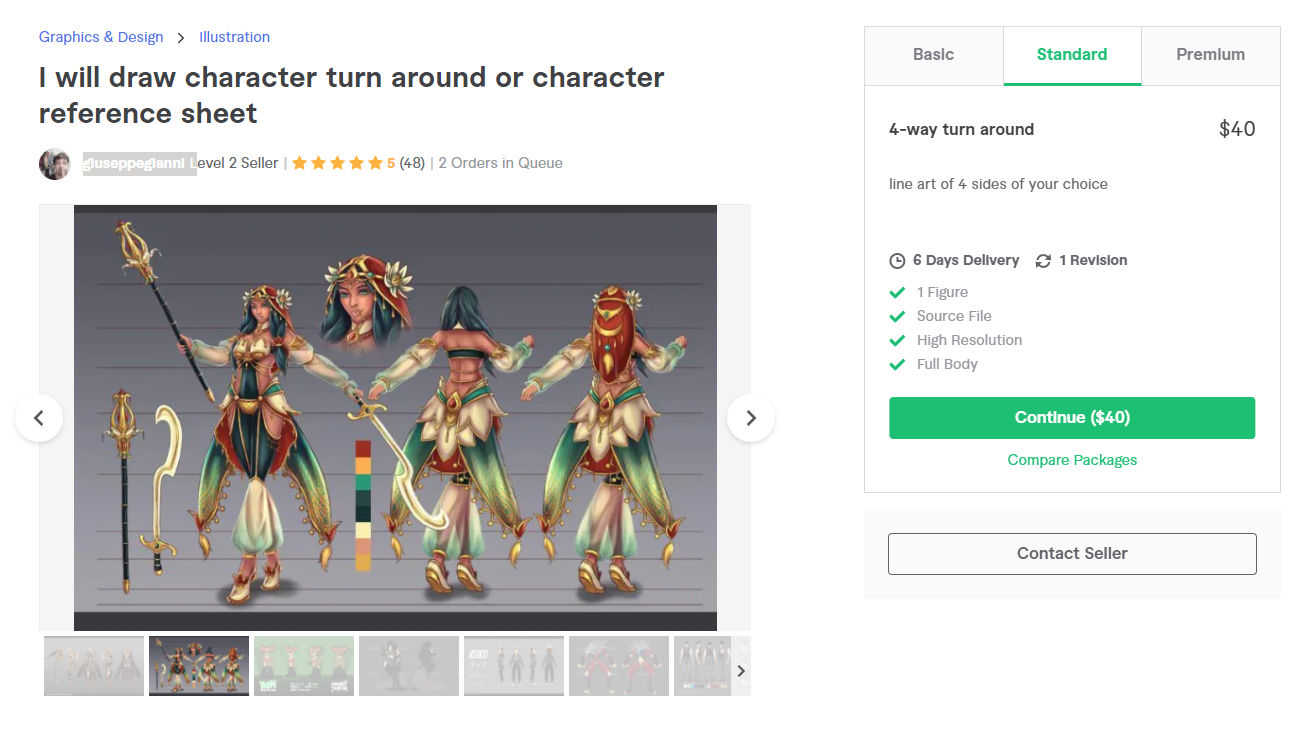 The reference sheet commission art of this seller from the Philippines cannot be served any justice by only one image due to how versatile his style is.
His portfolio shows a wide range of designs that one would not believe were designed by the same artist. However, one can say that all of these designs are still damn good. His gig stands at an average rating of 5.0 with 90 total ratings.
His price ranges from $20 to $80 and guarantees delivery in 3 to 14 days, depending on the package purchased with a single revision.
Looking for a distinct reference sheet? giuseppegianni's gig has got you covered!
5. zanior – Fantasy reference sheet commissions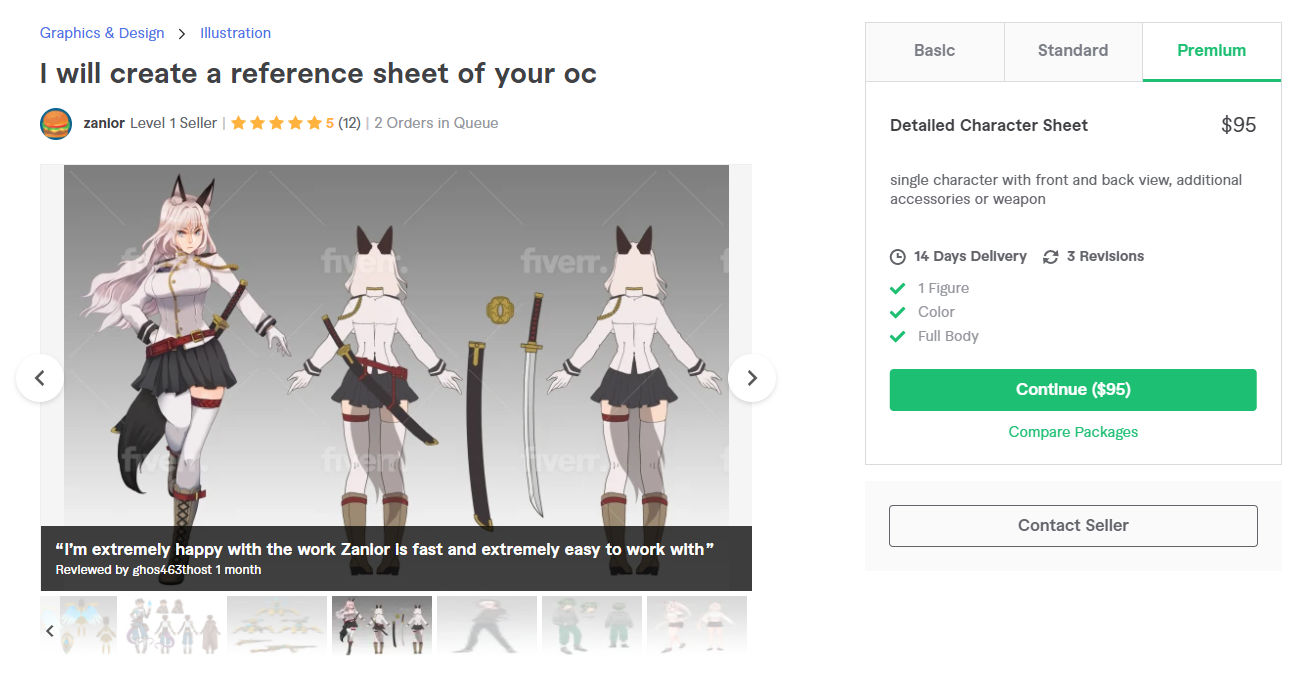 This seller is a highly talented artist from Taiwan, with multiple gigs committed to character design.
Their reference sheet art commission is one of the best options due to how detail-oriented it is. The characters are designed with nice texturing, and even the weapons and equipment are given a more prominent view.
Zanior's gig has an average rating of 5 stars with 12 total ratings. This service may be new, but with multiple orders in queue, it's certainly a rising one.
Want your character reference sheets to look professional? Try zanior's gig.
6. asunakirigakure – Best budget reference sheet commission artist
If you want your character's reference sheet to get the right idea across, asunakirigakure is the best option, especially due to the budget-friendliness of their service. They make formulaic digital character art that would work perfectly if you want your character design to be a minimalistic one.
With 9 ratings, this Mexican artist's service has maintained a rating of 4.9 stars. The selling point of this service is that it features sketches of the face and close-ups of eyes and other things in the premium package.
Want a polished reference sheet for your character at an affordable rate? Try asunakirigakure's service.
7. Delicacyart – Anime-Styled Reference Sheet Expert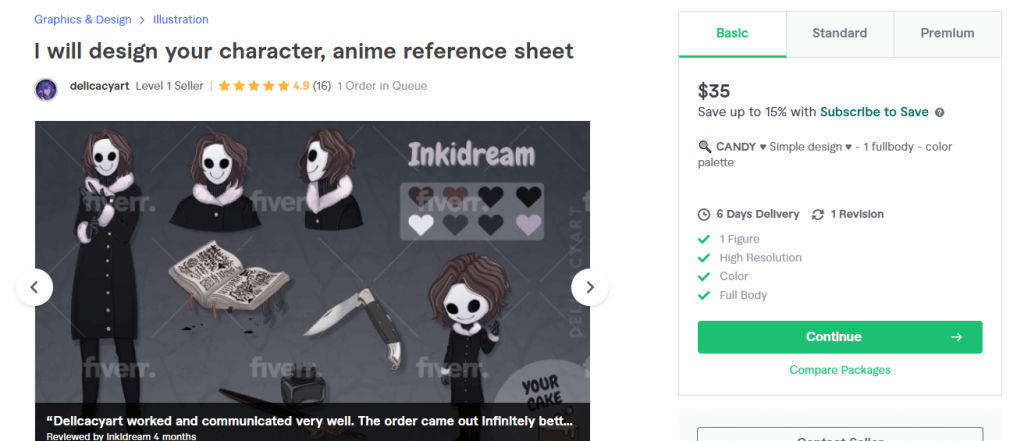 Ella is a graphic designer, photo editor, and freelance artist with over five years' experience. She provides a high-quality reference of your character in anime-style. The sky is the limit with this artist!
All she needs to get the job done is links to drawings/photos of your character, color palette, clothing. A detailed description of your idea. If necessary, also provide references (art/photo)
Her price ranges from $35 to $70 and guarantees delivery in 6 to 14 days with 1-3 revisions depending on the package purchased.
Looking for an anime-styled reference sheet expert? Send Ella a message.
How much do reference sheets cost?
The price of a complete reference sheet can range from $60 to $150.
Ref sheet designs are mostly a part of services that mainly serve character design, they are the premium packages, and can be expensive.
What should be included in a character reference sheet?
A proper character reference sheet should not only include the character's full-body design, but also an in-depth look at it from multiple angles. It is also ideal to have a database of the character, as well as images of their weaponry, equipment and attire.
The color palette is also important to add to reflect the variety of colors that the character design consists of.