Last Updated on August 7, 2021
Looking for an awesome reference sheet for your character? Want to commission an artist to turn your character into life but don't where to look for and how to vet their quality?
Well, we've got you covered!
In this article I would share with you my top 4 recommended reference sheet commission artists, and how to commission their work.
Who are the best ref sheet commission artists?
Below you'd find my list of the best reference sheet commission artists:
1. luisdsanchez – Fiverr's Choice and the best reference sheet maker ($75+)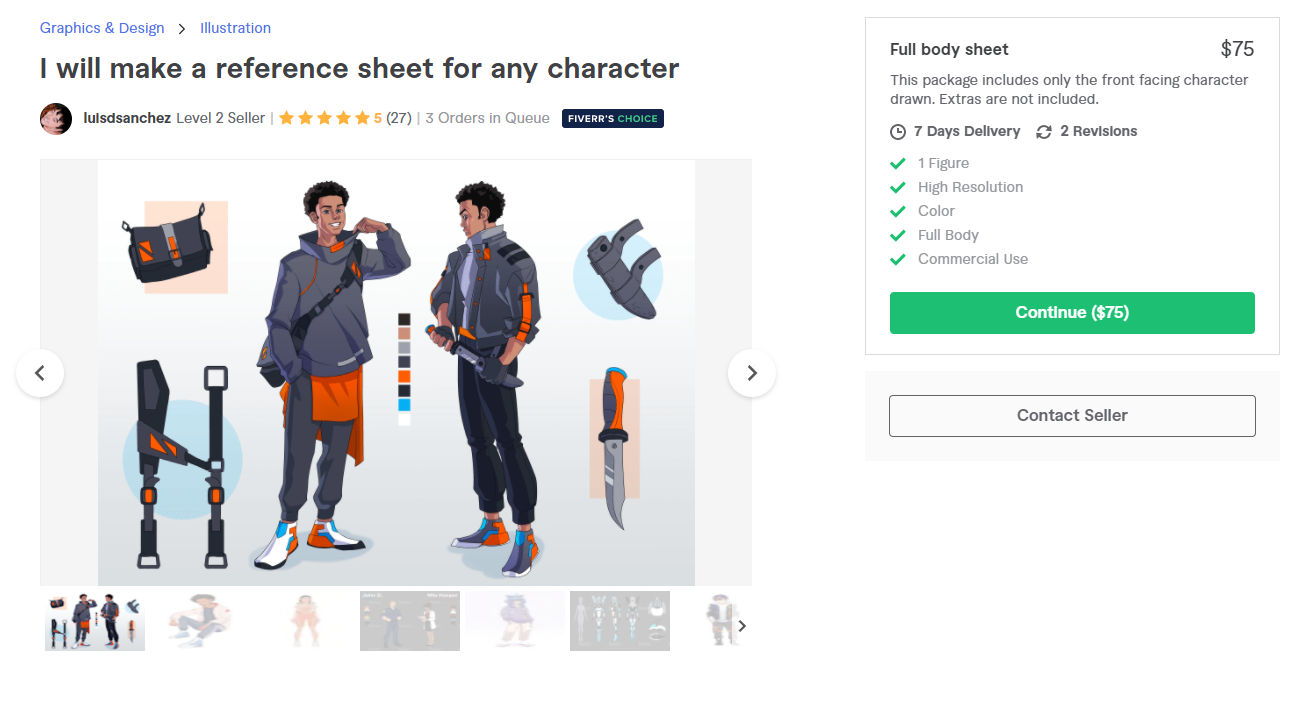 This Colombian reference sheet maker's art-style is marvellous and professional looking. His authentic style has made him the Fiverr's Choice reference sheet commission artist, and deservedly. The quality deliveries of his gig have attained him an average rating of 5 stars with 27 total votes.
His reference sheets include in-depth designs for the character weapons, equipment, and attire. Multiple dimensions of the character are provided on the sheet too, and a perfectly representing color palette is a part of the sheet as well.
Want your character reference sheet to look extremely well designed and professional? Check out luisdsanchez's gig.
2. giuseppegianni – The most versatile and affordable reference sheet commission artist ($20-$60)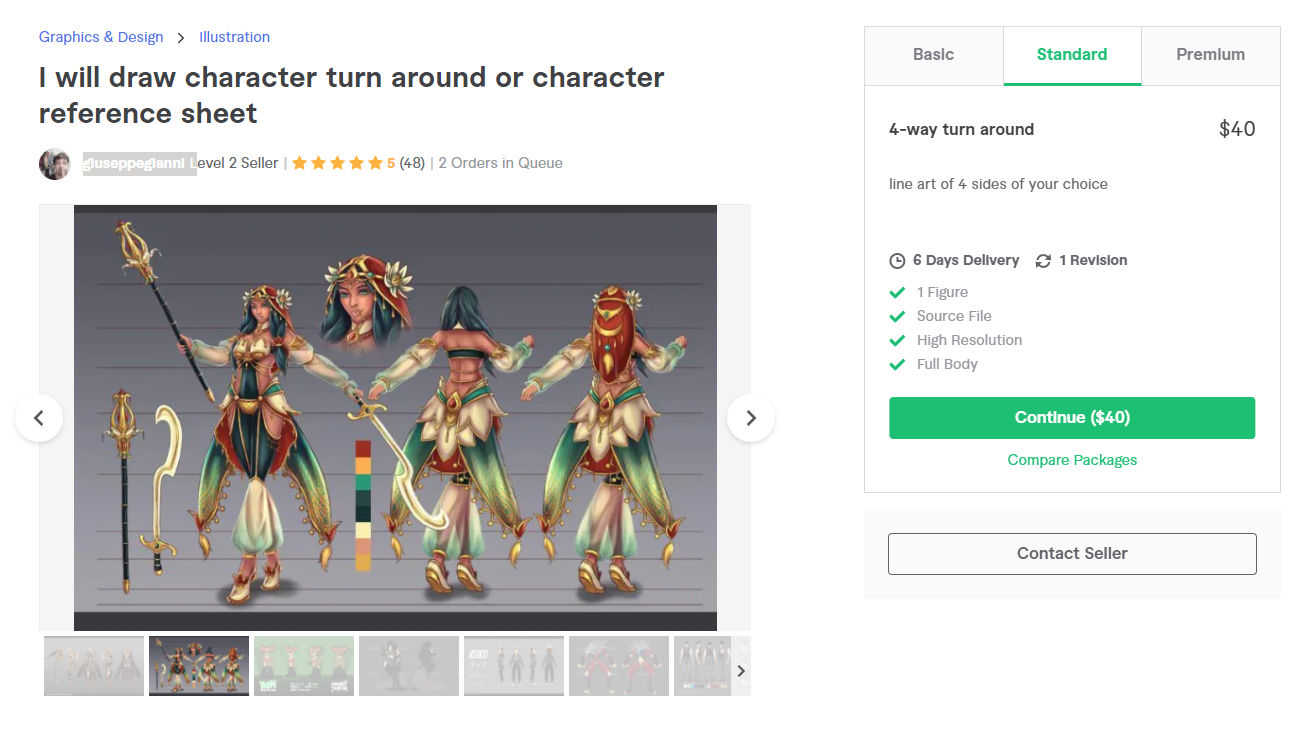 The reference sheet commission art of this seller from Philippines cannot be served any justice by only one image due to how versatile his style is. His portfolio shows a wide range of designs that one would not believe were designed by the same artist. However, one can say that all of these designs are still damn good. His gig stands at an average rating of 4.8 with 48 total ratings.
Want an excellent character reference sheet in an oddly specific style? giuseppegianni's gig has got you covered.
3. zanior – Stylish reference sheet commissions, best for fantasy ($55-$95)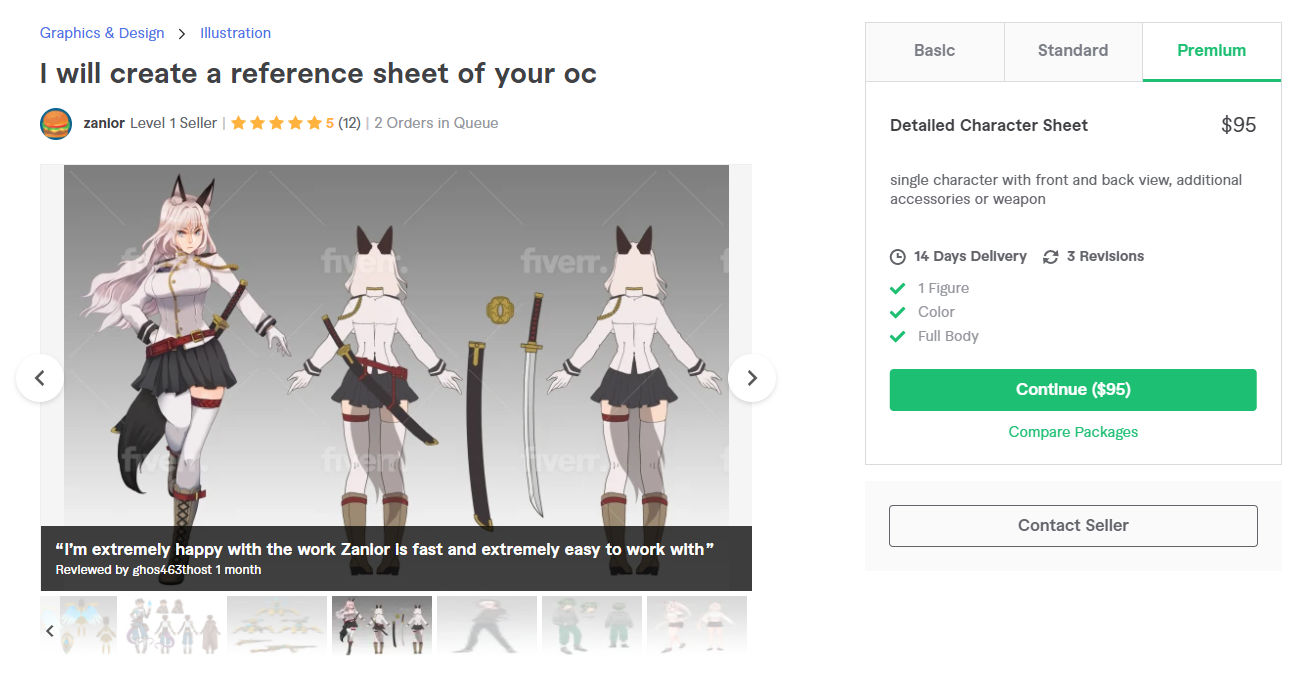 This seller is a highly talented artist from Taiwan, with multiple gigs committed to character design. Their reference sheet art commission is one of the best options due to how detail-oriented it is. The characters are designed with nice texturing, and even the weapons and equipment are given a more prominent view. Zanior's gig has an average rating of 5 stars with 12 total ratings. This service may be new, but with multiple orders in queue, it's certainly a rising one.
Want your character reference sheets to look professional? Try zanior's gig.
4. asunakirigakure – Best budget reference sheet commission artist ($30-$70)
If you want your character's reference sheet to get the right idea across, asunakirigakure is the best option, especially due to the budget-friendliness of their service. They make formulaic digital character art that would work perfectly if you want your character design to be a minimalistic one.
With 9 ratings, this Mexican artist's service has maintained a rating of 4.9 stars. The selling point of this service is that it features sketches of the face and close-ups of eyes and other things in the premium package.
Want a polished reference sheet for your character at an affordable rate? Try asunakirigakure's service.
How much do reference sheets cost?
The price of a complete reference sheet can range from $60 to $150. Reference sheet designs are mostly a part of services that mainly serve character design, they are the premium packages, and can be expensive.
What should be included in a character reference sheet?
A proper character reference sheet should not only include the character's full-body design, but also an in-depth look at it from multiple angles. It is also ideal to have a database of the character, as well as images of their weaponry, equipment and attire. The color palette is also important to add to reflect the variety of colors that the character design consists of.