Last Updated on December 25, 2022
If you are a fan of Jojo's Bizarre Adventure, you know that art is a big part of what makes this anime series so great.
As a fan, you would want to transform a photo of yourself into Jojo's Bizarre Adventure-themed piece.
If you are looking for artists who can do great commissions, look no further!
I've got the perfect list right here to help you make up your mind and find the best artist for you.
How To Get Custom JoJo Art
When it comes to JoJo art, you have two options: do the art yourself or commission an artist to do the art for you.
You can create your artwork by researching online for tutorials or studying the official manga and anime. This can be done through dedication and hard work or online art classes.
But if you don't have the time to do this or don't want to, you can commission an artist.
The good news is that if you go with Fiverr, then your commissions will be completed by professional artists who would love to work with you.
Who is the best JoJo commission artist?
Below you would find my list of the best JoJo artists for hire:
1. jintosca – My top recommendation for JoJo art commission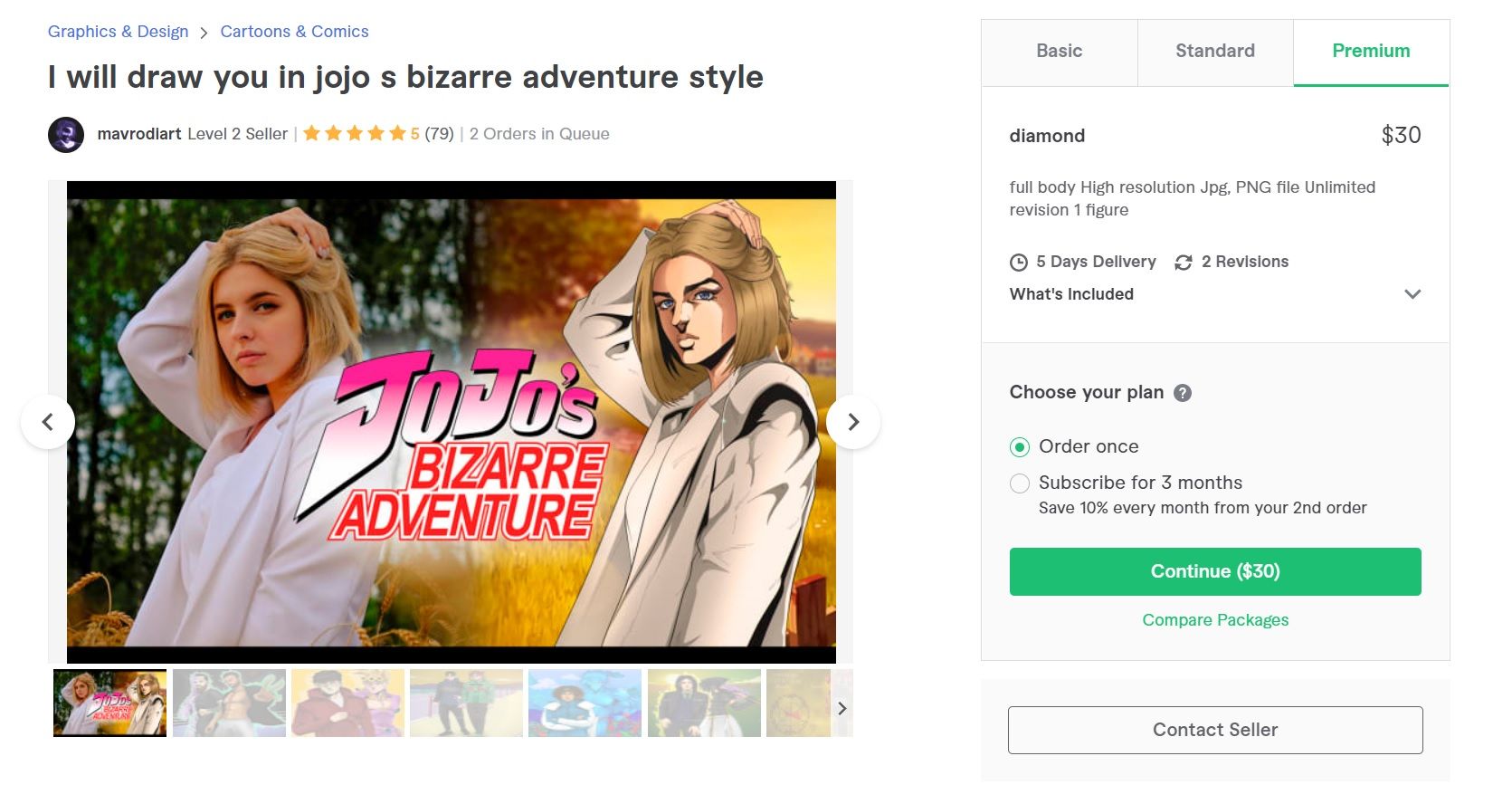 jintosca is a Level 2 digital artist with a whopping 540 orders completed already with a five-star rating each. This artist has a passion for Jojo's Bizarre Adventure which can be seen in the artwork.
I love his Jojo art commissions because of the high level of detail that he puts into them. The characters look like they're jumping right out of the page. He can create up to full-body character commissions with his illustrations.
jintosca is doing well on Fiverr, so you know that he's talented. And with a passion for Jojo's Bizarre Adventure, you know that your commission will be in good hands.
Just open up a chat with him and let him know you want a commission done. His basic package can be completed in just three days.
If you're looking for someone who can do a fantastic job with your commission, then jintosca is definitely the artist to go with.
2. bapauu – Artist that can jojofy a person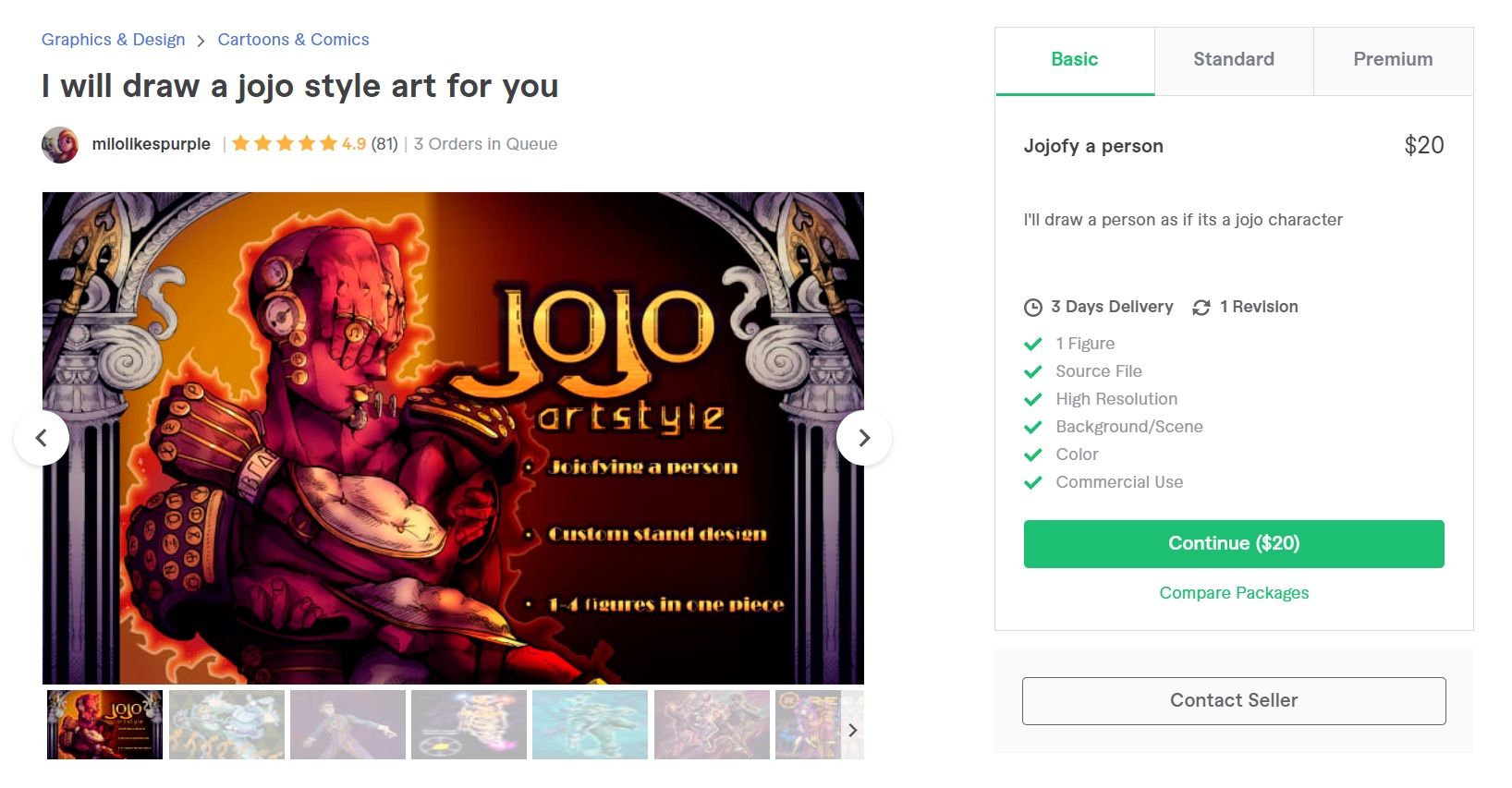 bapauu is an anime artist that can turn your pictures into Jojo's Bizarre Adventure drawing. His art style has a cool vibe that customers love, and he's great at capturing the essence of a JoJo character.
It doesn't matter what kind of Jojo art commissions you want because bapauu will be able to make it for you. You can even get a portrait commission done if you'd like. He's excellent at making the characters look their best, and he'll take your picture to heart when it comes time for him to start drawing.
Commissioning bapauu is a great way to get an amazing piece of Jojo fanart that you can cherish for years to come. Just make sure to give him enough time if you have a specific deadline in mind. He usually completes commissions within three days, but premium ones take ten days.
If you're looking for someone who can Jojofy a person, then bapauu is your man!
3. Fionaang – Fiverr's choice for JoJo art style commission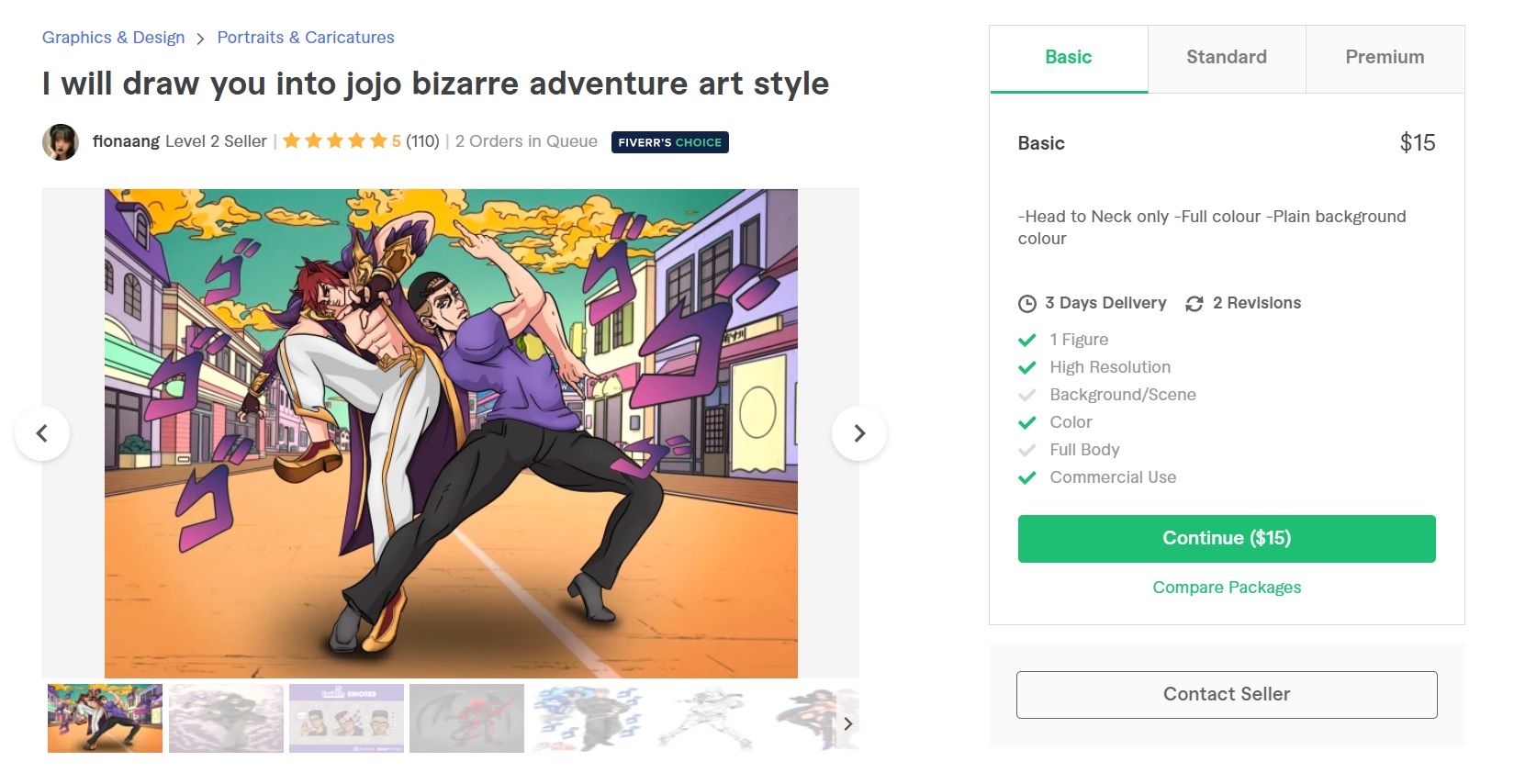 Fionaang is a Fiverr's Choice artist, which basically means that many people have chosen her as their go-to artist for all kinds of art commissions. Her basic commissions are completed within three days, and when you look at them, they're well worth the money spent on it.
This Malaysian artist is also a designer, a tattoo artist, and very experienced in Jojo fan art commissions. Her drawings have an edgy vibe going on while also being detailed at the same time.
She has great attention to detail in her art because of how much effort she puts in, which makes her Jojo art commissions so popular on Fiverr. A full-body and full-color commission can be yours for just $35 within seven days, which is an amazing deal!
So if you're looking for an amazing artist with a lot of talent, Fionaang is the one to go with.
4. Maladraw – Highly rated JoJo artist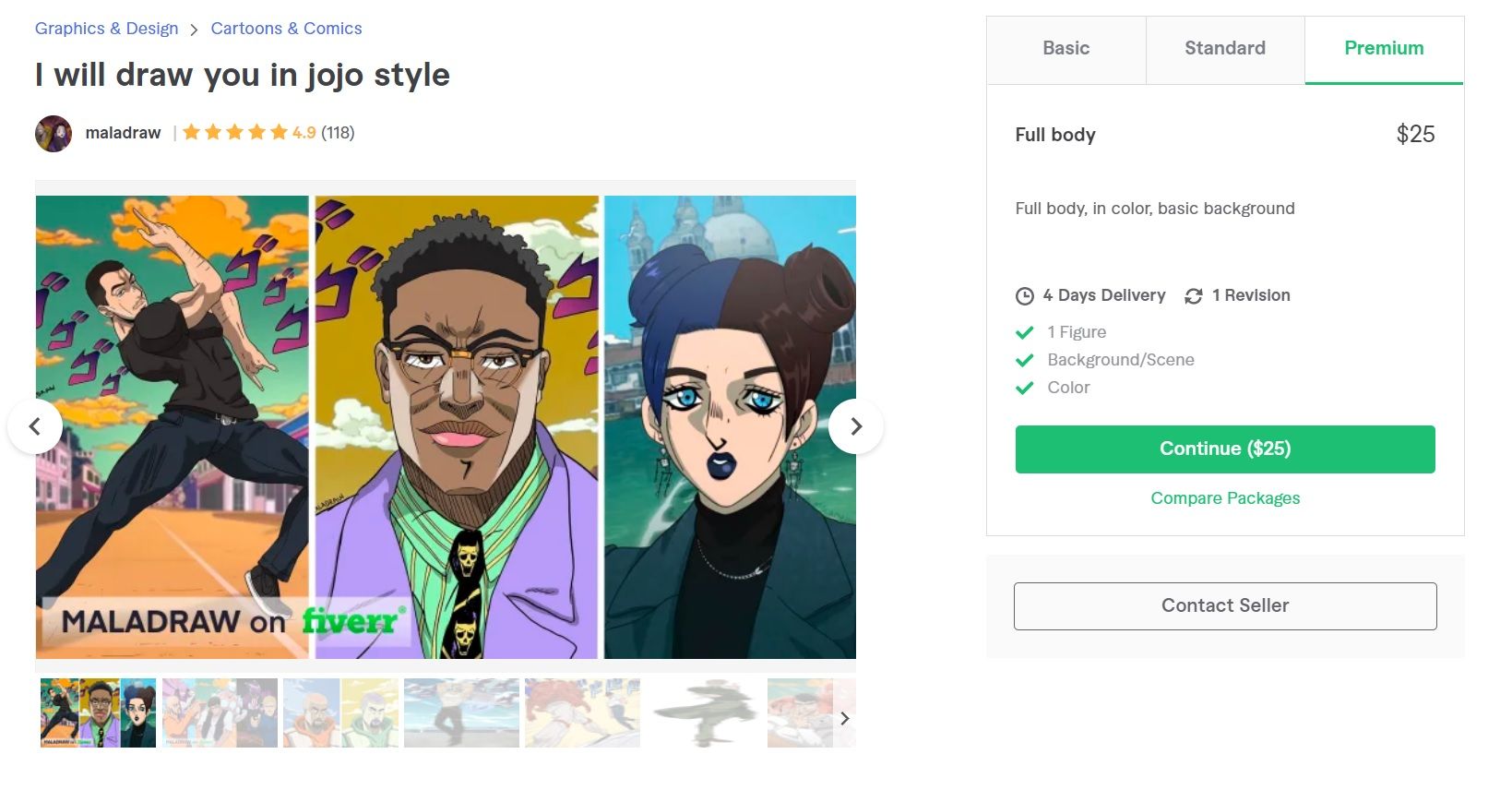 Maladraw has four years of experience in the field, and it shows. This Belgian digital artist has been an active member of the community since 2020, and that's because she takes pride in delivering high-quality artworks for her customers.
Beyond just drawing Jojo characters, she also like to draw commissions for Pokemon, Maplestory, My Hero Academia and KPop.
Her Jojo art commissions are a joy to look at with flamboyant style, and you can tell that she puts effort into it so her customers would be happy with the result. You can check the rave reviews from her repeat clients.
Her most popular commission is for full body character drawings, which costs $25 within four days from the start date. You can also request for fast turnaround time for an additional $10.
If you're looking to have some impressive Jojo art commissions done by a professional artist, then Maladraw is the one to go with!
5. Vector_smudge – Talented JoJo artist on Fiverr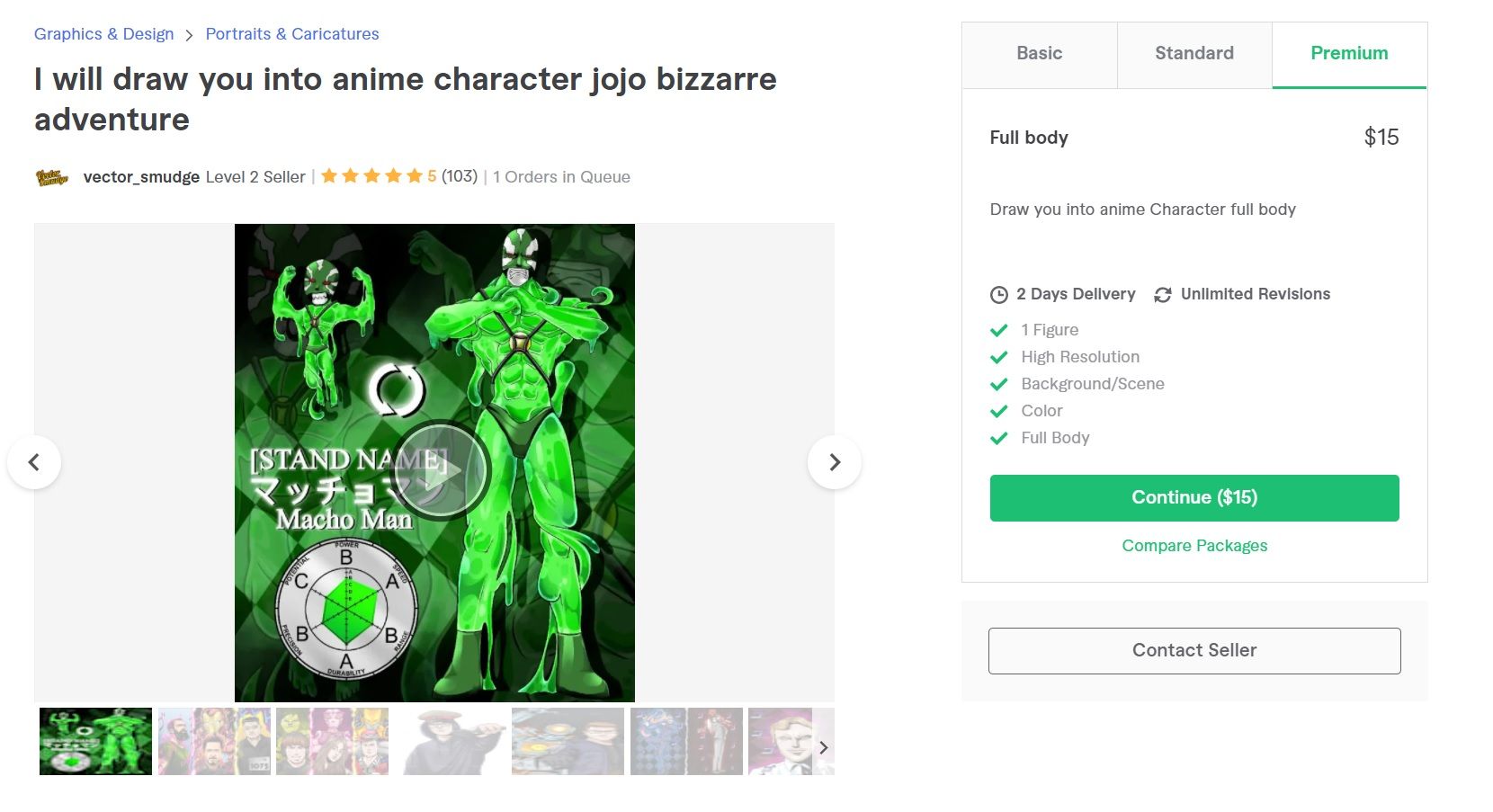 With perfect five-star ratings from 103 orders, Vector_smudge is a professional digital artist and graphic designer specializing in Jojo's Bizarre Adventure fan art. He has five years of experience, and it shows through his excellent work, which you can find on the Fiverr platform.
He has a very versatile art style that can be tailored to your specific needs, and he always makes sure to deliver on time. His turnaround time is just one to two days, which is amazing, especially when you consider the quality of his Jojo art commissions.
Many are repeat customers because of his dedication to work and the fantastic quality he puts into every piece. Vector_smudge also has a very affordable pricing system, with most commissions being completed within a day for just $5.
If you're looking for an expert Jojo artist, then Vector_smudge is definitely your go-to guy!