Last Updated on December 25, 2022
Fiverr is a freelancing platform that allows you to make money online by selling any skill or talent you have.
Many freelancers have found great success on Fiverr, but what about running your business on this platform? Fiverr Business now makes that a possibility for you and your team.
Fiverr Business is a new feature on the Fiverr freelancing platform that allows you to work with vetted sellers and organize your entire team with Fiverr Workspace.
Fiverr Business will enable you to outsource tasks to various Fiverr sellers and manage your business directly on the platform, and get substantial order discounts that are not available to regular users.
Fiverr has a wide range of different services for people in need of professional help with their projects or personal needs.
What Is Fiverr Business?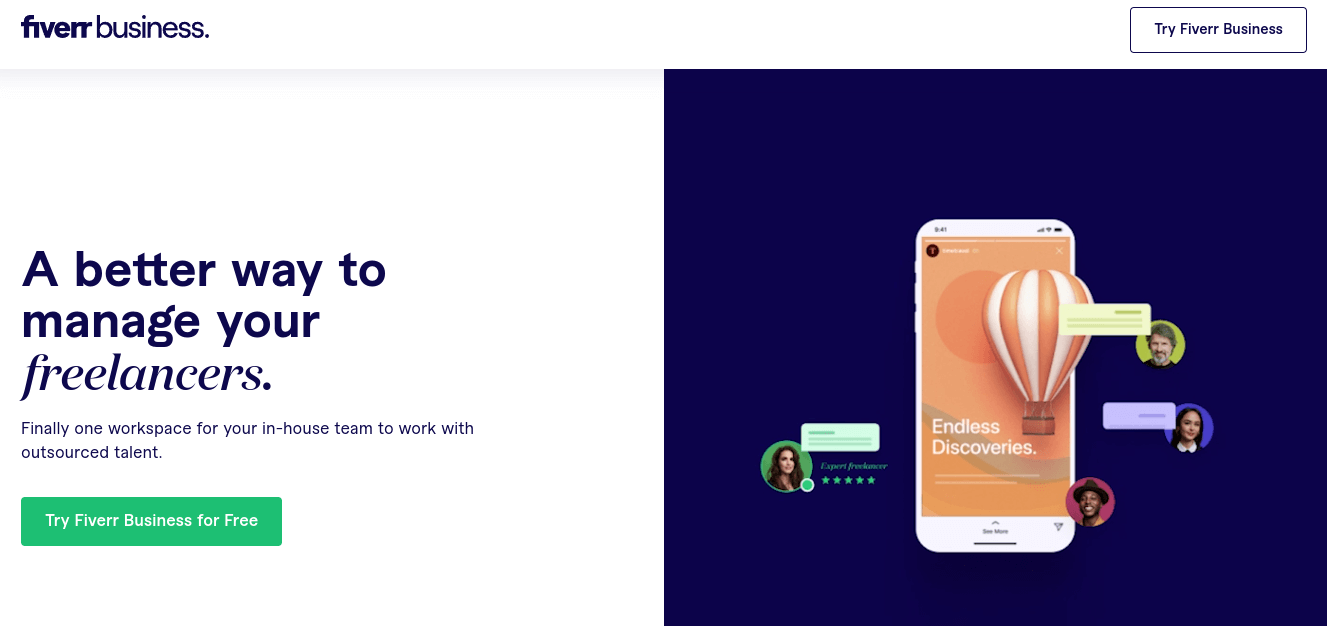 Fiverr Business will give you all of the tools that you would need in order to properly manage your business tasks directly through its platform.
Fiverr Business is for entrepreneurs and teams looking to organize their business needs. Fiverr Business will allow you to manage up to 50 people on one account, access priority support, invoicing tools, regular high-tier discounts, statistics for larger orders, and more with your annual subscription.
With the Fiverr Business subscription, you get:
A collaboration tool that lets you assign tasks to other users through chat or email. Each task will have its own project board for faster teamwork.
Branding controls under one Manage account. Allows you to upload a logo with all of your client's projects done in one place without being shared on personal accounts or profiles elsewhere.
Priority access to a Fiverr Business agent in live chat.
Invoice your customers using the automatic billing feature in the invoice tool. You can keep track of who owes you money and when their payment is due.
Fiverr Business can be an ideal option for entrepreneurs who want to engage in selling services online without having to manage the day-to-day business matters. It is excellent for part-time and full-time freelancers looking to expand their clientele by attracting higher-paying customers or those who need extra help with outsourcing tasks.
Fiverr Business Pricing
Fiverr Business pricing includes unlimited messaging to freelancers and access to all services listed on Fiverr, including those from top-rated professionals in various categories such as graphic design, video editing, and animation.
Fiverr Business is currently available for your first year for free. There is no commitment to continuing into your second year, but for a price of $149 annually, you can continue building your business and outsourcing projects.
This service is beneficial to both companies and freelancers because it allows buyers who need assistance from a particular user/vendor time and again to have the opportunity to work with them without having to pay for an entire month each time they want their services.
In addition, this frees up time so that people don't have to search all over for what they need – whether it's a graphic designer or someone who can complete surveys – because everything has been pre-vetted and organized into one site where the vendor profile information is already available.
Fiverr Business Tools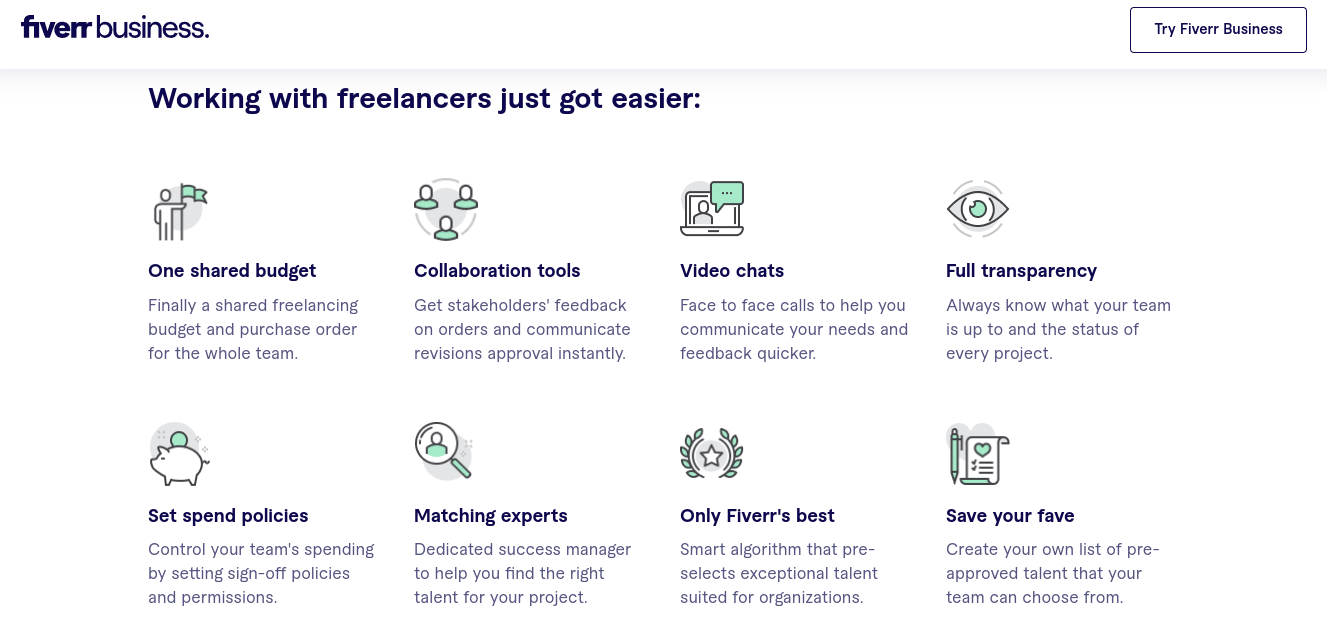 Fiverr Business is a platform developed by Fiverr that allows you to combine all of your business team members into one account to collaborate and choose freelancers.
Fiverr Business also gives you some additional tools to manage all of your business needs, including:
Shared Budget – Freelancing budget and purchase order are established for the whole team.
Spend Policies -Set sign-off policies and permissions to manage your team's spending.
Success Managers – Dedicated success manager to help you find the right talent for your project.
Only Fiverr's Best – Vetted freelancers are pre-selected for organizations.
Invoice and Manage Payments – Charge your clients and send them invoices. Keep track of who owes you money and when payment is due.
Fiverr Business makes it easy for the clients to publish their projects and manage them, paying only for work done.
With a budget, spend policies, and invoice management, freelancers can concentrate on their work while knowing that money is being managed properly.
Fiverr Business also allows you access to helpful tools such as shared budgets to allocate funds for your team's projects. It also manages negotiated pricing for preset milestones, allowing teams to pay for finalized deliverables instead of hours worked.
You can give approved freelancers access with ease by managing sign-offs via smart contracts. With all these features at hand, managing your business becomes easier than ever before.
Fiverr Business offers a deeper experience for those looking to expand their freelancing team and scale with ease.
Rather than hiring contracted employees, businesses can now select from thousands of vetted experts on Fiverr and handpick those that suit their needs.
With access to thousands of experts and screened customer support representatives, you're not only getting more done but also having fun while doing it.
Fiverr Business vs. Fiverr
Fiverr Business is all about teamwork.
In one dashboard, you may manage and organize all of your tasks, communications, deliveries, and budgeting with our business tool.
You may share a payment method with teammates, bookmark favorite vendors for quick access, and contact a Fiverr Business Success Manager to assist you to find the appropriate sellers.
What makes Fiverr Business different from other platforms is the fact that it's easy to use and allows users quick access to experts around the clock, which means more work gets done in less time. Fiverr Business allows you to effectively manage all of your projects and team in one place.
Fiverr allows you to purchase from the freelancer of your choosing, but when using Fiverr Business, all of your freelancers are pre-vetted and can be managed through one site.
If you're looking to buy more than just five gigs, then Fiverr Business might be right for you because it allows customers the option to hire the same person/vendor multiple times without having to search through different profiles, thus saving valuable time.
However, if you are only in need of small jobs completed quickly and often – like writing blog posts – then this service may not be necessary. Regardless of whether your company requires freelance assistance occasionally or all the time, there is a plan that is tailored to your business needs.
Is Fiverr Business Free?
Yes, Fiverr Business is free for the first year.
Afterwards, the cost of Fiverr Business is $149 per year. This price is still extremely low, considering the exclusive discounts and perks you get from the membership which can easily exceed this number by a few multiples.
What Can I Outsource on Fiverr Business?
Whether someone is starting their own business or they've already got a company established, it's easy to find a freelancer to help build your brand on Fiverr Business.
Outsourcing tasks may allow you to effectively manage other aspects of your business while allowing freelancers to complete projects for you.
On Fiverr Business, you can find freelancers to complete projects for your company like Web design and development, blog and article writers, logo designing, and more.
As you grow your business, if the tasks that need to be completed become a bit overwhelming, then it might be time to hire a full-time employee. You can find freelancers who are experienced in many different forms of employment on Fiverr Business.
The site has everything from logo design to administrative assistance with tasks, including transcription work. Anyone who needs help with anything related to the web will find exactly what they require on Fiverr.
You and your team can manage each project that comes in with the use of task management tools. Communication is essential for any project, and this is easy to do on the site.
Fiverr Business Example
With Fiverr Business, you can get software programming, transcription services, marketing assistance, business writing policies, and policies. You will also find design work like website creation or logo design.
There are many other types of jobs that can be completed by experts on the platform. The available services range from very simple tasks like converting text to speech to complex web development projects.
Hiring a freelancer on Fiverr Business is easy, and you can find a freelancer for any job. You'll be shown freelancers in various industries that are experienced and capable of completing your project.
Fiverr business will give you and your team a line of communication with the freelancer. After determining their price and delivery date, you'll be able to work directly with them until your project is complete.
There are many advantages to using Fiverr business. First, you don't need any technical knowledge or programming skills to use this service. You'll be able to get a finished product without having to lift a finger.
It's also cost-effective because the freelancers charge very reasonable rates for their services. There's no need for lengthy negotiations because the pricing is straightforward and outlined in each gig description.
How Do I Find The Right Freelancer at Fiverr Business?
For companies who are looking for new employees but don't want an entire staff behind them just yet, Fiverr is perfect because they'll be able to see what people are capable of without having to pay someone full-time wages until they're sure they need them.
Fiverr Business freelancers are pre-vetted and have been designated as Fiverr Top-Rated freelancers. When hiring a freelancer to complete your company's project, you'll know that you're getting the best by hiring someone who has been recognized with this designation.
Fiverr Business offers perks for its Top-Rated freelancers to remain the best in their field.
These include free business tools, discounted advertising credits, and more. When you hire a Top-Rated freelancer on Fiverr Business, you are guaranteed a qualified freelancer that will deliver excellent results.
Because of this universal vetting process, there is no need to investigate your freelancer's legitimacy – all of them have already passed through an application process that makes sure they are capable of completing excellent work in a timely manner.
So if you're looking for someone new for your business team, do it through Fiverr Business.
Conclusion – Should you use Fiverr Business?
Whether you're a startup company or you run an already successful business, Fiverr Business is an excellent website for hiring services. With the Top-Rated freelancers on there, you're guaranteed good work done quickly and without stress.
Fiverr Business will allow you and your team the tools to communicate with freelancers through various projects and will give you the tools to manage your business on the platform.
If you're looking for an all-in-one place that will allow you to hire services for your business, then Fiverr Business is the place to go.