Last Updated on December 25, 2022
If you're looking for the best World of Warcraft artists, you are in the right place.
As a gamer of over a decade of WoW, I know that one of the best feelings in gaming is when you receive an epic piece of artwork.
You might want to commission an artist to create a custom piece for you or your guild, and I've gathered the five best World of Warcraft custom artists out there, just for you.
How to get a custom World of Warcraft art
To get hold of a custom piece of World of Warcraft art, you have to create the art yourself or find artists already creating WoW art commissions.
If you're willing to put in the hard work, you can start by finding inspiration in the game. You can find fan art or reference images on sites like DeviantArt and try your hand at drawing your version of it. Don't worry if you don't have any artistic skills – there are several YouTube tutorials out there that will teach you how to draw characters from World of Warcraft.
When it comes to the actual commission, Fiverr is the best place to start.
You can find a range of artists on the site, from beginners to professionals, and you can get your commission for as little as $25.
These artists are already familiar with World of Warcraft art, so you can be sure that they'll create a piece that you'll love.
Who is the best World of Warcraft artist for hire?
Below you'd find my list of the best recommended WoW commission artists:
1. Konnekoer – Highly recommended World of Warcraft artist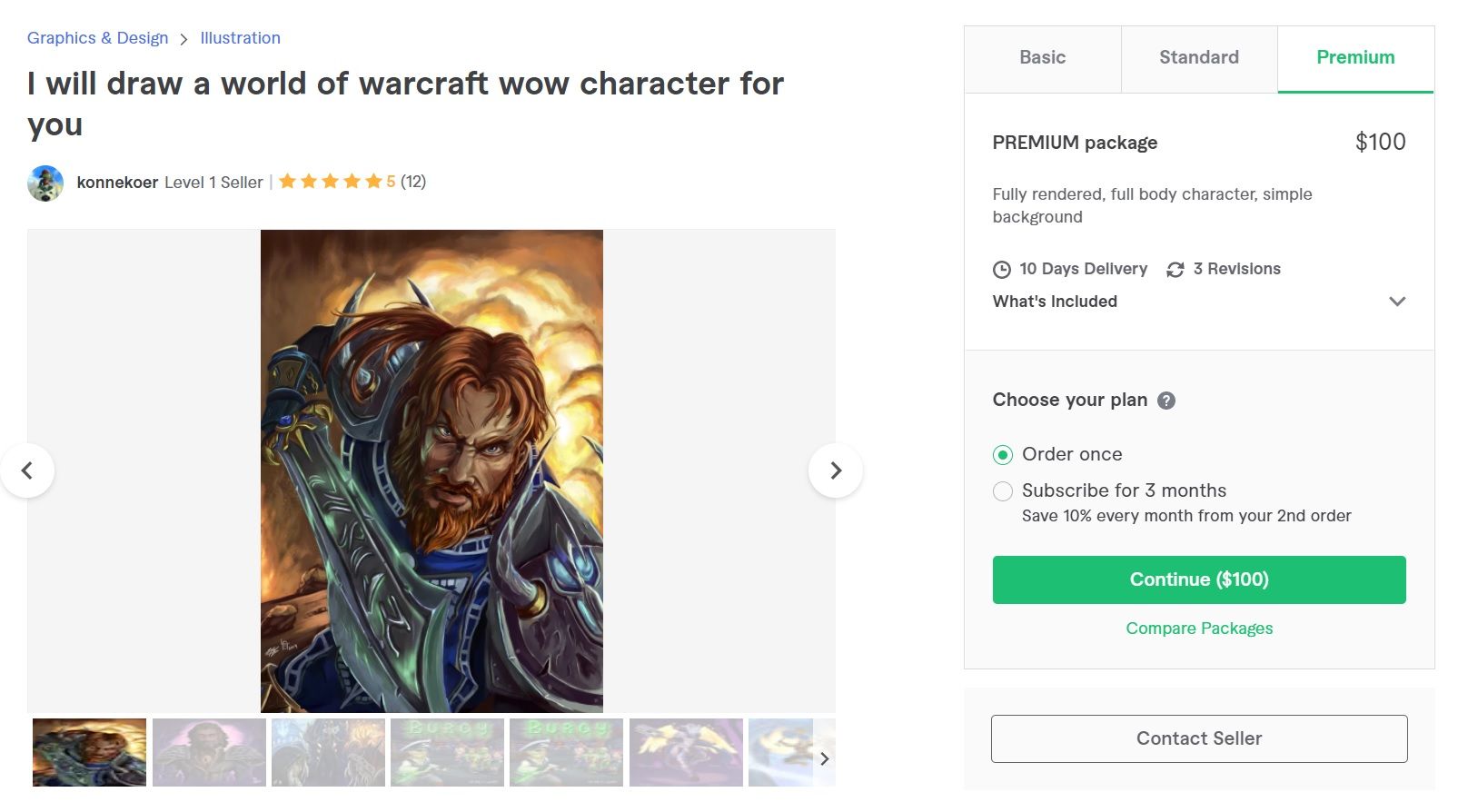 Konnekoer are two illustrators from Brazil with a passion for creating character design and concept art. They specialize in fantasy themes, with a particular love for their WoW characters.
The best selling points are the crisp lines in their World of Warcraft drawings that make them look like they've come straight out of the game itself. Their gallery has some great examples of their work, and you can see that they're passionate about the game.
Konnekoer can deliver a full-body character with complete details within ten days for three revisions, and they're one of the most popular WoW art commission artists on Fiverr. You can contact them by dropping a message as their average response time is five hours.
Looking for a professional and passionate artist to create your World of Warcraft commission? Konnekoer is the artist for you.
2. Julien_black – Digital artist with epic fantasy-themed portfolio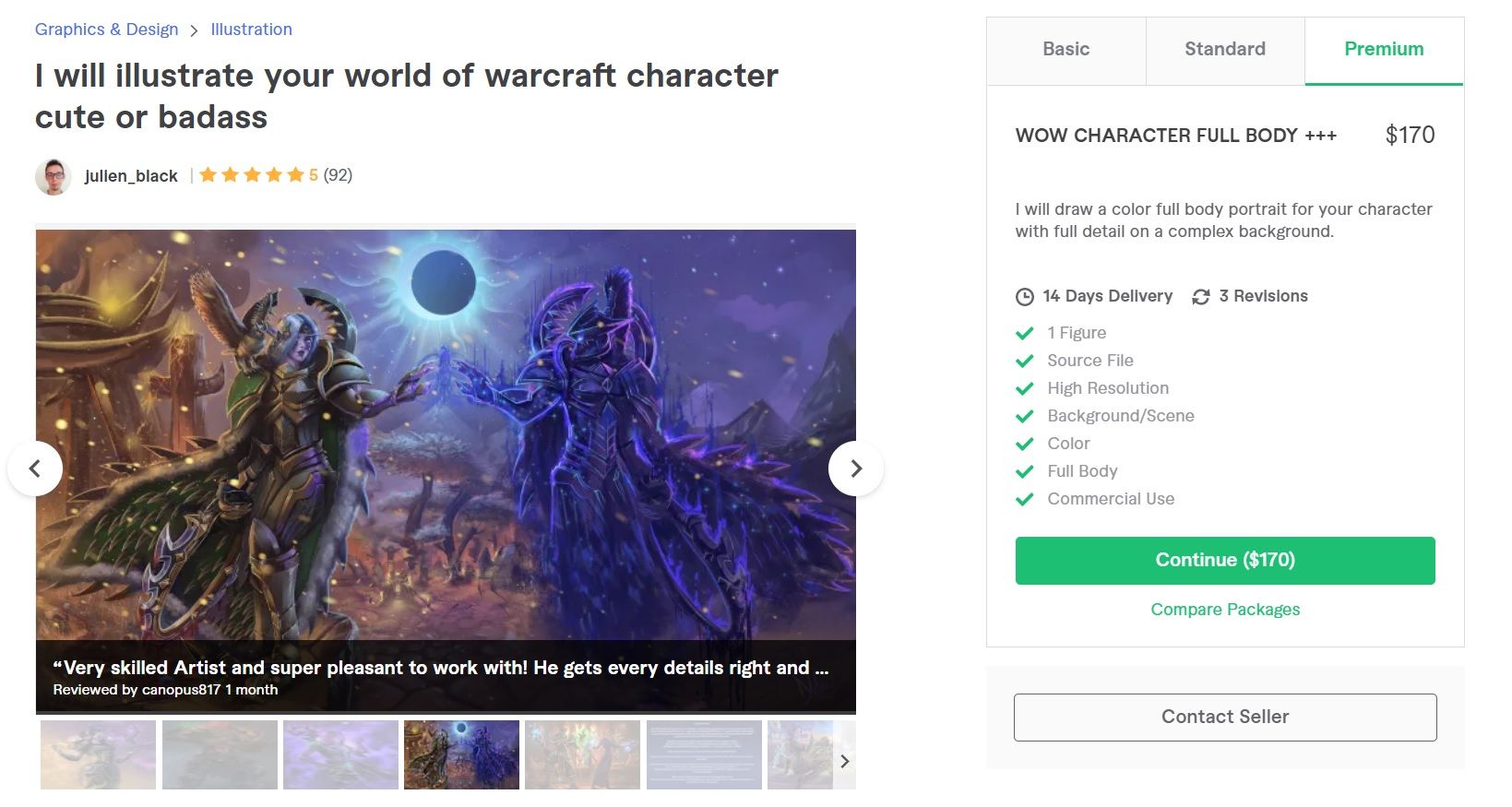 Julien is a freelance digital artist from Romania specializing in creating fantasy-themed pieces. He's been able to hone his skills with seven years of experience under his belt, and it shows through the detail that goes into each piece he creates.
His work has a clean look to them thanks to its vibrant colors, and his pieces are highly-detailed too. This makes them perfect for creating your custom World of Warcraft art. He's one of the best World of Warcraft custom artists you'll find on Fiverr because he can provide a top-quality piece within just fourteen days.
His average response time is only one hour, and he is one of the highly-rated WoW art commission artists on the site.
If you're looking for a quick turnaround and an artist with a ton of experience, Julien_black is your best bet.
3. Brightvalkyrie – Best for affordable World of Warcraft art commissions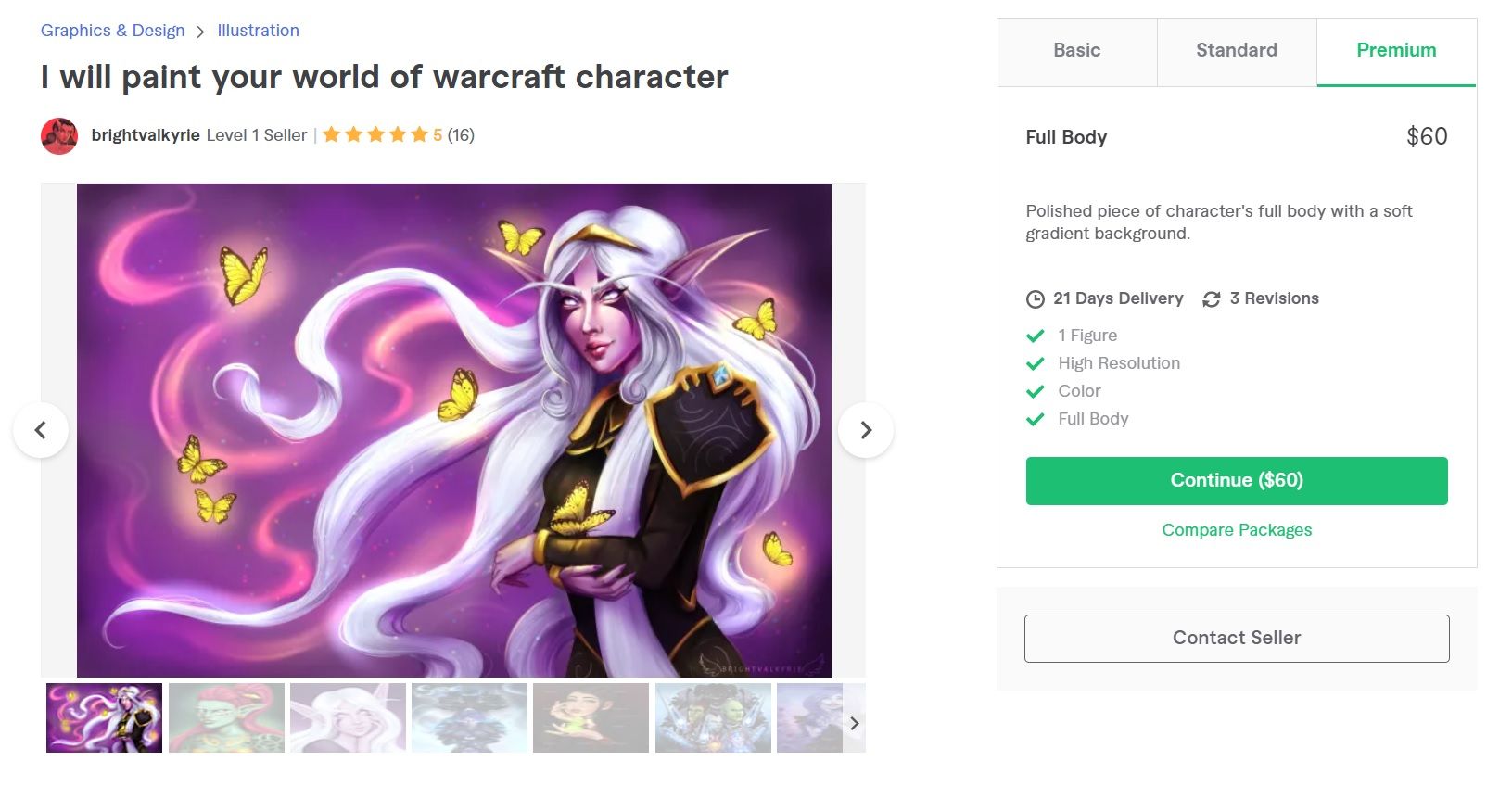 Brightvalkyrie is a freelance artist from Australia with neat, clean, and colorful digital art. She specializes in character design, focusing on comic and cartoon-styled characters.
What's great about her work is that she doesn't shy away from adding intricate details to her pieces, perfect for creating your World of Warcraft commission. She's one of the finest World of Warcraft custom artists on Fiverr, with a basic commission taking her fourteen days to complete.
She has an average response time of ten hours, and she has perfect ratings from her previous clients – so you can be sure that your piece will turn out great!
If you're looking for high-quality art with polished and colorful designs, Brightvalkyrie is your artist.
4. Mira_szabotin – Professional comic book style WoW artist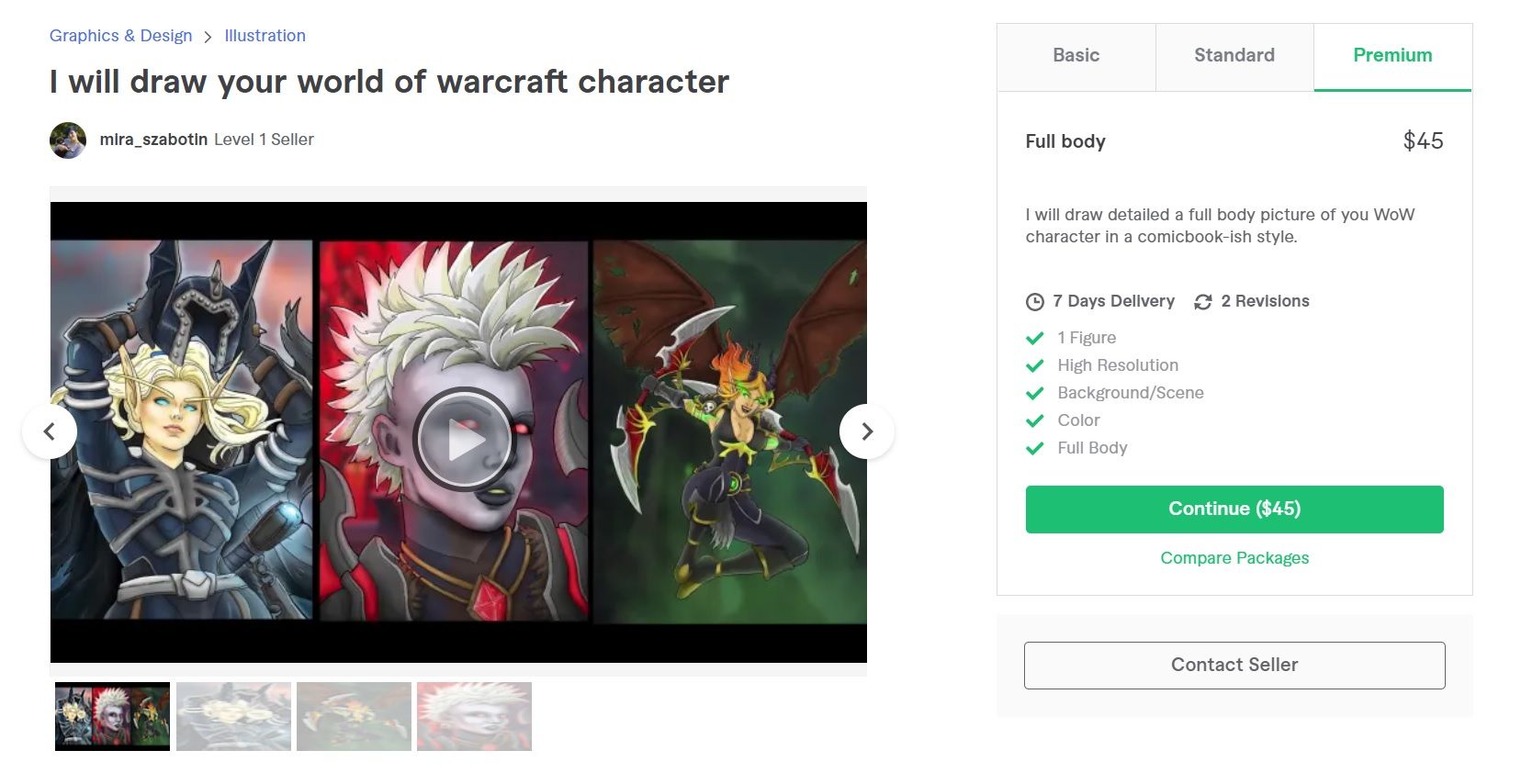 Mira is a freelance artist from Hungary who specializes in comic book art. She has years of experience with graphic art, and popular comic arts heavily influence her work.
What's great about Mira's style is that it captures the essence of World of Warcraft – giving your commission an authentic and professional look. Her style is clean and detailed, with the right balance of color. Her art has crisp line art and highly detailed designs perfect for creating your own WoW character or fanart pieces.
Best of all, you can get World of Warcraft custom art from her starting at just $25 in five days – which is great for smaller projects. Her average response time is within ten hours too.
If you're looking for an artist with a comic book-inspired style, Mira_szabotin is a perfect choice.
Looking for custom artwork for other games? Check out our commission guides for:
5. Peyeyodrawing – Top notch fantasy illustrator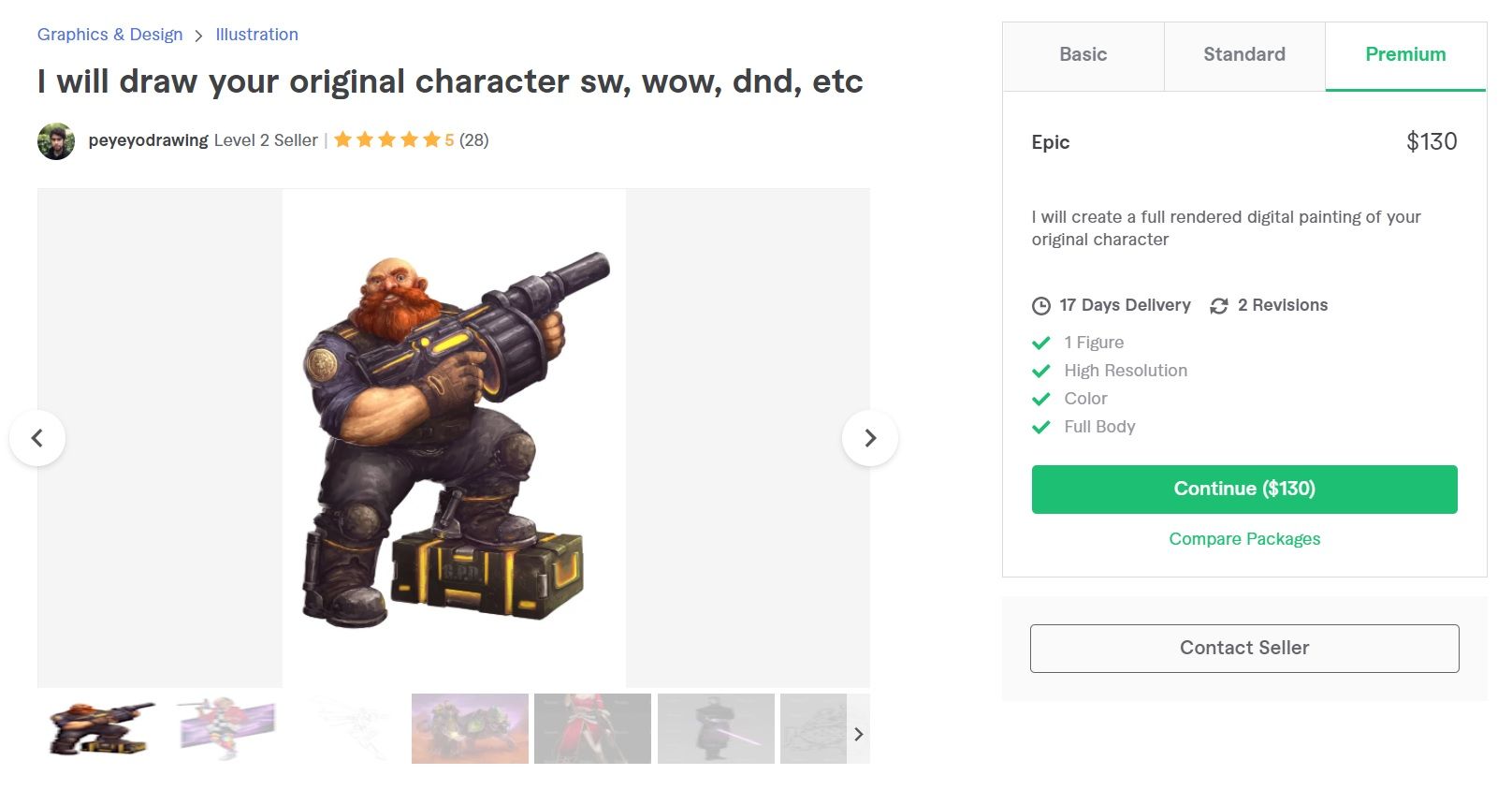 Peyeyo is a fantastic artist from Chile where his customers are raving for his art quality and professionalism. He is a digital artist specializing in full illustration, line art, and character illustration.
Peyeyo's illustrations are amazing, and if you're looking to add some high-quality WoW art commissions to your game, he would be a perfect choice. His illustrations are detailed and well-crafted, focusing on the small details that make all the difference.
What's excellent about Peyeyo is that he offers a wide range of services – from line art, cel-shading, and fully rendered illustrations. This makes him perfect for creating a wide range of WoW art commissions. He also has an incredibly quick turnaround time, with the basic commission being completed in just seven days.
If you're looking for a versatile artist with the talent and skills to create fantastic WoW art commissions, Peyeyo would be your best choice.