Last Updated on December 25, 2022
Genshin Impact is a game that has taken the world by storm. It is a beautiful and unique game that features breathtaking artwork.
The artwork in Genshin Impact is so beautiful that many people have requested commissions from the artists so they could get similar, custom-made artwork.
If you are looking for an illustrator to create a Genshin commission for you, look no further than these five artists!
How to get custom Genshin Impact art?
Your first option is to create the art yourself, with enough practice. There are plenty of tutorials online that will teach you how to create artwork in Genshin style.
If this isn't your thing and you need help, there are plenty of artists out there who would love the opportunity. There is no shortage of commissioned artists, considering the popularity of Genshin Impact right now.
You can find many professional or amateur artists on Fiverr at very affordable rates. These artists are usually more than happy to work with you on creating the perfect piece of art for your game.
Who is the best Genshin Impact art commissions artist?
Some people might disagree on who the best artist is for commissions.
However, these five artists are definitely at the top of their game and will be sure to create a masterpiece for you!
1. Kuroiasa – Best Genshin Artist with Impeccable Craftsmanship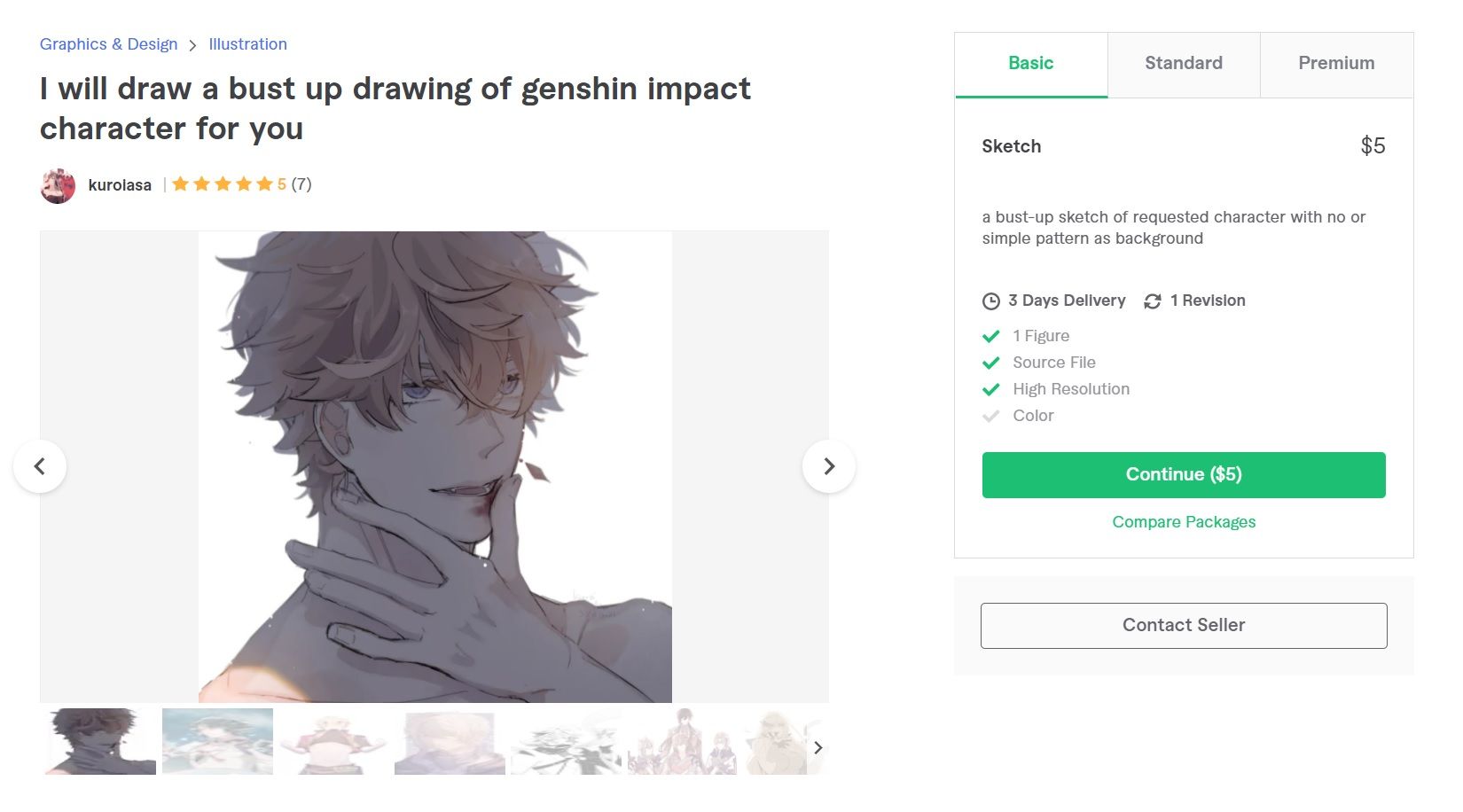 If you want anime or manga-inspired Genshin art commissions, Kuroiasa is your artist! She has an incredibly detailed and precise style that will perfectly capture the essence of the game.
Her style is immaculate and polished, making it stand out from other artists. She also works incredibly fast, so you won't have to wait too long for your commission.
Kuroiasa's commissions usually take around one week to complete, and you will receive the artwork fully colored at only $20. She has no negative reviews on Fiverr, so you know your commission will be perfect when received.
For polished Genshin art commissions which can take your ideas and make them into reality, Kuroiasa is a perfect choice!
2. Tofu_tart – Top Artist for All Your Genshin Needs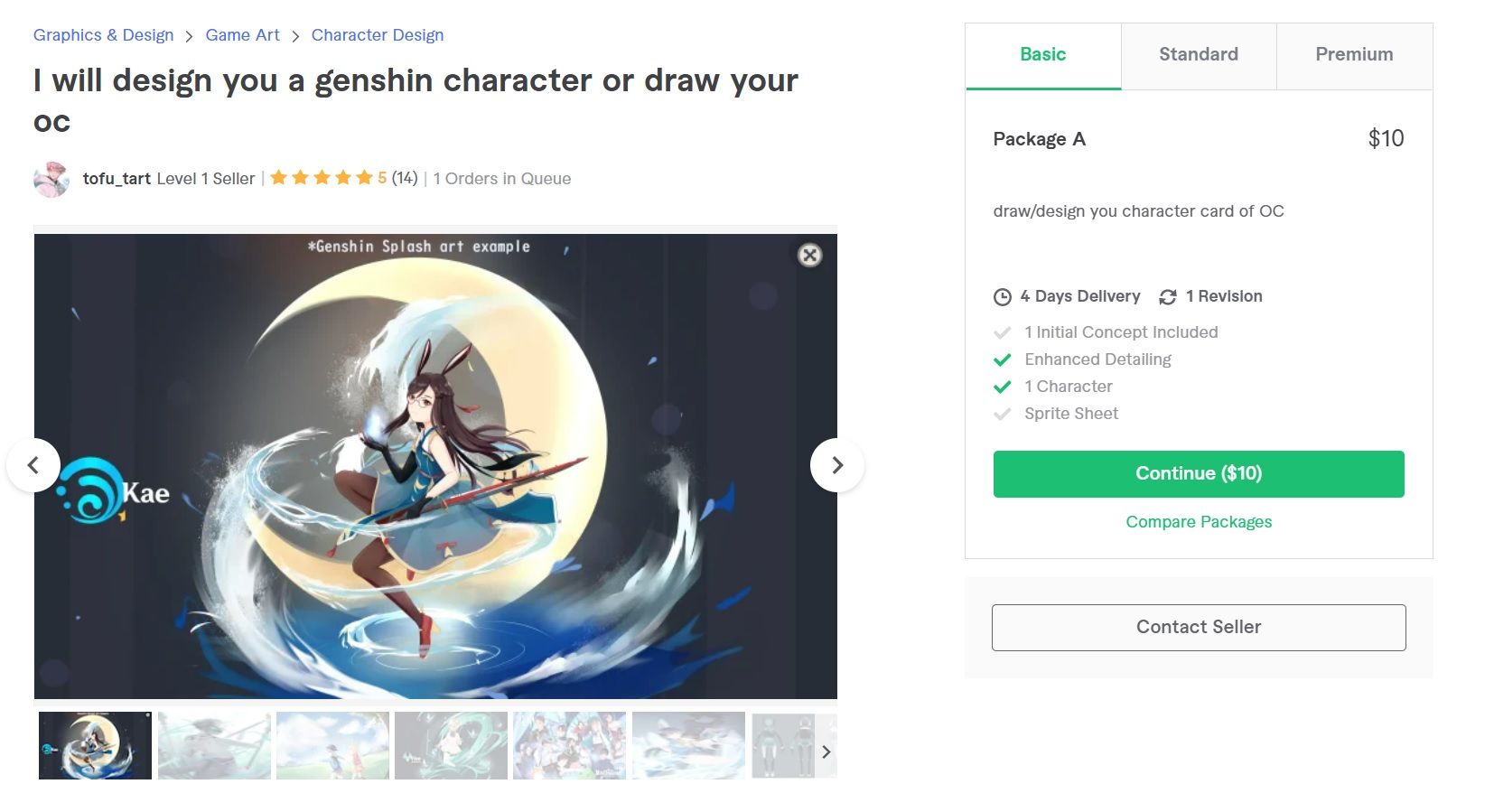 This Australian Illustrator has been passionate about drawing since young, so you can be sure that your commission will be in good hands. She can do Genshin art commissions and takes requests for art in pastel or soft colors.
She has an adorable and cartoony style, perfect for Genshin Impact games that want a more lighthearted and cheerful look. Her art is also incredibly dynamic, ideal for character portraits or cutscenes.
Her rate starts at $10 for single character commissions and $90 for Genshin art commission in full color with a background that will surely be a masterpiece.
For those who want an adorable and dynamic Genshin Impact art piece, Tofu_tart is the artist to go with!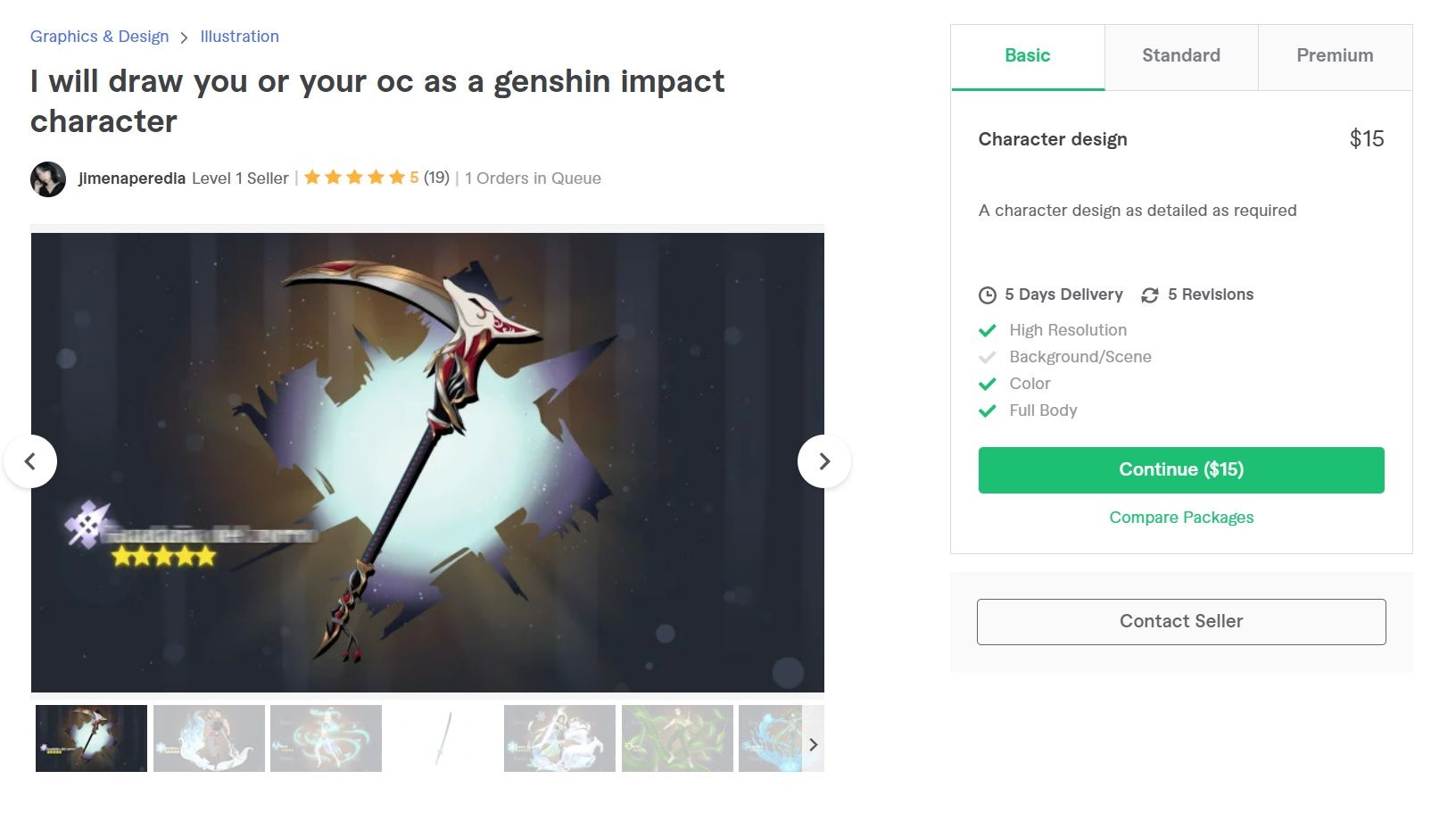 Jimenaperedia is a digital artist from Mexico with rave reviews from her previous clients. Her commissions are usually done in five days, and she can work with you to create the Genshin art you want.
Her Genshin art commissions are guaranteed to stand out from the rest. She has a unique and stylized look that is perfect for those who want something different.
Her starting price is $15 for a single character commission, and she offers a character with a weapon and background for $25. With a perfect rating on Fiverr, you know you can trust Jimenaperedia with your Genshin art commissions.
For stylized and unique art for your game, it's a no-brainer to go with Jimenaperedia!
4. Skadiii – Talented and one-of-a-kind Artist

Skadiii is another fantastic artist on Fiverr who can take your ideas and make them real. She's also experienced in making traditional-style Genshin art commissions, excellent for those who want to go back to basics.
Her lines are clean and flawless, creating works that will surely impress everyone. She is also very communicative, so you can be sure that she understands your vision for the commission.
She only offers one style of commission, which is a full-color character portrait with custom clothing. In $30, she guarantees that the commissions will be finished in only seven days.
With her amazing traditional style and fast rate speed, Skadiii is your artist for Genshin art!
5. donut_rangerrr – Superior Artist for Your Genshin Art Commissions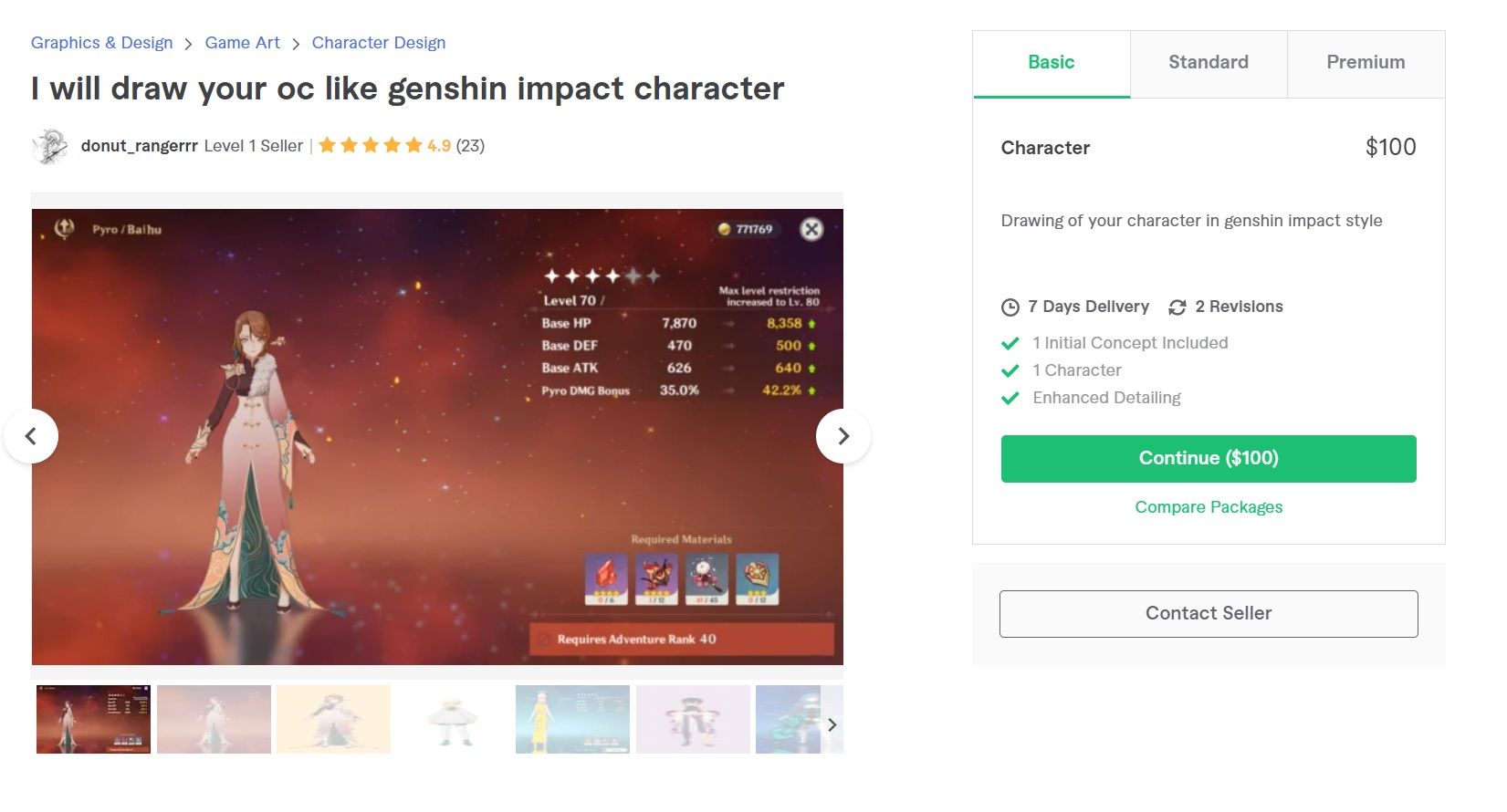 This artist from Ukraine is a great choice for those who want high-quality art for their game. She has a very versatile and detailed style that can be used for your Genshin art commissions.
Her art is heavily influenced by anime and manga, giving your game a polished look. She is also very experienced in creating backgrounds with character statistics, which can be a huge plus if you need detailed scenery for your commission.
Her rates start at $100 for enhanced detailing and $200 for original character commission.
For Genshin art commissions with the perfect look, donut_rangerrr is an excellent choice.