Last Updated on December 25, 2022
Star Wars is a cultural phenomenon that has been around for decades. It was "born" in 1977, and now, nearly 45 years later, it is still going strong.
The Star Wars franchise includes everything from movies to TV shows to video games. There are also many different types of merchandise available such as toys and clothing.
It is a joy for those who love the saga to have a personalized piece of art based on their favorite characters or scenes from the series.
This article will be teaching you how to get your own custom-made Star Wars artwork, without breaking the bank!
How to get custom Star Wars art?
There are two ways to go about getting a custom Star Wars art. The first method is to learn how to draw and create the art yourself (that's too hard!). The second is to commission an artist online.
Commissioning an artist is an excellent option because they will create your art uniquely and tailored to your specific interests. Most artists will also have a wide range of Star Wars art commissions based on different characters and scenes from the series.
Fiverr is a great starting point for finding an artist. Just type in "Star Wars art" into the search bar, and you will be presented with several different artists who are available for commissions. These artists all specialize in different styles, so there will be something for everyone.
Who is the best Star Wars Art Commission artist?
Many artists offer custom art services, so it can be challenging to choose just one.
However, we have compiled a list of five exceptionally skilled artists in this area who will undoubtedly create a fantastic piece for you based on your specific requirements.
Without further ado, here are our top five picks!
1. Matheusgreche – Fantastic Custom Jedi or Sith Artist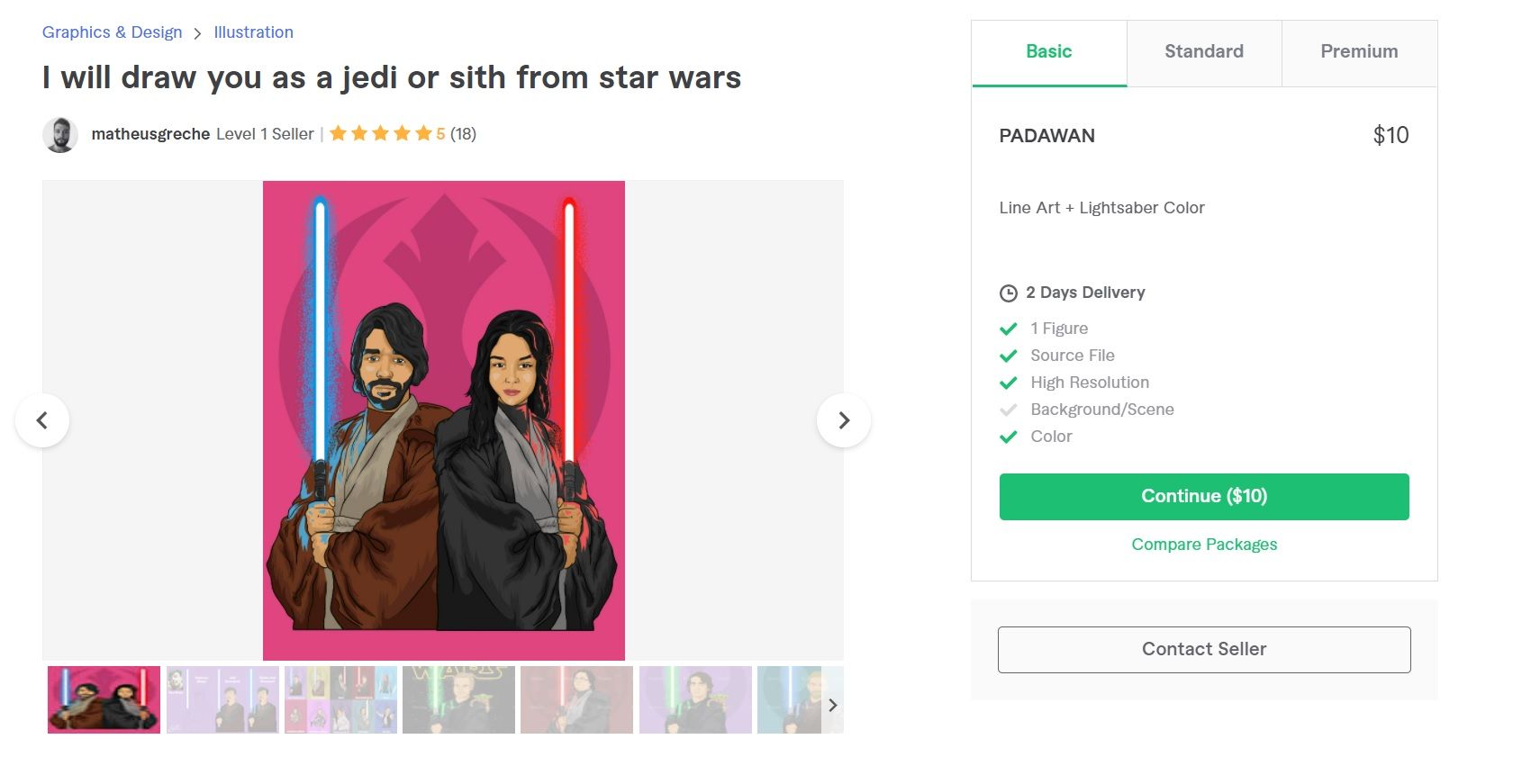 Matheusgreche has an impressive portfolio of Star Wars art commissions. He is especially skilled in drawing Jedi or Sith characters in dynamic poses, so if you're looking for a Jedi or Sith-based piece, then this artist should be your number one choice.
He specializes in flat style, vector art but is also highly skilled in traditional drawing. His prices are fair, and he has excellent communication skills, so his commission process will be a breeze.
A more stylized Star Wars art commissions cost $30 in full body with background included. These pieces are unique and look like they belong on the front page of a comic book.
Looking for a Jedi or Sith piece? Commission Matheusgreche in Fiverr today!
2. Blusparrowdemon – Experienced Star Wars Art Commissions Illustrator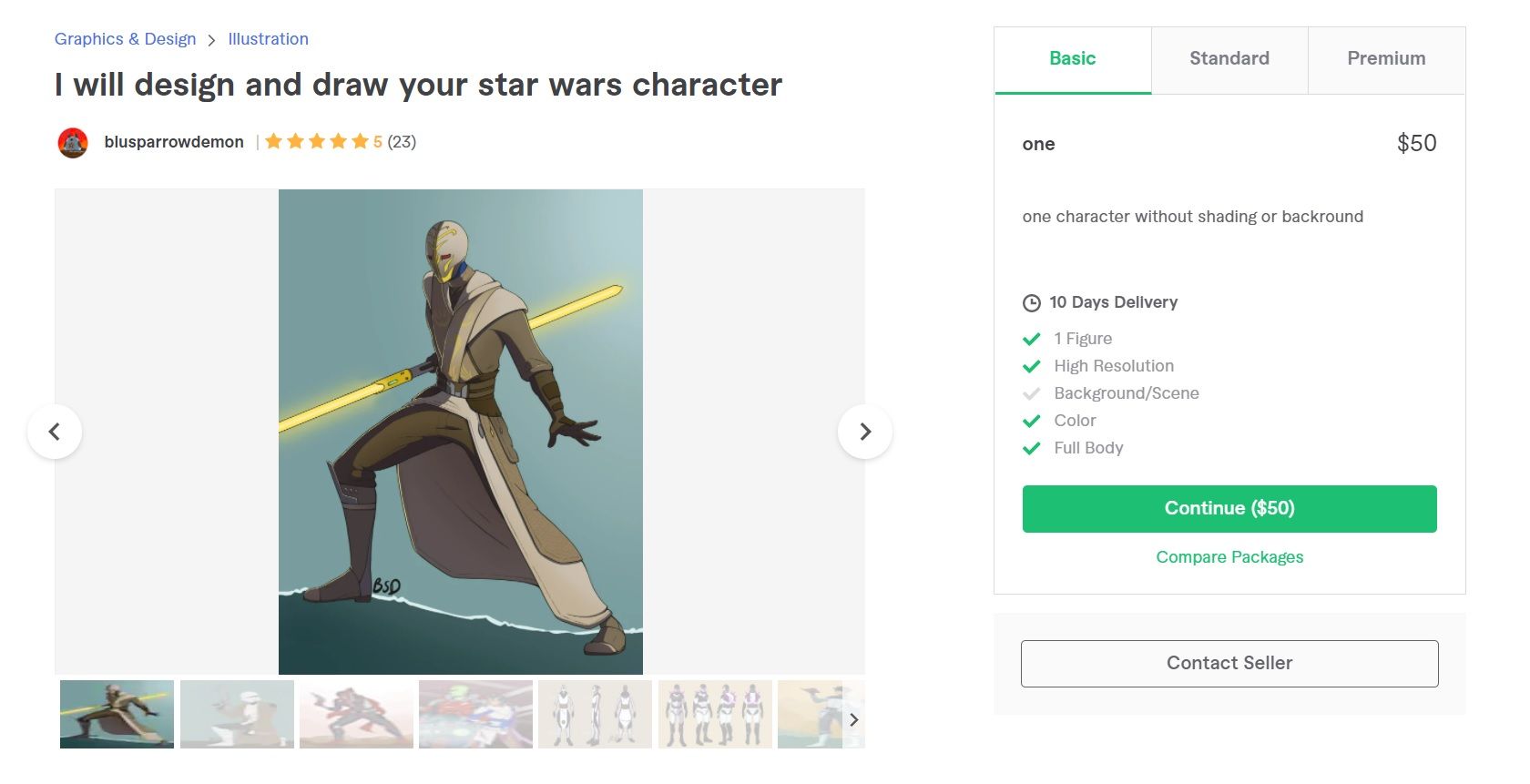 This German digital artist is highly skilled in comic and cartoon style art. He focuses on Star Wars and creates some of the most impressive pieces in this style.
He can also illustrate Star Wars characters from scratch, so if you have an idea for a character but are unsure of how to create it, feel free to contact him, and he will be happy to help.
His prices start at $50 for a piece, or you can choose to have him do up to two characters with a background. This will cost $100, but it is worth it, given the level of detail and skill he puts into every piece.
If you want something that really captures the mood of Star Wars, then Blusparrowdemon should be your first port of call.
3. Yelangsuwing – Dynamic and Stylized Star Wars Artist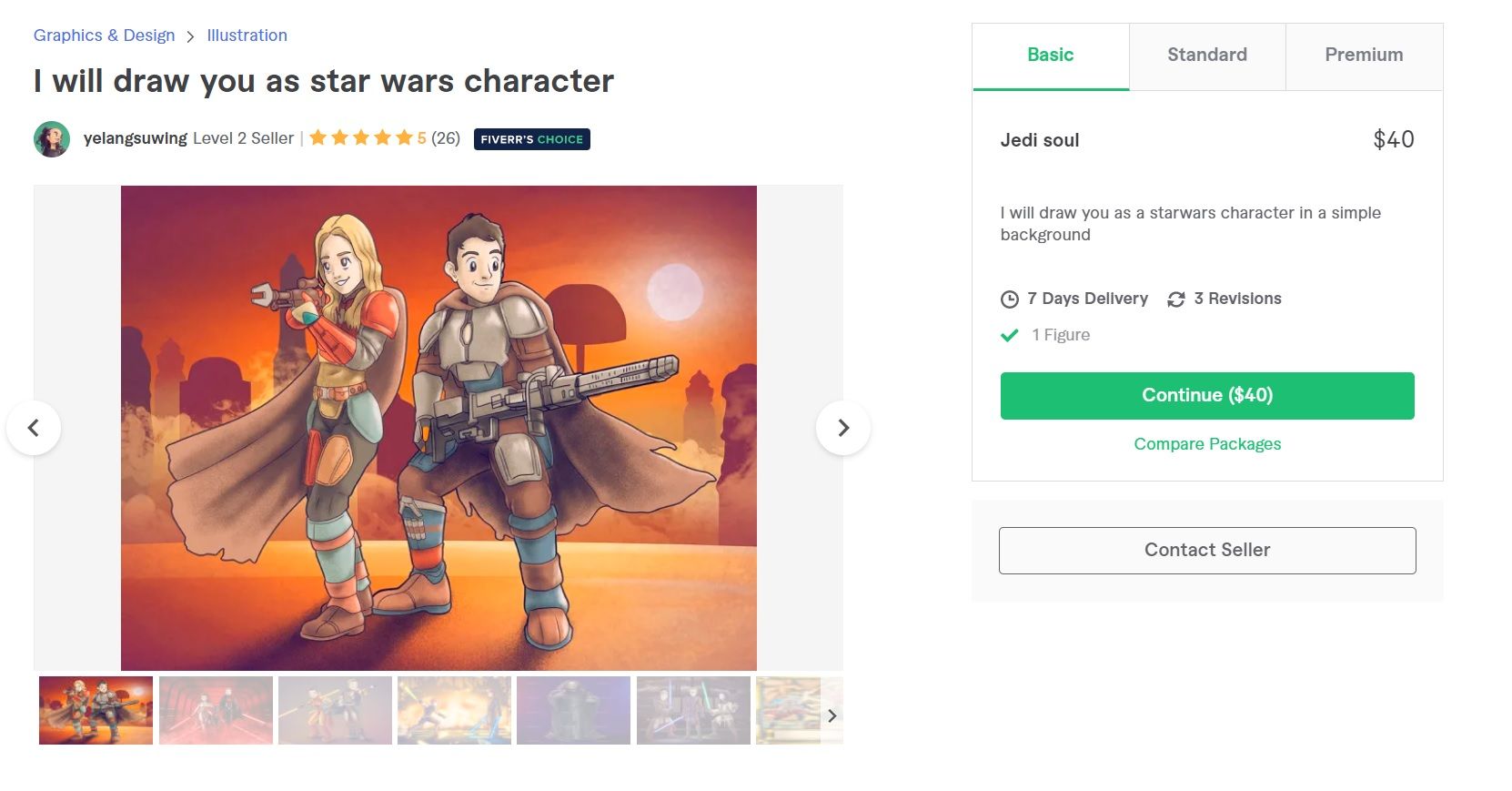 This artist is known for his incredibly dynamic and stylized pieces. He specializes in mixed media art techniques. He can draw any Star Wars character and does a great job of capturing their personality in his illustrations.
Yelangsuwing has been drawing for 13 years and is highly talented. He can depict many different Star Wars scenes with great accuracy, and his pieces are always highly sought after.
Prices start at $40 for a digital piece, or you can commission him for artwork with up to four characters with a simple background for only $110.
If you're looking for a faithful and stylish representation of Star Wars, then Yelangsuwing is your best bet.
4. Aniruddhalele – Wacky and Whimsical Digital Artist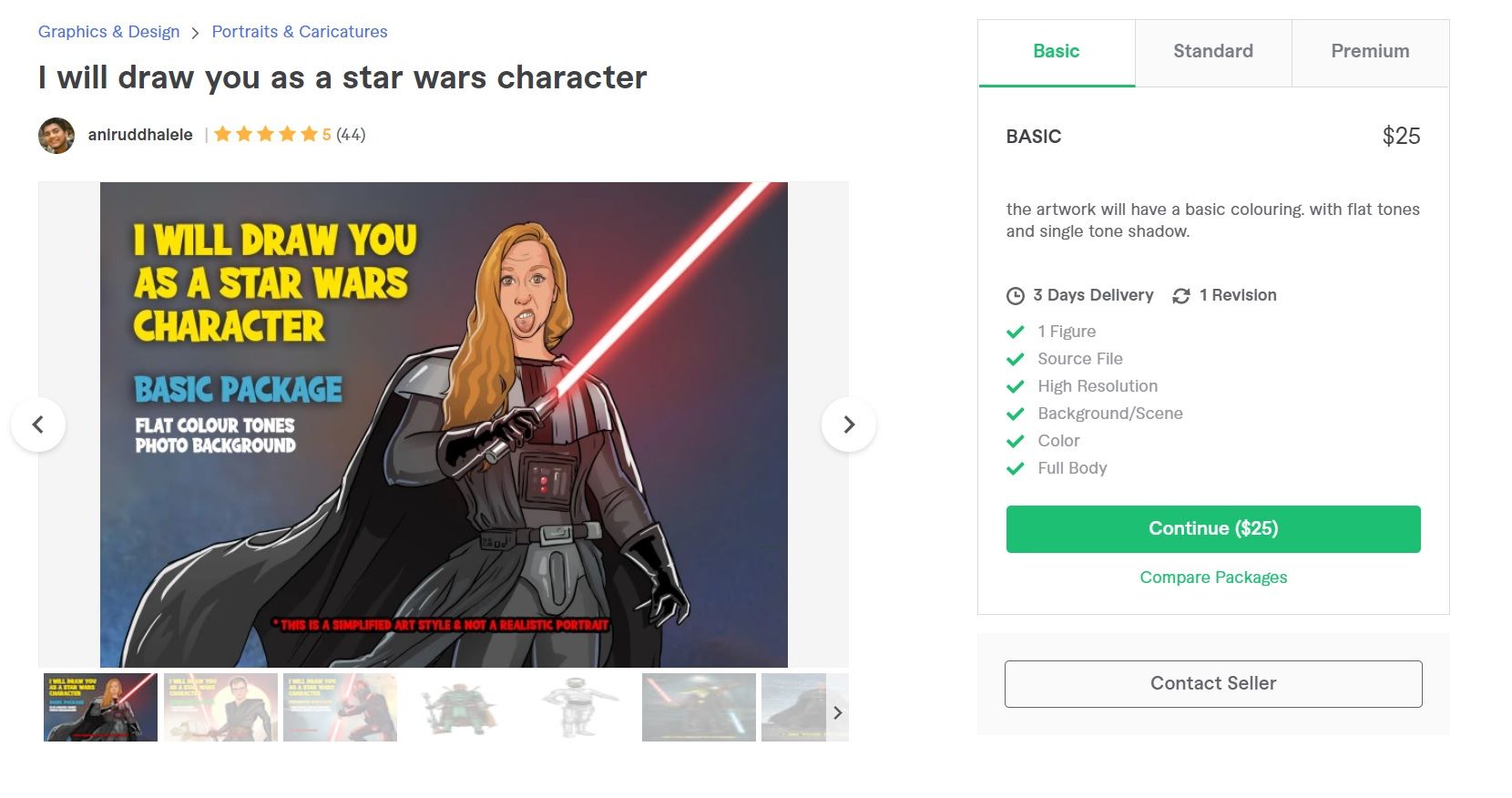 This Indian digital artist can draw you or your loved one as a Star Wars character, so if you're looking for a unique gift idea, this is the perfect option. He is skilled in illustrating scenes from the movies and creates some truly hilarious pieces.
He also draws Star Wars scenes, but his style is far wackier than most other artists on our list. His illustrations are always bright and colorful, which makes them stand out.
Prices start at $25 for a single figure and basic coloring, or you can opt for a full-body Star Wars art commissions with full color and background for $100 within seven days.
If you're looking for a piece that is sure to make people laugh, then commission Aniruddhalele, and you won't be disappointed.
5. Oyeplot – Versatile and All-Rounder Artist
This artist from Indonesia is a true all-rounder, as he can illustrate and do Star Wars art commissions, as well as any other Sci-Fi art you'd like. He has a great eye for detail and loves experimenting with different styles and mediums.
His portfolio includes many pieces that are based on the Star Wars universe, which are all highly detailed and accurately portray the characters and scenes from the movies. In fact, you can use his illustrations in invitations, greeting cards, and even as profile pictures on social media.
He is currently offering a promo for only $15 for a full body Star Wars character in full color.
If you're looking for a versatile artist for your greeting cards or social media profile, then Oyeplot is a great choice.