Last Updated on January 8, 2023
You cannot overlook the importance of keyword research in current search engine optimization.
Good quality keyword phrases are one of the most efficient ways to bring in continuous, high-quality web traffic to your website, whether you are relaunching an old blog or building your content plan for a new one.
What is the best keyword research service?
Below are some of the best keyword research services with tons of experience and great work ethics:
1. Wajiha Fatima – Best keyword research service provider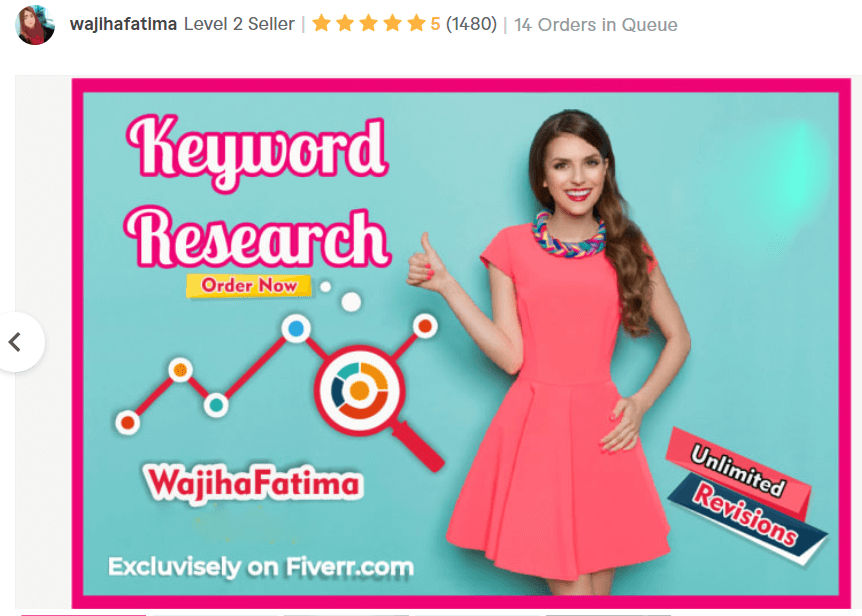 Wajiha Fatima is a level two seller SEO keyword researcher on Fiverr. On her page, she explains how keywords are the foundation of one's digital existence. Additionally, she explains that good SEO keyword research is needed to thrive and stand out in the digital world.
Wajiha has been a keyword researcher since 2017, and she offers excellent services, as seen from her client's reviews. Her basic service goes for $20, and it includes:
100 handpicked focused keywords
1000 related keywords for content
Five competitor analyses,
Average delivery of one day.
If you opt for the standard package, you will receive 200 handpicked focused keywords, 2500 related keywords for content, seven competitor analyses, all for just $35. The delivery time for this package is usually 2 days.
Her premium services go for $50, and the offer includes 400 handpicked focused keywords, 5500 related keywords for content, and 12 competitor analyses. However, the delivery time is 4 days.
One thing that sets Wajiha apart from the rest is her willingness to go the extra mile for her clients. According to her client's reviews on Fiverr, Wajiha offers excellent services, with one mentioning how he was not specific with his job request. Still, Wajiha went all the way to provide even what she was not asked for, thus getting more than enough keywords. This is great, especially for some of you who might be new to blogging.
Having used her service before, I can also attest to how professional and easy she is to work with. She has excellent communication skills and up-to-date SEO skillsets.
Hiring Wajiha Fatima would be an excellent idea, whether you are new or experienced in SEO. As she has a five-star rating with 1205 reviews which is an outstanding review, you can expect a great job.
2. Rich the SEO guy.
Rich has been an SEO keyword researcher since January 2020 and has a five-star rating on Fiverr. He has been working in digital marketing for over three years. He started as a blogger and later became an SEO expert. He derives his passion for keyword research from the challenges he faced as an SEO in his early days.
Rich recommends that you should know what people are searching for; otherwise, you will lose a lot of time with search engines. He explains that getting your post to rank is difficult when starting because there are many keywords to choose from. These keywords range from a high to low keyword difficulty at a search engine's whim. This is where he offers his technical skills, which will help simplify your SEO keyword strategy.
His services include transactional and informational search queries, sorting, filtering, and customizing keywords, matching your competitors' keywords in a head term, middle and long-tail keywords, overview, backlinks list, and even stealing your competitor's backlinks!
Rich offers basic services such as keyword reporting, three keyword topics, sorting, filtering, and customizing your report at $35.
For standard services, he does the introduction and two competitive analyses at $45. On the other hand, the premium package offers services such as deluxe plus three more competitive analyses and a bonus backlink analysis report at $75.
His clients highly recommend him in their reviews as one who does a great job. He typically responds within two hours and delivers the work given in an average of one to two days, depending on the amount of work he has been assigned.
Rich is an excellent SEO keyword researcher to employ if you would like to enhance website engagement, conversions and grow your business. Although he is a little more expensive than other keyword researchers, the quality of his work is worth every dime.
3. Precious
Precious goes by the name howtodoseo on Fiverr and prides herself as a selfless keyword researcher who will help you achieve your goals. She explains ways to get valuable traffic on your site or conversions, improve one's ranking, and see an increase in your traffic.
From her work, you will get niche words with low competition that have been proven to have more traffic in actual time which will boost your conversions. She also offers upon request exact niche domains match.
Precious's basic plan provides you with 100 keywords and 15 competitor's analysis at $35. Her standard services include 200 keywords from beginner to advanced level at $50 and premium services at $80 for 300 keywords beginner to advance all services delivered in roughly four days.
If you are searching for an SEO keyword researcher with experience, be sure to choose Precious. She has been working at this job since December 2012. She responds at an average time of six hours, and her clients praise her for thorough, in-depth reports with excellent customer service while exercising a lot of patience with her clients.
4. Twocakes
Twocakes deals with amazon keyword researcher/product listing. She introduces herself as one who will add flavour to your product listings, thus the name twocakes. She has a 4.9 rating from 630 reviews and a prize for having many return customers.
All she needs from purchasers is a link to your existing listing, a photograph of your item and important data, or a link to your manufacturer's listing and, if applicable, return policy information.
She responds in an average of 1 hour and has experience of 6 years and 2 months. She offers basic services such as 1 product description, 1 title per product, 5 bullet points per product, and 300 words per product for $60.
Her standard services include, 1 product description, 1 title per product, 5 bullet points per product and 400 words per product for $70.
She offers premium services, which includes all the basic and standard services with the exception of added advantages such as 500 words per product and an added benefit of 7 focus words and an HTML title for $90.
Her clients praise her excellent job skills coupled with good communication skills with a rating of 4.9 as most likely to recommend to a friend. Her comment section is just filled with praises of how great her work is from different countries.
Looking at how excellent her services are, her packages are worth the price, and gauging it with the value of her work, one might be tempted to say it is quite cheap. She is an excellent amazon product listing freelancer who will do your job excellently and keep you coming for more. So, if you're searching for a good amazon product listing, give her a try, and you won't regret it.
What is the difference between Amazon Keywords and other Keywords?
A keyword used to boost one's search engine for a company's website is not the same as the one you would use to optimize one's Amazon listing. Why would that be? The fundamental reason for this is that they have different purposes.
When people search on Google, they primarily search for information, but this is not the case with Amazon. Google helps people see reviews on businesses, find out your precise location and know whether you can match up different products together like ice cream and pie.
If you try searching for 'gyms near me' on Amazon, there will be null search results, and the reason for this is that people don't use Amazon to search for information. They use it to shop.
Consumers use Amazon to find products, like a birthday present or a product they cannot find in their local stores. This is to show that Amazon keywords have the intent of purchasing, not finding information. They direct clients to products that resemble their search terms and, finally, the items they buy.
Consumers use different words when searching for products and when searching for information. Amazon understands this distinction and incorporates it in their search engine suggestions to assist one in finding the goods that best fit their search. More information on the Amazon algorithm may be found here.
How Much Does a Keyword Research Cost?
The price of any SEO service varies drastically. This is why you should calculate how much every click costs for your keywords ahead of time so that they can budget correctly.
The average cost per click on Google Ads, formerly AdWords, is roughly between $1 and $2. Some keywords can be as expensive as $50 per click.
Alternatively, one can use Ubersuggest, which may be entirely free, or the KWfinder tool. Other tools may cost money with the likes of the Long Tail Pro keyword, which costs roughly between $26 and $103 per month depending on the type of program, while Aherfs costs $100 per month.
Final Words
When determining what content to generate, content creators must first conduct keyword research. Keyword research helps you see what terms and keywords people are searching for and the search volumes for those terms and keywords. That is why it is essential to use the services of a professional.