Last Updated on December 27, 2022
Creating an NFT collection doesn't have to be a daunting task.
NFTs can be produced for any digital item. You must choose the thing to make into an NFT first. Large collections of NFTs (10,000+) can be created with the help of services like S!ng.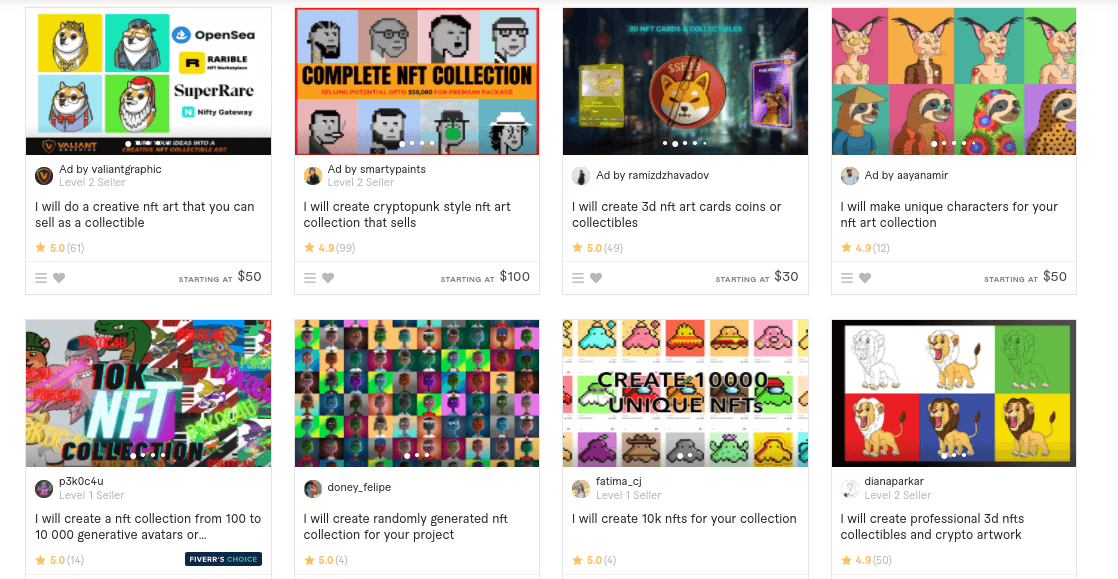 How to Create an NFT Collection
Fiverr is one of the best marketplaces to source large NFT collections. Let's look at some of the best sellers on fiver specializing in this niche market!
1. jfrico – Experienced Level 2 Fiverr Seller With Rave Reviews!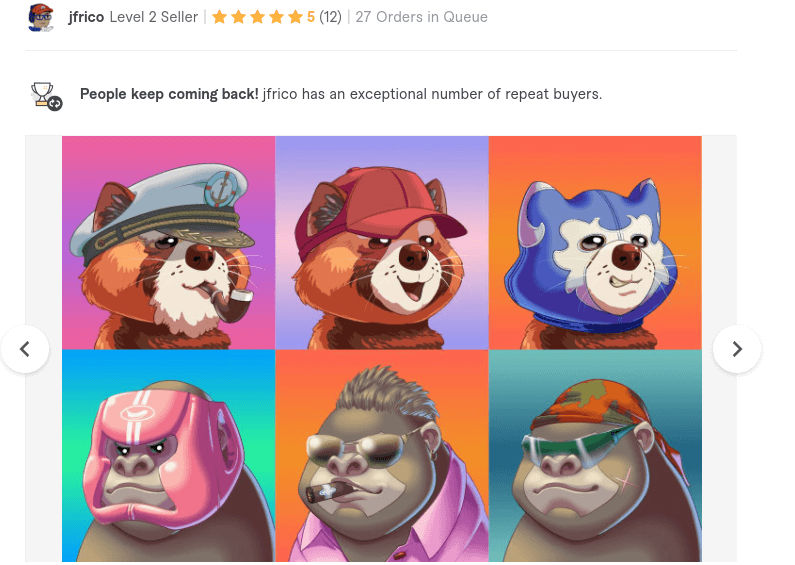 jfrico is an experienced artist and Fiver Seller from Mexico specializing in extensive NFT collections. This seller runs a studio that specializes in Character Illustrations and Cartoons and turning them into NFT collections.
jfrico offers three tiers with this gig, the basic package starting at $350. Choose from three, one thousand, or ten thousand character concepts with this gig.
jfrico has 12 five-star reviews and some feedback that is truly incredible! One review specifically states: "Response time very fast! Wonderful artist and an even better person at heart. Wants what is best for the customer highly recommended."
To check out this and other gigs from jfrico, check out their Fiverr profile now!
2. P3k0c4u – Fiverr's Choice and Level-One Seller with Multiple Five-Star Reviews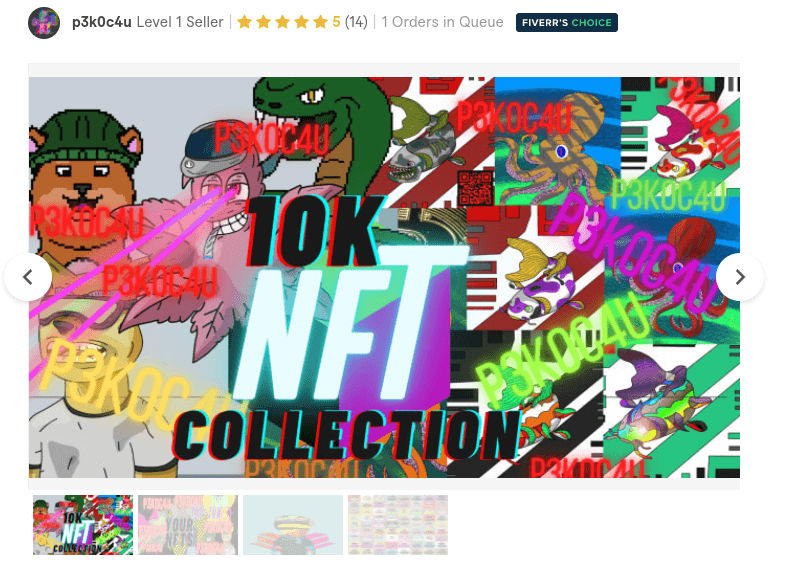 p3k0c4u is a Designer, Illustrator, Pixel, and Machine Learning Artist from Austria. They just joined Fiverr in 2021. This seller focuses on creating a large amount of data and Digital illustration.
This gig ranges from a 100 to 10,000 NFT collection, starting at $550. This gig includes different variations of a Premium base character as NFT.
p3k0c4u has 14 five-star reviews and has been awarded the "Fiverr's Choice" badge for this gig. To get a large NFT collection of your own, check out this seller's gig on Fiverr!
3. Digitalqueen64 – Unique NFT Artist with Collections at 10,000+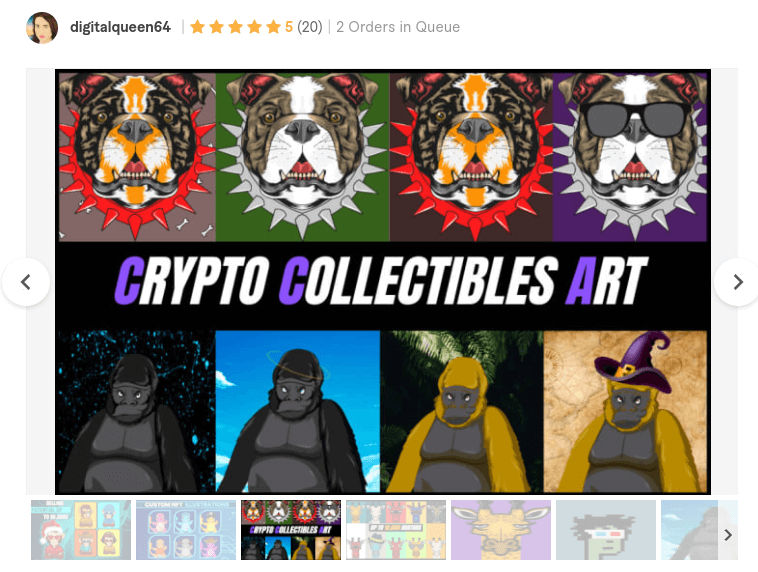 DigitalQueen64 is a unique artist based in Portugal, specializing in creating digital art projects (NFT) with high resale potential. With this particular gig, you'll get one of the most unique NFT collections out there.
Digitalqueen64 offers three tiers with this gig, starting at $225. You're able to choose from one, one thousand, or ten thousand characters with this gig. To check out this unique gig and more from digitalqueen64, check out their Fiverr profile here!
4. S!ng – Create, Store, Share, and Sell your NFT Collections!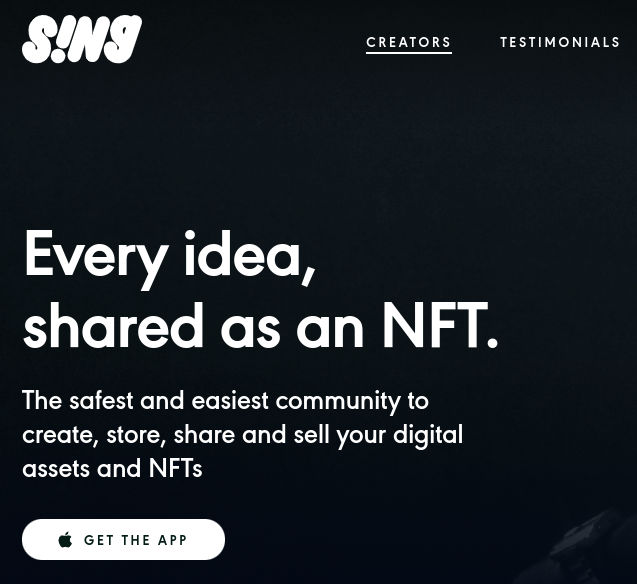 S!ng is a tool used to create and share your own NFT. It is currently only accessible on iOS, but the firm plans to release a macOS version soon and eventually Android, although there is no timetable for the latter. You can just use the website version after you've created an account with the iOS app, as the web edition isn't available as a standalone option.
S!ng allows you to generate almost any sort of NFT because to the app's support for capturing photos, videos, and audio, as well as a file uploader for other kinds of content you've produced that might be transformed into an NFT.
That is significant since there are currently no editing features available; unless you're sharing something at the concept stage, you'll almost always want to utilize the file upload option.
To use S!ng, you must first install the app. After you've installed it, go to the service's sign-up page and give your email address to register for it. You then choose a name for S!ng and select what sort of creator you are from a choice of ten options.
You don't need to know anything about NFTs or cryptocurrency to use S!ng; you simply download it from the App Store, create an account, and you're ready to go.
Can I create my own NFT?
You can create your own NFTs after you've set up a MetaMask wallet.
Go to opensea.io and choose the Create option from the menu bar. Now that your MetaMask wallet is linked with OpenSea, you may begin working. Pick a name for your NFT collection, then click the New Item button to begin adding items.
How much does it cost to create an NFT?
Creating a basic NFT collection might cost hundreds of dollars. That's on the high side.
According to Ethereum, the most popular host for NFTs, or blockchain, the least you will pay to mint an NFT is about $700.