Last Updated on December 28, 2022
NFTs are one of the hottest topics in investing today. From influencers like Gary Vee and Logan Paul promoting their own projects to everyday artists making millions of dollars, it's easy to see why NFTs have generated so much interest.
Even if you have no experience creating your own NFTs, you could still cash in on the 774 million dollar market by being the middle man between buyers and sellers by creating your own NFT marketplace.
Can You Create Your Own NFT Marketplace?
It is entirely possible to create an NFT marketplace by yourself, but it could be extremely challenging depending on your personal skillset.
In order to run a successful NFT marketplace, you must have some background in computer science, technology, or web development. You must also have strong marketing and advertising skills in order to get people to find your marketplace since there is already a good amount of competition. Some of the most popular marketplaces are OpenSea, Superfarm, Mintable, and Rarible.
These marketplaces use smart contracts in order to add the token to the metadata when the NFT is generated. The characteristics and strengths of the NFT are then added, such as the name, address, number, and non-fungible feature.
NFT marketplaces appear like online stores such as Shopify or eBay listings. In order for users to purchase NFTs, they need to create an account with the marketplace and a digital wallet in order to store their NFTs.
In order to attract potential customers, you will need to add descriptions such as the name, price, a photo, video, or gif, or the NFT.
Your NFT marketplace needs to be an online shop, auction, and blockchain platform all combined into one. It should be intuitive for users to be able to create and sell their NFTs on your marketplace and sell them with ease.
In order to make your NFT marketplace stand out from the competition, you should include a shop window. The shop window provides the buyer necessary information such as the price, name description, payment method, rating, and owner.
What Should You Include in Your NFT Marketplace?
You should also create a search bar so that users can find the item they are looking for with ease. You should also include filters divided into categories such as video, art, photos, memes, music so that users have a great user experience by being able to find exactly what they are looking for.
Another essential feature to add is an account membership where users can sign up through email, phone numbers, or social media accounts. There should also be a feature that allows users to easily integrate their NFT wallet. Some popular wallets include Metamask, Coinbase, and MyEtherWallet.
Other essential features to include are the trading history of the NFT, where users can see the event, price, name, buyer, seller, and date of every transaction.
It is also crucial to include reviews and ratings, so new buyers feel comfortable when placing orders and contacting sellers. A five-star rating system with comments is an excellent way to show transparency between buyers and sellers.
A push notification system is a great way to bring in interest by alerting users when there are new updates or status changes to NFTs they have an interest in.
A support service is vital to help customers who have had problems with their orders so that your team can quickly resolve their issues. There are different options you can try including a chatbot, call-center, or email support.
As you can see, creating your own NFT marketplace requires many steps and a vast amount of knowledge in various topics. The trading platform for selling and purchasing NFTs is a complicated software to understand. Rather than doing this all by yourself, a better solution would be to hire an experienced developer and to use an NFT development service.
How Much does it Cost to Create an NFT marketplace?
Creating an NFT marketplace can be costly, depending on which services you need. I included a chart that consists of the prices based on the workers' location of typical features needed for an NFT marketplace.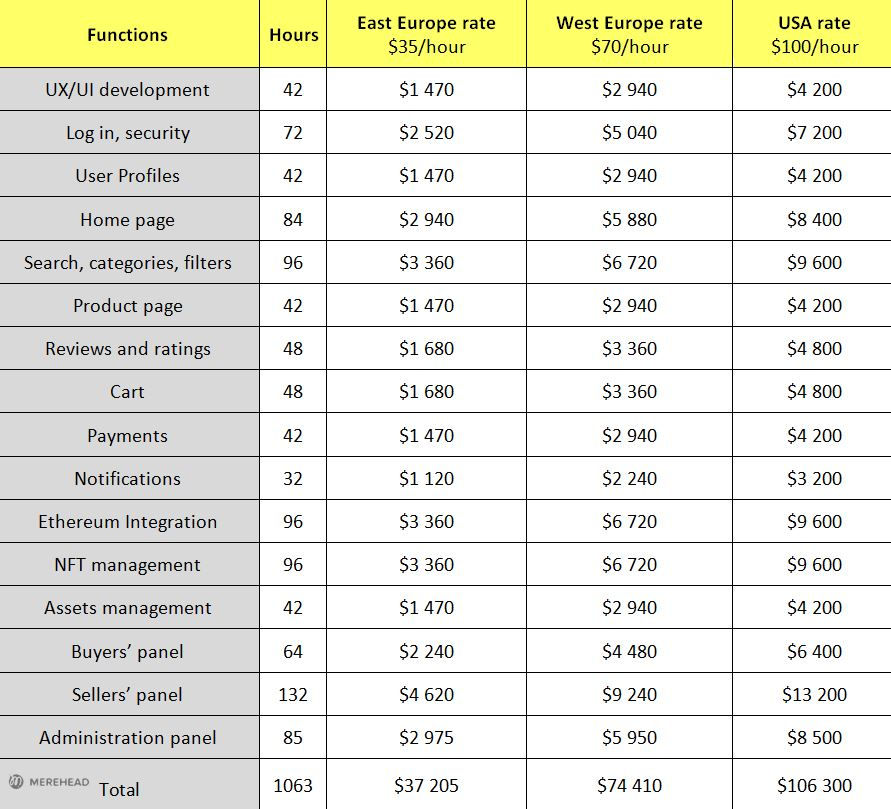 As you can see above, using a web development company would cost you tens of thousands of dollars to develop your own NFT marketplace website. A better solution would be hiring a freelancer to do the same job but at a much more affordable price.
Who are the Best NFT Marketplace Website Developers?
Fiverr is an excellent service to use in order to find a freelance NFT marketplace website developers.
Two of the best NFT marketplace website developers are rose_ webs and alabi_team:
1. Rose_webs
Rose_webs offers basic, standard and premium services. They include unlimited revisions for each service, which is a huge advantage for you so that you can get exactly what you want from this seller. Each service also offers
Include Design
NFT Promotion
Upload to Auction Site
For the standard service it will cost you $200 and they will create your own fungible token that will function on your website and will deliver it in 10 days.
Each higher tier service offers more; for example for the standard service, priced at $1,000 they will create an NFT website with basic features and functionalities and deliver it in 14 days.
For the premium service, they will create a complete NFT website with a market place and deliver it in 21 days.
2. Alibi_team
Alibi_team is a great service if you want a website design that really stands out and brings a great user experience.
They also include a basic, standard, and premium service. For their basic service priced at $250, they will be your developer for design and develop frontend of NFT marketplace website
Some of the benefits of this service are:
7 Days Delivery
Include Design
Upload to Auction Site
For their standard service priced at $800, they will be your developer for design and develop frontend and backend of NFT marketplace website. They also include:
21 Days Delivery
Include Design
Upload to Auction Site
And for their premium service listed at $2,500, they will complete your Nft marketplace and website developments. This include the following:
30 Days Delivery
Include Design
Upload to Auction Site
As you can see, both of these freelancers offer services that of great value and quality for building your own NFT Marketplace.