Last Updated on December 21, 2021
Pinterest management services can offer their clients a lot of benefits. They can help their customers to grow their audience, increase engagement and improve the traffic to your website by using this social media platform.
Using Pinterest is a way to expand your brand's audience and drive traffic to your website or blog, but doing so can be tricky to manage yourself. Luckily for you, there are plenty of services on the market that can help you manage the task of managing your business on Pinterest, and they aren't as expensive as you might expect!
What are the best Pinterest management services?
In my experience, Fiverr is one of the best platforms to find a highly skilled and affordable Pinterest Manager. Along with the management of your account, a lot of Fiverr sellers also offer options for original board and pin creations. Here are the five best Pinterest management services that I've found on Fiverr!
1. smmjahid – Level 2 Fiverr Seller & Over 225 Five-Star Reviews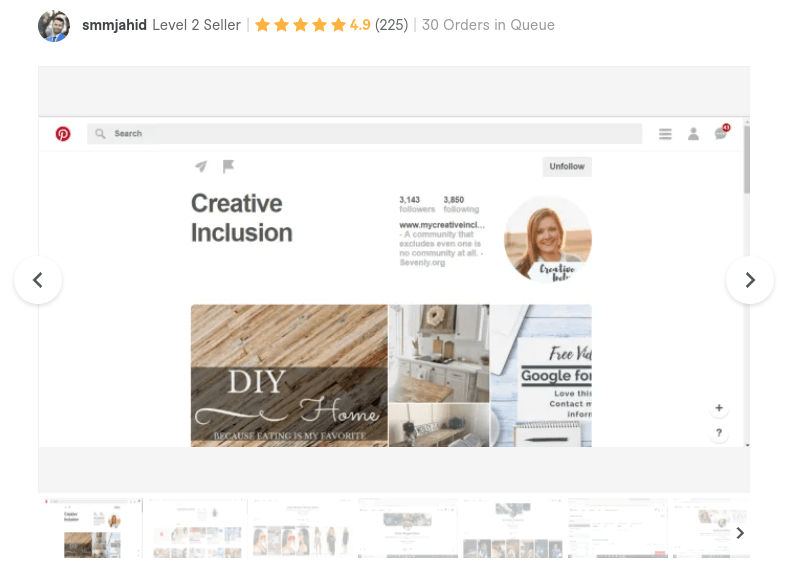 Smmjahid or Jahidul Islam is a Social Media Marketing Specialist with more than four years of extensive marketing experience and knowledge. This Fiverr gig is one of the more unique Pinterest management gigs on Fiverr right now!
Smmjahid offers some of the best marketing plans for your Pinterest business as well as the creation of new boards and even a basic account set up if you're starting from scratch! Their Level Two experience and consistently positive customer feedback proves that smmjahid is an experience Pinterest manager with the experience to grow your brand
Key Features of smmjahid's Gig
Some of the key features of this sellers gig include:
They will find and join relevant groups.
Use the most trendy, relevant, and popular hashtags for brand recognition and awareness.
Comment on the related post and make actual engagement, real followers, accurate results!
100% manual or organic service.
Money-back guarantee!
Over 220 five-star reviews
Fast-Delivery!
This seller is one of the sellers with the most feedback in this niche on Fiverr. Their gig comes with a guarantee of quality and satisfaction. Check out this and more gigs from smmjahid here!
2. malihashathin – A Pinterest Business Optimizations Specialist With Hundreds of Five-Star Reviews!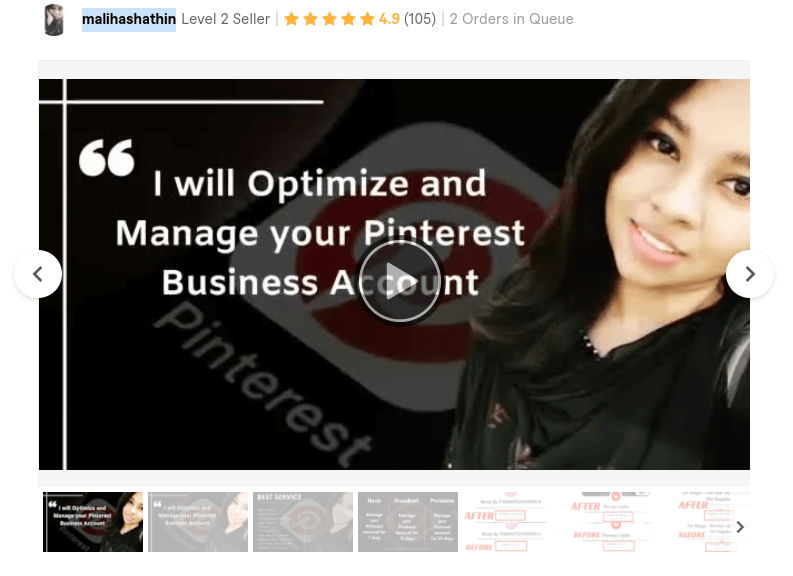 Malihashathin or Maliha Shathin is Bangladesh's expert on social media marketing. They are skilled on Facebook, Instagram, Pinterest also in Canva designing. With a video explaining their process and connected social media, it is clear they go above and beyond to create a working relationship with their clients, and the raving reviews really reflect that!
With over 100 five-star reviews, Malihashathin has a proven record of high-quality delivery with a customer service mindset.
They provide some proven strategies that will take your business account to the next level, including
Basic Setup
SEO Service
Drive massive traffic to your website
Follow/Pin/Repin Strategy
New Boards Creation
You can choose either seven days, 15 days, and 29 days of services, and with a ton of five-star reviews and great feedback, this service is sure to take your Pinterest business to the next level! Check out this and more gigs from this Fiverr seller here!
3. digiqueen2 – A Growth Focused Level-One Pinterest Manager!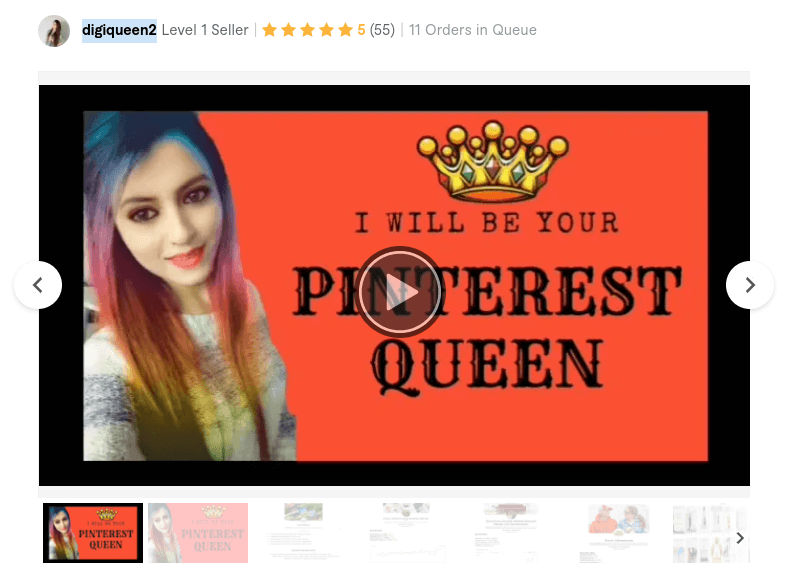 Digiqueen2 is a Pakistan-based Pinterest Management expert and in her words, "wants to be your Pinterest Queen!" This seller comes with confidence in their work and over 50 five-star reviews to back it up.
The So-Called Pinterest Queen also boasts one of the more affordable gigs on Fiverr, and despite being a level one, has an ample amount of gig reviews that praise her for quality and on-time work! If you're looking for an affordable entry-level seller, the Pinterest Queen may be your best bet!
Key Features of Digiqueen2's Fiverr Gig:
The Pinterest Queen comes with a working knowledge of Pinterest and how it can help businesses grow. With this gig, she will help you with my rich experience and provide you with:
Setting up your business account
Creating your boards and adding Featured boards.
Regularly adding pins from your website or eCommerce store
Setting up Rich Pins
SEO Optimization of your Boards and Pins
This Fiverr Seller has a real working knowledge of the platform she is offering management of and plenty of five-star reviews positive feedback to prove that she is well-versed in Pinterest Management! Check out all of Digiqueen2's gigs on Fiverr!
4. mosesgoldman3 – A Pinterest Management Level Two Seller Offering Over 30 Days of Service!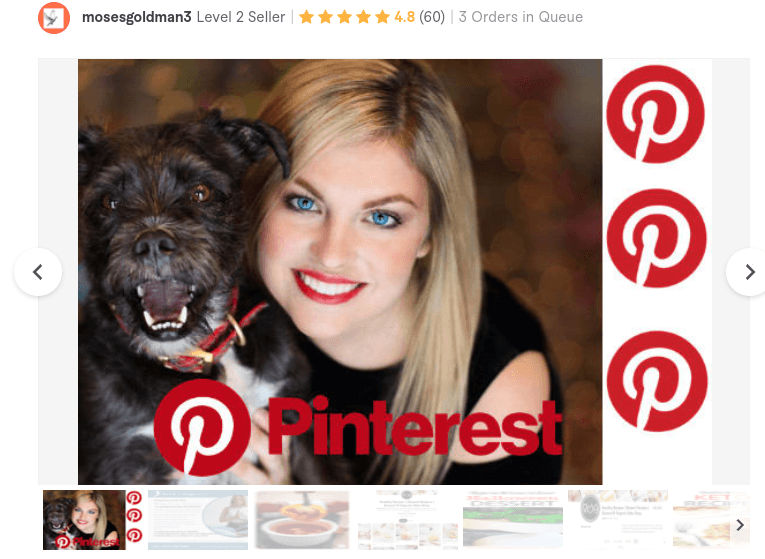 From the United States, mosesgoldman3 specializes in Pinterest Promotion and Pinterest Marketing. This seller comes with over 55 five-star reviews, which is on the higher end for this niche. Along with all of the reviews, there is raving feedback praising the quality and dedication that this Fiverr Level Two seller offers their clients.
In the gig description alone, mosesgoldman3 uses a lot of terminologies specific to Pinterest Management that really prove they are well-versed in what they are offering. You can also see a variety of examples of their work in the gallery for this gig. Their images and pins look to be very high quality.
Key Features of Mosesgoldman3's Fiverr Gig
Some of the best features of this Fiverr seller's gig include the services that come with it. With each gig, no matter the tier, they provide excellent service in:
Pinterest SEO Services
Viral Pin Design
Pinterest Board Setup
Pinterest Copywriting
They offer three tiers of Pinterest Management options, including:
A Basic Package- manage, optimize Pinterest + daily pinning for 30 days
A Standard Package- manage, optimize Pinterest + daily pinning for 30 days + 10 new boards + 10 new pins
A Premium Package- manage, optimize Pinterest + Tailwind + daily pinning for 30 days.
Each of these gigs comes with an impressive 30 days of dedicated services and as you progress from the basic package to the premium, the number of pins and new boards increases. At the premium level, it seems you're really getting a lot for the price!
With over 55 five-star reviews, Mosesgoldman3 delivers a high-quality product with results to show. The customer reviews are raving! With this gig, the seller offers three tiers of management options that include 30 days of management options, new board and pin creation, and more! Check out more of their gigs on their Fiverr profile today!
5. sohrab54 – A Pinterest Marketer With Over 260 Five-Star Reviews on Fiverr!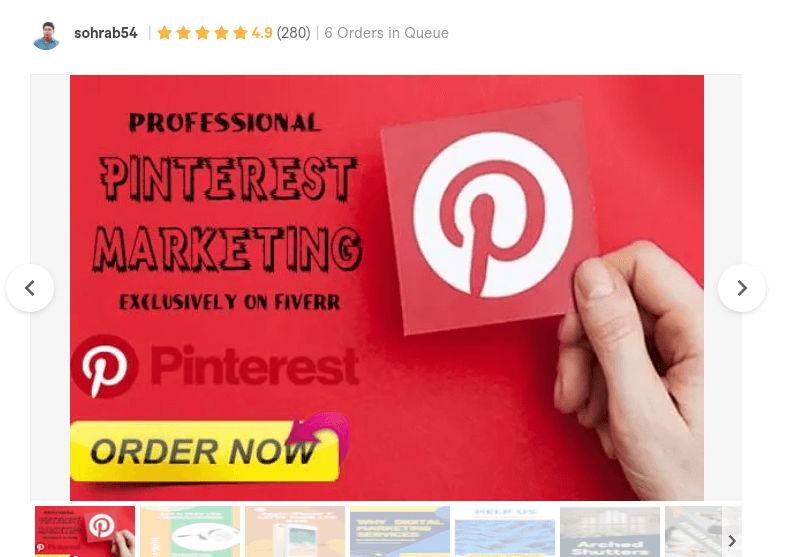 Sohrab is a Pinterest manager from Pakistan. Though their profile doesn't detail a level for this Fiverr seller, it DOES come with over 260 five-star reviews and some impressive customer feedback. Most of these reviews applaud Sohrab for taking the time to cater to each of their clients and create an outstanding Pinterest marketing strategy.
Their Gigs offers:
A fully professional way to handle the work
SEO Keyword rich Pins and Boards
High-Quality Custom Pins design
They offer three tiers of management services, including a basic, standard, and premium package, per usual on Fiverr. The one thing that makes this gig stand out is that with this package they offer an increasing number of boards and pins per level. 30 pins at the basic level, 60 at the standard level, and an impressive 100 pins at the premium level.
This truly seems like the Fiverr gig that gives you the most content for what you're paying for, so if you're looking for quantity AND quality check out this and more gigs from sohrab54 on their Fiverr profile today.
How much does Pinterest management cost?
A monthly Pinterest management fee might range from $300 to $2000, depending on the company. Clients may also pick from a variety of packages at the higher end of the spectrum. A very basic administration package is typically available for clients at the lower end of the price scale.