Last Updated on July 10, 2022
What do you get when you combine YouTube's user-sharing capabilities with Minecraft's community gameplay?
You get Roblox, a never-ending virtual candy store of free multiplayer games made by its users all over the world. Providing diversity, creativity, competition, and socializing at its finest.
It features one of the most customizable video game environments, and while there are so many interesting things to customize, certain aspects would necessitate the use of greater artistic and designing talent.
This is why we'll be introducing you to the 5 recommended Roblox commission artists from the best marketplace, their services, and their costs.
What are the best Roblox commissions services?
Below you'd find our list of the best artists most suited to handle your Roblox projects, based on our experience:
1. Zorshu – Best Roblox clothing commission Artist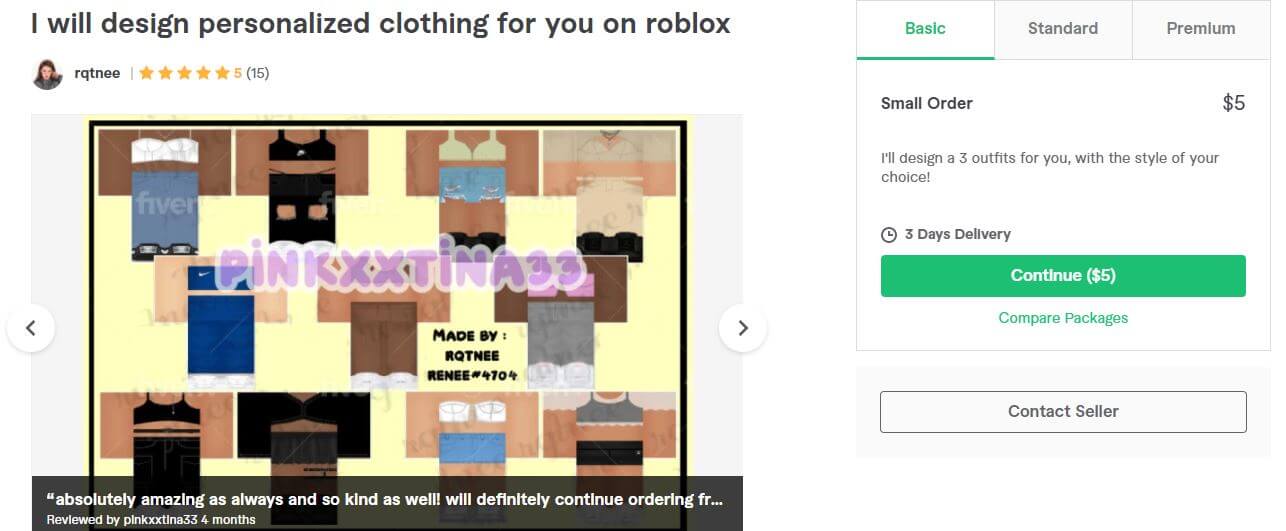 Zorshu is your go-to pro if you want to spice things up and create custom clothing for your Roblox avatar.
Zorshu is a graphics artist as well as a Roblox fanatic, she offers to create custom clothing for your character in any style, which are, but not limited to, soft, grunge, minimalistic, basics, and more! The sky is the limit with this artist.
For $10, she will design outfits (Roblox shirt and pants) in any style of your choice, with a three-day turnaround. Sounds too good to be true, right?!
However, this is a real offer and the quality is excellent too. It's only one of the props of utilizing Fiverr.
As if that wasn't enough, she also has a special offer where you can get a free outfit on your next order if you refer someone.
So, what exactly are you waiting for?! Connect with this artist and check out her Fiverr gig.
2. Max_legends – Budget-friendly Roblox GFX commission
GFX is the real deal, and no other seller on the platform comes close to Max.
Max is a professional GFX artist who has received over 600 positive ratings on his work. His services include Custom Roblox GFX, Logos, Thumbnails, Banners, and pretty much any kind of GFX. He's the main package!
His prices range from $5 to $15, with 1-3days turnaround time and multiple rounds of revisions until you're satisfied. All of this shows that he is self-assured in his abilities; you just can't go wrong with Max.
He's a full-time freelancer that works on the platform till late at night. His typical response time is 1 hour, so you should be able to reach him and receive a response within that timeframe.
If Max sounds like your guy head over to his Fiverr gig now!
3. Strikians – Professional Roblox map/model commission
Are you looking to create your map in the game but don't know how? or you just want to hire a professional to help with the job. Then Strikians is the man for you.
Strikians is a professional Roblox modeler and mapper with a wide range of skills. He'll design a well-detailed map with no bugs, defects, or FPS drop without using any ready-made objects from Roblox Studio.
Your map can be anything from an anime village to a complete metropolis with a bustling atmosphere. His job is to bring your world to life, and he does it quite well.
His prices range from $100 to $300 depending on the project's complexity, and he guarantees delivery in 6-14 days with a single modification.
Looking for a professional to bring your ideas to life? Send Strikians a message.
4. Blox_Designs – Roblox logo commission, with lightning-bolt turnaround time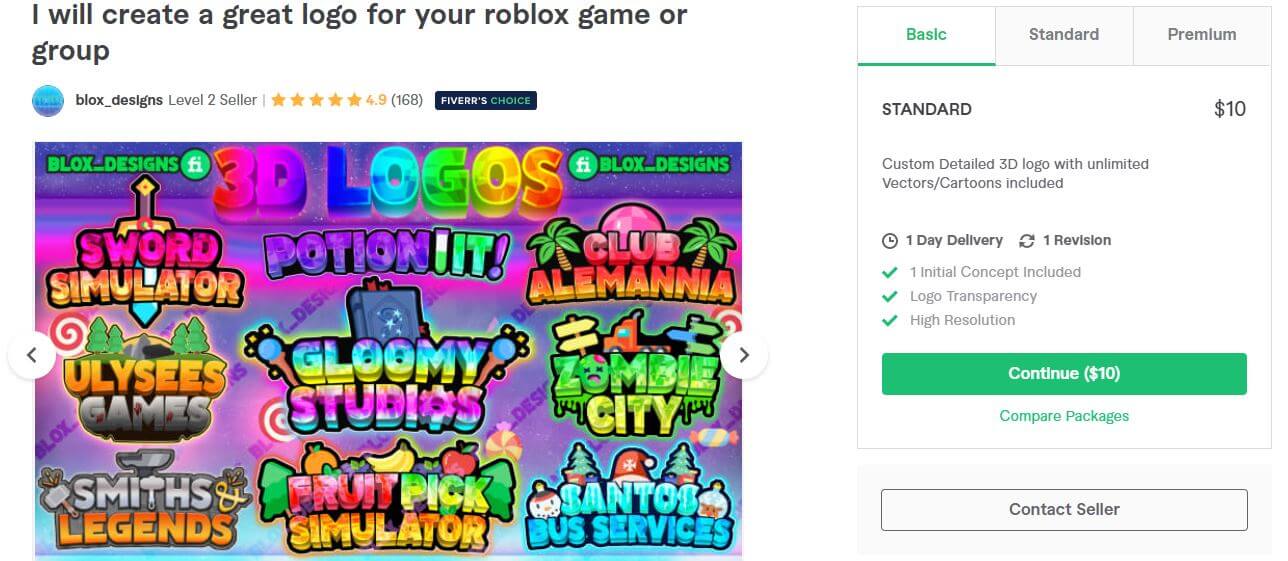 Looking for a unique logo for your Roblox game or group (Or any game)? Raz is the guy for the job.
Raz is a professional graphics designer, with years of experience in Photoshop and mainly makes Roblox-related creations, such as icons, logos (2D and 3D), game GUIs, and much more. His price ranges from $10 to $20, with a lightning-bolt turnaround time of 24hours with some rounds of revision.
Raz is clearly incredible at what he does, you might as well just check him out. Here is a link to his Fiverr gig profile if you'd like to learn more!
5. Nenoyt18 – Roblox digital art commission designer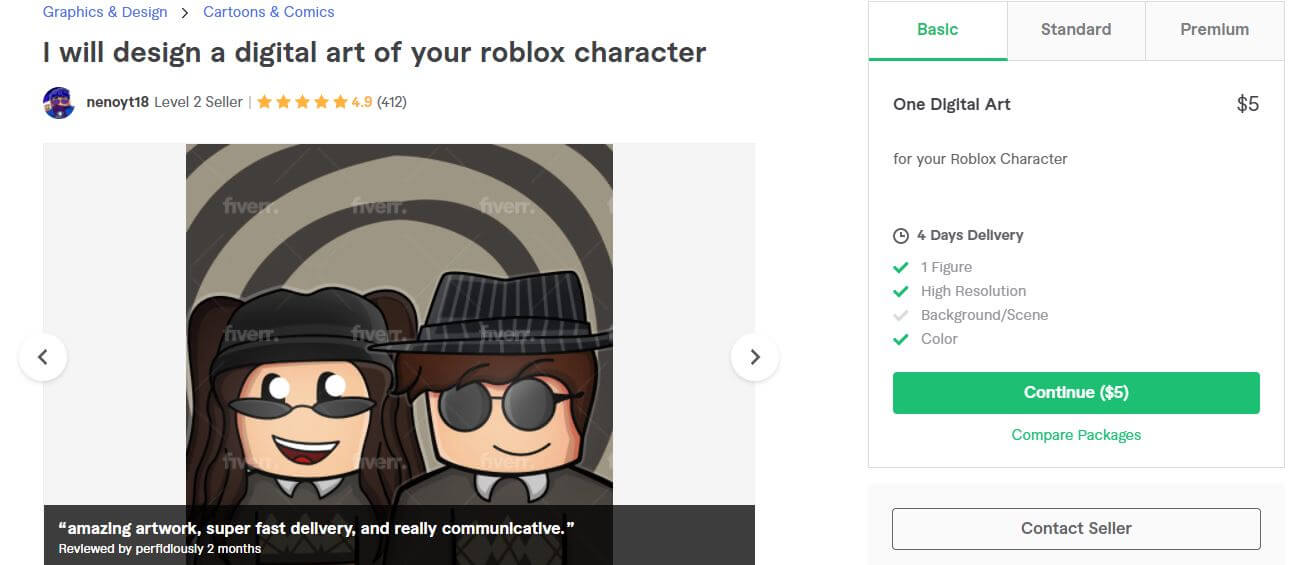 Nenoty18 is a level-two seller with over 400+ positive reviews, receiving praise for being highly communicative and efficient, which is exactly what you want in a freelancer.
He is a digital artist that is exceptionally talented at designing Roblox Digital Art Characters. He turns your Roblox avatar into a piece of digital art, and he can even add extra features if you want them.
His costs range from $5 to $15, and he guarantees delivery within 4 days with several rounds of revision.