Last Updated on December 27, 2022
There are some challenges that are universal for small business owners across the globe.
Generally speaking, these entrepreneurs are always looking for ways to save time and money so that they can focus on growing their business.
One common problem faced by these business owners is the complexity and time consuming nature of making and receiving payments. There hasn't been a tool that solves this problem in the digital age until now.
In this Melio Payments review, I hope to inform you about the free, simple, and secure digital payments solution designed to help small businesses in the US gain control over their finances, increase cash-flow, and ultimately give back their time to focus on growth.
Bottom Line Upfront (Why I love Melio)
If you are a small business owner in the US struggling with your payment system, there's no question that I would recommend Melio to you.
The software is renowned for its simplicity with which it helps small business owners save time and money, and it's virtually free to use.
After testing and comparing multiple other similar services like Bill.com and Plastiq, I am still confident that they are the best choice for most US-based businesses.
One key feature that you must know about, and a primary reason why businesses partner with Melio, is because they allow them to pay the clients by whatever means they want, regardless of the client's preferences. They want a wire transfer but you want to pay credit? No problem. Pay credit through Melio and they will work their magic on the back end to ensure your clients receive a wire transfer.
Melio is an industry leader, they've already partnered with the top accounting software in the world, and they've also recently earned a $110 million dollar investment which values the company at $1.3 billion.
This service is on the up-and-up and will only get better with time.
What is Melio?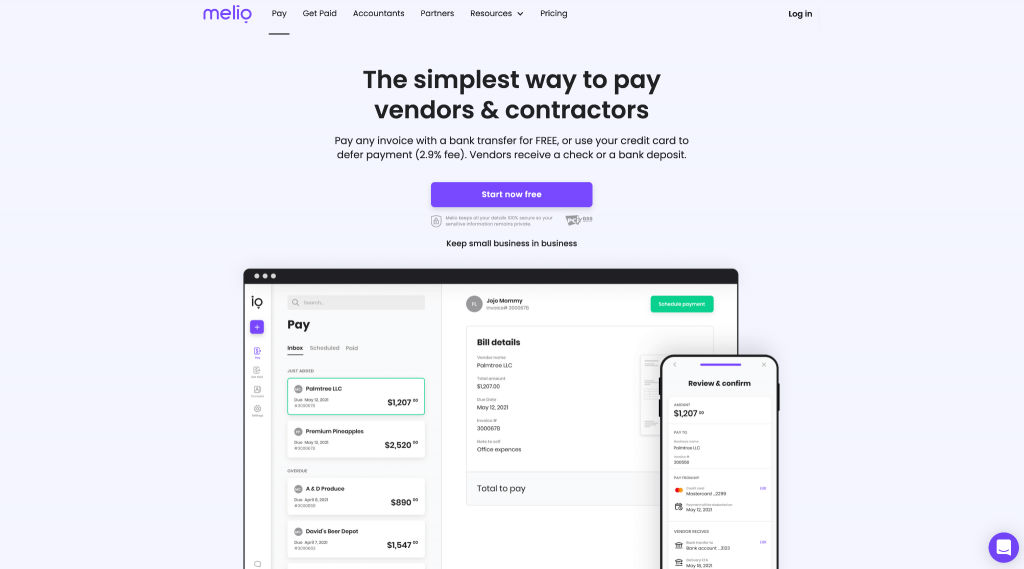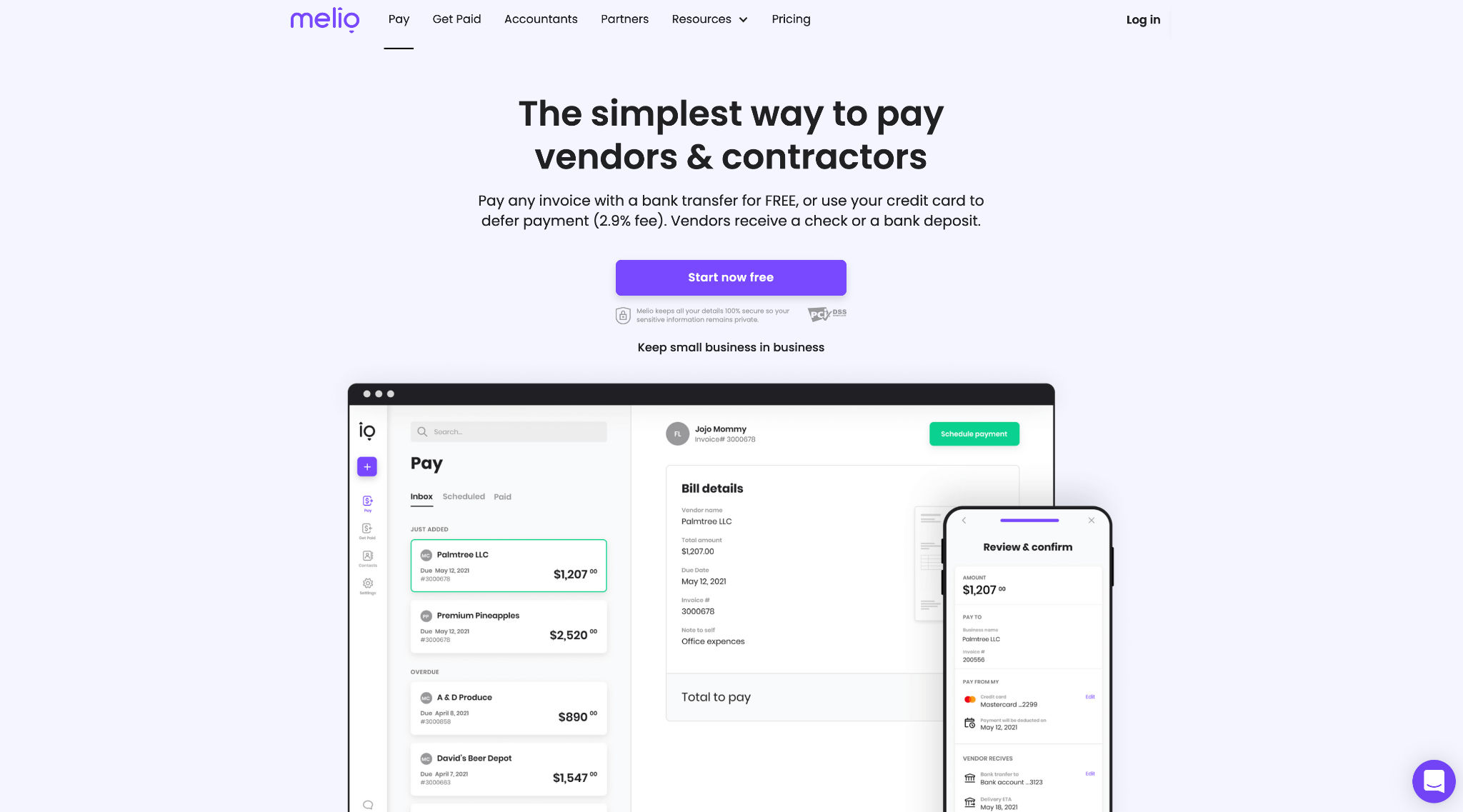 In short, Melio is a free bill-paying tool for small businesses in the US. The founders aspired to build more than just an accounts payable tool, but rather a tool which helps small businesses save time, improve cash flow, and simply keep up with business – and they succeeded.
Melio simplifies the financial world of small business by allowing them to pay most of their bills for free using bank transfers or credit cards, and by delivering payments on their behalf.
Not only can you pay others using Melio, but you can also have your customers pay you. One aspect of Melio is their free customized pay-page called Melio.me, which allows a business to request and receive payment from their customers using credit cards or bank transfers.
Key Benefits of Melio
Below you'd find our list of the best benefits Melio has to offer:
Ease of Use
Ultimately, the biggest benefit and competitive advantage that Melio offers is how simple and easy the platform is. There are a number of ways in which this software is simple to use, and makes the lives of its users simpler, too. Let's break down each one:
Free to Use
Being a small business owner that is always concerned with time and money, you want to know the cost before considering anything else about a new tool for your business. So, let's start there.
Great news – Melio is essentially free! They don't charge anything to trial the platform, or to sign up, or a monthly subscription fee, or to add new vendors or clients, or when you surpass a certain number of bills or transactions, nor do they charge for transactions in general.
The only cost of using Melio is a 2.9% charge on any credit card transaction, including both payments for bills and payments from customers.
Consider that box checked as it's easy to get started without having to pay upfront, and you won't find a more affordable option on the market today.
Simple and Convenient Functionality
At a time when more and more people are substituting in-person transactions for purchasing on the internet, the founders of Melio have designed a tool specifically for small businesses and the payments they need to make.
Thus far, the company's mission has been to help small businesses in the US transition seamlessly into the digital age by building a system that allows them to replace paper invoices, snail mail, and bank transfers that may take multiple days to clear, is simply out of date, and certainly makes life harder on business owners in today's online world.
With Melio you can both make and receive payments simply and digitally. It's easy to add a bill and pay it via debit, bank transfer, or credit. You even have the ability to be proactive and schedule payment for a particular bill.
Also, maybe most importantly, Melio recognizes that not all vendors prefer the same form of payment, and their preferences may not always line up with yours. Melio solves this problem. Say your vendor wants to be paid by ACH transfer but you have little cash in the bank, and need to pay by credit. Melio has taken this into consideration, and has a solution. Pay by credit, Melio works magic on the backend, and your vendor gets paid by ACH transfer. Both parties continue on happily. This is a major benefit of Melio and a big reason why so many businesses partner with them.
Melio has even partnered with the biggest and well-known accounting software in the world, Quickbooks, allowing for the first time your accounting and payments systems to live in one place.
Conclusion: Melio Payment Review
In conclusion, there's no doubt that Melio is at the top of the digital payments game.
The world has changed drastically over the past two years, with one of the biggest changes being the further push into the digital world, and that is only going to continue. This is extremely relevant to small business owners, as they must adopt technologies that make them more effective in the digital age.
Melio is simple, free, loved by their customer base, and is currently the digital payments tool of choice for any small business in the US.
I hope this Melio payments review is helpful to you and your small business!
FAQ about Melio
Here are our answers to the most common questions about Melio:
Can I trust Melio?
The short answer is – yes. Melio uses secure technology, they hold your money in protected accounts with partner banks, they subject all employees to background checks and security training, and they investigate all reported vulnerabilities.
Most importantly, Melio is PCI compliant. This means that they have a certified process designed to protect your sensitive data, and this process is subject to an annual independent security audit to ensure its validity and effectiveness.
How does Melio make money?
Melio doesn't charge a sign-up fee or a subscription fee or a fee for surpassing any sort of limit, so, how do they make money? Melio does charge a 2.9% fee for any credit card transaction via their software. This includes bill payments with a credit card, as well as payments made via credit card from a user's customers.