Last Updated on December 22, 2021
Thinking about creating your own FiveM server? Want to make it unique and different than the rest of the competition? Looking to add some customization options that would take your FiveM server to the next level?
This guide will teach you exactly how and where to find awesome custom FiveM scripts for sale that would blow your mind. Read on to find out!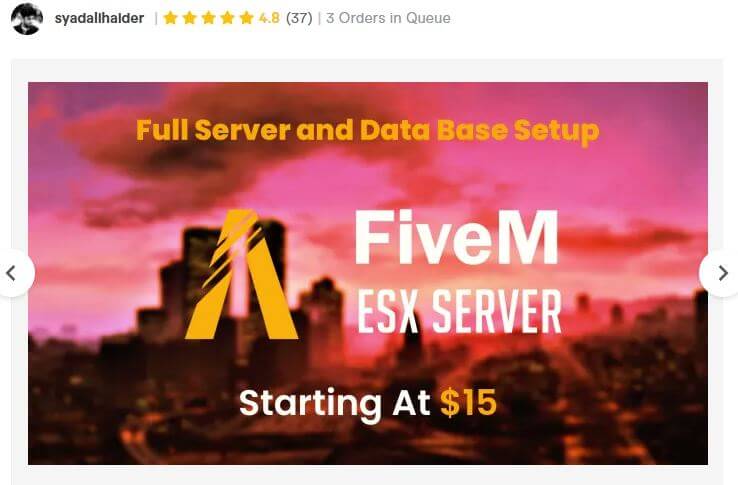 If you have no coding knowledge at all and you are looking to create your own FiveM server – this type of service would be perfect for you.
By purchasing one of the gigs here, you'll hire the personal services of a developer who would take care of 100% of the server setup process, including both the initial server creation and adding plenty of additional scripts.
This package includes up to 300 unique exclusive FiveM scripts, such as: New heists, a banking system, a new phone system, advanced car dealing, new door locks and Tokovoip.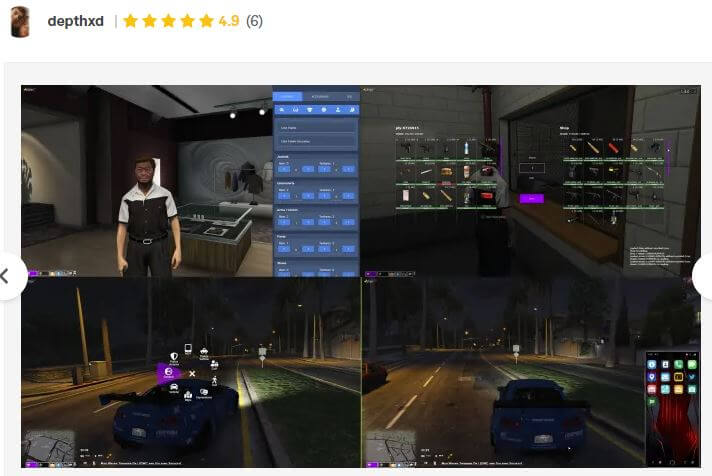 If you are looking to create a GTA 5 Roleplay server just like NoPixel (or at least the closest version available), then we highly recommend you check out one of the of the services on this page.
The developers you'd be able to find there have developed dozens of different FiveM RP servers, including the following:
Anarchy RP
Gorilla RP
Revolution RP
Intoxicated RP
Sun City RP
AnarchyRP 2.0
PhoenixRP
The packages you'd get on those gigs offer plenty of features that would make your roleplay experience much better, with mechanics that are very similar to what you get from a big roleplay server such as NoPixel.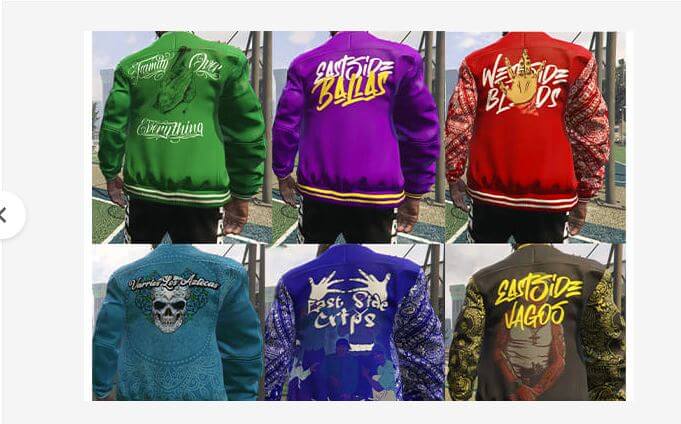 Want to go beyond the regular clothes, hairstyles and accessories that GTA 5 has to offer? This type of gig would give you access to a huge pack of custom clothes that would your server stand out from the crowd and would allow your players to customize their character to the max.
Some of the things you'd find in the custom clothes pack offered on Fiverr:
Custom gang clothes for groups such as: Ballas, Aztecas, Grove Street Families, Vagos, and Lost MC.
Special police clothes.
Custom clothes for Weazel News.
Custom tattoos.
120+ new female hairstyles.
80+ new male hairstyles.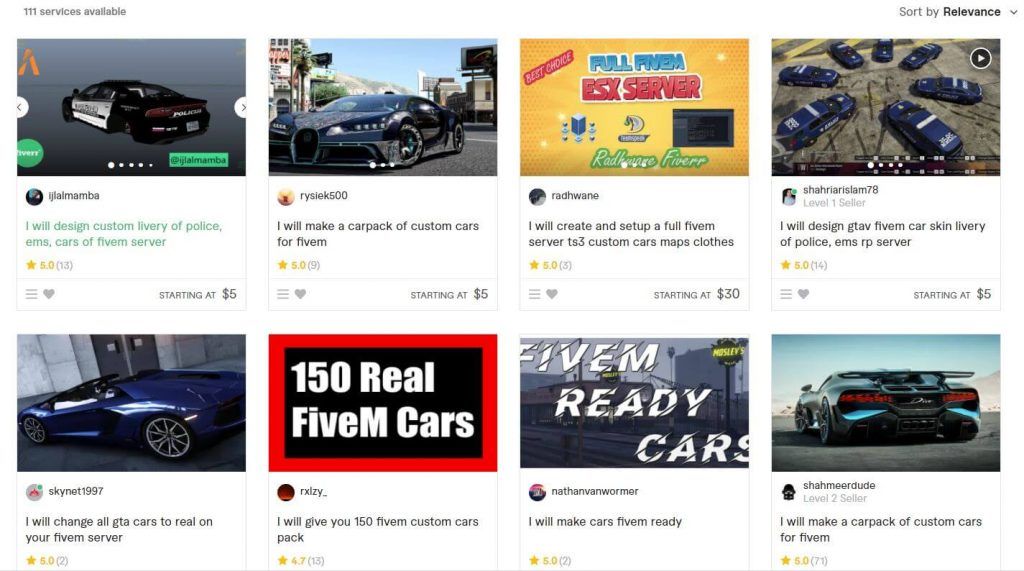 Looking to add some fancy custom cars into your server? Cars that can't be found in the regular game? Well, this service would provide you with a custom car pack full of various different unique and awesome cars, entirely for your disposal.
Those car packs tend to cost between $5 to $30, and would give you up to 40 unique custom GTA cars.
Looking to spice up your server with custom tattoos? Well, it's totally possible with FiveM. All you need is to hire a 3D modeler on Fiverr.
There are plenty of sellers over there who can either give you a list of ready-togo FiveM custom tattoos, or even create brand new custom tattoos based on your suggestions. The usual go-to price for this type of service is around $50.
One of the coolest things about GTA 5 are the crazy interior environments the game comes with. But you can always take it to the next level – and add over 100 new unique interior mods to your FiveM server using this MLO pack.
This list of unique MLO interiors contain the following places:
Pillbox hospital
Jewellery store
MRPD
Paleto Bay MLO's
Prison
Ballas MLOs
Bennies
Boat school
Vagos trap house
24/7 Plaza
Apartments
Bahama Mamas (bar)
Burgershot (fast food)
Car dealership
Car Exhibitor
Casino
FiveM ESX scripts / server setup
ESX is short for Essential Mode Extended, which is the most popular framework for creating a working roleplay server inside FiveM.
If you are looking to create an ESX server on FiveM and don't have the knowledge to do so yourself or want to customize it beyond the standard tech, then our recommendation for you is to use one of the Fiverr gigs here.
For the mere price of $15, you can find a developer who would setup the whole server for you in less than 3 days. It's an hustle free solution, and with this attractive price there's no reason for you not to take this deal.
Further reading on SMBillion: Choose the right FiveM hosting and learn exactly how to start a FiveM server in our getting started guide.