Last Updated on November 13, 2022
Looking for an awesome book editing service to turn your novel into a complete product that can get released?
We have tested over 20+ book editing services and companies over the last 3 months, and in this article we will share the 7 top book editors we managed to find.
Want to see our results? read on!
What Are the Best Book Editing Services?
Mentioned below are the best book editing services that you can find.
These book editing services and companies vary in experience and their specialization, but share one thing in common – they can all help make your book better.
So, without further ado, let's get into the list of the best book editing services to try this year: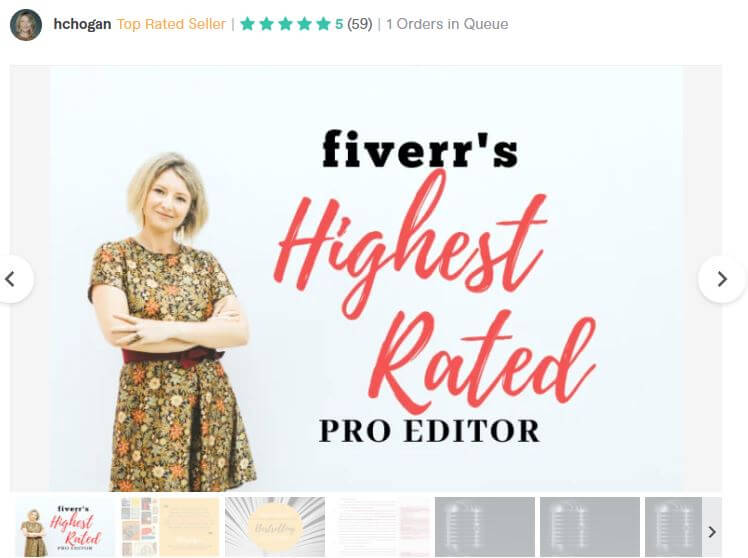 Cate is a seasoned editor from Indonesia. She has edited over thirty Wall Street Journal, Washington Post, USA Today, and 3 Amazon Top bestsellers. Cate has worked with the best indie and, traditionally, authors in the narrative industry. She also helps budding authors navigate their first manuscripts.
Her service covers structural and in-line editing of works of fiction and memoirs. Her intensive editing included inserted comments concerning character arcs, plot, tone, pace, among other stylistic elements. She proves over 30 minutes of audio notes that cover the SWOTs of your work. Her comments are applicable, practical, and immensely enhancing.
Key Features:
Fiction and memoir editing
Structural and in-line editing
Clear communication about custom quotes
Pros
Seasoned editor who has worked with the best in the industry
Open to communication
Quick delivery
Constructive criticism along with deep diagnostics
Clear comments through audio messages
Pricing
Cate's services are accessible in three segments. Her basic package costs $456 and includes commenting on the first 4000 words along with detailed audio notes. This package is good for opening books.
Her standard package costs $508 and includes audio notes and comments on the first 5000 words of your book. Through this package, she also delves into plot analysis and character development.
Her premium package costs $560 and includes audio notes and comments on the first 6500 words of your book. This package is great if you're looking for an editor to make your book presentable enough for agent submission.
If you want to get a short story or an entire book edited, you can contact her for a custom quote.
2. Sam Wright – Most affordable book editing service
Sam is an experienced editor from the United States. He has editing experience with Penguin Books and EditMOJO. He provides sentence-level editing services as well as proofreading services.
His sentence-level package focuses on grammar, punctuation, and sentence structure. He also focuses on pacing, consistency, tenses, clarity, and dialog correction. In case he spots some developmental issues in your manuscript, you will be provided with due notes.
Sam's proofreading service includes punctuation and grammar checks. His premium package includes heavy editing. You can expect to be asked to hire this service for translated, transcribed, or time-consuming work.
Key Features
Proofreading, copyediting, and heavy editing
Genre and style flexibility
Pros
Professional communication
Sample edits
Timely delivery
Quick response
Pricing
Sam's editing rates are listed per 1000 words. He charges 5 for proofreading, $10 for copy editing, and $20 for heavy editing. You will have access to unlimited edits if you hire his services for copy editing and heavy editing purposes.
Kerrie is a passionate proof-reader from the United States. She guarantees to treat your writing project as her own. Her service is quick and efficient. Your manuscript will be error-free when she is done with it.
She can spot minuscule mistakes quickly. The draft you will receive will be completely devoid of grammatical, punctuation, and sentence flow errors. Kerrie offers proofreading services for all genres and writing styles. The changes can be tracked through Microsoft Track Changes.
Her average delivery time is 4 days for every 500 words, but you can avail of the extra fast option to receive your work within 24 hours.
Key Features
Proofreading
Editing for all writing styles and genres
Pros
Native English speaker
Over 25 years' experience
Timely delivery
Clients receive two copies – Edited and Changed
Trackable changes
Pricing
Kerrie charges $5 for every 500-word project. The delivery time for this cost is about 4 days. However, for a custom rate, you can get extra fast delivery.
Pikko's House is a book editing company owned by Crystal Watanabe. The company provides beta reading, proofreading, book formatting, and editing services.
Pikko's House's developmental editing services provide the manuscript file with an extensive editorial letter and commentary. They provide advice on pacing, story arc, and organizational polishing.
Their line-editing service includes suggestions through Microsoft Word's Track Changes feature. This edit focuses on grammar, sentence flow, spelling, punctuation, and continuity. The copy-editing service changes errors in grammar, formatting, and word usage.
Key Features
Book editing company
Developmental edit, copyediting, and line-editing
Pros
Prompt replies
Exemplary quality results
Collaborate working experience
Pricing
The company claims that if you want to receive a book ready for agent submission or publishing, you should not opt for the bronze package.
The bronze includes a single pass of line-editing or developmental editing of 10000 words. This package costs $288.
The silver package includes two passes of line-editing and/or developmental editing. This is something that you must communicate with them before hiring their services. This package costs $524. You also get one revision with this package.
The gold package includes three passes of complete editing. This includes the developmental, line, and copyediting. You get 2 revisions with this package which costs $734.
Susan is a full-time freelance editor from the United States. She has a lot of experience and is acclaimed for several industry awards.
She uses the professional Chicago Manual and Style as well as the associated Press Stylebook for her editing. Confidentiality is taken good care of in her editing process.
Susan works on children's books, fiction, and non-fiction manuscripts. She can also work on web content, presentation, articles, and blog posts. Her editing and proofreading services include punctuation, grammar, spelling, and verbiage checks. She focuses on flow, clarity, and continuity.
Her edits are made in MS Word documents. She also provides a clean copy with accepted changes.
Key Features
American English editing and proofreading
Professional tool usage
Pros
Quick delivery
Confidentiality
Flexibility of editing genre
Pricing
Susan's services can be available in three different packages. Her basic package costs $10 and includes proofreading and editing of grammar, spelling, punctuation, and clarity for up to 800 words.
Susan's standard package costs $20 and caters to 800 to 1500 words. Her premium package includes editing and proofreading of 1500-2500 words and costs $30.
You can contact her for express delivery and editing requirements over 2500 words.
Kyla is a well-experienced editor from Canada. She specializes in corporate communications and has worked as an editor for two major professional magazines. Her strengths lie in editing, writing, and communications strategy.
Kyla is a one-stop-solution for all your editing needs. She provides proofreading, copy editing, and developmental editing services. If you hire her, you can be assured that your fictional novel will be error-free, clean, clear, and concise.
She guarantees satisfaction and will continue working with you until you get what you need. You can provide her with a specific style or writing guide, and she will cater to your editing requirements.
Key Features
Large variety of editing services offered
Fictional novel editing
Expert in communications strategy
Pros
Prompt replies and constant availability
Tracked edits in Google Docs or MS Word
Over a decade's experience
Flexible editing style
Pricing
Kyla's services can be divided into three – proofreading, copyediting, and developmental editing. She editing charges are per word-based. She charges $0.02 per word for proofreading, 0.03 per word for copy editing, and $0.06 per word for developmental editing.
The Book Botchers is a book editing company based in Portland. The company houses successful authors and editors who will proofread and edit your book professionally. Some of their editors are acclaimed authors themselves and have a lot of experience in the writing and publishing industry.
They edit all kinds of manuscripts ranging from fiction to non-fiction. The Book Butchers provide proofreading, line-editing, and detailed editing services. They provide exemplary manuscript review services that are of high-end quality,
Key Features
Professional editing company
Houses successful and experienced editors and writers
Variety of editing services offered
Pros
Get your book edited by an industry specialist
Detailed manuscript reviews
High-end quality service
Pricing
The company offers three basic editing packages. The Quick package includes proofreading that will catch typos, trim sentences, fix grammar, and remove repetition. This package also includes light revision, improved vocabulary, and a small suggestion on structural improvements. This service costs $0.02 per word.
Their Extra package costs $0.04 per word and includes comprehensive line-editing. It also provides a manuscript critique along with suggestions on improving plot and pacing.
The Perfect package costs $0.06 per word and includes developmental editing.
The Blue Garret is an editing company that caters to the editing needs of most fiction genres, as well as non-fiction cookbooks, self-help books, and memoirs.
They edit rough-around-the-edges manuscripts and create professionally polished books that are ready for self-publishing. Their services cater to writers from all expertise levels and can produce books capable of traditional publishing.
Key Features
Professional editing company
Quick service
Flexibility of genres
Pros
High-end quality of results
Suitable for beginner and experienced writers
Affordable rates
Pricing
Their basic The Works package costs $2800 for a 70000-word book. It includes general polishing and proofreading. The Pro package costs about $1750 for a 70000-word book. It includes minor content tweaks and final polishing for a self-publishing book.
The Trad package costs $2100 for a 70000-word book and is meant for authors who want to publish their book traditionally. This edit prepares a product that can catch the eyes of agents and publishers.
This company was founded in 1994 and has helped over 40,000 authors polish their books around the globe. Their team consists of passionate and vetted professionals who transform manuscripts into masterpieces.
They edit book-length manuscripts, dissertations, thesis, papers, and essays. Their services include content editing, copyediting, and line-editing.
Key Features
Global editing company
Editing of long manuscripts
Academic editing
Pros
Vetted professional editors
Global outlook
Flexibility of submitted genres
Pricing
The company provides instant quotes for your editing needs according to the amount of work needed on them. Their typical package costs range from $0.02 per word to $0.08 per word. According to the word count and quality of the work provided and needed, you will get an affordable deal.
The Literary Consultancy is a London based editing company that was founded in 1996. They specialize in manuscript assessments. They can work on novels, screenplays, short stories, poetry, and non-fiction books.
Their services include proofreading, copyediting, and ghostwriting.
Key Features
Editing and ghostwriting services
Manuscript assessments
Pros
Budget-friendly
Extensive fiction editing
High-end editing services
Pricing
The pricing of their editing services varies according to the length of manuscripts. However, they charge $291 for the first 15,000 words of short stories, $500 for longer stories on a general note.
They charge $195 for 1-2 picture books and $250 for 3-4 picture books.
What Are the Different Types of Book Editing?
While getting a book edited, you must specify the kind of service you need from the editor. While some editors will cater to all your editing requirements, some specialize in a specific editing service.
Given below are the most common book editing services that you can seek.
Structural Editing
A structural or developmental editor looks into the big picture of the book. They outline the key idea and give a detailed account of the book's overall structure. For non-fiction, they edit and restructure the different sections to ensure the correct delivery of the ideas. For fiction, they look into character development and plot coherence.
Stylistic Editing
Stylistic editing aims at making each line and paragraph of the book look and sound good. Stylistic or line editors read each line and edit the word arrangement along with paragraph transitioning.
Copyediting
A copyeditor corrects punctuation, spellings, typos, and grammar. They also check for consistency of style and structure concerning numerals, capitalization, and hyphenation. Most stylistic editors provide copyediting services as well, but that is something you should confirm before hiring.
Proofreading
Proofreading is the last step involved in book editing. It is a final check for typos, repeated or missing words, and consistency. Proofreading is a must before a book goes out for publishing.
How Do I Get My Book Edited?
Before considering getting your book edited, the first thing is to see what kind of editing your manuscript requires. After that is done, you can contact book editing companies or freelance book editors to look at your book.
Before hiring an editing service, you must have clear communication about your requirements. Set a clear budget and goal in mind and work out the details with your editor. A good editor would always be willing to explain their work to you.
You can also self-edit a book, but hiring a professional editor is advisable.
How Much Does It Cost to Have an Editor Edit Your Book?
Hiring an editor is a serious affair and having a fixed budget in mind is always a great idea. Some editors charge according to the workload, while others charge a flat fee or hourly. A wide ballpark of hourly charge is about $50 to $350.
Given below are ballpark estimates of various services provided by various editors.
Structural Editing
Some editors charge about $0.07 and $0.12 per word. Editors who charge by page charge about $7.50 to $20 per page. An editing page constitutes about 250 words.
Stylistic Editing
A stylistic editor can charge anything between $0.04 and $0.09 per word and between $5 and $15 per page.
Copyediting
Copyediting cost usually ranges between $0.02 and $0.4 per word. The per page copyediting cost ranges between $2.50 and $5.
Proofreading
The per-word cost of proofreading is usually between $0.01 and $0.02 per word. The per-page cost can range between $1.50 and $3.50.
What to Look for In an Editor?
Visiting an editor's website and having a communication will give you an idea of their experience and ability. There are other things too that should be taken care of while hiring an edit, though. Some of those necessities are listed below.
1. Editing History
While hiring an editor with decent experience is necessary, you should also consider the kind of experience they have. You do not want to hire an experienced non-fiction editor to edit your picture storybook.
The more experienced an editor is in a field suitable to yours, the better they are for you. Keeping that in mind, hiring someone new to the editing profession can save you a lot of money.
2. Pricing
A seasoned editor will charge you much more than a fresher would. But the quality of the editor's work accounts for the extra cost. You must consider the budget you can spare for your book's editing and hire an editor accordingly.
3. Sample Edits
Any good editor should be willing to give you a sample edit. This means that they should want to edit a few pages for you free of cost before you get to hire them. This is crucial because it gives you an idea of the quality of editing you can expect.
Getting a simple edit done before committing to an editor will help you get peace of mind. Hiring someone without proper verification is risky since they might return a destroyed version of your manuscript.
4. Communication
In case you have any doubts regarding the editing procedure or pricing, an editor should be open to communication. The clear discussion and description of the editing process give you a clear of your working compatibility. Knowing their editing procedure will help you decide between different editors who might be offering services at a similar rate.