Last Updated on January 9, 2022
Do you love creating a social media profile that stands out from the rest?
It doesn't matter if you are a brand, influencer, or just someone who likes to have an aesthetic, social media profile because you can easily elevate your profiles in no time. For example, a beautiful Twitter header is the best way to add personality to your Twitter profile.
So, if you are looking for the best Twitter header maker, you are in the right place. Here are all the top tools you can use to make your Twitter profile stand out in no time.
What Is The Best Twitter Header Maker?
There are many services that offer a Twitter header to people. These include free and premium Twitter header maker services you can use in no time. The key is to choose the right service that will offer you everything you need.
Here are the top Twitter header maker services and platforms you can choose from:
1. Fiverr – Best For Affordable And High-Quality Twitter Header Makers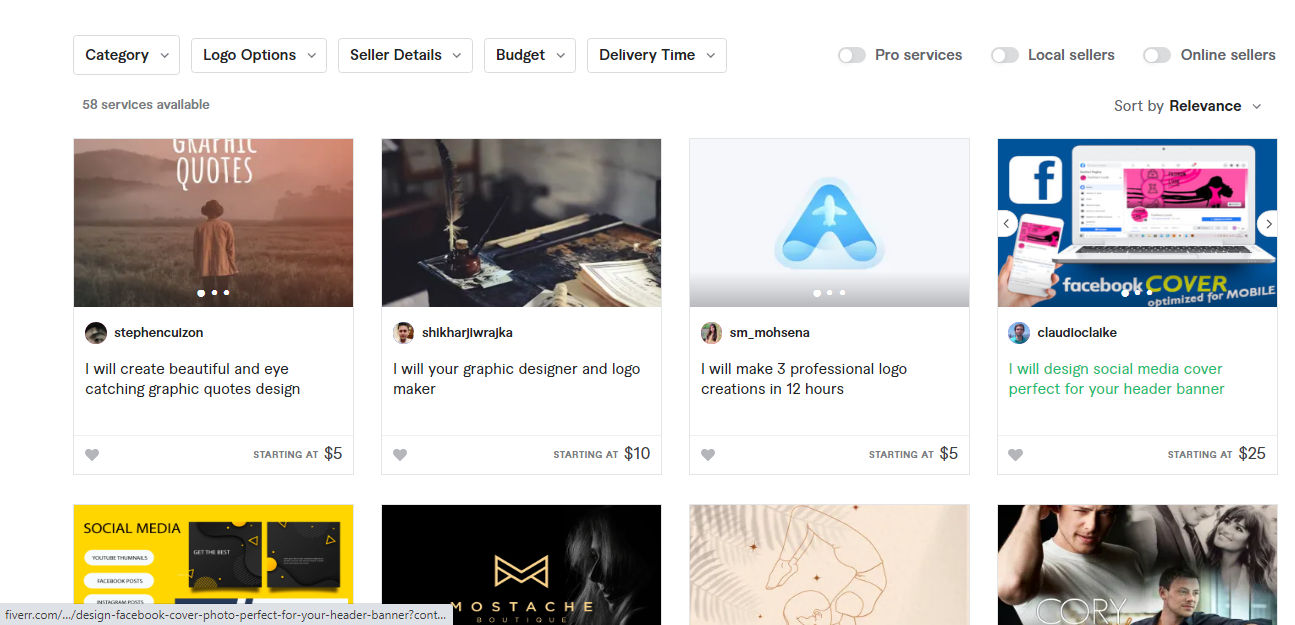 Fiverr is one of the top platforms you can use to find professionals who can create a Twitter header for you in no time. It is one of the biggest marketplaces worldwide where you can connect with fantastic header makes. The services are affordable, the sellers are professional, and will bring your vision to life.
From businesses to influencers to the common man, everyone can find someone to create a Twitter header for their individual needs. You can find someone to create a Twitter header for you for $5 and in just a few hours. Yes, that is the ease and convenience you get when looking for professionals on Twitter.
The best part about Fiverr sellers is that they focus on communication. You can convey your idea and vision to them, as they discuss everything with you to the last detail. Once you do, they will help you execute your vision through any medium you like.
Be sure to check reviews and everything a seller offers before you decide to select them for your service. Once you do, you will get a professional Twitter header maker in no time.
Are you looking for high-quality and cost-effective Twitter header makers? Be sure to check out Fiverr today.
2. Canva – Best For Twitter Header Templates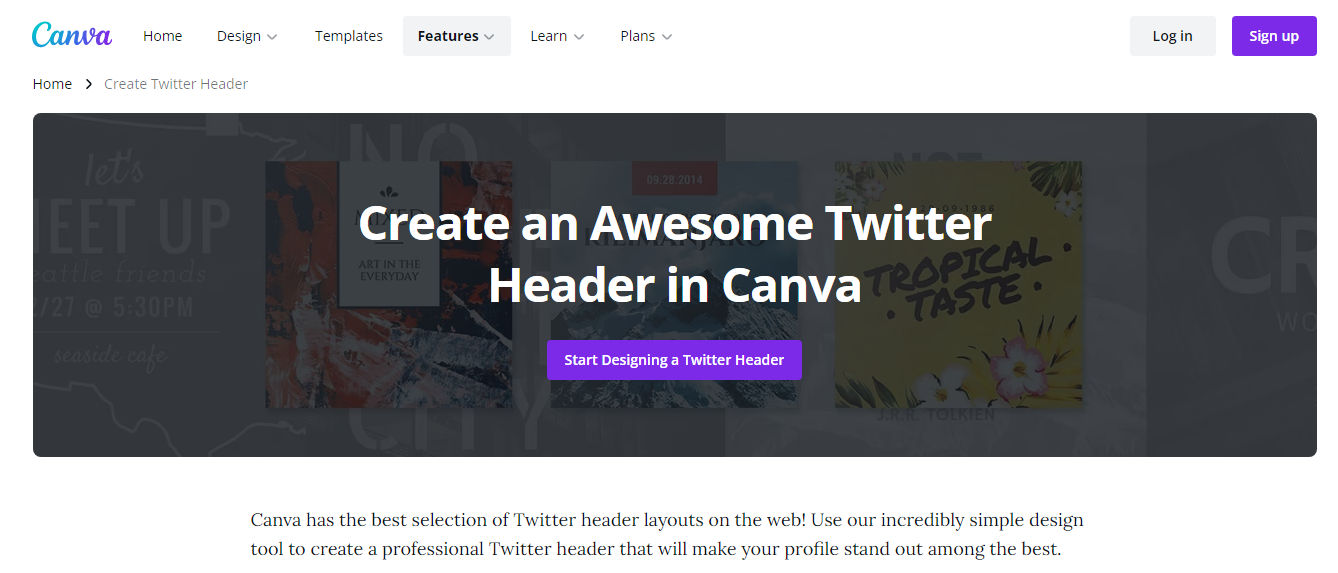 Canva is a free tool you can use to select the best Twitter header layouts for your profile. All the headers are already made, and you can choose one that suits your profile best. Keep in mind that there is an element of customization as you can tweak the header layout such as the font, text, and more.
You don't need any professional or technical knowledge to use Canva for your Twitter headers. All you have to do is click on your favorite header template, and it will become yours. You will find all types of headers, such as photography, travel, events, and more.
Are you looking for the best Twitter header templates? Be sure to check out Canva today.
3. Adobe Creative Cloud Express – Best For Creating Customized Twitter Headers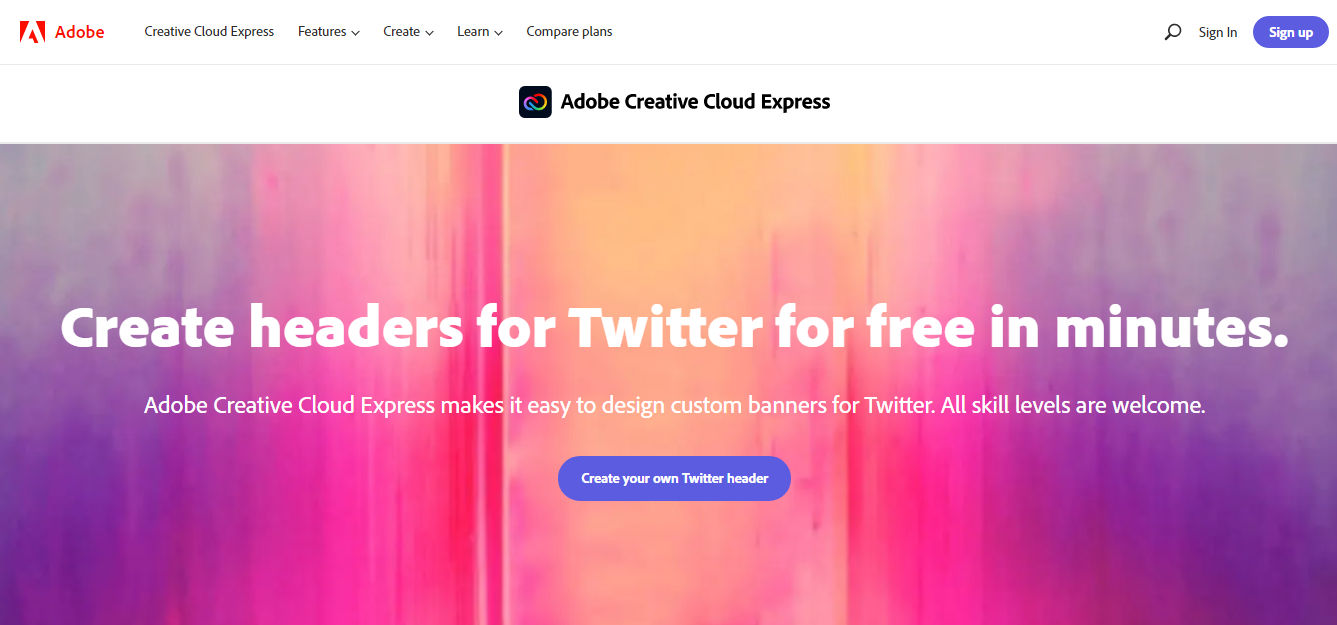 Adobe Express is an excellent Twitter header maker that will give you the freedom you need to design a unique Twitter header. The best part is that you can create an excellent header in minutes without any technical knowledge. The platform welcomes all skill levels to create customized Twitter headers for free within minutes.
So, if you are looking to unleash your creativity, there is no better platform than Adobe. The tool is free, and you can create a header in no time from scratch. You can use customized fonts, icons, photos, logos, and much more to create the perfect Twitter header for your profile.
Are you looking to make a creative and unique Twitter header? Be sure to check our Adobe Creative Cloud Express here.
4. Fotor – Best For Quick Twitter Header Making

Do you need a quick free Twitter header maker tool to create a unique header within minutes? There is no better platform than Fotor to fulfill all your Twitter header-making needs if you do. The platform offers endless Twitter header layouts and design elements you can use to customize your header and create a unique one for your profile.
The templates serve as design ideas you can use for your Twitter header. Once you choose the ideal one, you can customize it by changing the text, font, pictures, stickers, backgrounds, and much more. By the time you are done, the header will look nothing like the template, and you will have something unique to help your profile stand out.
5. Edit.org – Best Online Twitter Header Maker Tool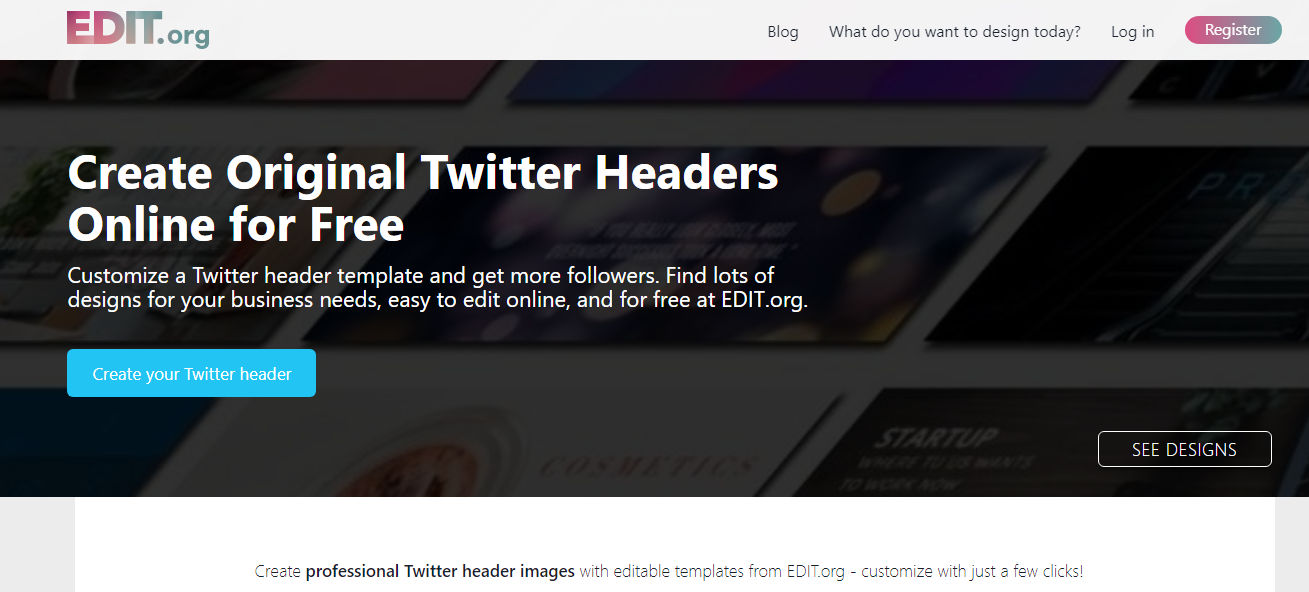 Create a Twitter header for free online using this Twitter Header maker. It will allow you to personalize a Twitter header using many design elements to guarantee you have a unique her. Because of this, your Twitter profile will look unique.
The tool is free, and with just a few clicks, you will create a Twitter header in no time. All the templates can be edited, and you don't need any technical knowledge of how you can create a header. So, if you are looking for the best online Twitter header maker tool, look no further than Edit.org for your needs.
What Size Is Twitter Header?
The size of a Twitter header is 1500 x 500 pixels. You can upload any image of these dimensions for the header, and it will upload quickly on Twitter. Keep in mind that if something is above or below these dimensions, it will not look ideal as your Twitter header.
That is why it is crucial to choose the right dimensions when creating a header. Once you do, you can upload it in no time.