Last Updated on January 9, 2022
Are you a gaming channel owner on YouTube or any other platform? If so, you must understand the importance of an excellent thumbnail. This item can help you generate more leads and easily attract visitors to your page.
However, creating a gaming thumbnail can be tricky, especially if you start from scratch. That is why you must seek the help of external software. The best gaming thumbnail maker can allow you to produce high graphics effortlessly.
What Is The Best Gaming Thumbnail Maker?
Are you looking for the best gaming thumbnail maker? If so, here are the top five options you should consider:
Fiverr – Best Premium Gaming Thumbnail Maker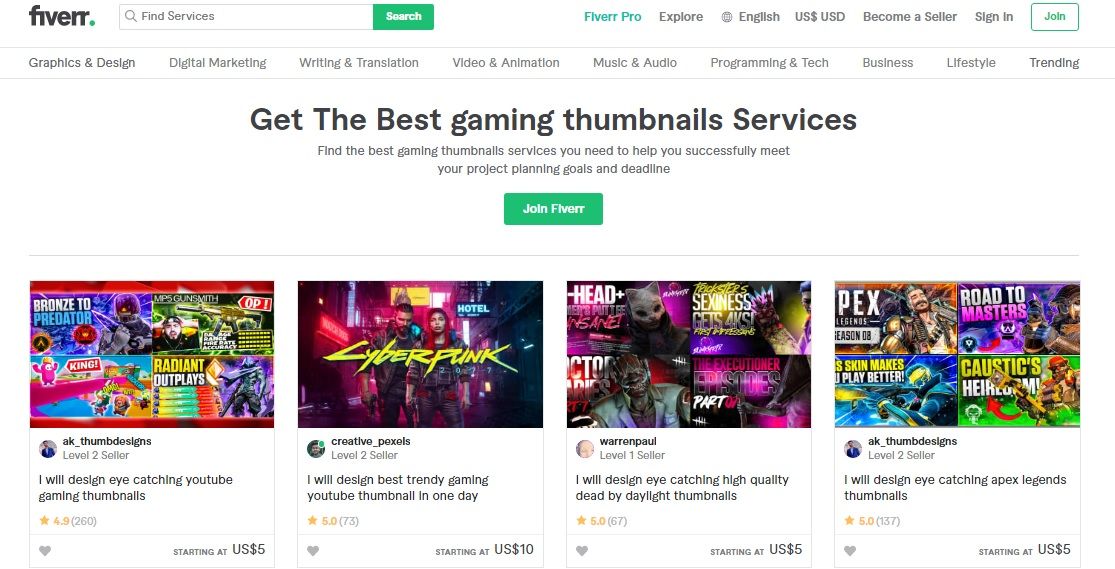 Fiverr is a marketplace that allows you to hire the best gaming thumbnail, maker. The platform is packed with excellent artists specializing in different categories. You can easily choose a seller that will make you the thumbnail for the suitable game.
The top feature of Fiverr is that you can make an account for free. There is no signup fee for finding a seller on this platform. Not only that, but you do not have to pay additional charges when hiring an artist on Fiverr. The platform deducts its commission from the seller's fee.
Besides that, you can find the best gaming thumbnail maker on Fiverr for as low as $5. Thus, you do not have to worry about breaking your bank by using this marketplace. Not only that, but the seller can provide you with files in multiple formats.
The best thing about getting multiple files is that you can edit the thumbnail yourself if you have good art skills. Additionally, it allows you to use the image on various platforms. So you can use your gaming thumbnail on your YouTube channel, Facebook page, and much more.
Looking for the best gaming thumbnail maker on the market? Check out Fiverr gigs here.
Canva – Best Free Gaming Thumbnail Maker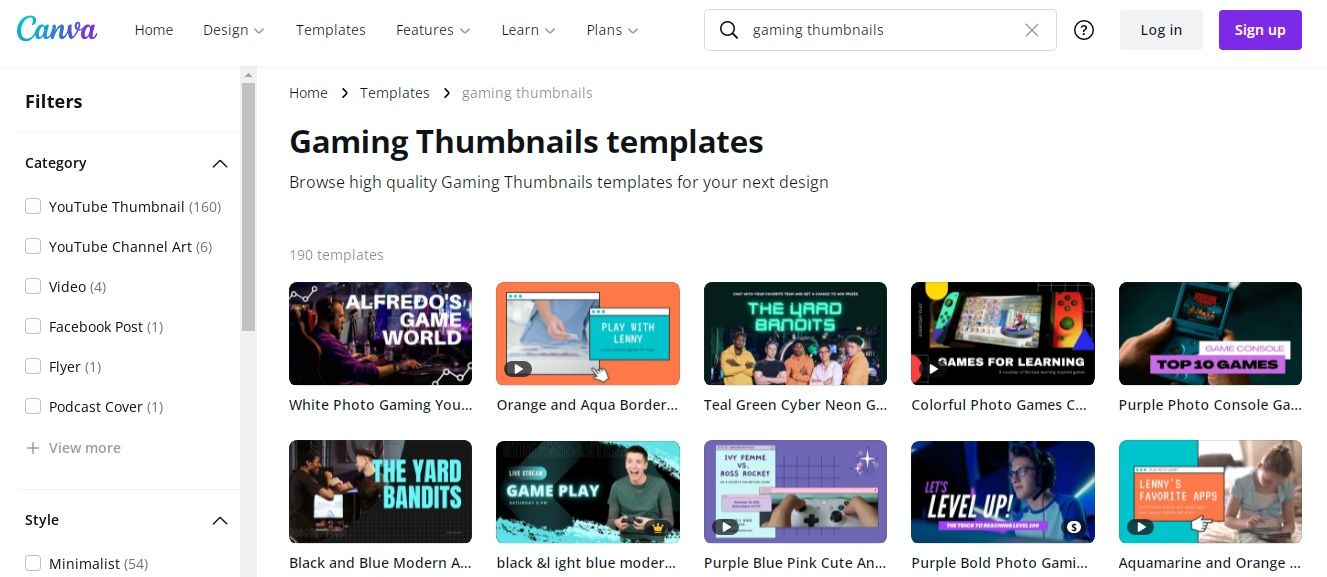 Canva is one of the best free graphics tools on the market that allows you to enjoy high-quality visuals. The best thing about this platform is that it is suitable for designers and non-designers. So it does not matter whether you have excellent artsy skills or not.
You can use the platform to get premade template of a gaming thumbnail for a variety of different games such as: Minecraft, League of Legends, Fortnite and Roblox.
Then, you can use those custom thumbnails for your social accounts. However, if you want to make changes to the template, worry no more. Canva allows you to edit everything on the spot and add a personal touch.
One of the top things about Canva is that it is available on desktop and as a mobile application. So you can work on the gaming thumbnail from anywhere, such as a subway, airplane, and much more. The easy interface will allow you to save time and effort.
Looking for an extensive range of gaming thumbnails? Check out Canva now.
Fotor – Best For Multiple Tools

Fotor is another best gaming thumbnail maker that allows you to enjoy various benefits. You can create excellent graphics within a few minutes using the premade templates. The platform will enable you to edit files and personalize them too.
The top thing about Fotor is that it has multiple tools letting you make excellent gaming thumbnails. Not only that, but the platform has the simplest interface for creating the graphics. That is why you will not require expert knowledge or prior art skills.
A key feature of Fotor is that it allows you to make a gaming thumbnail in a collage form too. So if you cannot select one picture for the file, worry no more. The software is free to use, but you can buy the premium version to get rid of ads and access to more features.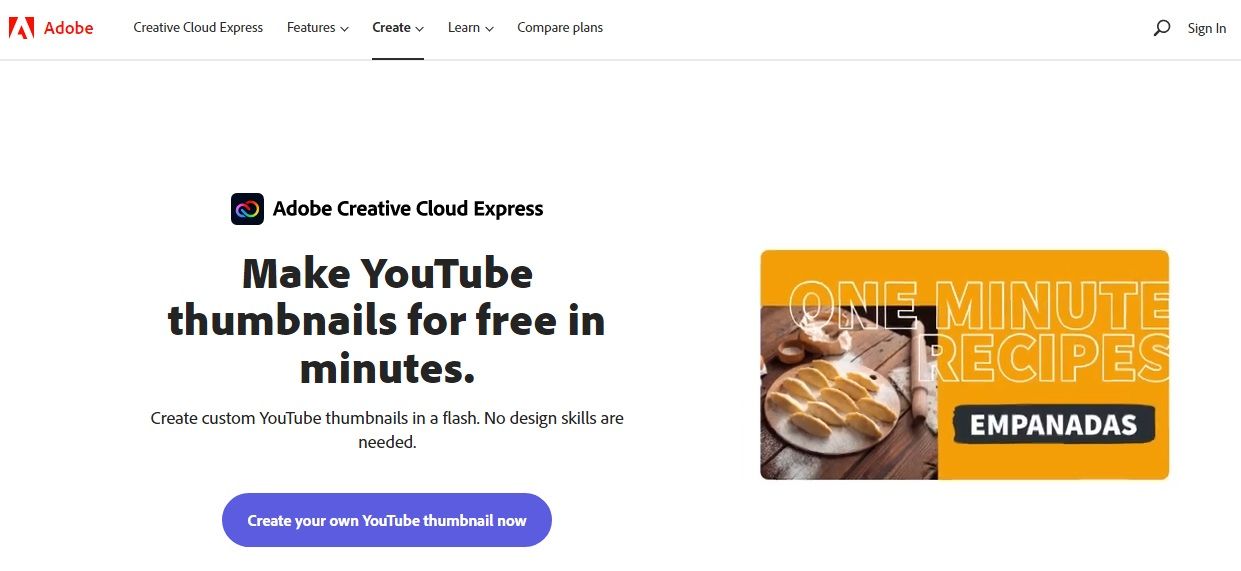 Adobe Creative Cloud Express was formerly known as Adobe Spark, so you should not get confused seeing people exchange these terms. It is no secret that Adobe is one of the best software for editing pictures and creating visuals. That is why it is on our list of the best gaming thumbnail maker.
You can easily use the software on the web or download it to your computer. The best part is that the application has free and premium versions. If your thumbnail needs are low, you easily make do with the free software. This is because of the high access to the tools.
However, the best thing about this software is that it allows you to add custom backgrounds, text, and much more. Additionally, you can work in layers and experiment with various designs simultaneously. This is one of the reasons why people consider this platform the best gaming thumbnail maker.
Looking for a high-end free gaming thumbnail maker? Check out Adobe Creative Cloud Express now.
Snappa – Best Easy-To-Use Gaming Thumbnail Maker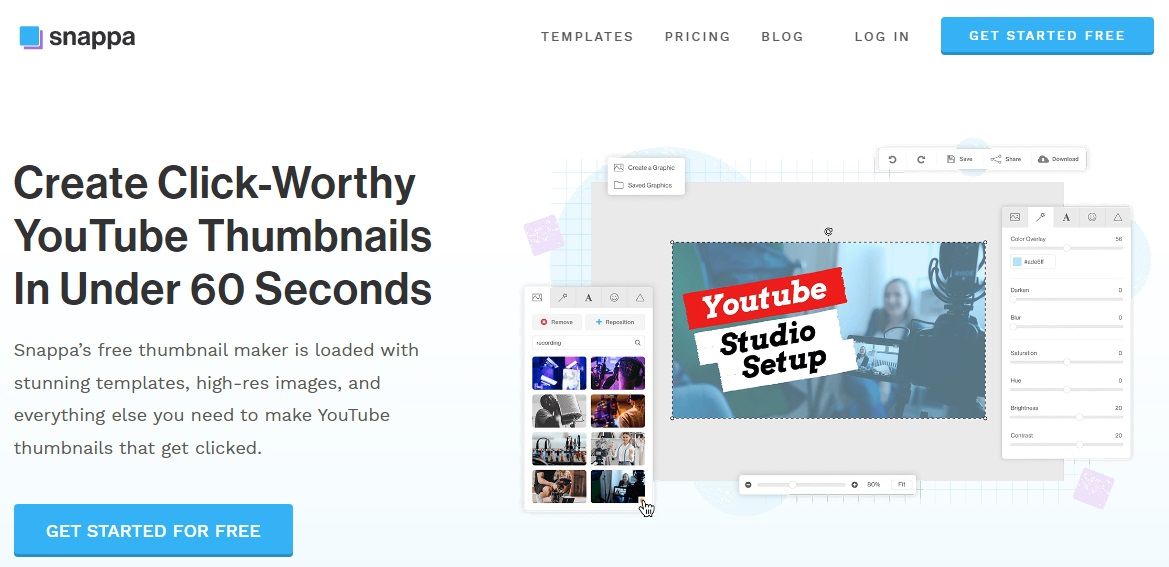 Are you looking for the best gaming thumbnail maker with limitless options? If so, Snappa should be in your top choices. This platform has free and paid versions to offer you the best user experience.
A key feature of Snappa is that you can use its templates and edit them to create your gaming thumbnail. Besides that, you can also make the visuals from scratch. The software also allows you to upload images from your picture library. Thus, you can add a self-portrait to the thumbnail too.
Additionally, the platform has many tools that ease the user experience. You can add shapes to the gaming thumbnail and fill them with colors. Moreover, you can create custom text using an extensive range of fonts. With Snappa, you will never have to worry about limited options.
Which App Is The Best For Making Gaming Thumbnails?
Are you wondering which app is the best for making gaming thumbnails? Well, the answer is simple. Fiverr is the top platform to get custom visuals for your needs.
However, if you want to make the gaming thumbnail yourself, you should choose Canva. Keep in mind that you will require some art skills for this while Fiverr needs none.