Last Updated on January 2, 2023
When it comes to creating Minecraft videos on YouTube, a good thumbnail is an absolute must.
Without an attractive thumbnail, no one would click on your videos no matter how good your content is.
But what can you do if you are not a designer, and have no clue about Photoshop and photo editing?
In this article we would share with you our top 3 Minecraft thumbnail makers, which would produce stunning thumbnail images just for you.
What are the best Minecraft thumbnail makers?
This is our list of the best thumbnail makers and designers:
1. kerovcuk – Best Minecraft thumbnail maker for YouTube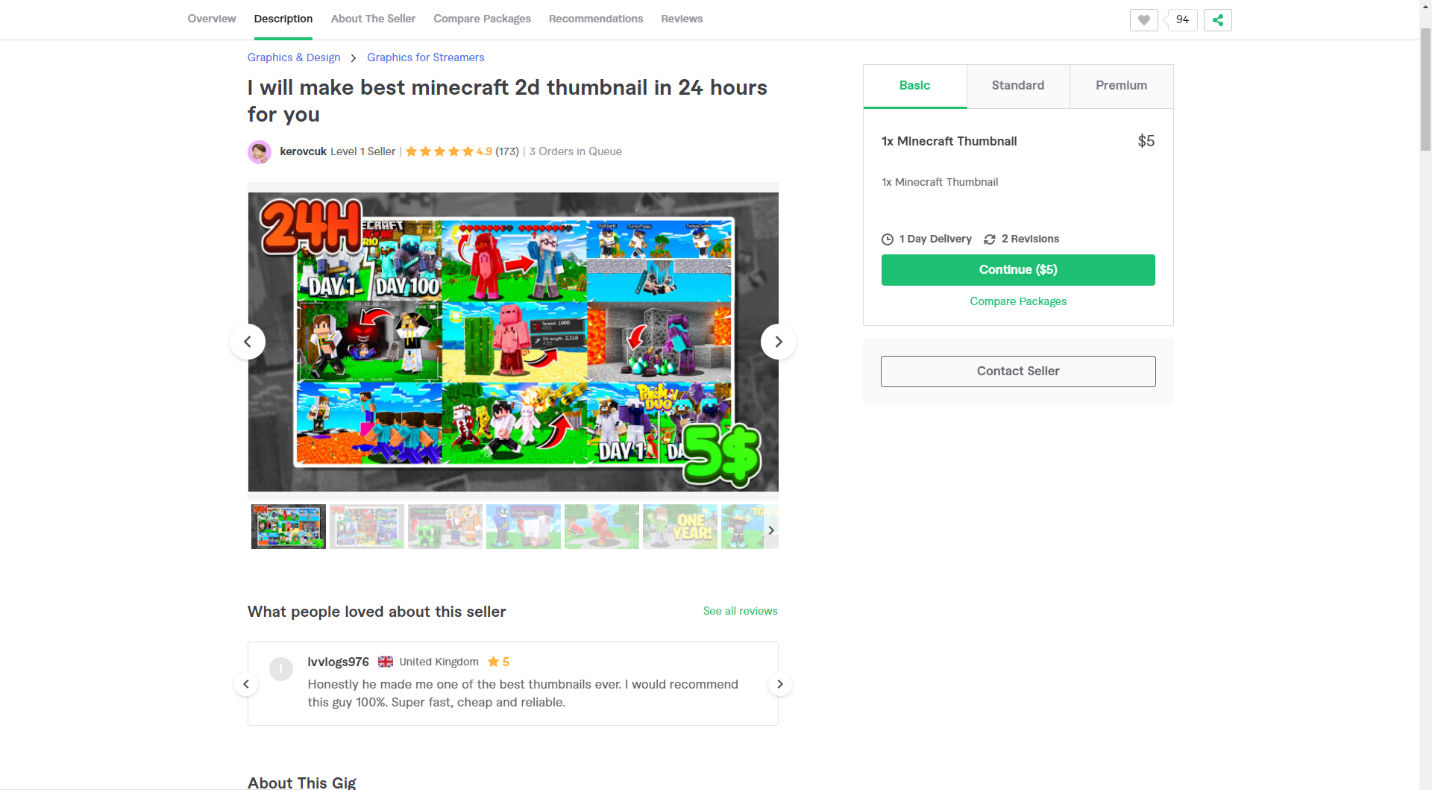 This seller from Turkey makes the most professional-looking Minecraft thumbnails on Fiverr.
His profile shows his excellence in a vast variety of styles, flexible enough for different sorts of content creators. His fonts are always the most creative (for Minecraft thumbnail commissions) that I've seen on Fiverr.
There's a perfect execution of scenarios and fantasies in his thumbnails, and they're captivating enough to get your videos a great amount of clicks.
You just need to provide him an idea, and you'll receive an extremely creative Minecraft thumbnail within a single day.
His quick service is complimented even further by his responsiveness and understanding of your vision. His Minecraft thumbnail gig currently stands at an average rating of 4.9 stars, with 173 total ratings.
Pros:
Extremely detailed and professional thumbnails.
Highly budget-friendly.
Very versatile
Highly responsive seller
Quick delivery
2. thomasartist – The most cinematic Minecraft thumbnail maker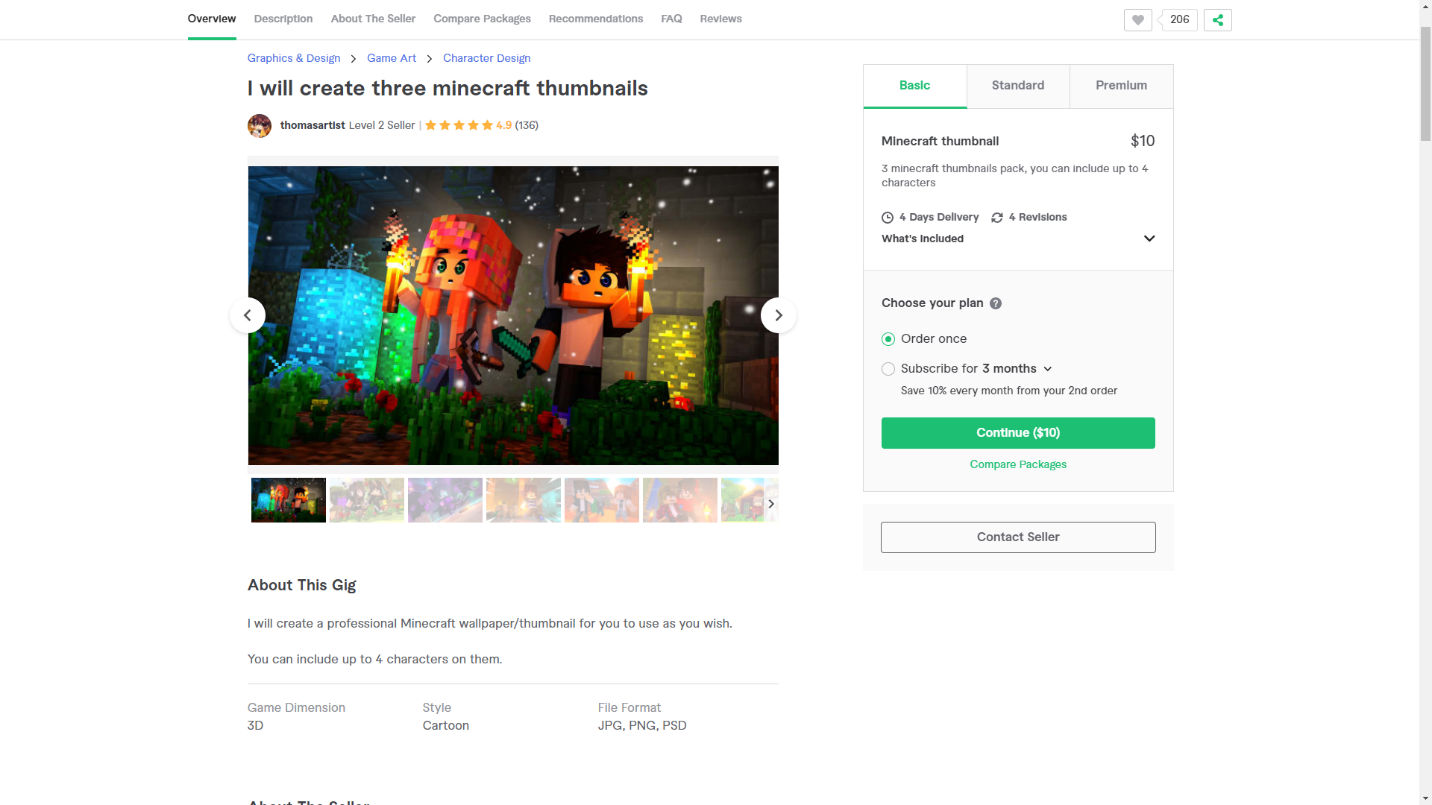 If you want your Minecraft video thumbnails to be creative and cinematic, you should definitely reach out to thomasartist.
The Argentinian artist has had an experience of over 5 years in designing. He's been animating and creating Minecraft servers since he was 12, which alone should suggest good things about his talents.
A great thing about his service is that he provides 3 minimum thumbnails for a budget-friendly price-tag of $10.
His thumbnails may not seem the most professional or clickbait-ish, but would definitely draw those with abstract interests to your videos. He's a diligent artist who responds rapidly. His gig stands at an average rating of 4.9 stars with 136 total ratings on the page.
Pros:
Cinematic and creative Minecraft thumbnails
Budget-friendly.
Highly responsive seller.
3. Novaskin.com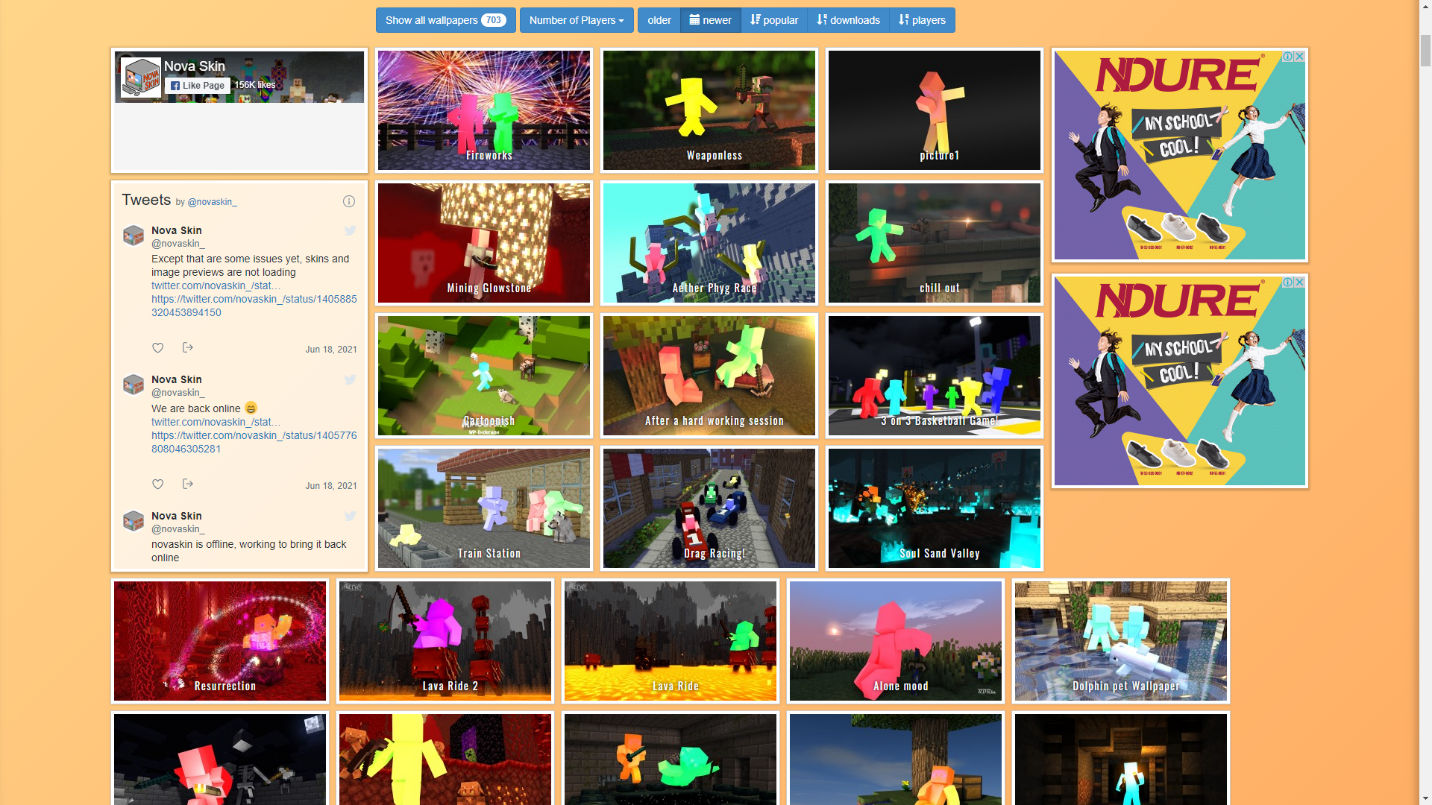 Don't have a very specific or out-of-the-ordinary vision for your Minecraft thumbnail? Novaskin can make the creation of your thumbnail a matter of minutes.
The site's wallpaper creator has a large number of template scenarios, which can involve multiple characters in unique backgrounds and situations. You only need to select the character skins.
The tool doesn't allow you to add text, so you'll have to add it after downloading. You can use a search tool while selecting skins to pick from a large list of relevant user-created skins, and can also upload skins of your own.
It's probably the best option for those who want to make some great Minecraft thumbnails in a hurry and for free.
Pros:
Beginner-friendly tool.
The process is quicker.
Large variety of scenes and skins to pick from.
The ability to upload your own designs.
How do I create a Minecraft thumbnail?
You can always create a basic Minecraft thumbnail with ease by simply taking clever in-game screenshots, and editing them via either Adobe Photoshop, or more specific thumbnail creating tools like the one on EDIT.org.
But when it comes to YouTube, you thumbnails have to look great. Compelling thumbnails always involve lots of things going on and involve a fair amount of fantasy.
A thumbnail should also be attractive enough for the clicks, for which the aid of someone who specializes in thumbnails or marketing would be ideal.
For that reason, we recommend you to use Fiverr.com to hire Minecraft artists.
How much does a Minecraft Thumbnail cost?
A Minecraft thumbnail can cost between $5 and $30, depending on how detailed and specific the commission is.
Free tools allow you to create Minecraft thumbnails based on templates of scenes and characters, whereas artists that you can commission on platforms like Fiverr would make more professional and detailed thumbnails for you.