Last Updated on January 9, 2022
Thumbnails have become one of the most important aspects of online gaming. That is because it is the face of your gaming profile, and it enables users to click on the profile if they find it catchy. Because of this, players must aim to create the best Fortnite thumbnails to catch the viewer's attention.
One of the best ways to do this is to use an excellent Fortnite thumbnail maker for your needs. It will allow you to create a customized thumbnail in no time. So, if you are looking for the best Fortnite thumbnail-making tools and services, you are in the right place.
Here is your complete guide to the best Fortnite thumbnail makers.
What Is The Best Fortnite Thumbnail Maker?
With so many Fortnite thumbnail maker tools and platforms online, you must be confused about which one to choose. After all, the platform or tool you choose can make or break your thumbnail. But, don't worry because we have researched to save your time and effort.
These are the three best Fortnite thumbnail makers you will love:
1. Fiverr – Best For Professional Quality Fortnite Thumbnails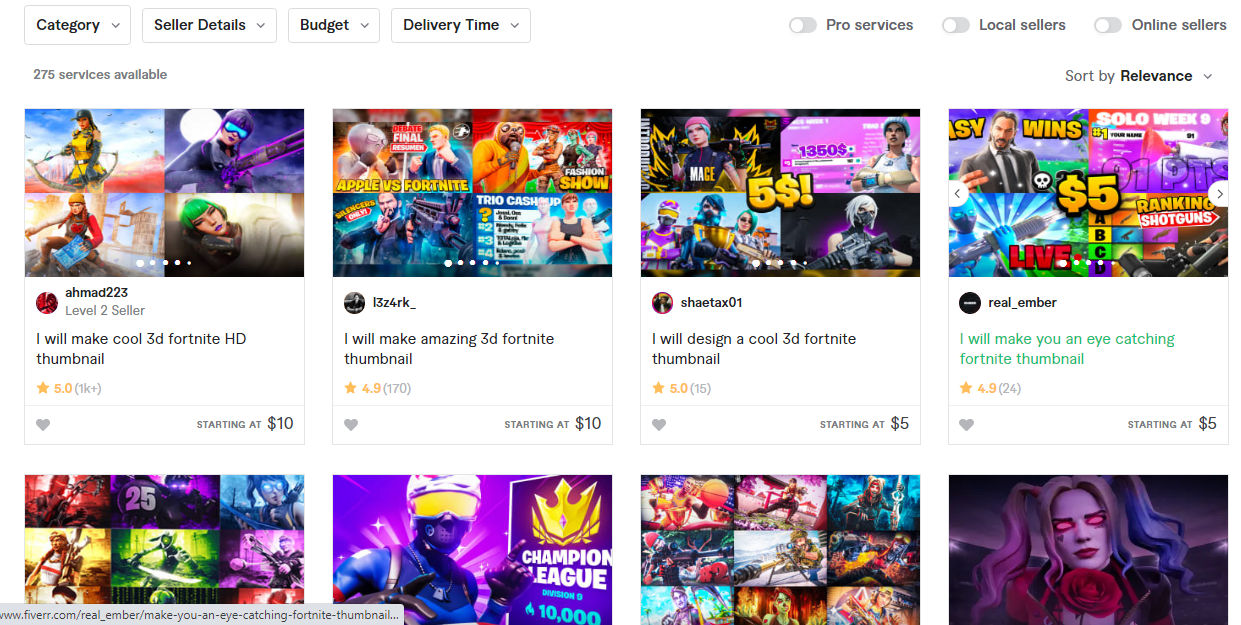 Do you want to monetize your gaming montages and want the best professional quality Fortnite thumbnails? If you do, there is no better platform than Fiverr to help you with everything you need. You will find hundreds of professional Fortnite thumbnail makers that will give you the custom thumbnail you need.
Professionals on Fiverr create everything from 3D Fortnite thumbnails to HD thumbnails and much more. All you need to do is check what the seller offers and communicate what you need. After that, they will let you know if they can fulfill your thumbnail requirements.
You will find many sellers with more than a thousand positive reviews to help you get started. The best part is that you will get high-quality Fortnite thumbnails at an affordable price you will not find anywhere else. Gamers worldwide use the services of Fiverr professionals for their thumbnails.
So, if you are looking for the best talent for your Fortnite thumbnail maker, be sure to check out sellers on Fiverr. You will find one in no time that will elevate your thumbnail.
Are you looking for a professional quality Fortnite thumbnail maker? Be sure to check out Fiverr.
2. Kapwing – Best For Customized Fortnite Thumbnail Template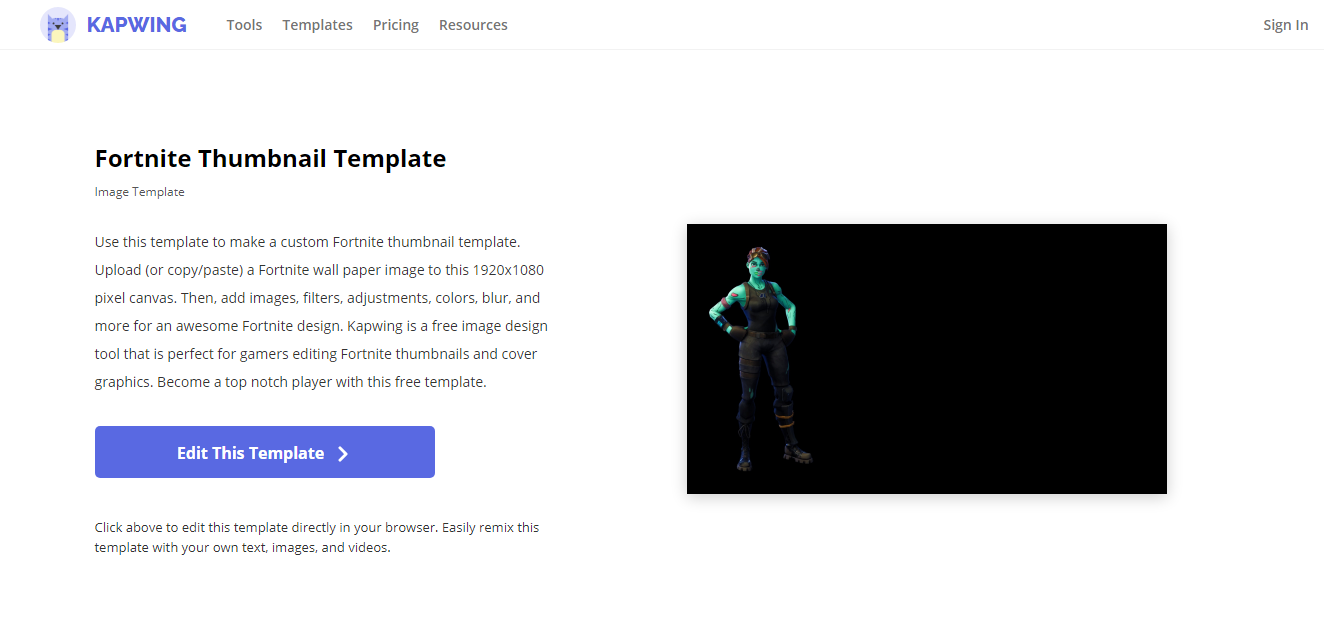 Do you want to create a custom Fortnite thumbnail using a template? If you do, there is no better free tool than Kapwing to use as a Fortnite thumbnail maker. You can add an image to the canvas on this tool and customize the thumbnail according to your needs.
For example, you can add more images, colors, filters, blur, adjustments, and more to create the best effect for your Fortnite thumbnail design. Once you do, you will have a unique thumbnail with the best graphics. The template is free and customizable, so the possibilities are endless.
Keep in mind that the tool is online, and you can do everything on the website to create a unique Fortnite thumbnail. Once you do, you can download the template and begin using it wherever you like. It will only take you a few minutes to use this Fortnite thumbnail maker.
Are you looking for a customized Fortnite thumbnail maker? Check out Kapwing today.
3. Fotor – Best For Creating A Fortnite Thumbnail Online Within Minutes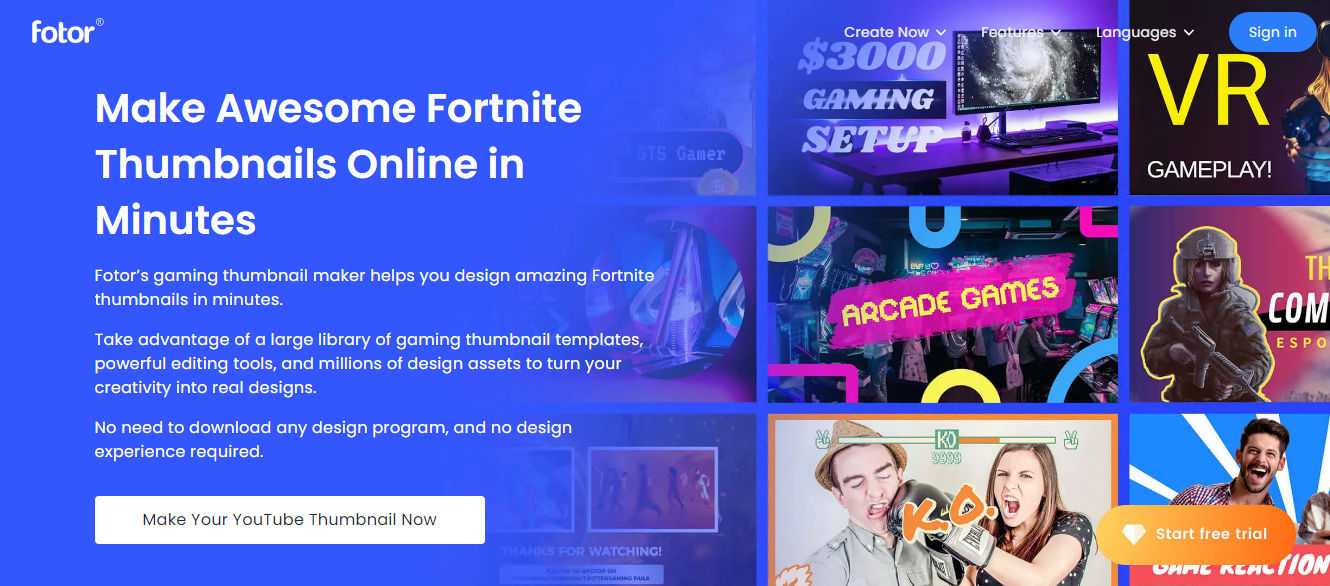 The Fotor Fortnite thumbnail maker lets you create a unique thumbnail from hundreds of templates to millions of design assets to choose from. You can let creativity take over and turn your thumbnail vision into a useful design in no time. Fotor offers you powerful editing tools and much more to create a Fortnite thumbnail for free within minutes.
The best part is that you don't need any design experience, and you don't need to download a design program. All you have to do is use the tool, and you will have the thumbnail within minutes. The templates are there for your ease, and you can personalize them with unique icons, images, fonts, colors, filters, pictures, and much more.
Are you looking for the best online Fortnite thumbnail maker? Check out Fotor today.
How Do I Make A Fortnite Thumbnail?
You can make a Fortnite thumbnail yourself by using various design software that you know how to use to your advantage. On the other hand, if you are not familiar with this, you can always use a Fortnite thumbnail maker to create the best thumbnails for your channel. You can select from various platforms such as Fiverr, Fotor, Kapwing, etc.
Once you do, you will have a high-quality thumbnail that you can use for a long time to come. It will elevate your gaming channel and make it stand out in no time.