Last Updated on January 18, 2022
The main difference between Liquid Web and Nexcess is that Liquid Web caters to the hosting needs of large corporations by offering dependable and enterprise-class hosting services. At the same time, Nexcess targets small and medium businesses, as well as indiviudals who look for an affordable hosting solution.
Liquid Web and Nexcess are managed hosting providers that lease dedicated servers and related hardware to a client and administer them on their behalf.
Since they both belong to the Liquid Web Family of companies, it may leave one with uncertainties about which service to choose.
However, they differ mainly on their cost and the nature of services. Liquid web targets large-scale enterprises with heavy user traffic flow, whereas Nexcess is best for small-scale enterprises with low or moderate user traffic flow. Additionally, Liquid Web is more expensive compared to Nexcess.
Liquid Web Overview
Liquid Web provides high end assistance and support in hosting as well as maintaining large-scale businesses, cloud and web professionals. It keeps high-load websites up and running by managing the user traffic in them.
Liquid Web is a premium hosting solution and their prices reflect that fact. However, the managed hosting services they give are trustworthy in every way. You also get unrivaled security and uptime for your company website, as well as excellent customer service.
Nexcess Overview
Nexcess has been offering outstanding hosting solutions to its clients since its beginning in the year 2000. Over hundreds of thousands of websites are hosted by Nexcess, so hosting your website on Nexcess is an excellent choice.
If you have a low to moderate traffic blogging website or an e-commerce business, Nexcess is the ideal choice for highly dependable hosting with exceptional performance, speed, and uptime.
Nexcess is not a hosting business that aims to be highly cost-effective at the expense of its trustworthiness. It maximizes providing solutions that are more superior to the price they charge, so it is financially viable.
What Are The Differences between Liquid Web and Nexcess?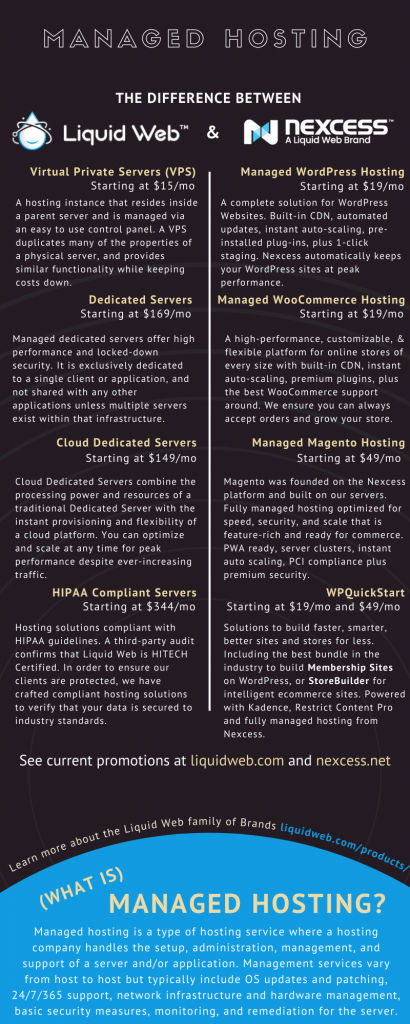 Nature of Service – Liquid Web expressly provides a variety of different hosting solutions focusing on cloud, dedicated, CMS and E-commerce, and VPS hosting while Nexcess optimizes hosting services for users of WordPress, Magneto, WooCommerce and small membership sites.
Target Audience – Liquid Web caters to the hosting needs of large corporations by offering extremely dependable and enterprise-class hosting services. At the same time, Nexcess targets small-scale businesses, a single blogger, or a student in need of a shared hosting solution since they can't afford to employ an enterprise-level hosting firm.
Price – Liquid Web is more expensive than Nexcess as it doesn't support sharing hosts.
Nexcess has a broad selection of pricing options for users of various budgets, beginning with the sub-$20 Spark plan and extends all the way up to enterprise-focused plans that cost almost $1,000 per month. It offers highly cheap hosting plans without compromising the quality of their service.
On the other hand, Liquid Web may not be cheap but the managed services it gives are excellent in the aspect of security, uptime, and customer service; hence worth the price.
Its VPS solution starts at $15 a month, and their dedicated server plans start at $149 per month and scale up to more than $1,100 per month depending on the configuration one chooses.
Final Thoughts
Although Nexcess and Liquid Web differ in terms of the nature of their services, cost, targeted clients and capacity to manage user traffic; they both provide powerful, trustworthy, performance-oriented and custom-tailored hosting solutions. Thus, they are one of the top hosting solution suppliers in the globe.