Last Updated on September 7, 2022
As both a Podcast host and a Youtuber with over 20 active channels, I create a lot of audio-based content.
And the most important lesson I have learned in regards to producing audio files is very simple:
Closed captioning is an absolute must.
This is especially true if you want to appeal to a wide audience.
During my first few years as a content creator, I did it all manually by myself. Believe me when I say that it takes a lot of time and effort.
Nowadays, there are much more viable options around and I outsource 100% of this work.
In this guide, I am going to list and rank the best closed captioning service providers I have worked with, in order to help you save both your time and your money.
What are the best Online Closed Captioning Companies?
Here are our top picks for the best closed captioning services to use this year.
1.

Fiverr
– Our top pick for closed captions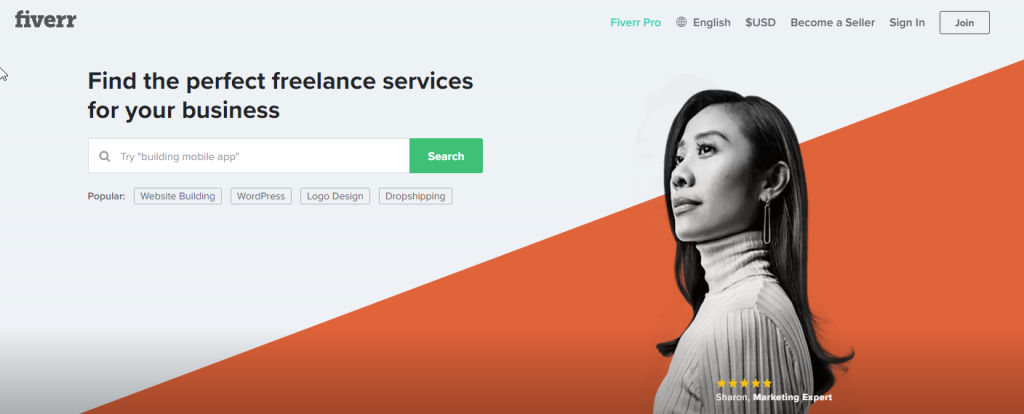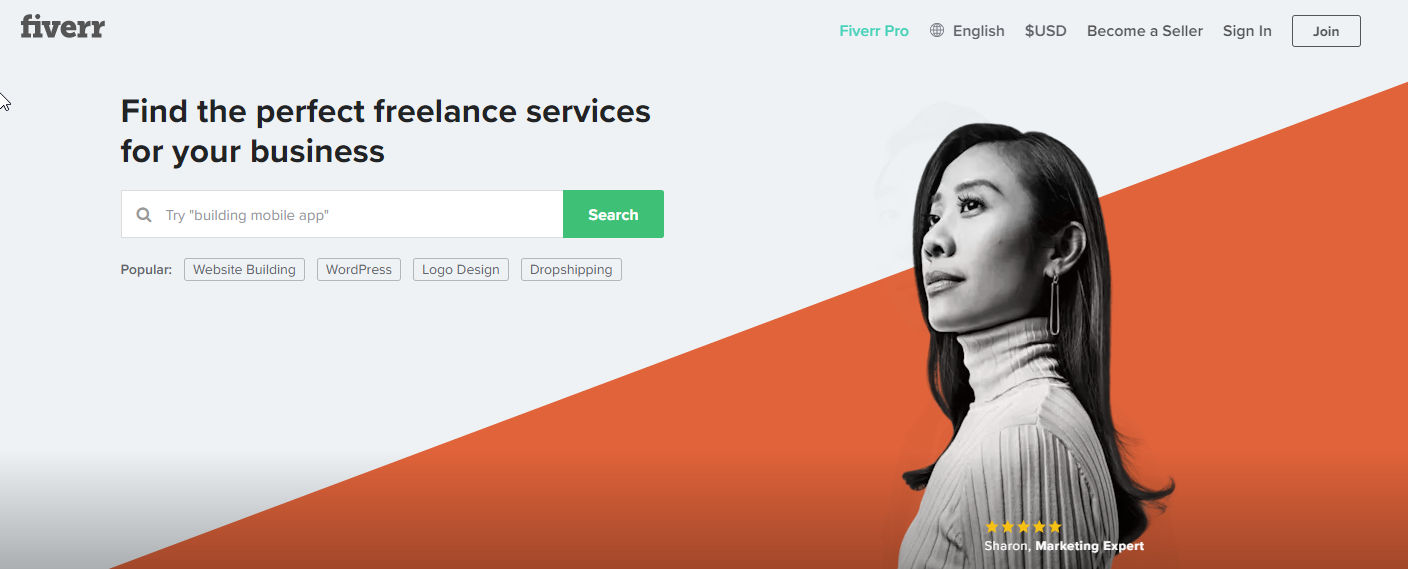 Just like Rev, Fiverr is a freelancing platform with closed captioning services. The only point of difference being that Rev specializes in captions while Fiverr specializes in many other services, including captions.
Fiverr allows you to connect with freelancers as they say, "A whole world if freelancers at your fingertips."
You get to choose who you want your services from and the date or time of delivery. The best thing about Fiverr is that you can find freelancers from across the globe with varying price rates.
Hence there is no fixed price, just fixed audio or video file that needs closed captioning services.
As a freelancer, I can attest that Fiverr has an English test to take before being part of the freelance community and rules that sellers must abide by, such as timely delivery and quality work.
Key Features:
Complete information about the seller's background

Foreign language caption services at a lower price

Prices vary according to the seller you pick

Freedom to interview and specify your needs and specifications

Since one seller works on one video or audio quality is high

You can get the work re-done for free if it doesn't match up to your standards of quality
Pros:
Reaches a wider audience

Gains visibility

Advantage to choose the price you want to pay

Turnaround time varies from one hour to four hours
Pricing:
The pricing depends on the seller you hire for closed captioning services. If it is a level one seller, they may demand more than the level two sellers.
Since freelancers are connected worldwide, a buyer in the USA can get a closed captioning done at a cheaper rate by an Indian seller. The sellers are free to price their services. Hence one can find the lowest prices and the most expensive priced services in Fiverr.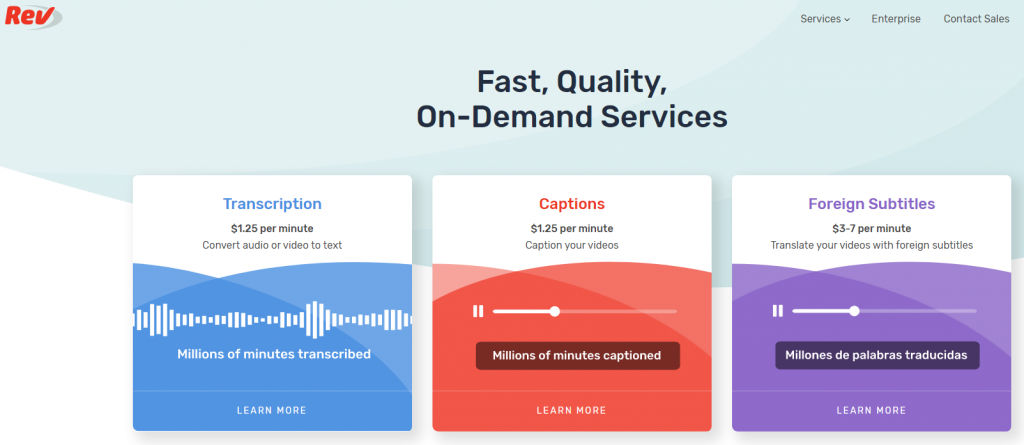 Rev is a fast, in-demand, quality closed captioning service provider with 50,000+ freelancers working to provide quality transcripts and subtitles.
Its fast services and pocket-friendly prices are known for customers such as Visa, Marriott, and Viacom. Its reputation matches the high-quality captions it produces.
This process is simplified in just 3 steps:
Step one: upload the audio file you want services for.

Step two: A Qualified freelancer will thoroughly work on it and send it to you in just a few hours.

Step three: Guaranteed 99% error-free services with back up of the work done if you lose your copy.
Key features:
Transparent pricing system –

The prices are transparent, so you know what you're paying for with no additional hidden costs.

Information protection –

Your captions are protected by the Rev policy safeguarding it from plagiarism or any other unethical online practices.

Lightning-fast deliver –

Rev is one of the best closed captioning companies because of its delivery time. It is fast, just like your nearby fast-food delivery store, and scores a good amount of customer satisfaction.

Top-notch quality work –

Freelancers are tested and reviewed for their skills so that they provide quality; it might sound easy to get in, but the quality of work says otherwise.

Round the clock customer services –

They are open 24/7 for customers with queries, problems, or order related specifications; as they say on their website, feel free to call anytime.
Pros:
Cheap –

Yes, you heard it right with their transparent pricing system, you can choose a closed captioning service that suits your pocket.

Variety of services to choose from –

They provide quality service for captions, transcripts, and videos, audio, basically everything, and anything to do with captions.

People-centered company –

It is a company that gives freelancers from various walks of life a chance to earn money online. Whether it is customer satisfaction or employee satisfaction, the company talks about valuing people in the business.
Pricing:
The prices are transparent, so you know what you're paying for with no additional hidden costs. If there are no details about the pricing and payment, nobody will prefer to opt for any premium services available online.
The Audio & Video Transcription services are priced at $1.25 per audio minute with just 12 hours of turnaround time and guaranteed 99% accuracy. If you're not so sure and want to try them out, they do have a rough draft service with machine generated transcripts priced at $0.25 per minute with a guarantee of 80% accuracy.
Caption services for your YouTube channel or your upcoming documentary is priced at $1.25 per minute with a 24-hour turnaround time so that you can have the opportunity to approach to a wider audience.
My personal favorite is the foreign subtitles priced at $3-7 per minute with a 24-hour turnaround time with a growing population that does not have English as their first language. Rev helps you reach your potential customers.
Live captions for Zoom can be used for international business meetings or college professors teaching foreign exchange students priced at $20 per host in just 5 min set up provided in real-time.
Go transcript just turned 15 with 274 months of work, 3 offices, and one App.
Go transcript was founded in Edinburgh, Scotland, with a motive to serve customers that were looking for quality closed captioning services. Their principles are hustle, adapt, listen, repeat; with 150,000 transcripts delivered until 2015, this company continuously improves.
The factor that sets it apart is that it hires transcribers rather than freelancers. So, if you like closed captioning work done the old school way, Go transcript is the perfect match. 
Key features:
100% manually generated

Security and Privacy are guaranteed with SSL encryption and NDA protection

Customizations and special orders are allowed

Customer loyalty discount

Legal level accuracy regardless of the industry
Pros:
Commendable accuracy

User-friendly caption editor

Easy to use interface

No hidden costs
Pricing:
They have a very smart pricing system based on the speed of the delivery. Prices of services given in a day are higher than the services delivered in 5 days.
This value-based pricing would cost you $0.90/ min for a turnaround time of five days, while if you join the customer loyalty program, you do get a 20% discount on every service availed.
You can also opt for the $1.10/ min for service in three days or $1.30/ min for service delivery in 24 hours.
They also provide service in 6 to 12 hours, costing you $2.50/ per minute with a 20% discount for customers in the loyalty program.

This company remarkably has 32,884 professional transcribers and is offering the option of free revisions, unlike the other Closed Captioning companies.
Scribie was founded in March 2008 and initially provided audio transcription service that served a niche of customers that desired quality transcription services.
With continuous efforts and improvements, they developed a system that produces many transcriptions without compromising on quality. Their services have set them on a mission to deliver quality work in great quantity.
Their 4-step guide includes simple and basic steps as mentioned below:
Step one: Files are divided into smaller parts and manually typed out by certified transcribers.

Step two: Next come the reviewers that check the parts, add speaking parts, and time codes.

Step three: proofreading

Step four: Quality check to assess the proofreading
Key features:
Complete confidentiality

Manual transcripts promise 99% accuracy

Unique in browser online editor

Progress tracking

Free re-review services

Group accounts

Account credits
Pros:
Uncompromised quality

Can add special texts

Great additional features in the integrated editor

Pocket-friendly prices

An option to avail automated captions in just $0.10 per minute
Pricing:
The prices are affordable with two pricing packages. The automated package charges $0.10 per minute with 30 minutes turnaround, 80-90 percent accuracy provided in a word document, or SRT/VTT subtitle file.
The downside includes no audio time, speaker tracker, or strict verbatim with 80% less accuracy for accented speakers, noisy audio, or poor audio.
The manual package charges $0.80 per minute with 36 hours turnaround time, audio code, speaker tracker, and word document. Additional price will be charged for poor quality audio, accented speakers, and strict verbatim.
Frequently asked questions
Below you'll find the most asked questions in regards to closed captioning services. We did our best to answer every single question and query with the most accurate answer from our perspective.
What is closed captioning

?

In simple words, closed captioning is the subtitles text that we know as "captions" and is often seen on a video, TV screen. It is used for dialogue clarification and interpretation. It was developed so that that viewer can understand what is being played on the screen without hearing the sound effects. Professional Closed Captioning Services make sure that the subtitles are in sync with the moving images displayed.

This can be done in real-time or can be pre-recorded. For example, a live game will need a real time Closed Captioning Services while a movie can have pre-recorded Closed Captioning Services.
How much does closed captioning cost?
Closed captioning prices start at $1.00 per minute of audio, and go up to over $10 per one minute of audio.
The exact price depends on the service you use, and the amount of past work and expertise the transcriber you hire got. Native transcribers would always cost you more than non-natives, for example.
What is the best closed captioning service for YouTube?
I recommend rev.com as the speed and quality outstands most of the other Closed Captioning companies.
Here are a few of the advantages of Rev's closed captioning services for YouTube channels:
Speedy delivery

YouTubers are bound by time and cannot wait for five days for a caption document to arrive. That is where Rev gains the competitive advantage of providing speedy services in just 24 hours.

Economical

Every YouTuber can access the caption services with Rev as it is just priced for $1.00 per minute. This helps a new YouTuber have the same market share as the other YouTubers.

No compromise in Accuracy

Rev does deliver quality captions with fair pricing and takes in special requests such as difficult names, accents, or languages.

Zero hassle

Instead of multiple documents, Rev gives you the freedom to upload the file or provide the URL. This is a great feature since you can save time applying it to the video and just get it done for free.
What is the best closed captioning service for zoom?
Again, as YouTube comes under the video caption services, so does zoom; hence Rev is the answer. With third party integration and real time service, this can be a seamless process. Rev has a completely well-defined package for Zoom.
Rev provides Live captioning that transforms speech into texts. It offers complete accessibility for any situation like foreign languages or a hearing-impaired audience. While 80% percent of people that do not have hearing disabilities yet are comfortable with captions, Rev is a great service provider.
How do I add closed captioning to my YouTube video?
Once you get the closed captioning file, check for the timing, grammar accuracy, and potential errors. After this, you can add your closed captions in the following steps.
Select the video and click upload

Switch to the caption tab and click 'upload SRT file'

Select the file that has the closed captions

Before you upload rename the file 'filename.en_US.srt'

Re-check and upload
Note: Facebook, YouTube, etc. every platform has different ways to upload the file; you can always ask your provider to help you with the steps or provide necessary specifications.
What is the difference between subtitles and closed captions?
Captions are generally a textual form of the audio presented in a TV, computer, or movie. These captions will be in the same language as in the audio spoken instead of an interpretation to a foreign dialect.
The captions are mainly of two types; open and closed. Firstly, the closed captions have the freedom to be set to both on and off easily with the click of a button. On the other hand, the open captions are distinct from closed captions. They compulsorily appear in the background and these does not have turn off option.
Subtitles are exact interpretations for the viewers who generally don't speak or find it difficult to understand the language of the content. For example, A popular foreign film or an international business video conference call.
The standard subtitles determine that the viewer can already hear the audio. For the disabled ones like the deaf or the hard of hearing community take the help of these subtitles for understanding the content.