Last Updated on November 13, 2022
Developing a killer logo is one of the most important steps to creating a good band image.
There are many logo generators out there, so finding the right service can be a daunting prospect.
A good band logo should never look cheap and it should always convey your band's ethos.
So, if you want to find out what the best death metal logo generator is, follow our handy article which guides you through the sea of countless logo generators currently offered on the market.
What are the best death metal logo generators?
Below you'd find our list of the best logo generators for your next death metal logo: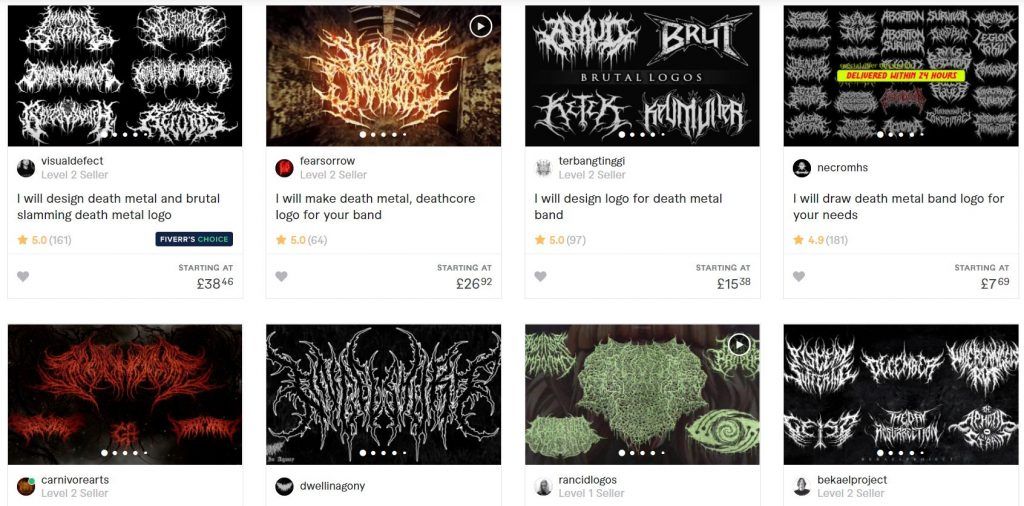 Fiverr is an online freelance marketplace where you can employ the services of professionals to do, well, pretty much anything.
The platform has an array of artists specialising in the creation of bespoke death and black metal logos, with prices varying on experience and size of the project.
This service is different from a generic generator that creates a template for your logo. By working with an artist, you can develop a brand image that feels unique to you. The best part is that you can go as far as you want with it. Some artists will draw a logo from scratch, whilst others use already created elements to come up with something fresh.
Prices range from between $5 to $200, with more experienced artists charging a higher premium. There are always services that meet everyone's budget.
Make sure to ask the artist for a portfolio of work before hiring their services to design your death metal logo. Eventually, you will find the right professional for you. You should also ensure that there are some revisions included, in case the final product isn't quite ready yet.
What we like about Fiverr:
Different pricing points to meet various budgets
A personal, bespoke service
You support independent artists and their work
Better to create a unique brand identity
Incredible customer service
Multiple revisions to ensure you get the product you want
2. BrandCrowd
BrandCrowd is a logo generator that allows for easy creation and customisation of logos through a series of already existing templates. This is a fantastic tool if you're not particularly skilled at creating bespoke designs.
One of the best features is the simple and clean interface. It makes the creation process smooth and allows you to quickly try many variations to get the perfect final product. There's a wide selection of elements for your death metal logo, however, unlike Fiverr, don't expect a bespoke service here.
Perhaps the greatest benefit of BrandCrowd is the access to free assets. As a result, you could create the perfect death metal logo for free. If you opt to gain access to more assets and features, the platform has a cost of 15$ per month if you choose the monthly plan and 5$ per month if you choose the annual subscription.
Note that if you're looking for mean, gritty logos, you'll probably find it difficult to do so on BrandCrowd. The templates offered by the platform tend to be more cartoonish and quirky.
What we like about BrandCrowd:
Easy to use
Highly customisable
Affordable
Good customer service
3. Placeit
Like Brandcrowd, Placeit is another popular logo generator that offers an array of elements and options for your death metal logo. It features a simple design system where you can chop and change assets to create unique designs.
Although the elements are top quality, the lack of personalisation can mean that your logo ends up looking a bit on the generic side, as opposed to completely new and fresh. Unlike BrandCrowd, however, Placeit does have a good selection of elements that can be used to create a brutal death metal logo.
The platform also offers a series of free logos, although the number of elements for creating a death metal logo is low here. To gain access to all the templates on the platform you can opt to pay $14 per month in a monthly deal, or $89.69 annually, which works out at $7.47 per month.
What we like about Placeit:
Option to create free logos
Easy to use platform
Affordable