Last Updated on December 27, 2022
Voiceover services are the best way to make your video content more attractive and engaging.
This is because a voiceover can directly communicate with people, giving them the information they need or enticing them to do something.
There are many different types of voiceovers, but only a few services provide high-quality ones at an affordable price. They follow industry standards and have been reviewed by other professionals in the industry.
To give you an idea of how voiceovers can help your business, let's look at what some of the best voiceover services on the market can offer you!
What are the best voiceover services?
There are a few places on the internet to find voiceover services, but Fiverr is one of the top places to find quality sellers dedicated to giving you an exceptional product.
Voices.com is a great site that offers something similar to Fiverr, and it is definitely worth a look!
Listed below is a detailed review of the voiceover services and companies!
1. Kariannc – Top-Rated Fiverr Seller With Thousands (Yes, Thousands!) of Five-Star Reivews!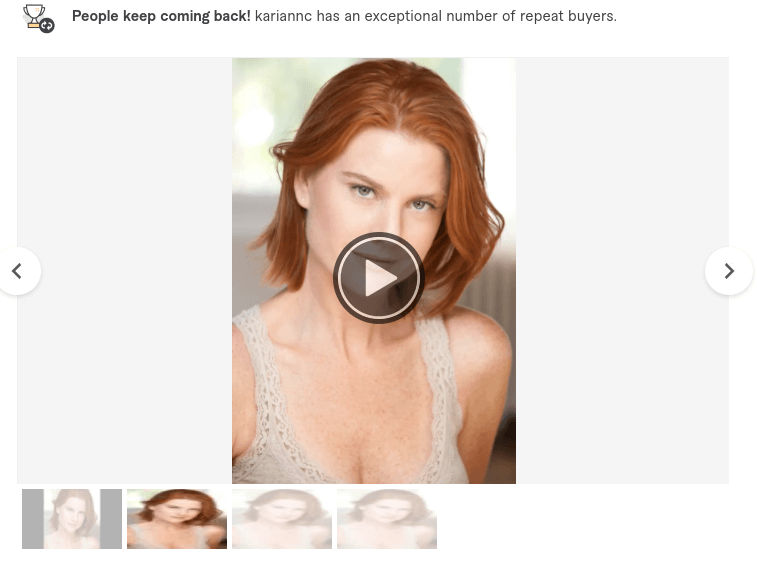 Kariannc has 20+ years of experience as a full-time actor, VO artist, and morning radio show host, and honestly, that doesn't come as a surprise, considering the extremely high ratings this seller has achieved on Fiverr!
She is a United States-based professional voiceover actor that has produced thousands of audio products, including audiobooks, commercials, explainer videos, and more! Kariannc has over 1,300 five-star reviews on Fiverr, which is an outstanding accomplishment.
Key Features:
Kariannc offer the addition of music
The gig requires no extra charge for WAV files
Commercial rights are included with each of her orders
This seller can complete a vast amount of work in different styles and from customer feedback, has a very detailed revision process to ensure you get what you need!
Pros:
Ten years of experience
Reasonable Pricing
Plenty of Gig Extras
Pricing:
Kariannc's voiceover gig starts with increments of 100 words for $20. The word count on this is customizable, with an additional cost for another 100 words, and so on.
Kariannc offers a few gig extras, including:
Full Broadcast Rights
Timed Audio Sync (per 60 seconds)
Background Music (per each track)
Split Files (up to 5 files)
Rush Delivery
Check out this gig and more from Kariannc to add an engaging and attractive VO element to your project now!
2. Mariaesnoz – A Top-Rated Fiver Seller & The Best Spanish Voiceover on Fiverr!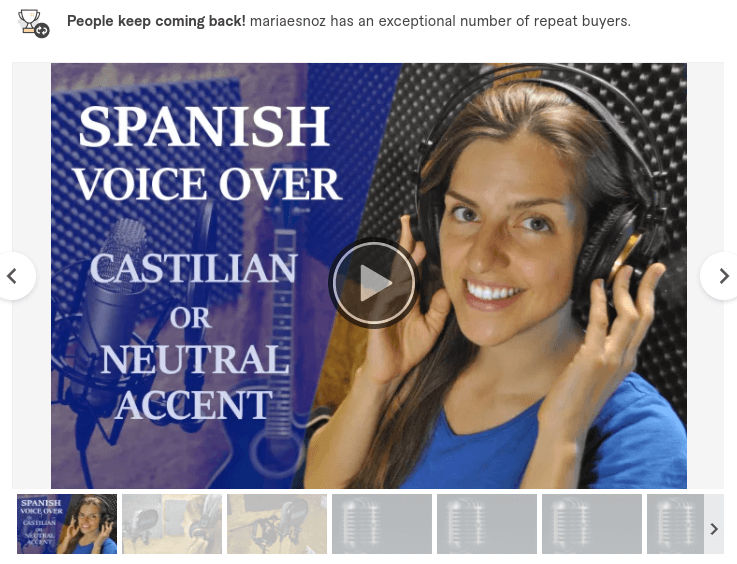 Mariaesnoz has over 2000+ satisfied clients and offers a guarantee of an excellent and personalized service. To prove it, their profile (this gig specifically) has over 1,600 five-star reviews! Mariaesnoz is based in Spain and has been on Fiverr since 2013, making her one of the most reliable and stable sellers on this list!
In English OR Spanish, she can record any voiceover (up to 100 words). If you want more words, add them to the box, and the system will automatically compute the total cost. Mariaesnoz has studied Linguistics and can therefore translate your script from English to Spanish. This gig combines translations and voiceover, which is somewhat rare on this platform!
Key Features:
Mariaesnoz offers recordings for:
Pros:
She is a professional linguist and strives for perfection in language
The option to choose from an MP3 or WAV file
Background music is offered at a reasonable fee
She records with professional equipment and has multiple 5-star reviews to prove it.
Pricing:
Mariaesnoz's offers a single tier or subscription tier. The single-tier is priced per 100 words, with additional word counts available. Mariaesnoz also offers plenty of gig extras, including:
Extra Fast: 1 Day Delivery
Script Proofreading
Commercial Rights
Full Broadcast Rights
Additional Revision (+2 days)
Translation
2 Or 3 Variations
The subscription tier is offered at a three or 6-month increment and saves you 5% on your second order. If you're looking for a quality Spanish (or English!) voiceover actor, look no further! Check out this and other gigs from Mariaesnoz here!
3. Conormahood – A Fiverr Top-Rated AND Fiverr's Choice Irish Accent Voiceover Actor!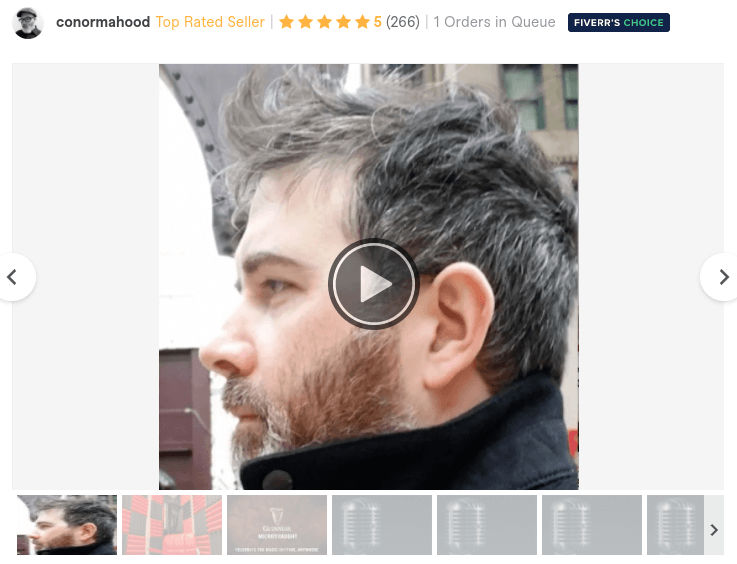 Conormahood has been a voiceover artist since 2015. He is based in the United Kingdom and specializes in male Irish accent voiceover work! In fact, if this top-rated seller isn't impressive enough yet, he is the voice of Guinness's global Microdraught launch!
He has also voiced for TV and Radio ads and several brands, including Guinness, Viacom/CBS, Heineken, JBL, and Stihl. With over 260 five-star reviews, Conormahood boasts some impressive feedback from his previous clients including some saying they've returned three or four times and are still impressed with his ease to work with and attention to detail!
Key Features:
Fiverr Top-Rated Seller with over 260- 5 star reviews
Professional Voice artist with experience working for top brands
Irish male accent
1,000 Words In 24hrs
Live Direction(+1 day)
Pros:
Fiverr's Choice Badge
High-Quality Work
Conormahood offers quick delivery and multiple revisions.
Pricing:
Conormahood offers a gig price per word count starting at 100 words. Conormahood also provides an array of gig extras, including:
Extra Fast: 1 Day Delivery
Script Proofreading
Commercial Rights
Split Files (up to 5 files)
Extra Take
Under 24 Hrs
If your project is in need of a quality Irish accent voiceover actor, look no further! This top-rated Fiverr seller should be your hands-down choice! Conormahood offers a wide array of extras and convenient offers for your voiceover project. Check out more of his work here!
4. Nightingalesing – A Top-Rated and Reviewed Fiverr Female British Voiceover Service!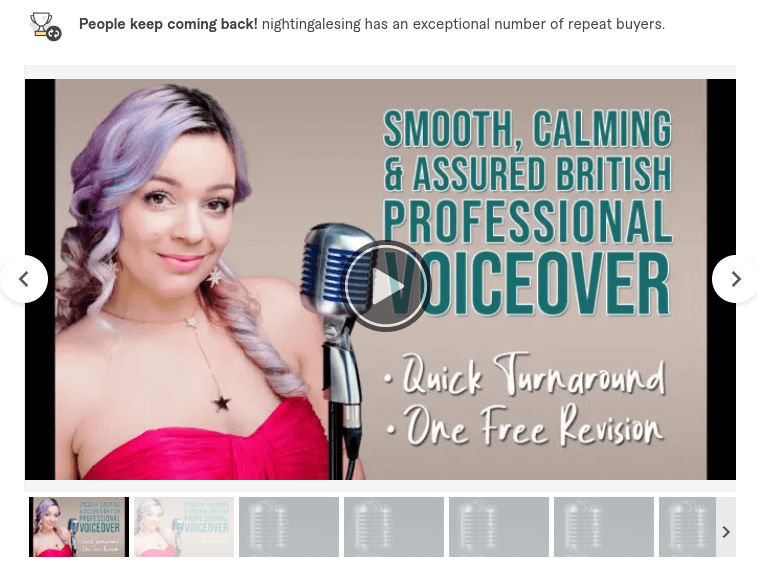 Nightingalesing is a professional voice artist with a home studio in Leicestershire, England. If a unique female British accent is what your project needs, this seller is your best option! Though this gig is on the higher end of the spectrum as far as price is concerned (starting at $95), it's easy to say that the quality offered is also high on the spectrum!
She has experience with voiceover work, having trained in theatre and performance in London and the United States. This gig in particular has over 350 five-star reviews and some incredibly praising feedback from her clients. Additionally, she has years of expertise working with various clients such as:
Disney Junior
London Essence
Financial, Educational, and Medical organizations, among others!
Key Features:
The high-quality level of training
12+ years experience,
She is a professional, guaranteeing a finished product you'll be happy with
The download includes high-quality, fully mastered audio.
Pros:
Fiverr Top Rated Seller
Over 350 5-star reviews
High-Quality Work
Fast Delivery and revision process
She offers National Tv Buyout
She offers Broadcast Rights
Pricing:
Nightingalesing offers a gig price per word count starting at 100 words for $95. She also offers an array of gig extras, including:
Extra Fast: 1 Day Delivery for
Script Proofreading for
Commercial Rights for
Timed Audio Sync (per 60 seconds) for
Additional Revision (+1 day)
Social Media Rights
Nightingalesing is a proven professional with high ratings on Fiverr. For the top British female voiceover actor, nightingalesing is your option! Check out this and more of her gigs on Fiverr!
4. Voices.com – The Best Variety of Voiceover Services on the Internet!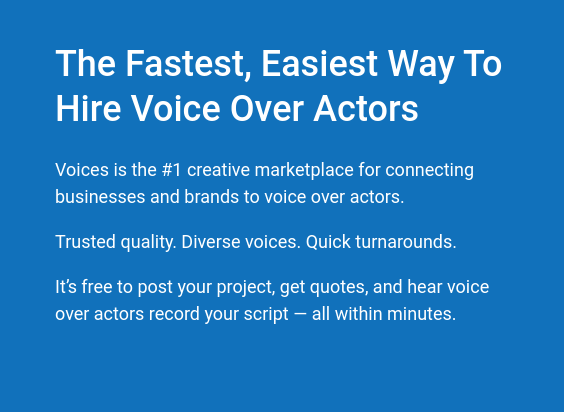 Voices.com is the world's most trusted source for voiceover talent, with a database of more than 55,000 VOs. Hundreds of thousands of creators use it every day to find the right voiceover artist for their projects. The Voices.com Community helps you match your needs with those of actors that fit them.
They even offer voice over services from specialists imitating professional actors, such as Chris Mclean, Darth Vader and Morgan Freeman.
With the help of on-demand, reputable, professional freelance creative talent, you may enhance your creative output and close internal skill gaps.
Key Features:
Over 100 languages from 160+ countries
Less than 24 hours turn around time
Hundreds of VO actors to choose from
Fast-delivery!
Pros:
Choose a fixed budget or range budget
Talent is quoted based on your budget
Pick the best talent within your budget
Payment is held securely until you're satisfied and the job is done
Pricing:
Voices.com offers a wide range of rates for their services but estimates rates per length of the job requested.
0 – 2 minutes/300 or less words/$100 – $249
2 – 5 minutes/300 – 750 words/$250 – $499
5 – 15 minutes/750 – 2250 words/$500 – $749
15 – 30 minutes/2250 – 4500 words/$750 – $999
30 – 45 minutes/4500 – 6000 words/$1000 – $1249
How much does it cost to do a voiceover?
As a voice actor, you may expect to earn anything from $35 for a small market radio spot to around $2000 per audiobook as a well-known voice talent.
What are good voiceover rates?
According to voices.com, the industry average rates for voiceover projects are $100-249 for 300 words or less, up to $1250 for 6000 words.
How do I find professional voice over artists?
One of the most popular places to find voiceover artists is Fiverr.com. In addition to Fiverr, there are sites like voices.com, voicetalentonline.com, Upwork, and more! Fiverr and Fiverr Pro offers some professional and experienced voiceover artists for your project.