Last Updated on January 8, 2023
Love South Park? You must have at some point had a South Park moment of your own, which may have imprinted an image of a South Park version of yourself in your mind too.
Perhaps want to make a South Park character for other reasons, such as using them in memes of your own.
And although there may be basic tools online that allow you to make South Park characters, the options inside them end up being too limited and they fail to look original due to that reason.
In this article we will be discussing what is the best way to have your South Park character made.
How to Create Your Own South Park Character?
Creating an accurate-looking South Park character on your own would be hard, unless you're a very talented digital artist of some sort.
But if you are looking for an artist to create a South Park character for you, it doesn't have to be you yourself.
You could hire a professional artist online to make them for you at an affordable price too, and with the right details or an image of yourself provided, you may find yourself receiving a nearly uncanny South Park character design based on yourself.
Even if you're an artist it may take you quite some time to perfect making proper South Park character designs, and the same goes for other artists online.
This is why you should prefer finding artists who specifically create character designs for South Park, or at least have a similar art style.
Where to Hire Talented South Park Artists?
There are many sources to discover artists online, but in my opinion – the fastest, and the most professional option to have your own South Park characters created at an affordable rate would be Fiverr.
With the huge amount of artists selling their services there, you can literally find artists with any niche or specialization imaginable.
But don't fret, as we've got you covered, and will be listing the top three best South Park art services available on Fiverr:
1. longart – Best and Most Popular South Park Character Artist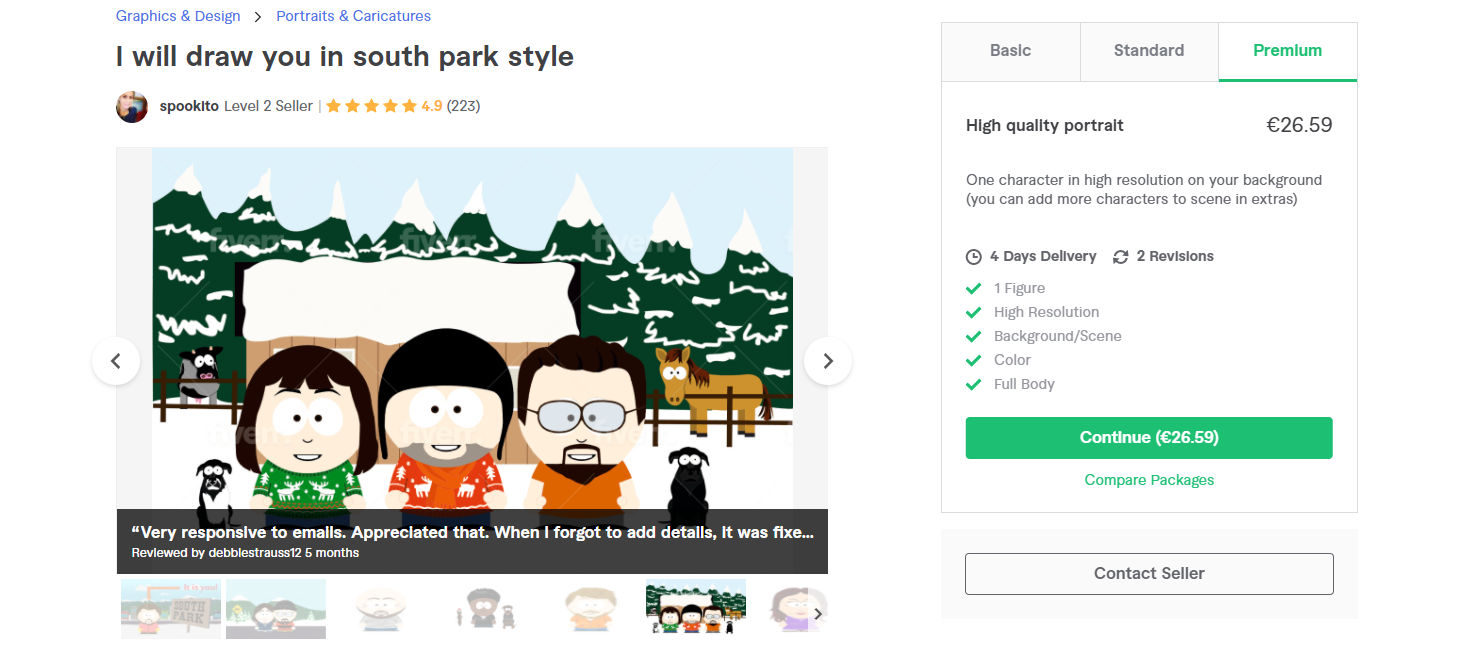 longart is our top choice if you are looking for a quality South Park character made by a professional artist.
His Basic package may not provide that many resources or a high-resolution image, but you still get the most accurately drawn full-body South Park Character with a colored background for yourself in only $5 within 4 days, and with an availability of a revision.
The Standard package adds a specifically designed background scene at a price of $15.
And for those willing to get the best possible South Park character made for themselves in the best possible image quality, is the Premium package, which charges $30, with two revisions available.
The only con besides the relative expense is that there are no packages for multiple characters.
Looking for highly accurate South Park Character designs? Check out longart's service.
2. icyk1d – Most Balanced South Park Character Service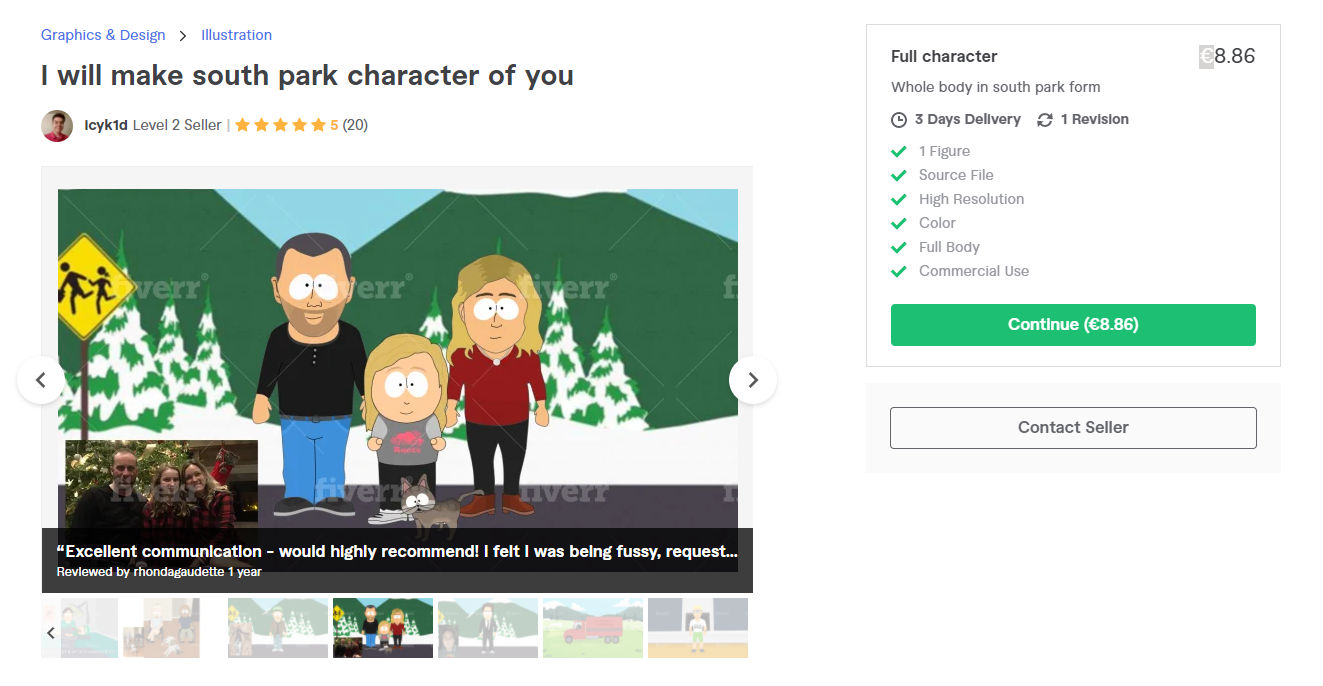 Despite lacking variety in terms of packages, Icyk1d's service is still the most balanced service we've come across and has the most accurate art style to that of South Park itself.
The only package available in this service provides almost all the things that the other services provide with their Premium packages. For $10, you get your whole-body character figure within 3 days, with 1 revision. Additionally, you will also get the source file of the image, the image will be high-resolution, and will also be free for commercial use.
The reason why icyk1d isn't at the top of the list is that despite the art itself being of good quality, it may not be the most accurate option available.
Looking for fine and affordable South Park Character designs? Check out icyk1d's service.
3. casirasnuc – Most Affordable South Park Artist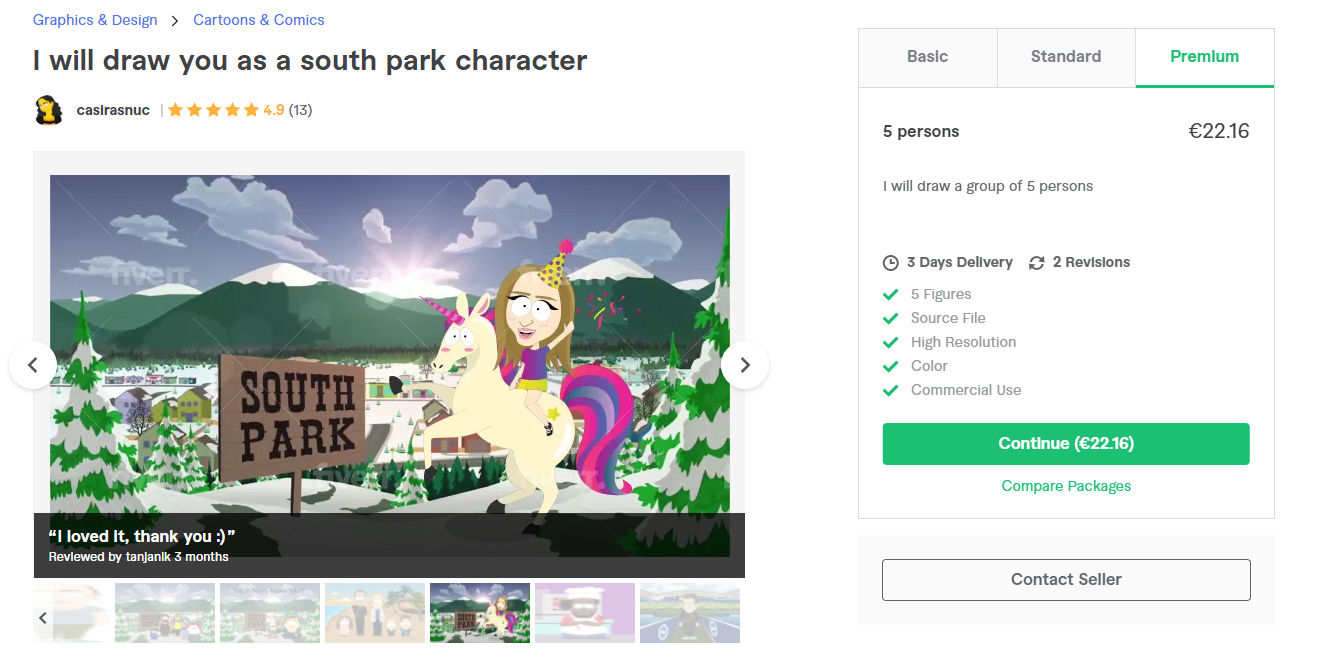 This is the best South Park Character service available for those who want multiple characters drawn.
It may not be the most accurate, and may not possess the flair of icyk1d's designs, but it's the second most accurate looking choice here and takes less of a toll on the budget.
Even the Basic package provides you up to two characters at a rate of $5 within two days, alongside everything else that you could get with more advanced packages, like a high-resolution image, a source file, and an allowed commercial use, alongside the availability of two revisions.
The Standard package comes with the same features but will provide you three-to-four characters. The Premium package on the other end will provide you five South Park characters within two days.
Looking for a service that provides multiple, nearly accurate, and affordable South Park character designs? Check out casirasnuc's service.