Last Updated on December 25, 2022
If you are thinking about becoming a YouTuber you should understand one thing. YouTubers aren't any less than celebrities these days.
So if you are going to become famous of YouTube you are going to be considered a public personality and public personalities are always criticized even for their small actions.
Yes, you do get a lot of loving fans but you also get a lot of people who don't agree with you or who don't like your content. So you should be ready for all of this but you should also keep in mind to keep going.
Can You See Who Disliked Your YouTube Video?
No, You cannot directly pinpoint the person who has been disliking your videos.
However you can take certain steps to investigate where most of your dislikes are coming from .This can help you narrow down the list of people who may have disliked your videos.
You don't have to try to please each and every one of your viewers because that is just not possible. Search for the most positive videos on YouTube and you will see that there are dislikes on those videos as well.
Why is that? Because people can disagree with anything if it doesn't matches their style or preference. So the content you make isn't going to be liked by everyone. You are going to get both likes and dislikes on your videos so enjoy the likes and don't let the dislikes get to you.
How Can You See Where The Dislikes Are Coming From?
To see which of your videos get the most dislikes, go to "YouTube Studio" and then click on "Analytics".
Once you are there, click on the "See more" button at the bottom of the page.
This will open up a lot of different tabs that will show where most of your dislikes are coming from: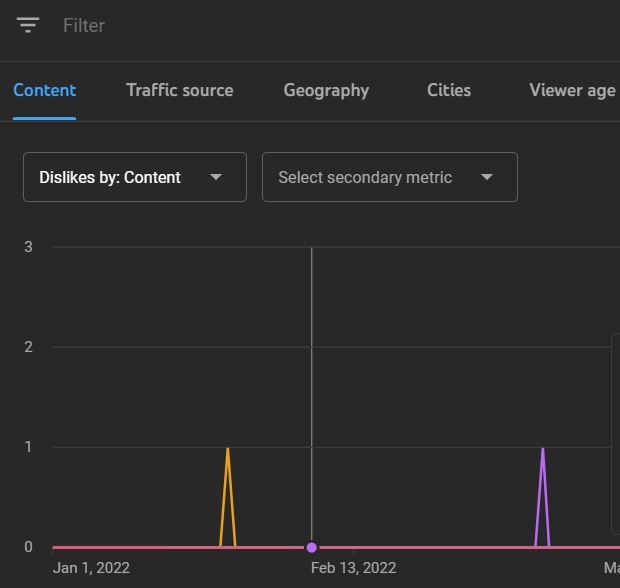 You will see that most of the dislikes will be coming from a few specific regions.
You can then check the comments of your videos to see who has been spamming the comment section with negative comments. You can also click on their profile and in some cases identify their country which will help you identify if they are the ones disliking your video or not.
Another way to find out who disliked your video based on the location is that you can start a funny trend of asking people different questions for example; we want to know where our viewers are from, tell us in the comment section? Or something like "Are you from the United States? Reply to my comment if you are online".
This will also help you understand the dis-likers.
As it has to be someone who was online at the time of you uploading the video and at what time and from what region the dislike came. All of this can help narrow down the culprit.
What Other Features Can You Use To Identify the Disliker?
In the analytics tab there are many things you can see. For example how many of your subscribers are dislikers and how many dislikes come from other people.
Do the Dislikes Actually Make a Difference?
Dislikes alone don't make any difference because the YouTube ranking algorithm does counter them in calculating the rating and the standing of your videos but they take it as a ratio with the likes of the video.
So if you have a high number of likes on your video you don't have to worry about anything. Dislikes alone don't cause any problem to the uploader. However high dislikes might make a few people leave the video before it has even started.