Last Updated on August 31, 2022
With over 100 million videos on YouTube, a custom thumbnail can significantly impact whether a visitor clicks through to your video or choose to watch another.
A great thumbnail catches the viewer's attention and gets them to click your video, which results in more views and revenue!
Do you have a YouTube channel and want to improve your thumbnail game but don't have the skills or know-how? Then you've come to the right place.
Who Are the Best YouTube Thumbnail Commission Artists?
Below you'd find our list of the best YouTube Thumbnail Commission artists to try this year:
Nadocs – High-Quality Horror YouTube Thumbnail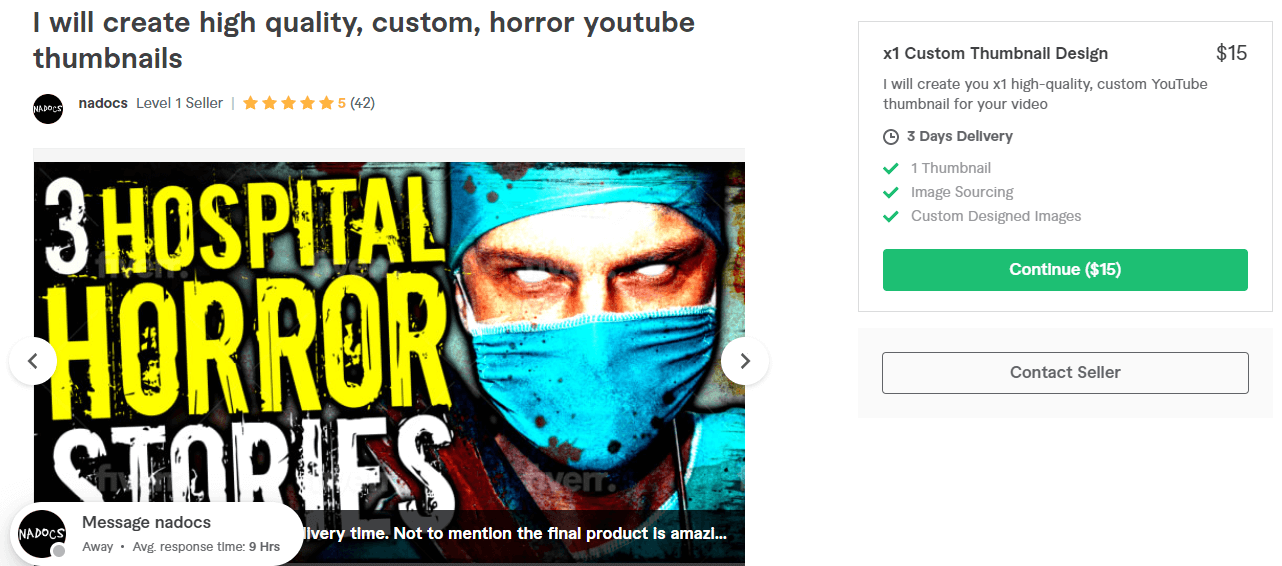 Nadocs is a street artist, freelance graphic designer & illustrator creating high-quality & catchy custom thumbnails for horror narrators, creepy stories & true crime documentaries.
All he needs to work his magic include:
Title of your video
Summary & theme of your video (even better if I'm able to watch it)
Any reference images (if you have particular imagery in mind)
For a flat fee of $15, Nadocs will design an catchy horrific thumbnail for your video in 3 days.
Looking for a horror thumbnail expert? Nacos is your guy!
Kyberq – Catchy Cartoony YouTube Thumbnail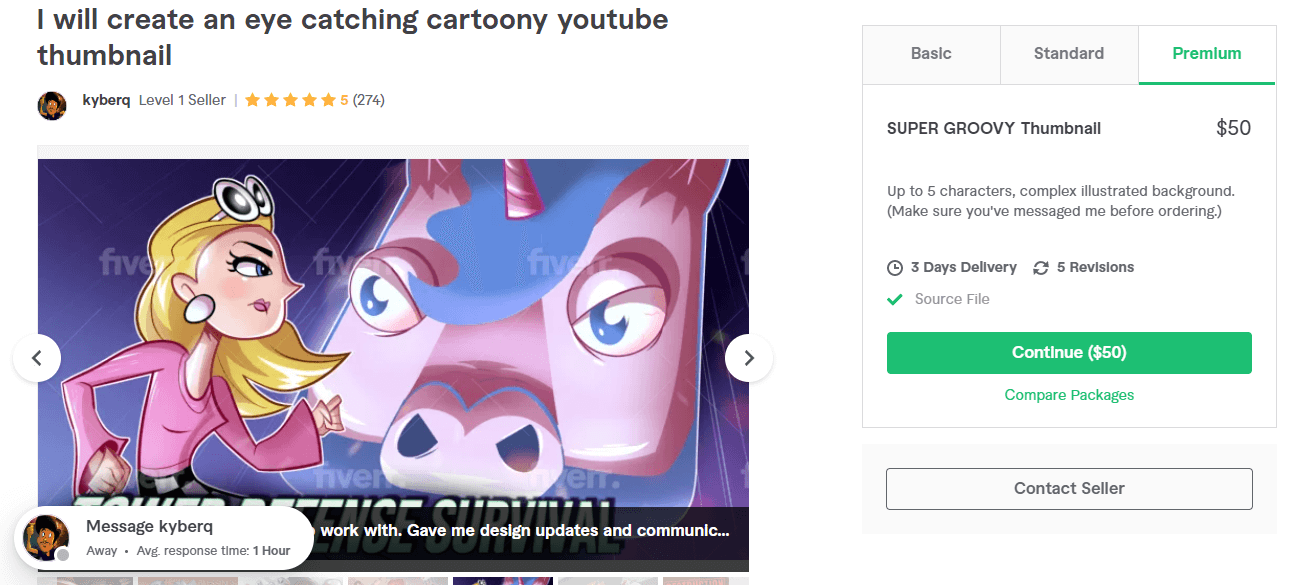 Kyberq is an animator and illustrator with more than five years of experience creating digital content. He offers to help increase your YouTube views with his professional and unique illustrated thumbnails.
His price ranges from $20 for one character with a simple background to $50 for up to five characters with a complex illustrated background in three days.
He urges you to send a message before placing an order to avoid having your order canceled.
Looking for a cartoony Youtube Thumbnail? Send Kyberq your craziest ideas.
Dezinee – Most Affordable Thumbnail with a Lightning-Quick Turnaround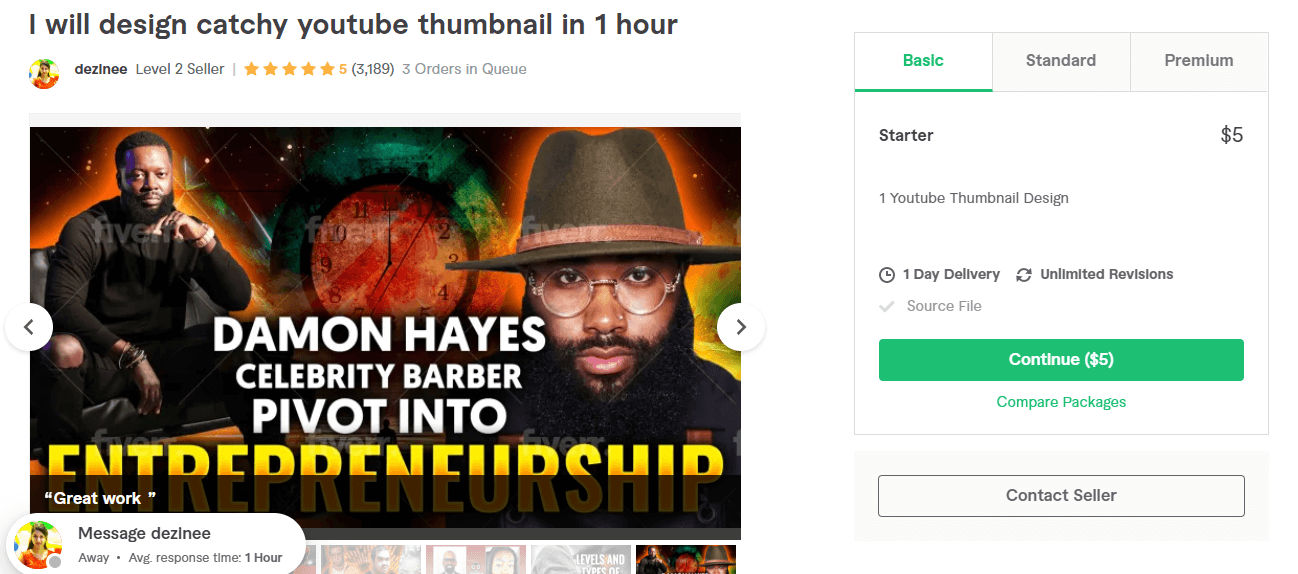 Dezinee is a full-time freelance Graphics Designer. For just 5$, she will create professional and catchy YouTube thumbnails for your videos in just an hour. (How sick is that?!)
Dezinee can design thumbnails for almost any niche video from a podcast, gaming, tutorial, pranks, or vlogs, to mention a few.
Looking for an affordable but captivating thumbnail? Reach out to Dezinee.
Itsmohitchouhan – Top-rated, Clickable YouTube Thumbnail
Franklin is a top-rated seller with over 500+ positive reviews – meaning he has worked on 500+ thumbnails with different styles. This proves he's more than capable of handling your projects.
His price ranges from 5$ for a single clickable thumbnail which will convince the viewer to click on your videos, to $180 for a pack of ten high-quality thumbnails.
Looking for clickable thumbnails? Franklin is your go-to pro.
Pradiptale – Illustrated YouTube Thumbnail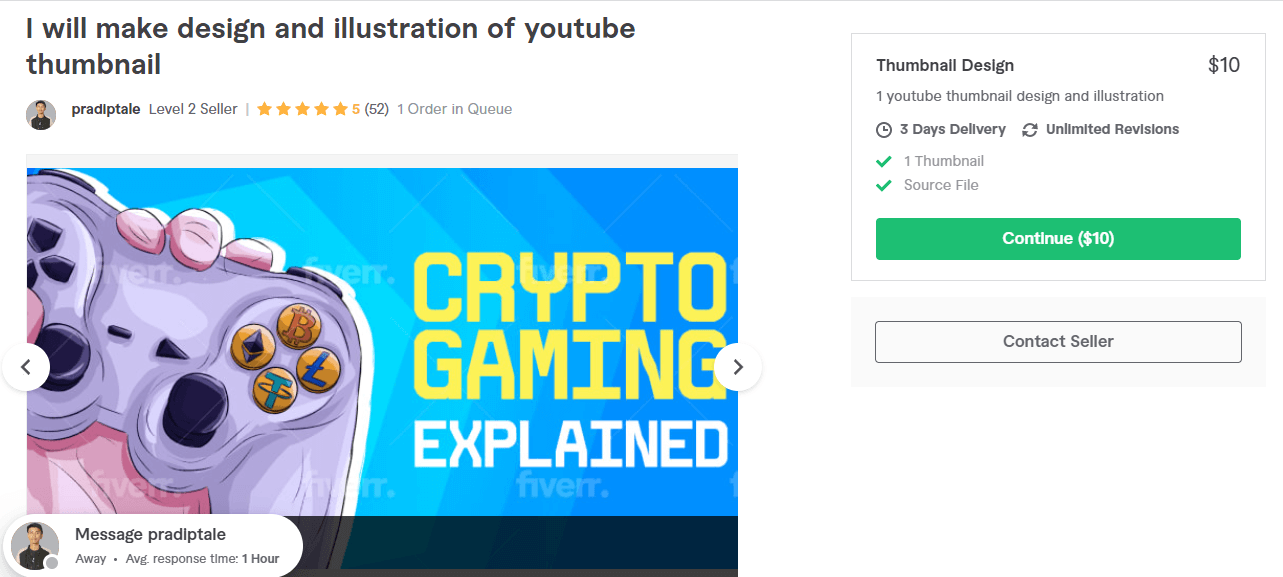 Do you have an idea for a thumbnail that needs to be illustrated before it can be converted to a standard thumbnail? Then Pradiptale is your man!
Pradiptale is a seasoned designer and illustrator specializing in digital art, infographic, and social media design.
For a flat fee of $10, he offers to make illustrations and design for your YouTube thumbnail in 3days.
Looking for a seasoned illustrator for your thumbnail? Send Pradiptale a message.
How much does a YouTube thumbnail design cost?
A single YouTube thumbnail design cost between $5 to $15. If you purchase a bundle of 10 or more thumbnails, the price can go down to $2-3 per thumbnail, depending on the level of the artist.
How to Create Your Own YouTube Thumbnail?
To create your YouTube Thumbnail, you have three options:
1. Use a ready-made thumbnail generator available for free online or build one yourself using editing software such as Photoshop, which will take a lot of time and effort if you aren't familiar with it.
2. If you aren't familiar with photoshop, you can use CANVA, a less complex software, to help you get your desired result.
3. If you want a captivating, unique thumbnail and don't want to stress, you have one last option: hire an artist to perform all the work for you.
When hiring an artist, you're not just paying for their time. You're also paying for years of polished skills hence, ensuring a high-quality service, which is why having your art designed by a professional artist is preferred. And there's no better place to find one than Fiverr
A compelling and catchy thumbnail is crucial for the success of your YouTube career, and what better way to stand out from the crowd than by having professionals design your Thumbnails.
Remember, a great thumbnail equals more CLICKS, which equals more REVENUE!