Last Updated on September 4, 2022
AI is one of the best tools in the 21st century that is here to change the way we live.
It is making many tasks easy and simple, so we have less work to do. For example, copywriting is a difficult and time-consuming task for businesses and copywriters.
However, to save the time and effort of business, there are now AI copywriting software tools.
These tools enable faster and better copywriting that guarantees results. So, if you are a business or copywriter looking to save time, you are in the right place.
Here are the 8 best AI copywriting software you need to get your hands on this year.
What is the best AI copywriting software?
The list below mentions the top AI writing software, based on our experience:
1. Jasper – Best AI Writing Software for Blog Posts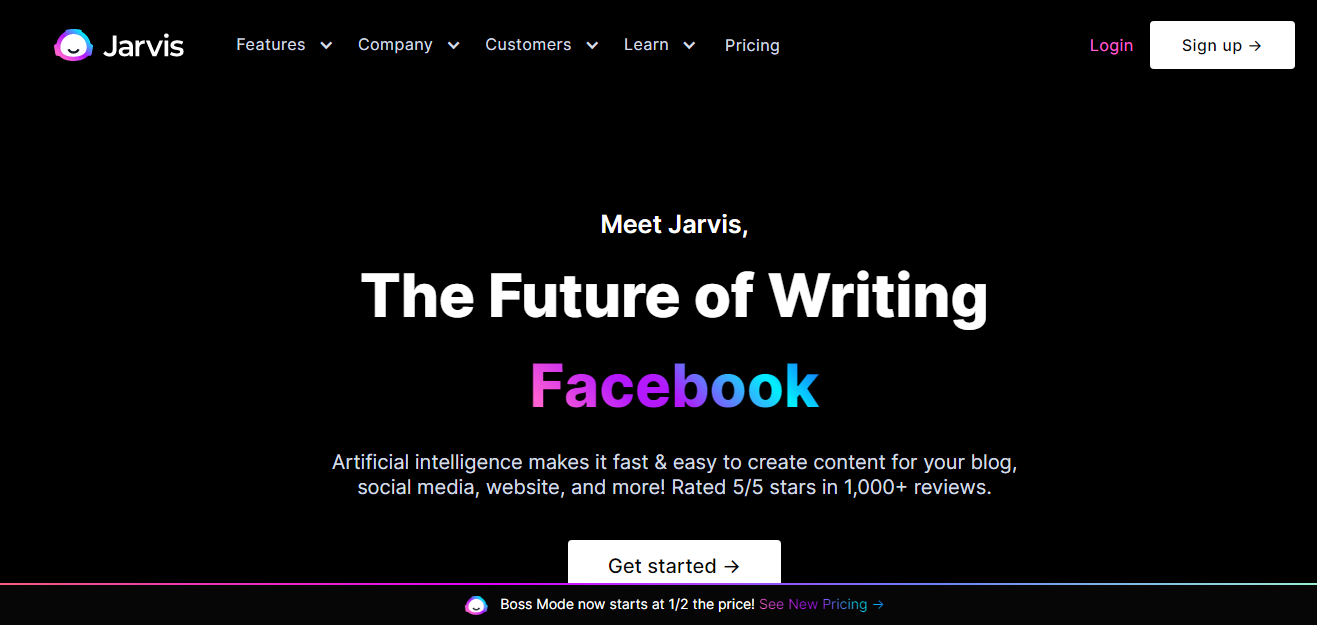 Jasper was previously known as Jarvis and Conversion AI, and it is one of the top AI copywriting tools.
Jarsper aims to solve some problems for copywriters and businesses, including creative block, long hours, and low conversion rates. The best part is that you can write an article, blog post, or anything else you like with Jarvis.
The tool will create automatic content that will match your overall writing style. The software's best feature is the Jarvis Command, where you can begin typing, and the tool will finish your sentences. Here are some important features of this tool:
2,500 writing styles and 11,000 free fonts
Find and replace option
Lookup
Paraphrasing and quoting
Punctuation
You can also opt from the various price plans to begin your journey. These include:
Starter Plan: $29 for 20,000 words per month
Boss Mode: $59 per month for access to all Jarvis features
The pricing of Jasper is affordable, and you can choose a plan you like depending on your needs. There are many collaboration features, and the AI software is easy to use. However, one thing to keep in mind is that the tool does not offer unlimited content generation to users.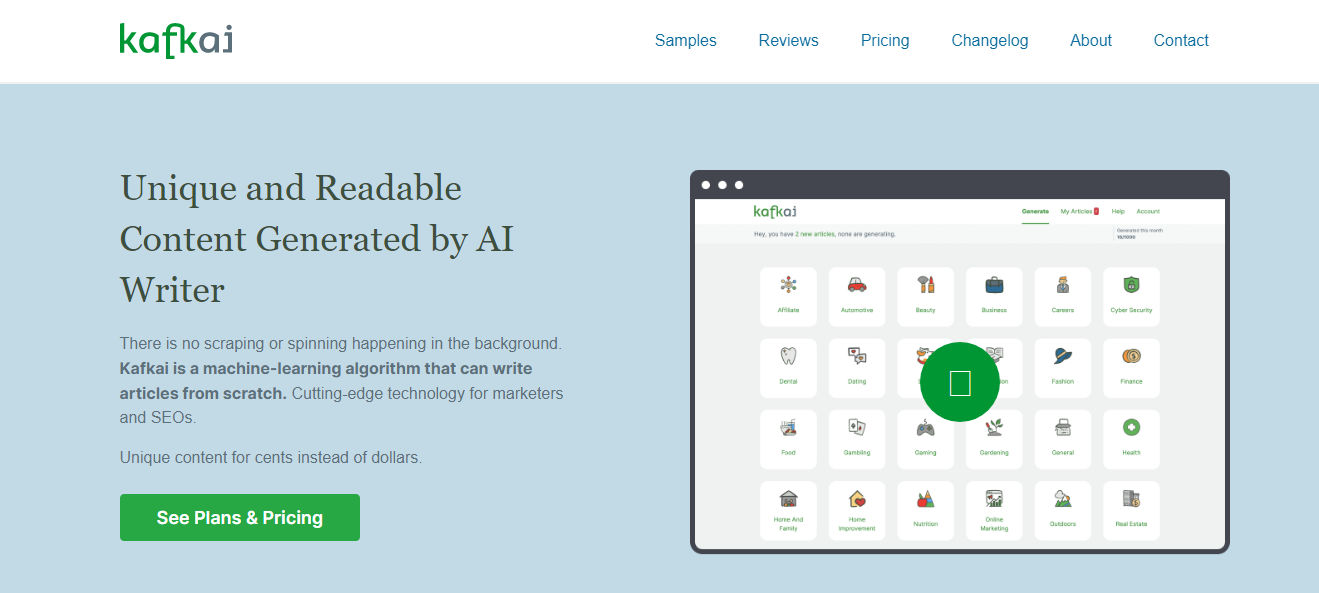 Kafkai is one of the 8 best AI copywriting software that creates automatic articles within minutes. You can select various topics or niches to generate original content in no time. The best part is that the developers update the tool often to boost its performance.
The focus of Kafkai is to produce the best-written content in many forms. That is why any content you want, the tool can create. Here are some of the top features of this AI copywriting software:
Text Writer
Multiple Languages
Thirty-Nine Niches
WordPress Plugin
Referral Program
And much more
All these features are there to make your experience easy and convenient. The AI is powerful enough to create a copy within minutes. Here are the pricing plans of Kafkai:
Writer: $29 at 100 articles per month
Newsroom: $49 at 250 articles per month
Printing Press: $129 at 1,000 articles per month
Industrial Printer: $199 at 2,500 articles per month
Keep in mind that Kafkai also offers a thirty days money-back guarantee if you don't find the tool to your liking. Another thing you must understand is that Kafkai is not perfect. You will still have to edit the text before you upload it, as you might find a few mistakes.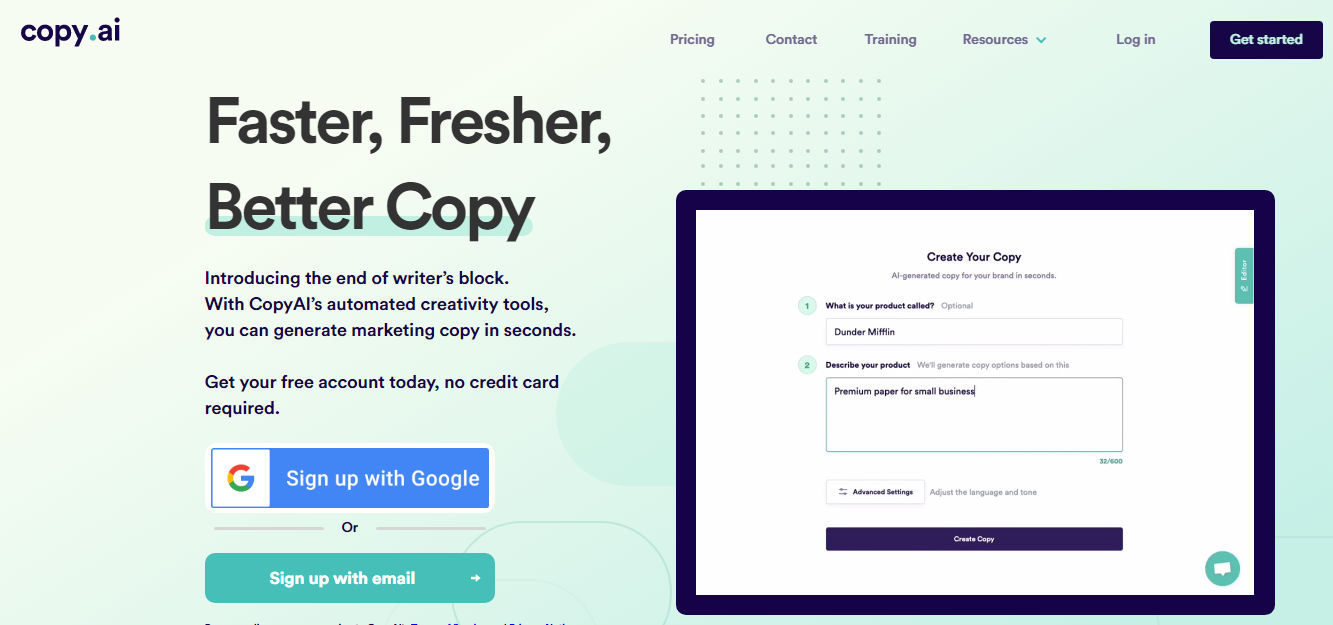 CopyAI claims to create a marketing copy for users within seconds. That is why if you have a creative block, you can use this tool. It is one of the 8 best AI copywriting software for businesses and writers.
The tool is straightforward, and there is no learning curve that comes with it. All you have to do is write an excerpt about your content, and CopyAI will generate the entire content using that excerpt in no time. The description doesn't have to be long, as you only need to write between 10 and 30 words.
Here are some top features of this tool:
Changing writing tone
Content improvement
25+ languages
70+ tools to create content
Unlimited runs
And much more
There is only one pricing plan that CopyAI offers, which is at $49 per month. It also offers a free trial for seven days to understand the tool. You can use it to generate carious content for your website, social media, advertisements, and much more.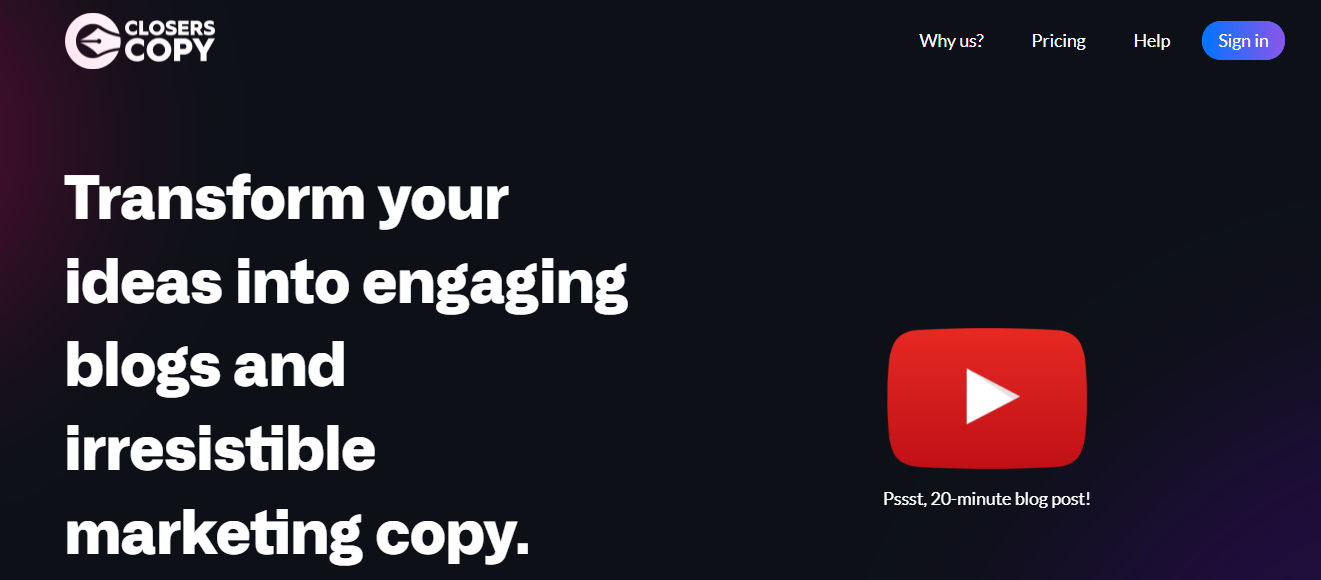 Are you looking to write the best copy by using one of the 8 best copywriting software? If you are, there is no better tool than ClosersCopy for you. It has a Longform editor that can identify weaknesses in content and suggest improvements.
The tool is easy to use, and you only have to write an intro and outro for the AI to begin working its magic. You can also select a service or product for which you want the sales copy. Here are the top features of this AI software:
Longform editor
Keyword density
Plug and play marketing features
Multilingual sales AI
Content improver
And much more
ClosersCopy also offers three pricing plans: Starter at $29.99 per month, Professional at $49.99 per month, and Unlimited at $79 per month. You can select one depending on your needs and budget.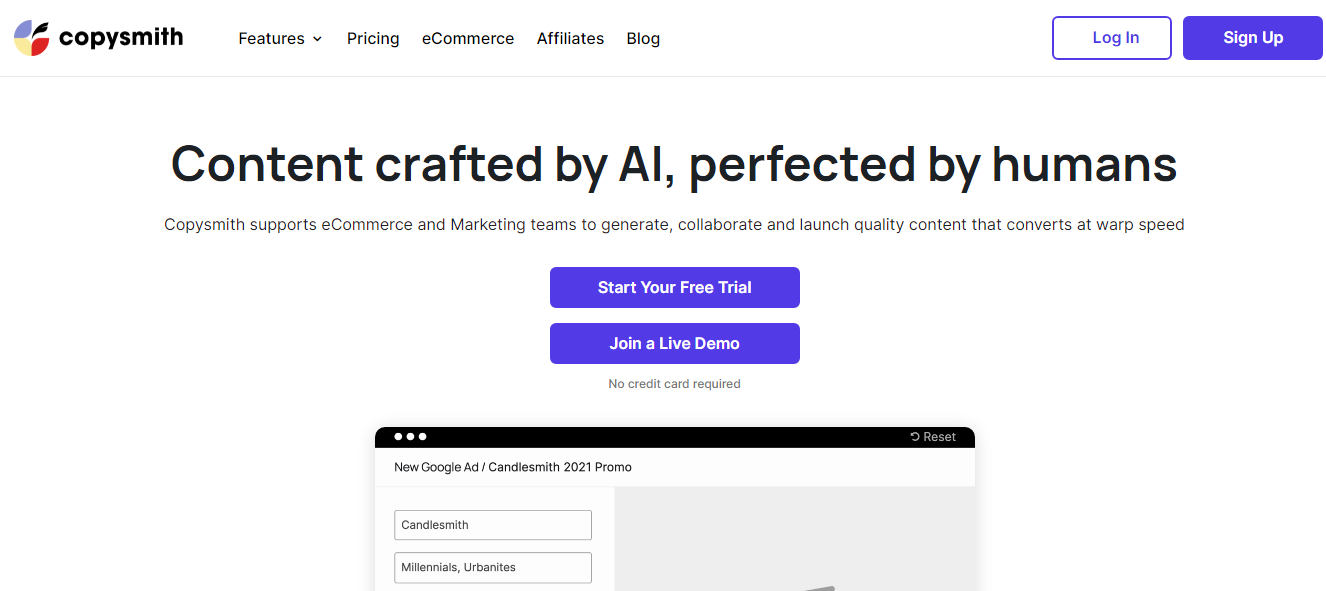 Copysmith is the ideal software to create the best marketing content. It is one of the 8 best AI copywriting software that can create an ad copy in no time. You can use the tool to create sales emails, landing page text, product descriptions, blog post ideas, meta descriptions, and much more.
This tool has various features, such as ad templates, branding, blogs, and other basic and advanced features. Here is the pricing plan of Copysmith:
Starter: $19 per month
Professional: $59 per month
Teams: $118
Enterprise: Contact Copysmith for custom pricing
Copysmith can create perfectly optimized content for users because it has the right features to execute this aim. It can also convert bullet points into paragraphs to guarantee you have the perfect marketing copy. So, you can write your ideas down in points and let the AI tool do its magic in no time.
Keep in mind that if you are using a language other than English for your content, the AI tool will take some time. That is because it is slower in creating content in other languages. Their prices also keep on changing, which is why you must always keep an eye out.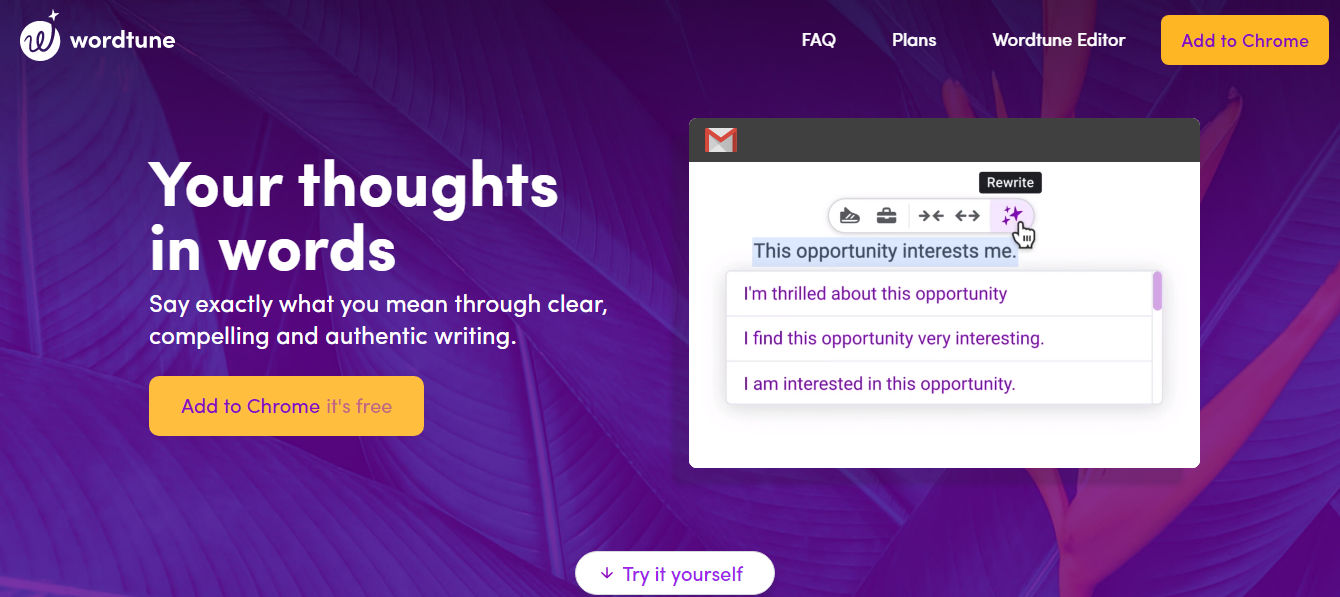 Are you looking to rephrase your content but don't know where to begin? If you are, then Wordtune is one of the 8 best AI copywriting software to fulfill your needs. The tool will understand the semantics and context of your writing to rephrase your sentences.
The aim of the tool is to make your content more engaging and attractive, so your audience can stay on your page. That is because Wordtune uses NLP technology with AI to offer you the best results. The features include:
Cloud-based
Semantic analysis
Smart paste
Social media integration
Real-time suggestions
Multi-language word finder
And much more
All these features are there to make your experience smooth. You can also select a pricing plan depending on your budget and preferences. These include:
Free Plan
Premium Plan: $9.99 per month
Premium for Teams: Contact Wordtune for custom pricing
So, if you don't want a complete writing solution but need a tool to rephrase your text, there is no better solution than Wordtune. Once you start using it, you will not want to look back.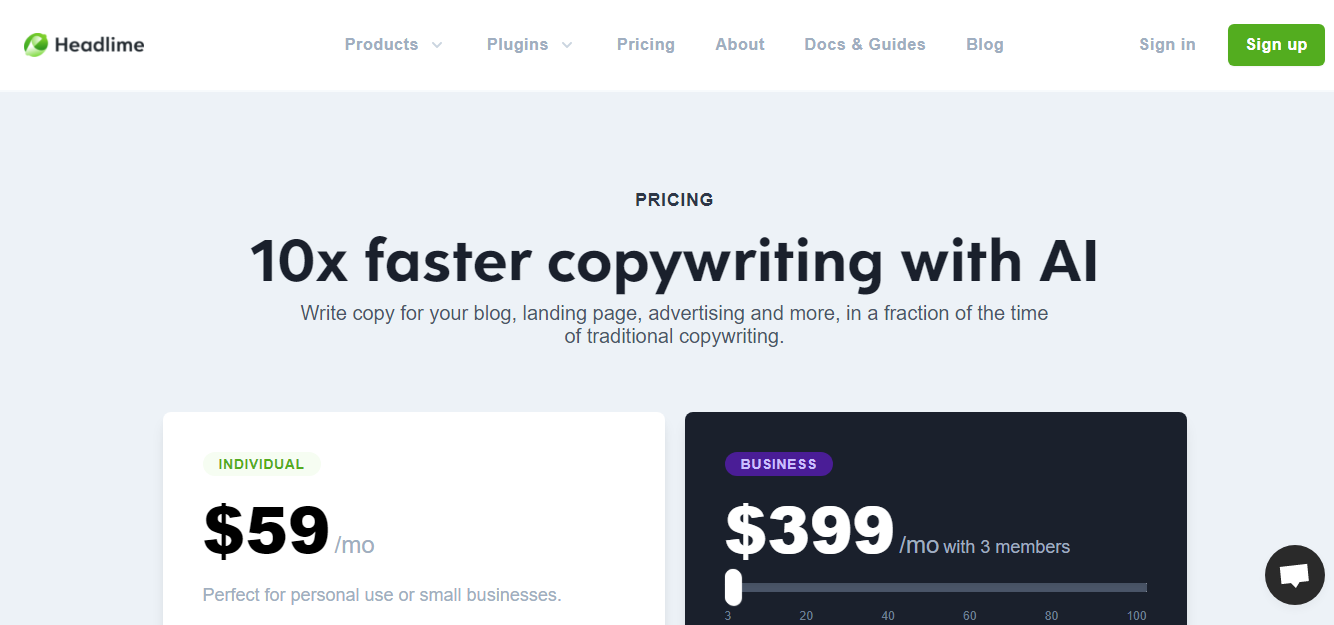 A content strategy is not always in one direction. Many businesses have a multifaceted strategy to meet the needs of the constantly changing market. If you also have a multifaceted strategy, Headlime is one of the eight best AI copywriting software you can use.
You can use the tool to write product descriptions, rewrite sentences, product pitches, taglines, ad copy, sales copy, and much more. The pricing plan starts at $59 per month, where you get 1500 credits and one user seat. An enterprise plan also offers unlimited usages and three user seats at $399.
Features of this tool include AI copywriter, page builder, document generator, and much more. You can opt for this if you want a copywriter with lots of useful features.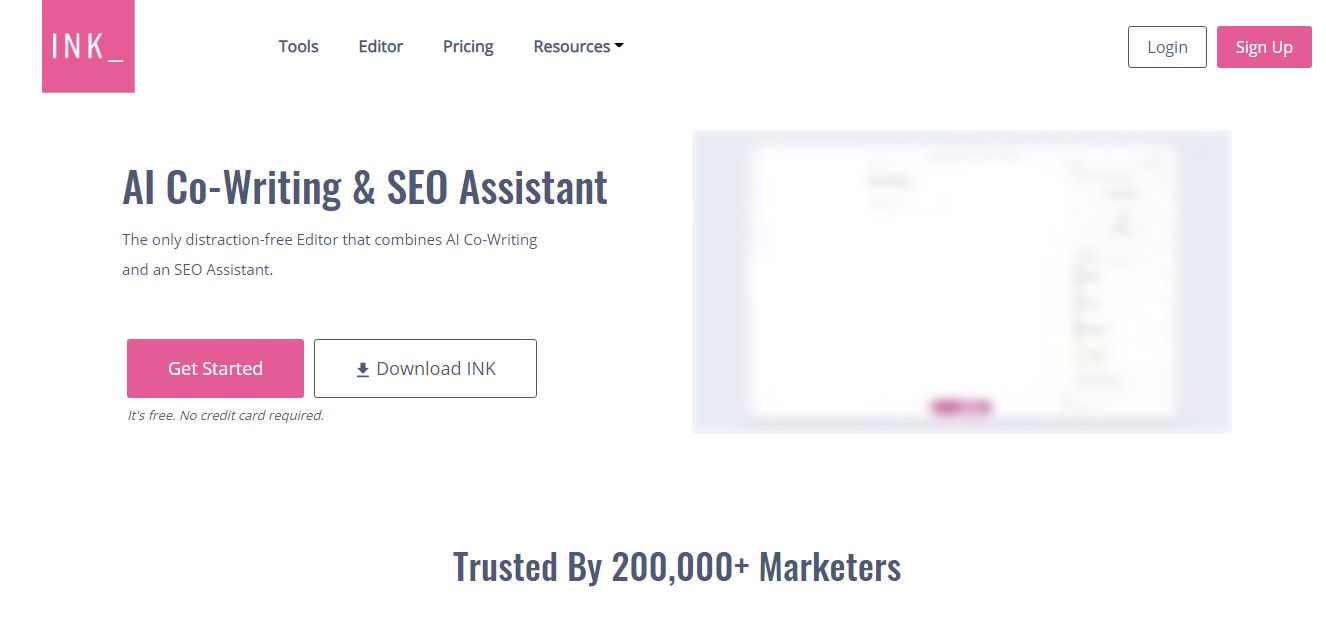 Do you need SEO and writing assistance? If you do, INK Editor is the top 8 AI copywriting software for your needs. It will aid in creating content that will rank high on search engines to enhance your visibility.
It analyses the content in real-time and offers suggestions to help you improve your SEO. On the other hand, the Co-Writing feature allows users to create a highly powerful copy. Some of the features of this tool include WordPress integration, content readability score, meta optimization, image optimization, and much more.
Pricing plans of INK Editor include INK Free, INK Pro at $29 per month, INK Pro Unlimited at $82 per month, and INK Custom for custom pricing.
Final Words
That was your complete guide to the 8 best AI copywriting software for all your copy needs.
The software best for you depends on your needs and your budget. Each software on our list is exceptional, and you can choose anyone to create the best copy in no time.