Last Updated on September 4, 2022
Looking to convert your text into a speech by AI technology? You are at the right place. We have done thorough research and gathered some of the best AI voice generator tools for you to use.
Voiceovers are very important for business and marketing firms for their campaigns. The tool helps to convey messages to your target audience. Voiceovers in content engage the crowd by directing their attention.
You can create voiceovers manually by yourself, but heavy and expensive gear and a proper studio setup would require. But why waste resources when AI voice generating tools are available in the global market. Instead, you have to type in your script and will get your audio in a matter of minutes with the help of AI technology.
What Is The Best AI Voice Generator?
After market research, we have shortlisted 5 of the best AI voice generators for your ease. This article will help you learn more about them and choose what you want.
Here are the 5 best AI voice generators try this year:
Play.ht – Best Overall AI Voice Generator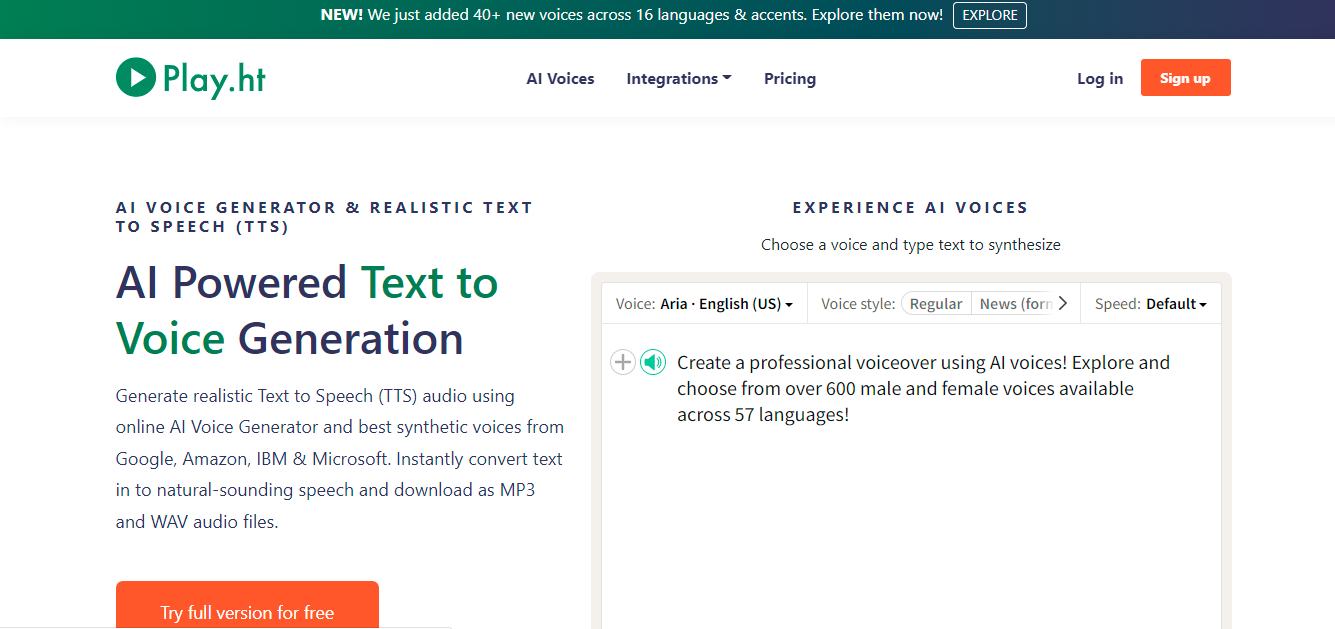 Known for converting your text into speech in minutes, Play.ht is one of the fastest-growing platforms for AI voice generation. Making your work easy Play.ht has countless voices and languages for you to start with. But, no matter what you choose, the speech generated by the tool gives a natural, emotional sound.
570 AI voices and 60+ languages will cater to all your requirements from the platform. It offers you the best options. However, choose the voice you think would be the most appropriate for your campaign.
Play.ht is a bit complex to you, but that is because of the quality of features they provide to offer you the perfect voiceover you are looking for. The list of features goes on, but we have to share some with you.
The customizability of Play.ht is just incredible. You can add pauses and emphasis on the voice to give it a realistic sound. Change the tone, speed, and pronunciation, everything is at your fingertips.
You can use multi-voices in a single voiceover to give an impression of a conversation. This is the perfect combination for your voiceover solution.
Lovo.ai – Best and The Simplest Tool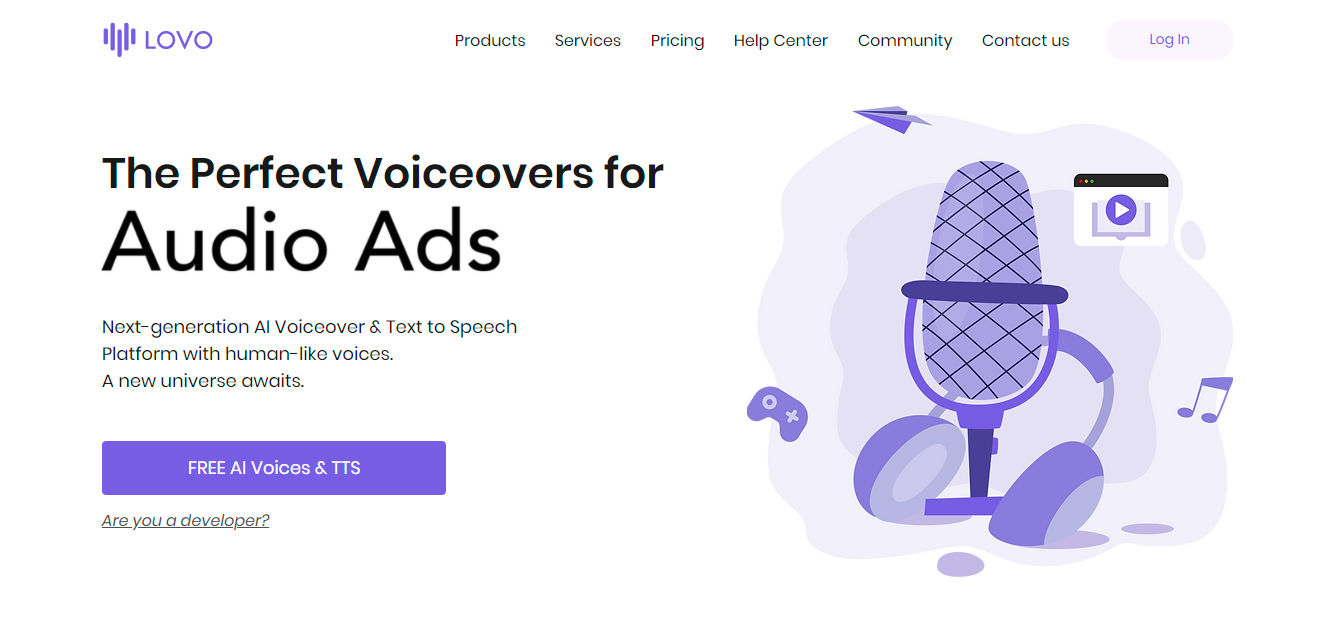 Lovo.ai is one of the best and powerful AI voice generation tools to use. The reason why we love Lovo.ai is that it's the simplest voice generation tool you will ever see. From a beginner to a professional, the tool is friendly for everyone.
You just can't have any problem using the Lovo.ai tool. Every feature is self-explanatory, and you wouldn't need guidance to learn how it works. Each feature offers you the best quality of the outcome.
Lovo.ai offers you more than 180 AI voice options and supports around 33 languages. This is not what you are going to read is going to surprise you about the tool.
Besides the standard features such as gender, age, and accent, you can edit according to scenarios such as educational, gaming, etc. In addition, you can also customize the tones according to the characters, such as informative, cheerful, and many more.
What else do you need in an AI voice generating tool? This type of feature you just can't find in any other AI voiceover platform.
Looking for an AI voice generating tool for beginners? Check out Lovo.ai
Resemble.ai – Best Free AI Voice Generator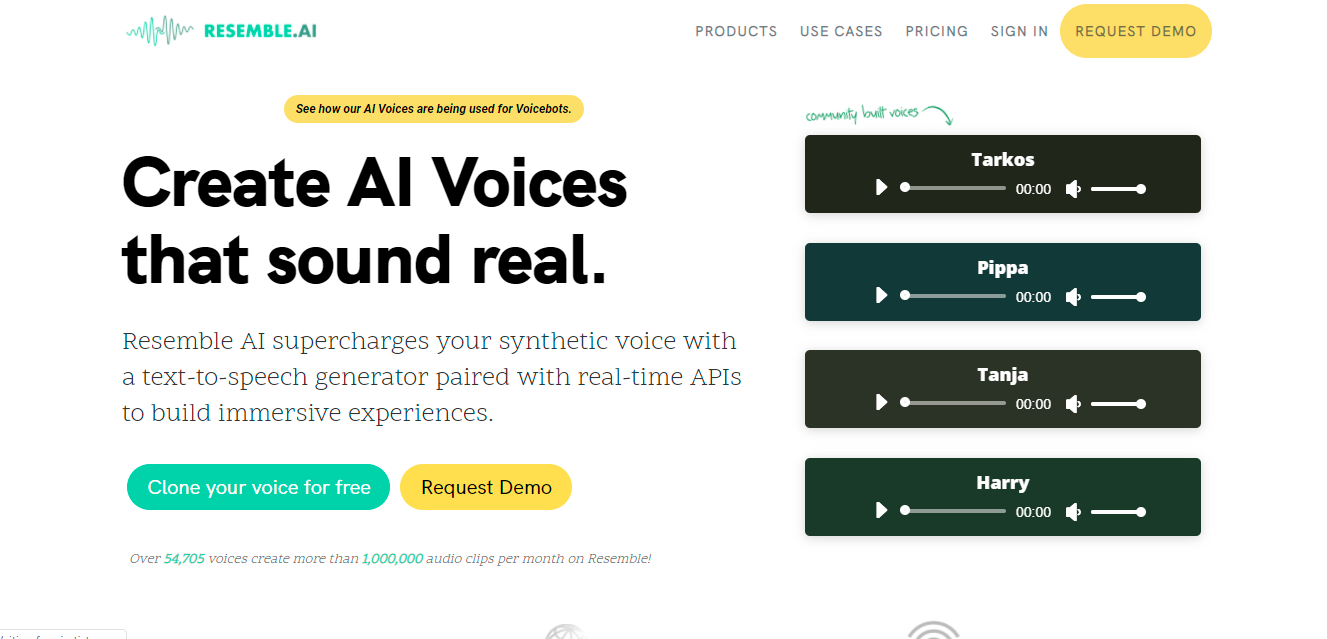 Known for its versatility, Resemble.ai is a perfect tool for your voiceover requirements. Over millions of voiceovers have been generated using this tool.
Resemble.ai lets you generate voiceover for any purpose you want to. Brand voices, ad campaigns, training, and informative audios Resemble.ai is there to help you out. One of the best features is that you can clone your own voice and blend in it the voiceover.
Resemble.ai uses the best AI technology to provide a high-quality, ultrarealistic, seamless audio clip. The platform also provides you with demo videos to better understand their platform and what they offer.
Unfortunately, Resemble.ai doesn't offer any free trial-based plans, but you won't regret subscribing to their premium plans. However, Resemble.ai is one of the best solutions to your AI voice generation problem.
Looking for the tool that best fits you? Check out Resemble.ai
Murf – Best Tool With Ultimate Customizability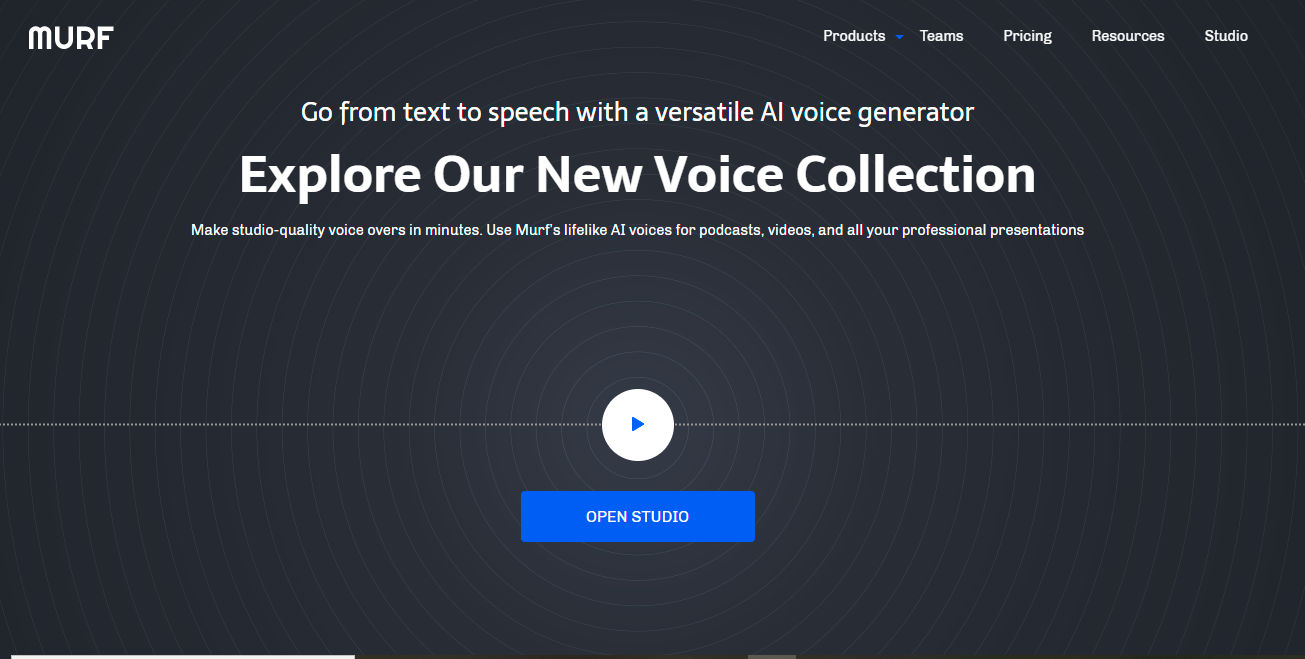 Famous for its voice synthesis technology, Murf is one of the leading platforms for AI voice generation. The voiceovers generated by this tool can cater to all your purposes and requirements. Just select the goal you want the voice for, and the tool will customize the tone and accent by itself.
Murf is a very easy and simple platform to use. You wouldn't need any guidance as all the features are pretty self-explanatory.
By using Murf, you will get an online studio for your voiceover solutions and a video editor. So creating a voiceover and embedding it into a video has become more manageable now. All under one platform.
Murf offers around 100 AI voices, and you choose about 15 languages. Different native accents are also an option for you to choose from. Murf is one of the best AI voice generators for creating realistic and natural voices. Murf has helped out many big marketing firms and other businesses as well.
Looking for a video editor in a voice generation tool? Check out Murf
Spik.ai – Best For Plain Voiceovers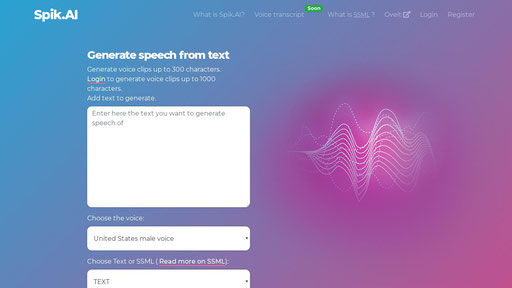 If you want to generate a basic voiceover for any purpose, Spik.ai is the one. You can also use a speech synthesis markup language other than plain text on this platform.
It also offers various voice skins and accents combinations, but the customizability features are not like other competitors. However, it is best for beginners and to create a passion in the voiceover generation industry.
You can also generate a free voiceover but only with 300 words. If you register yourself, then the limit exceeds and offers you more. However, you can't control the tone speed in their generated voiceovers.
Looking for a tool for your basic voiceover needs? Check out Spik.Ai