Last Updated on September 4, 2022
Are you looking for the best AI video generating platform? Then, you've come to the right place.
Nowadays, the importance of advertising and marketing through AI-generated content has grown sufficiently.
It is one of the best methods to convey a message to a large audience. AI video generators are perfect for creating professional videos at comparatively low cost. You can then use the videos for any purpose you like, as your YouTube channel thumbnail, sales, presentations, etc.
Due to the high demand for AI video generators, there are now various platforms in the market to help you out. However, you shouldn't trust every software, which is why we have done thorough research.
Therefore, gathering all the best AI video generators was indeed needed.
What Is The Best AI Video Generator?
Here are the top 5 best AI video generators to help you create amazing videos automatically:
Rephrase.ai – Best Video Quality
Creating high-quality videos has now become accessible after the launch of Rephrase.ai. You can also include a virtual human presenter to read out the script you want. In addition, the software generates narration from the text you provide and save you from the hassle of inserting a voice-over in your video.
The artificial virtual presenters are 100% realistic in their body language and gestures. The best part about using Rephrase.ai is that you can CTA label your videos. The label enables your video to generate new leads for your organization.
Repharse.ai offers services for both individual video creators and businesses. The pricing plans are different for both services. However, the quality of work they provide is best for any purpose you choose.
It is one of the most straightforward software to use. Choose your presenter, type in the script, insert the media assets to customize your video and you are all set.
Looking to get HD graphics for your video? Check out Rephrase.ai
Invideo – Best Text-to-video Generator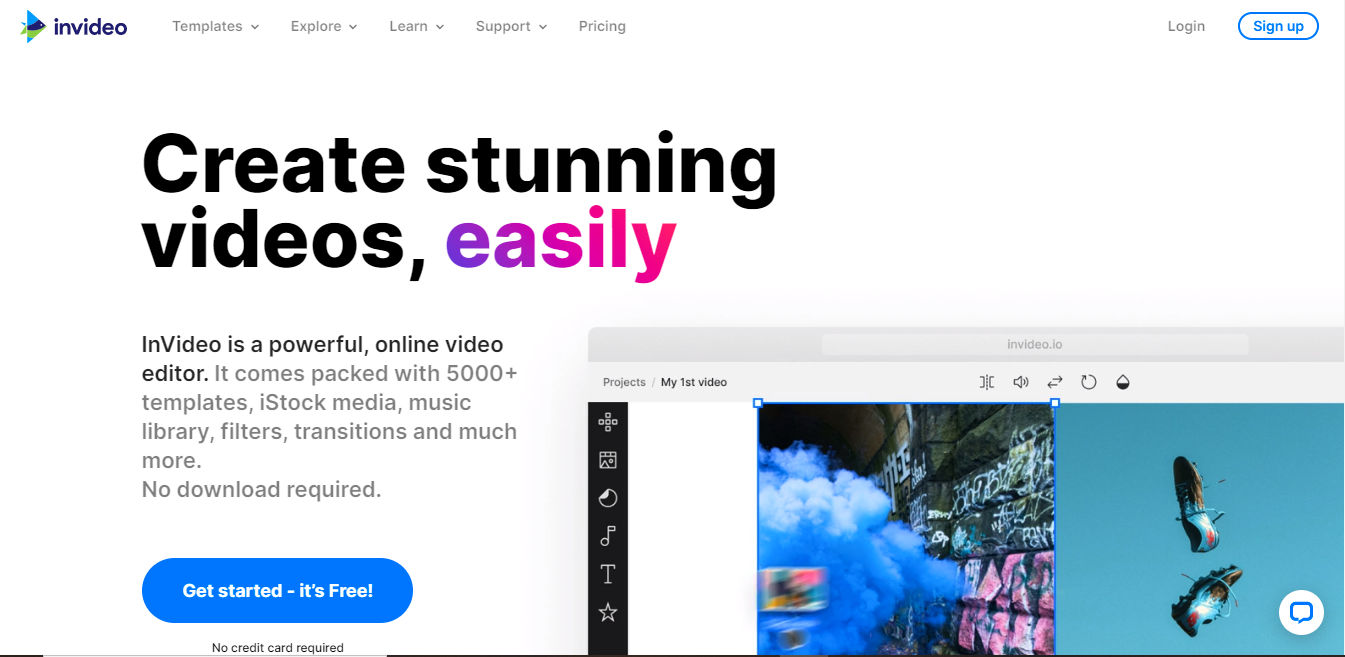 One of the leading Ai video generating platforms. Invideo has a lot to offer than its other competitors. Once you start, the features you can in your video are just endless.
5000+ readymade templates are enough for you to choose what you like. If not, you can then create your own customized template as well.
Within seconds you can convert your text into an attractive and engaging video. The use of intelligent video assistants in their video generator helps point out and fix any hidden design flaws.
Using Invideo is very straightforward and simple to use. All you have to do is just select from all the options they offer, and you will be good to go.
Invideo offers various premium packages depending on your use. If you are a beginner and want to refurbish your video-creating skills, there is a plan free for you. However, you will be provided limited access to their features.
Looking for endless features in a video generator? Check out Invideo
Synthesia – Best Multi-language AI Video Generator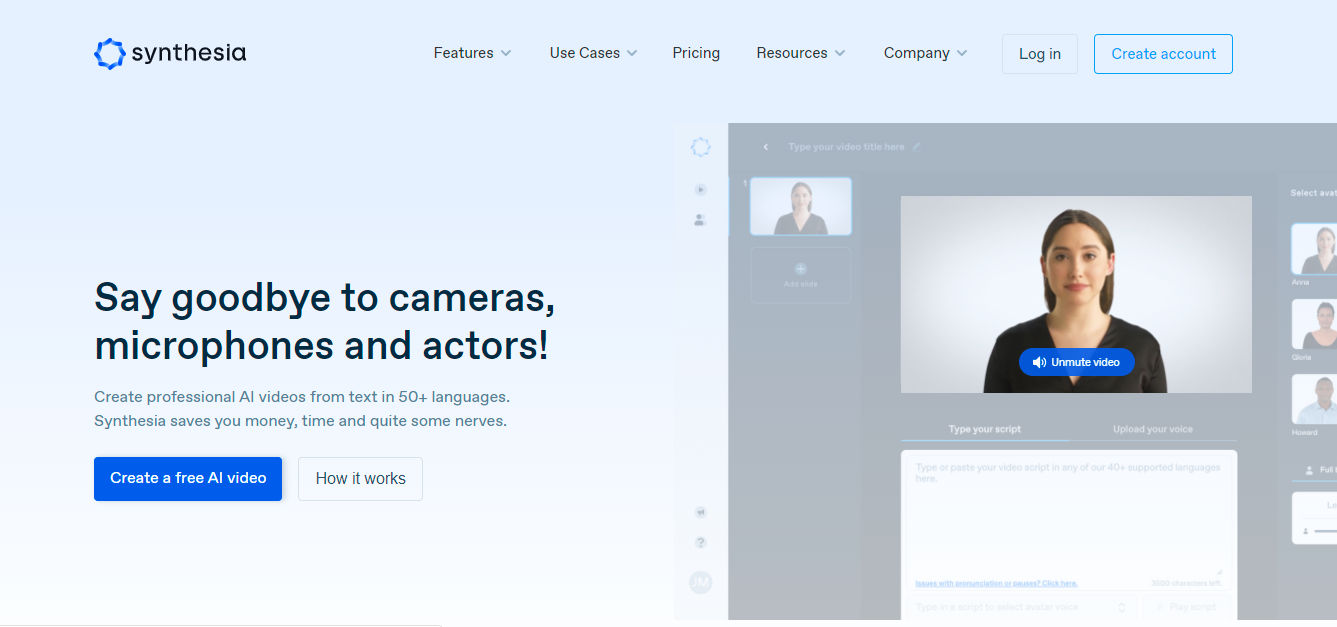 Want to create AI videos up to 30 minutes long? Synthesia offers the solution for that. Unfortunately, it would not be easy to find any other AI video Generator that can provide you with this.
Creating an AI video with a natural-looking virtual presenter will give you a more intimate experience when reaching out to a large audience. One of the remarkable tools for AI video creators. Synthesia has a lot to offer and cater to each of your requirements.
The AI video generators can be used for various purposes to produce engaging and appealing videos. What distinguishes Synthesia from each of its competitors is that the platform can even generate videos for up to 30 minutes duration. You can even create training videos for your employees or any other educational video using this feature.
Using Synthesia is very easy. Start by typing your script or existing copy, customize the virtual presenter avatar, select the design, and insert the multimedia you like. Then all you need to do is wait, and you will be provided with a perfect AI video to cater to your purpose.
One of the best features Synthesia is known for is that it can generate video in 40 languages. Yes, you read it right. The artificial presenter will read your script flawlessly and in a native accent in any language you choose. No other generator can offer you this.
Looking to generate an AI video in multiple languages? Check out Synthesia
Synths Video – Best For YouTube Channels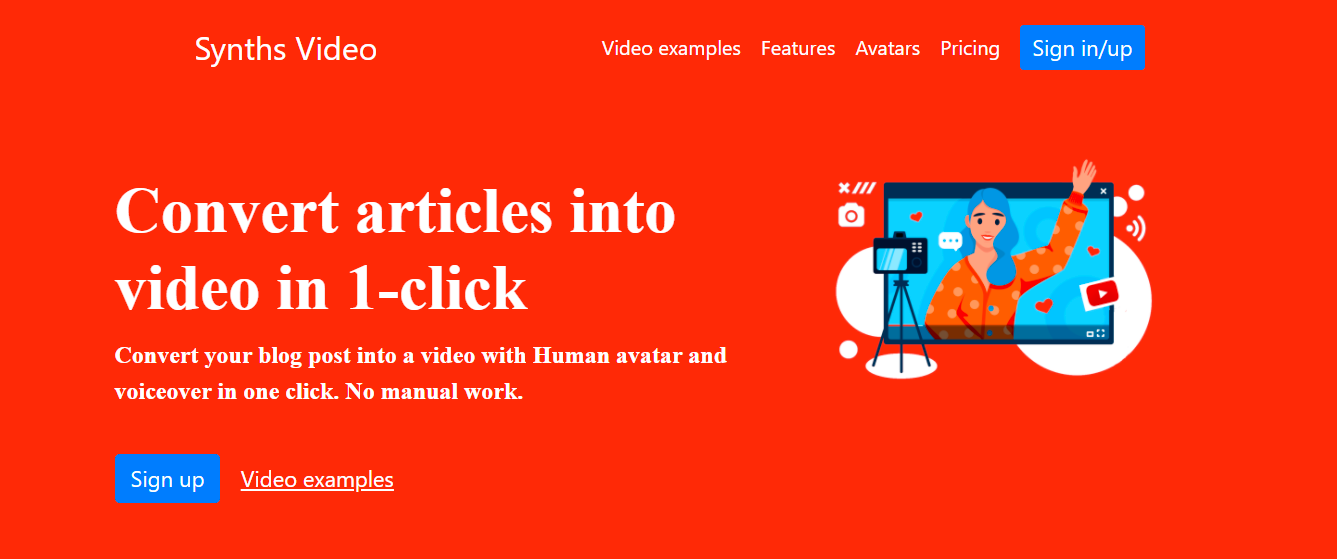 This AI video generator can surely help your requirements if you run a YouTube channel. The tool lets you convert your blog post into an AI video in just minutes. So what else can you need for your channel?
The Synths Video supports up to 35 languages of your script. You can get a selection of 20+ avatars for your virtual human presenter and generate HD videos.
One of the best features about Synths is that it has built-in integration with YouTube. This enables you to upload videos on your YouTube channel from their platform directly. No need to download it and then upload it from your YouTube channel.
Synths AI video generating tool also helps users drive traffic and leads from the platform of YouTube. In addition, a professional AI video generating platform also allows you to grow your YouTube channel.
Looking for the perfect AI video generator for your YouTube channel? Check out Synths Video
Lumen5 – Best AI Video Generator For Beginners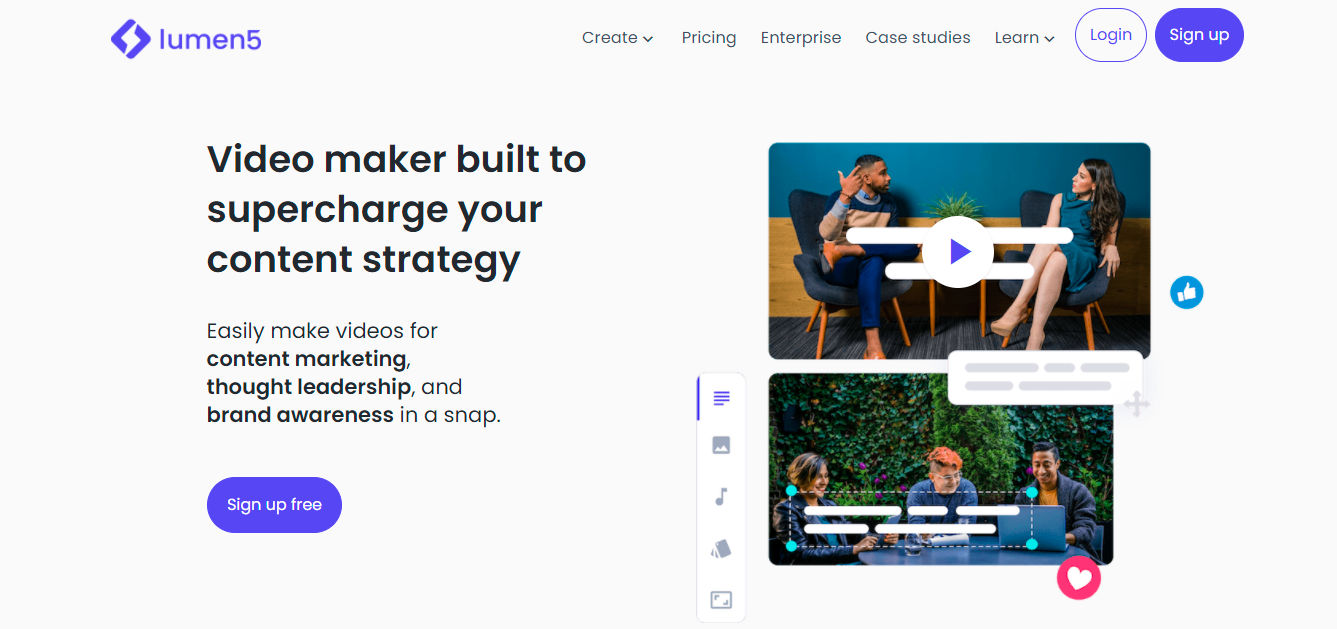 If you are a beginner, Lumen5 is here to help you generate the best AI videos. It uses the best natural language processing algorithms to convert text on videos.
Lumen5 lets you generate your customized video in a matter of minutes. Select for the various templates options they offer. The selection of background, color, and resolution of the video are all in your hands.
Lumen5 offers various plans for you and a free plan with unlimited duration but with limited features to use. However, best for creating short AI videos for your social media platform.
Looking for an AI video generator to learn more about the skills? Check out Lumen5