Last Updated on December 6, 2022
YouTube video intros are everywhere. However, it's more than simply a short animation clip.
With over 37 million YouTube channels, it's important to establish a professional image to stand out, and a well-crafted opening provides just that for your channel.
It not only offers your brand a professional feel but also instills a sense of brand consistency, captivating viewers and keeping them on your channel, eventually converting them into subscribers.
Whether you're a small brand or not, a well-crafted intro is a big part of your brand identity, and hiring an artist to create one for you is a step toward making your YouTube channel look professional and distinct.
This is why we'll be introducing you to the top five (5) recommended artists for hire from the best marketplace, their services, and their costs.
What are the best YouTube intro commission services?
Below you'd find our list of the best artists most suited to handle your project, based on our experience:
Turetener – Top-rated artist, with premium pricing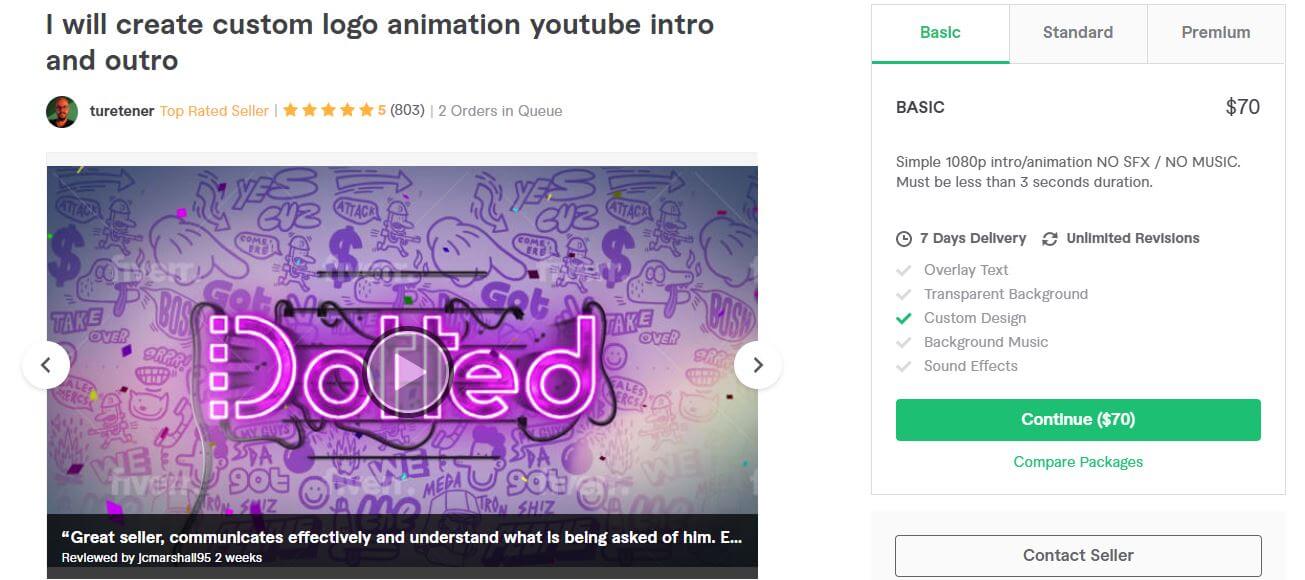 Taner is a top-rated artist/YouTuber who has spent more than 14 years working in the television industry, honing his skills as a creative editor and storyteller.
His 800+ positive reviews prove that he's more than capable of handling your project
He offers to create a unique YouTube logo animation intro/outro that's true to your brand.
All you have to do is send in your logo and some ideas for the intro, as well as the preferred music. You can even hire him to create everything from scratch, including the music, concept, and logo if you don't already have one (though this would cost more).
His price ranges from $70 to $150 with a 7day turnaround and unlimited revisions, ensuring you're 100% satisfied with the design and getting great value for your money.
What are you waiting for?! Send him a message today. His average response is an hour, so you should hear back from him within that time frame.
Looking for a professional intro that suits your channel? Give Taner a shot!
Robytizar – Animated handwritten styled intro/outro expert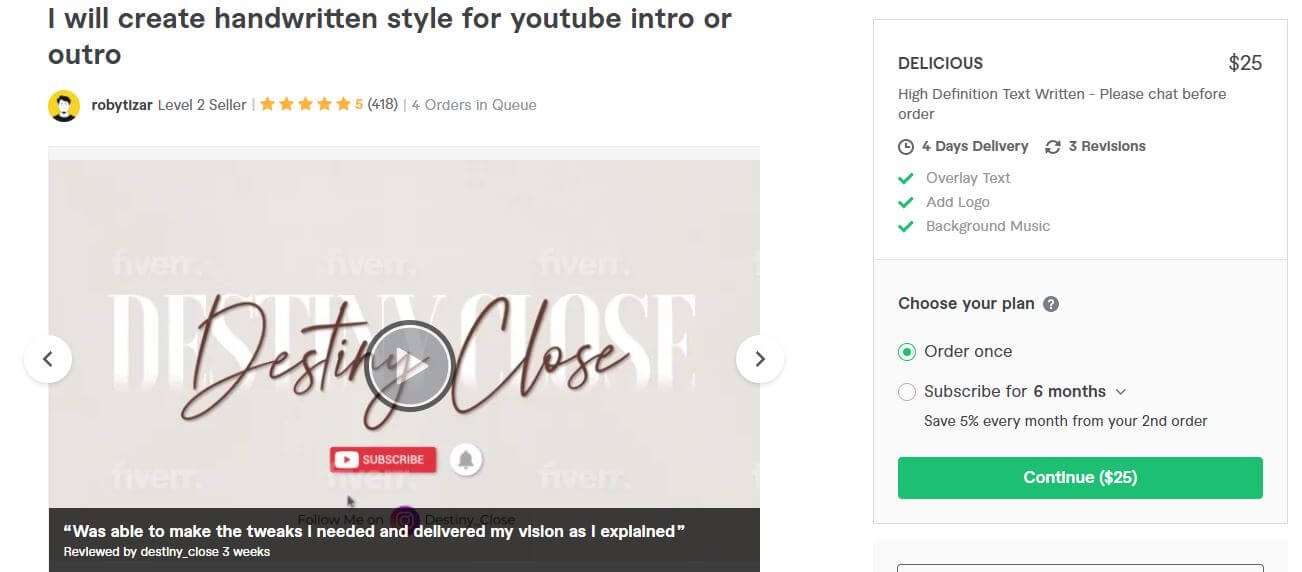 The animated handwritten intro is one of the most recognized on YouTube, and that's exactly what Roby is offering on this gig.
Roby is a level two seller who has received over 400 positive ratings, proving that he is competent in his field.
For just $25, you get a modern & stylish Handwritten video for your YouTube intro or outro in 4days with 3 rounds of revisions.
This artist understands the true aesthetic of what a good intro should look like, and the final product is always simple yet catchy.
You can add images as well if you want, just be sure to communicate well with the artist.
Looking for a professional handwritten styled intro? Send Roby a message.
Aliasgharawan97 – Budget-friendly YouTube intro commission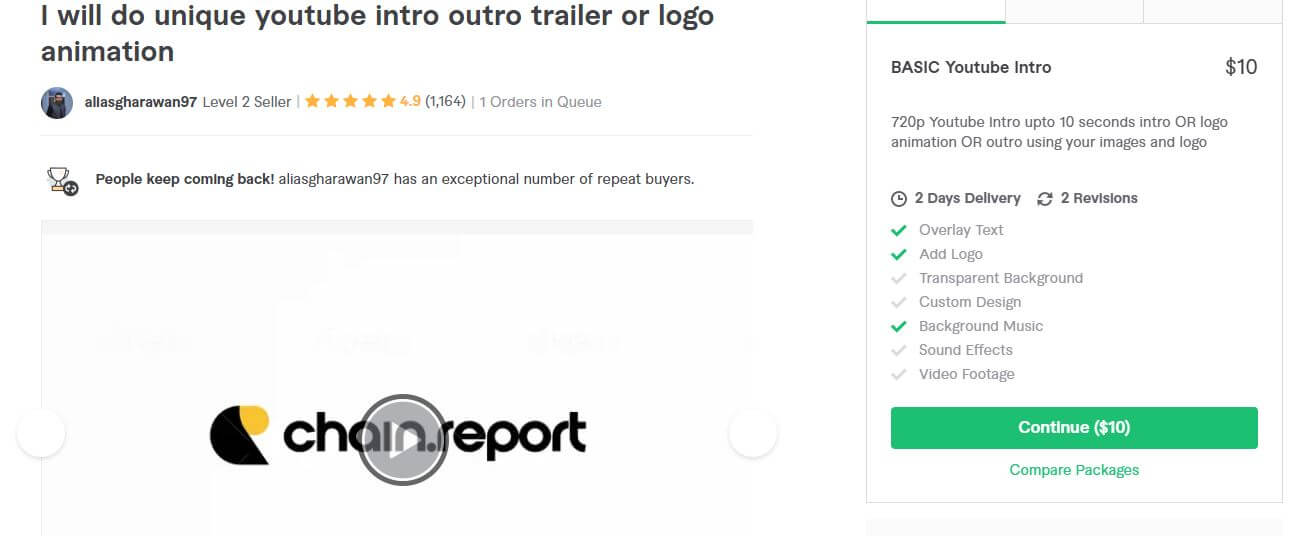 Aliasgharawan97 is a professional video editor with over 4years of experience in the field. His 1,000 positive reviews prove that he is more than enough to handle your projects.
As an expert of Adobe After Effects, Adobe Premiere Pro, Adobe Photoshop, and Filmora, he creates unique Professional YouTube Intro/Outro for all kinds of channels.
His price ranges from $10 to $30 with a really fast turnaround of 3days, and unlimited revisions. Can this deal get any better?!
The fact that his price is more affordable doesn't make his work of low quality.
His average response time is an hour, so you should receive a response within that time frame.
Looking for a budget-friendly intro commission? Head over to Alias gig on Fiverr.
Albikkk – A Professional with lightning bolt turnaround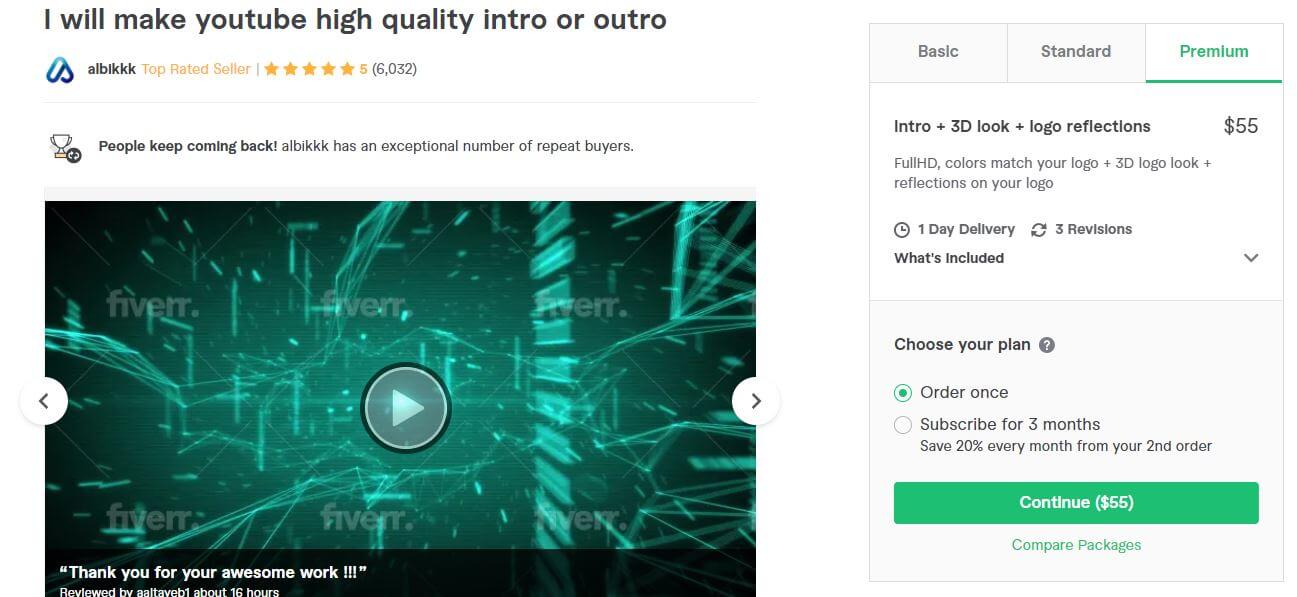 Albikkk is a video designer with 8+ years of experience. He works at an animation studio, with a team of talented specialists specialized in logo animation, intro, and outro videos in Flat and 3D style.
This gig is somewhat different from what other sellers offer; He has a gallery filled with various intro animations labeled with a serial number, you make an order choosing an intro from his gallery alongside your logo and every other information you wish to add.
His price ranges from $25 to $55 with a lightning bolt turnaround of 24hours and some rounds of revisions.
This gig is for you if you need the job done fast. Send him a message to get started.
Visual_master_ – 3D cinematic intro commission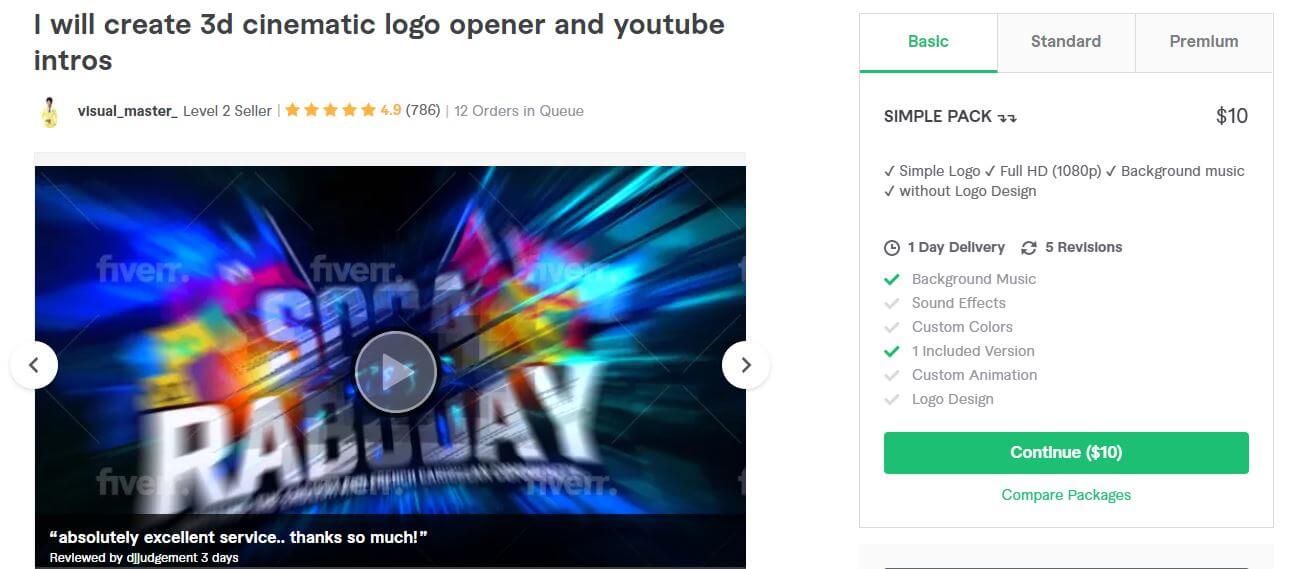 Looking for that 3D cinematic intro for your gaming channel or any channel at all? Visual_master is the man for the job.
He creates his intros in 3D cinematic style, glossy shine, and neon, so if you're looking for something vibrant, engaging, and fun then you can go wrong with him.
His price ranges from $10 to $70 depending on the package ordered. He guarantees delivery in 4days with unlimited revisions.
Looking for something vibrant with a 3D feel? Check out visual_master's gig on Fiverr.