Last Updated on December 27, 2022
For many business owners on the hunt for a better, more streamlined approach to their accounts payable and receivable processes, Bill.com will be a familiar name. They are amongst the industry leaders in digital payments because they offer a robust set of tools and they have built a strong reputation.
However, it may not be the best solution for all businesses.
Below is a quick-hitting commentary on the top alternatives to Bill.com. After reading, you should be better educated as to your options on the market and what tool makes more sense for your business.
What are the best Bill.com competitors?
Below you'd find our list of the best Bill.com alternatives this year:
1. Melio – Less Expensive & Small Business Specific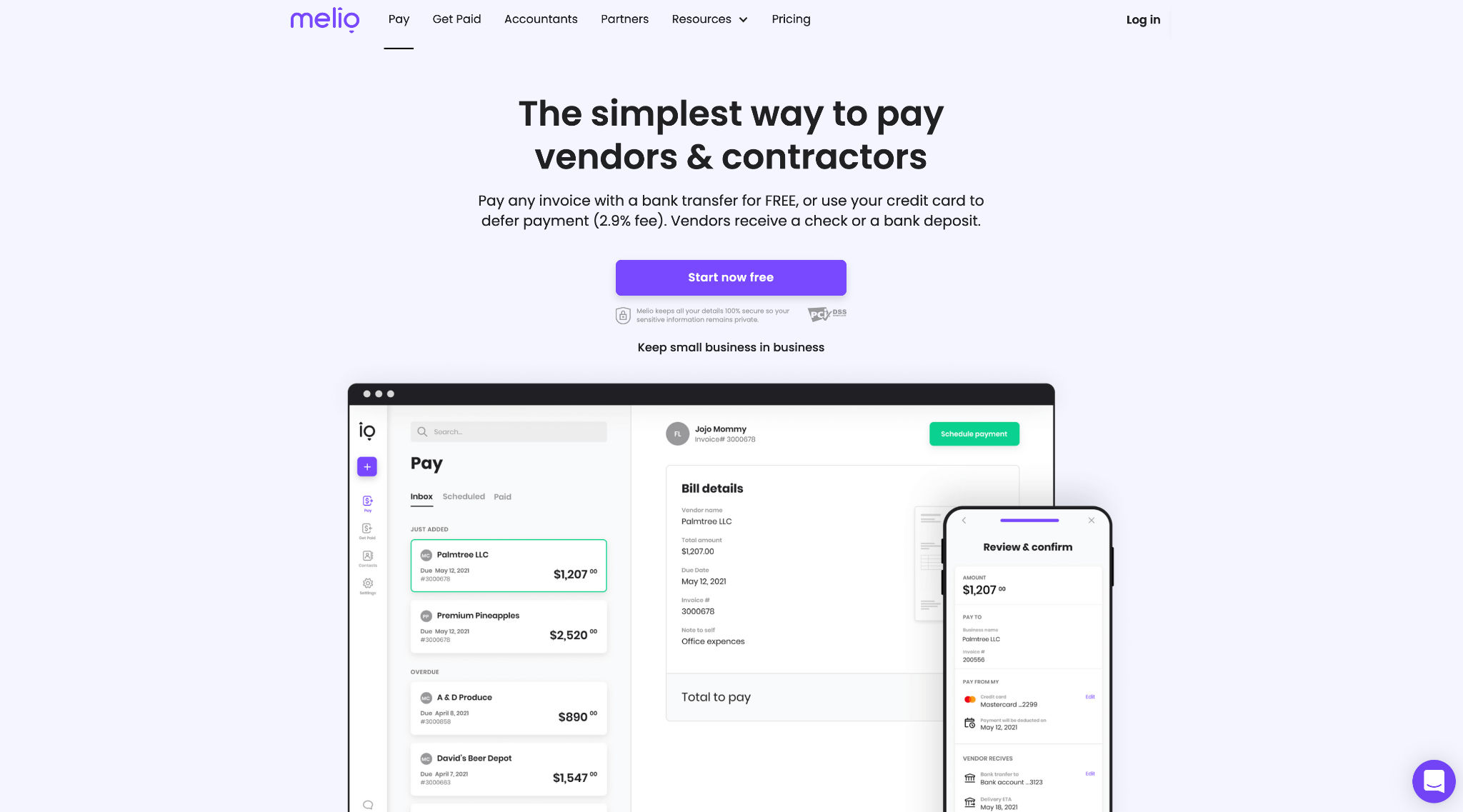 When researching top Bill.com competitors, you will be sure to find Melio at the top of any list. I even did a direct comparison between them a while back.
Melio is a digital payments software tailor made for small businesses in the US. This is important to note, as Bill.com has a much different business model. They have developed their solution to cast a wide net, servicing many different types of businesses and customers but not laser-focused on any one in particular.
The difference in business model inevitably leads to differences in feature set and price.
Melio offers a simple and easy-to-use tool set designed specifically for small businesses in the US. They offer both accounts payable and receivable solutions, as well as dedicated software for 3rd party accountants, should you want to also streamline process and procedure for those members of your finance team.
They allow many different types of transactions, including but not limited to: ACH transfer, bank transfer, credit and debit payments, wire transfer, and more.
Explore any popular tech-review website and you will see customers praising Melio for their intuitive, simple, bespoke solution. Contrast the complexity of Bill.com and it becomes clear where small businesses in the US should turn.
Another glaring distinction between Bill.com and its competitor, Melio, is the price.
On one hand, Bill.com has a complicated pricing model consisting of a multi-tiered subscription cost, and charges for virtually every transaction facilitated by their tool.
On the other hand, Melio is virtually free to use. This should be, and is, music to the ears of small business owners in the US. There are no sign-up or subscription fees with Melio, and the vast majority of transactions are free too.
The only thing Melio charges for are credit card transactions. And fair enough, they have to make money somehow. Thankfully they also allow you, the business owner, to decide who, either you or your customer, is charged for such a transaction. Bill.com does not provide you with this choice.
In my opinion, Melio offers what small businesses are looking for in a payments solution. They want something that simplifies their life for an affordable price – and this is exactly what Melio does.
2. Stampli – The Expert in Accounts Payable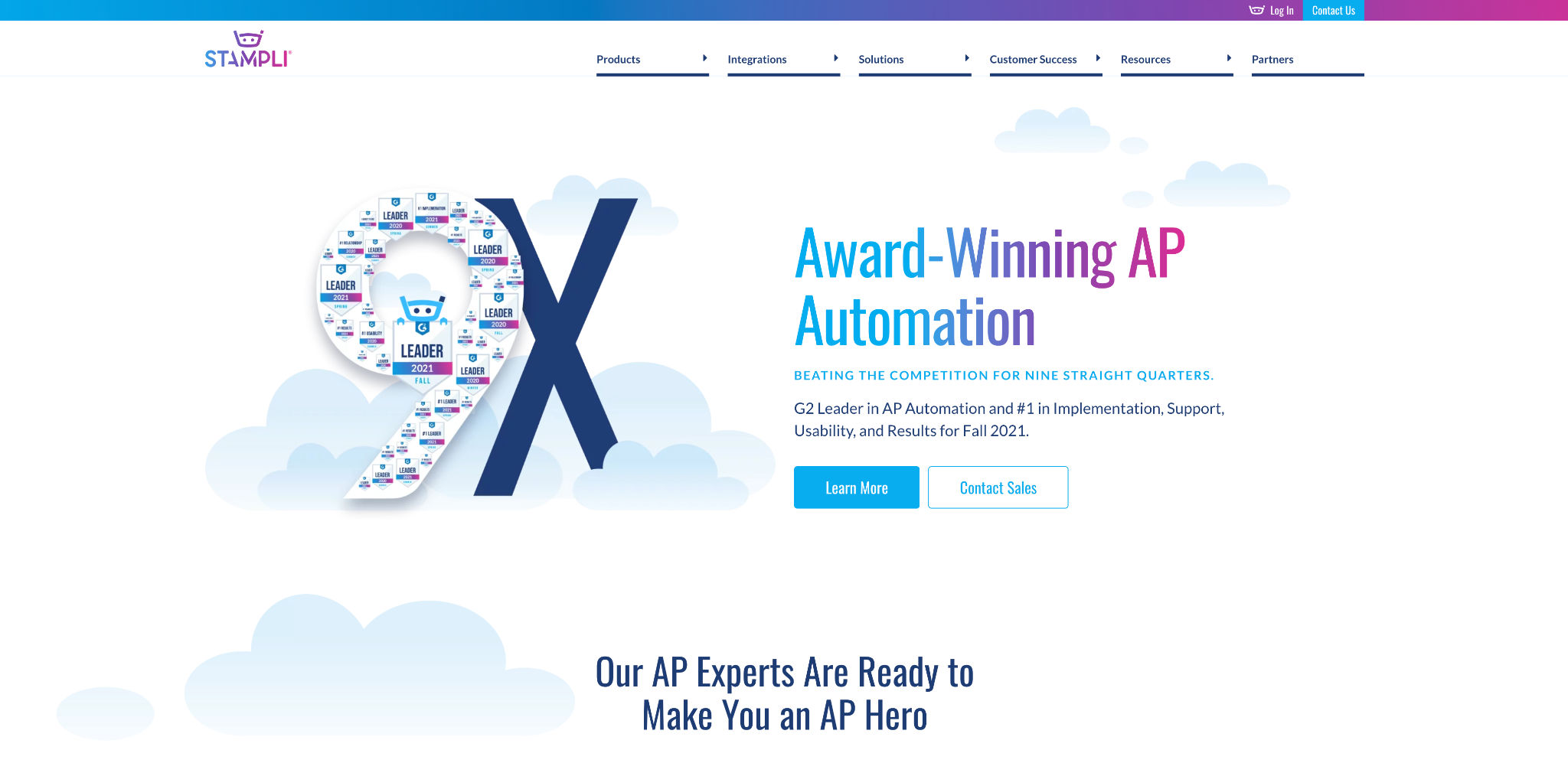 Stampli is also an industry leader in digital payments, but their primary focus is on accounts payable. More specifically, the automation of accounts payable.
Stampli's unique approach involves joining effective and efficient communication between involved stakeholders with powerful automation of the accounts payable process. This facilitates better collaboration between accounts payable and approvers, vendors, or anyone else involved in the process, allegedly resulting in 5x faster approvals.
Their main claim to fame, and probably the primary way in which they rival Bill.com, is the superiority of their customer success team. Stampli boasts their exceptional on-boarding and training regimens as the best in the business.
I like that Stampli checks the boxes of top-rated in customer satisfaction, fastest implementation, and unlimited pre and post setup support, because they challenge Bill.com's weak point – the complexity of their product.
3. Plooto – Gain Confidence Through Simplifying Your Financials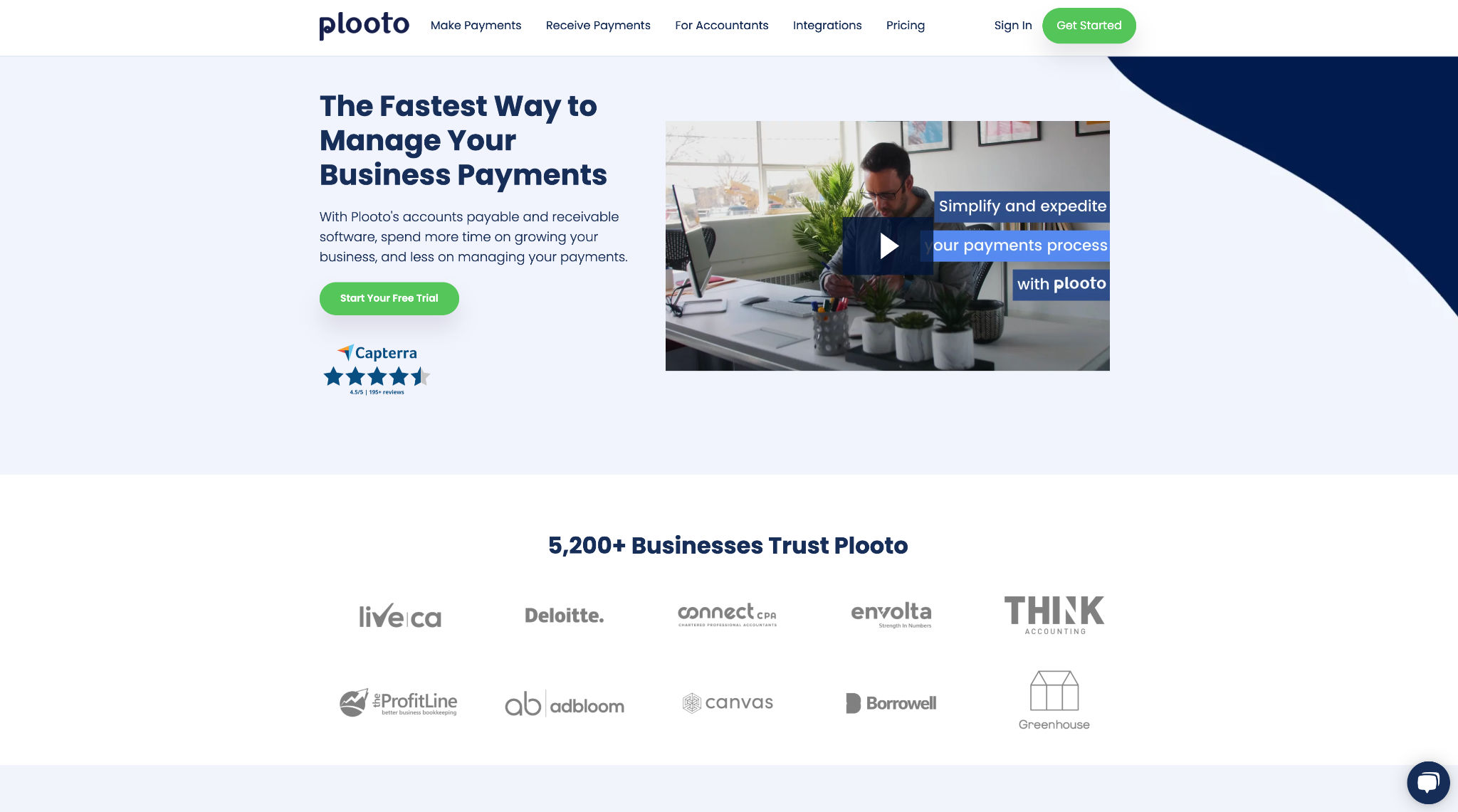 Plooto is another Bill.com competitor in the digital payments space. Similar to Melio, Plooto offers an accounts payable and receivable solution which targets the small business market.
They remove all manual steps in the accounts payable process and eliminate redundancy and antiquity of the accounts receivable process leaving their users with more confidence in their financials.
Integrations with invoicing tools such as Quickbooks and Xero helps ease the transition into a new tool. The two-way sync between these tools and your new Plooto account will eliminate data entry errors and inefficiency while automatic reconciliation means accurate books with zero effort.
For individual businesses, there is a $25/month subscription fee to use Plooto. From there, the first 10 transactions are free, but each transaction after that comes at a cost. For example, each domestic transaction costs $0.50, each international transaction costs $9.99, and each check payment costs $1.99.
Plooto is a safe and relatively affordable option if you're looking to upgrade your financial processes.
4. Plastiq – More Affordable and Appeals to More Businesses
Plastiq is a formidable opponent for any player in the digital payments space. They service over 2 million consumers and businesses, have paid over 150,000 businesses, and have processed billions of dollars in payments.
Plastiq is a simplified and more affordable option compared to Bill.com. They offer a solution for accounts payable and receivable without a sign-up fee, subscription fee, or fees for most transactions. They do, however, charge a 2.85% fee for both credit and debit transactions. This is a key distinction to keep in mind when comparing Plastiq to not only Bill.com, but to other competitors as well.
Unlike other competitors in the space, Plastiq does venture to compete with Bill.com for a larger piece of the business-market pie.
With their global payments feature, they are appealing to businesses that are too large to fit into the 'small business' category. This feature allows a business to pay for products or services in 40+ countries and in 20+ different currencies, with what they claim to be some of the best exchange rates on earth. Part of this feature set is the elimination of limits on the amount of money that you can send across borders, and the assurance that the funds could arrive as early as the next day.
I appreciate that Plastiq offers an approachable price to their solution while still attempting to appeal to more businesses around the world.
Conclusion
There is no question that Bill.com is a force to be reckoned with in the digital payments space. They have a robust tool set which serves millions of businesses, and moves over $100 billion annually. But, herein lies the problem for you as a small business owner. They are likely too big for your business.
This is no reason to be discouraged. There are Bill.com competitors out there, Melio ranking at the top, that are tailor made for small businesses like yours. Melio has a simple, yet fitting tool set, at an incredibly affordable rate for any small business. That's why I would recommend Melio over Bill.com for any small business in the US.